The trees that increase property value – and the ones that will lose you money
Here's what to look for to identify trees that increase property value – and those that will reduce it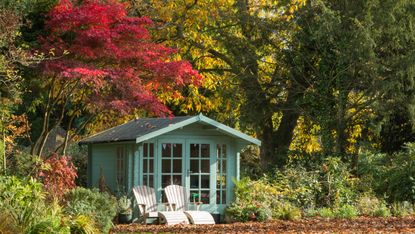 (Image credit: Getty/Sandra Clegg)
Sign up to the Homes & Gardens newsletter
Decor Ideas. Project Inspiration. Expert Advice. Delivered to your inbox.
Thank you for signing up to Homes & Gardens. You will receive a verification email shortly.
There was a problem. Please refresh the page and try again.
The trees that increase property value are highly prized by both buyers and sellers. A beautiful, mature tree is not just one of the best ways to add value to your home – trees add aesthetic value to any back or front yard. A tree increases privacy and shade and generally improves a home's curb appeal.
The main question is: will any tree add value, and what trees should you go for if your aim is to sell your house for more?
Do trees increase property value?
The good news for gardeners is that most healthy, mature trees will add value to a property. As social-scientist Kathleen Wolf points out in an article for Arborist News, 'homes with trees are generally preferred to comparable homes without trees, with the trend across studies being a price increase of about 7%.
However, when it comes to identifying individual species that will add the most value, things are less clearcut. Wolf explains that 'hedonic pricing' – that is, pricing based on indirect or subjective preferences that make people pay more – is effective when attaching values to trees sold as part of a home.
She then provides a fascinating statistic: mature trees in high-income neighborhoods command on average a 10-15% price increase on a home value – much more than the average in less affluent areas. So, if you live in an area where homes generally cost more, adding a mature tree will increase its value even further. In cheaper areas, the cost increase may be as little as 2%.
What trees make the most money?
What trees make the most money? This really depends on where you live because it's important to consider your climate zone and which trees will thrive in it.
There is a scientific formula for working out the precise value of each tree (though it's not often implemented). Much of this method relies on determining the 'condition class' of tree – basically, a healthy and thriving tree will always add more value than one that is diseased or generally in poor shape.
So, if you live in a cooler climate, don't try to grow palm trees. Instead, plant maples (both North American and Japanese species are highly prized), oaks, linden trees, and other deciduous types that do well in places with cold winters.
If you live in a warm area, go for citrus, palm trees, magnolias, and anything with fragrant, exotic blossoms (think frangipane).
Fruit trees are highly valuable, and if cherry, plum, or apple trees thrive where you live, you can't go wrong with a mini orchard (or even just one tree).
Are there trees that will lose you money?
Be careful with species that have invasive, sprawling root systems – these include American elm, willows, and hybrid poplars. You still can have these trees in your front yard, but make sure they're planted far enough away from the property to ensure they don't affect the foundation or plumbing. Never plant these trees next to a swimming pool.
The other thing to consider is whether the mature tree in your yard is blocking off natural light – you may wish to avoid very dark conifers planted too close to the property for this reason.
See: Small garden ideas – 13 clever designs for maximizing a compact gardening space
Maryland real estate agent Buzz Mackintosh said in a Homelight article: 'I've sold houses in neighborhoods where the landscaping got out of control and needed to be trimmed back just so you could see the house. Landscaping can cover up the property, which can hinder the photographer from being able to take decent photos of the house.'
A well shaped, healthy tree will almost certainly increase your home value, but make sure it's not out of control, diseased, or wrong for your climate.
Sign up to the Homes & Gardens newsletter
Decor Ideas. Project Inspiration. Expert Advice. Delivered to your inbox.
Anna K. Cottrell is now a freelance writer, having previously been a Content Editor for Future's homes titles. She writes about interior design, property, and gardening. On H&G, she specialized in writing about property – buying, selling, renting – sustainability and eco issues.