5 ways to sell a house fast – this is what buyers really want right now
If time is of essence for your home sale, zooming in on these elements of your home will sell it fast, according to real estate experts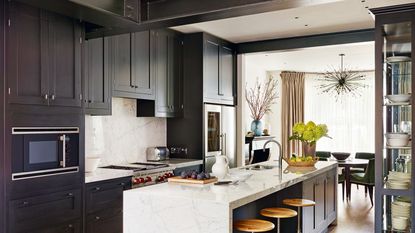 (Image credit: Feature Linda Clayton Photographs Darren Chung)
Sign up to the Homes & Gardens newsletter
Decor Ideas. Project Inspiration. Expert Advice. Delivered to your inbox.
Thank you for signing up to Homes & Gardens. You will receive a verification email shortly.
There was a problem. Please refresh the page and try again.
If you want to sell a house quickly, you need to know about the top features buyers want to get ahead of the competition. While the housing market is generally moving at a quick pace right now, buyers are still discerning about the homes they will choose to make offers on. Even in an ultra-competitive market, a home needs to have the right appeal for that coveted quick sale.
Whether your buyer is just finding out how to buy a house for the first time, or they are a seasoned home owner, the following five features are most likely to help you sell a house quickly, according to experienced real estate and house flipping experts.
1. A beautiful, brand-new kitchen
The old adage that kitchens sell homes couldn't be truer. If you only do one thing to sell your home faster, look into kitchen ideas for as full an update as you can manage.
BenNeely, real estate expert from Riverbend Homes, says: 'If you have a beautiful kitchen and dining space buyers will compromise on other things they may not love about the home. I think that's probably because so many more homes are now open concept and most everyone congregates in the kitchen and dining room. So with that being where life happens for buyers, if that space is beautifully finished, open and airy, then that will get your home sold.'

Andrew Ervin, from Maxsin Investment Group, seconds this view and adds a few specific details to focus on: 'In today's market, kitchens with new white cabinets, vinyl floors, nice backsplashes, and granite countertops will definitely sell any house very fast. Buyers also want to see a neutral paint color as well.'
David Bitton, the Co-Founder & CMO of property management software DoorLoop, also recommends investing in luxury appliances in order to create a 'gourmet' kitchen: double ovens, warming ovens, and a microwave drawer are standard features in a gourmet kitchen.'
2. A well-designed outdoor space
It's become something of a cliché of the pandemic-era housing market, but a garden is a must in many buyers' eyes. Or we should say, buyers want outdoor living room ideas, so are currently preferring homes with one all ready for use.
Jodi Moody, a realtor with Tennessee-based Smoky Mountain Realty, comments: 'In our market the trend has turned toward outdoor entertainment spaces. People here love to have planned spaces for patios, pergolas, fire pits for fall and shady areas for spring and summer. Outdoor kitchens, grilling stations and spas or swimming pools highlight the higher priced homes.'
Having a polished, finished look is very important for an outdoor space: 'People know they can renovate the interiors, apply fresh paint or flooring or have granite installed in a kitchen, but walking outdoors and seeing a large dreamy backyard where they can envision spending time with family and friends really seems to make a home move quickly compared with others of similar price or location.'
Not only will your home sell faster if it has a stylish backyard, but it will also sell for more, says residential real estate expert, Steve Laret: 'In recent years,
outdoor living spaces have been achieving some of the highest premiums of
ROI. With the memory of Covid lockdowns still fresh in people's minds, not
to mention the looming fear of future lockdowns, consumers are placing an
increasingly high premium on private outdoor space. You would be amazed at
what a few paver stones and a string or two of well-placed Edison bulbs can
do for your property value and speed to contract!'
3. Luxury flooring
Don't underestimate the positive effect on a buyer's attitude when they step onto a well finished hard floor – as opposed to a dated carpet.
Aimee Stern, a Broker Associate at The Agency, explains the appeal of luxury flooring: 'Discerning buyers crave quality, often reclaimed, solid wood flooring, in French or European Oak, which can be installed in a variety of traditional patterns, including herringbone, chevron, or an intricate tapestry-like pattern, and that can neutralize and anchor, or even set-in-motion a space.'
4. General cleanliness
That a clean home will sell a home will not surprise anyone, but our real estate experts emphasize that many sellers don't pay attention to the standard of cleanliness buyers now expect.
Scrub your home to perfection, and you will be amazed by buyers' interest, said Gigi Malek, a real estate agent with Daniel Gale Sotheby's International Realty: 'It's so hard for buyers (unless they are an investor) to see past a messy, dirty home. Clothes on the floor, dishes in the sink, dog hair or smell on furniture and rugs, filthy bathrooms, and junk piled up everywhere can drastically devalue a home.'
Robert Taylor, an investor and house flipper in the greater Sacramento area for over 15 years, strongly agrees that the most important thing to buyers is 'a seriously clean and decluttered house. Everyone thinks their house is clean, but I go in lots of houses that are listed for sale that just look and feel dirty. Why do buyers like to see new paint and carpet in a house? Because it looks clean. The same is true with why buyers like new kitchen appliances; they look and feel clean.'
Cathy Shaw, a Sales Agent with the Falk Ruvin Gallagher Team, concludes: 'Cleanliness is the one feature that will help sell your house quickly. In a competitive market with a short window of time to make a decision, buyers make quick assessments of homes. If there are scuffs on the wall, dirty light switches and clutter on countertops, buyers assume the property might not have been well maintained.'
While it is extra work to really clean your home, it is really worth doing, she says: 'Taking time to see your house through a fresh lens and doing a deep clean and decluttering of the home is the most important step you can make to sell your house quickly and net the most money.'
5. A dedicated storage room
Finally, consider adding a dedicated storage or utility room, if you don't already have one. Laundry room ideas and storage are always on discerning buyers' minds, says Bre Hance, owner of InHance Interiors, a full service boutique interior design and build firm based in Los Angeles that services celebrities, investors, and homeowners all over the country.
Here's a tip from Bre: 'Storage space is a guaranteed way to make anyone with a family or looking to have a family prioritize your home over others. It's something that if it's not included, is a hassle to add down the road.'
Cameron Miller, a Toronto-based realtor, agrees: 'Everyone has an inner clutterbug that is waiting to be unleashed given the proper space for it. Whether it is because of a collection hobby or for purely sentimental reasons, it always feels good to have a room or place in the house where you can store various stuff without
worrying about it cluttering the main spaces.'
Kitchens, beautiful outdoor spaces, and ample storage – all with nice flooring. Sounds like any buyer's dream home.
Sign up to the Homes & Gardens newsletter
Decor Ideas. Project Inspiration. Expert Advice. Delivered to your inbox.
Anna K. Cottrell is now a freelance writer, having previously been a Content Editor for Future's homes titles. She writes about interior design, property, and gardening. On H&G, she specialized in writing about property – buying, selling, renting – sustainability and eco issues.