Earthfoam mattress: eco-friendly, inexpensive, not quite right
The sustainable mattress is made from natural rubber from trees, wool, and cotton.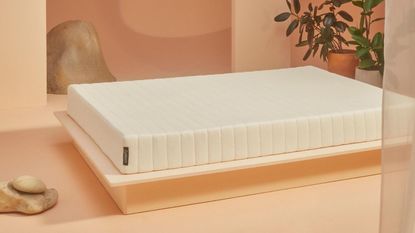 (Image credit: Earthfoam)
This mattress is not supportive enough for some bodies, but might be worth it for those prioritizing eco-friendliness in shopping for products.
Reasons to buy
+

You have a commitment to eco-friendly products

+

You prefer natural mattresses

+

You want a less structured mattress feel
Reasons to avoid
-

Lots of motion transfer

-

Stiff edges

-

Not as supportive as others
You can trust Homes & Gardens. Our expert reviewers spend hours testing and comparing the latest products, helping you choose the best for you. Find out more about how we test.
Organic mattresses are one of the next big things in bedding. Where memory foam beds can be packed with gross-smelling off-gassing chemicals and potentially hazardous fibreglass, organic mattresses use sustainably-harvested rubber and organic wool and cotton to make more eco-friendly, non-toxic mattresses.
However, this process is pretty costly, which means that latex mattresses have long been far too expensive for the average consumer. Enter Earthfoam, bringing a less expensive latex mattress to market. It's $999 for a queen, which doesn't sound like a bargain until you realise it's three times cheaper than some of the competition.
The company uses rubber from Sri Lankan trees, cotton, and wool in an attempt to make mattresses that love the earth for people who love the earth too. What's more, with the Fair for Life Development Fund, Earthfoam claims to support community projects for the farmers and farmworkers in Sri Lanka from whom they source the natural rubber used in Earthfoam's products.
The brand describes their mattresses as bouncy, comfy, supportive, and organic. But after testing this product for multiple months, I agree with each of these, except 'supportive'. It's a bit less supportive, in fact, than lots of other mattresses I've slept on. It's fairly comfy, but not a contender for the best mattress.
Specifications
Swipe to scroll horizontally
| | |
| --- | --- |
| Firmness | Medium (bouncy) |
| Type | foam |
| Materials | Rubber, organic cotton |
| Size | Up to king |
| Shipping | same day |
Who will it suit?
If sleeping on the floor sounds attractive, because you just need more firmness than most mattresses can offer, you might want to consider the firm selection of the Earthfoam mattress. The medium option is a bit too bouncy and not quite as firm, so I'd select the firm option if you need less give and more support.
Some might be surprised to learn that rubber is more eco-friendly than some other materials, and also surprisingly durable and comfortable. According to Earthfoam, 'Our foam has earned the most stringent organic, fair trade, and health certifications available.' Their mattress is GOTS-certified organic wool and cotton, from New Zealand, India, and Turkey, without pesticides or synthetic fertilizers. It's processed in certified organic factories as well, and carries multiple certifications that might be of interest to eco-friendly buyers.
If you find most mattresses to be too springy or too soft, or maybe too supportive even, this is a unique mix of bouncy and supportive. It feels like you are laying on a heavy and firm lower layer, topped with a more spring-like, flexible top layer. It's confusing, yet it sort of works.
Rubber is known for durability, which is why this company features a ten-year warranty. If you are sick of replacing mattresses that break down, this might be one to consider.
Setting up the mattress
Set up wasn't easy, because it was a bit like trying to move a limp noodle. It was heavy and difficult to move, mainly because the foam material didn't have enough structure to support itself on its side or during transition. So, make sure you have help in setting it up, or don't unroll it until you are in the room you'll be using it, to save your back. Otherwise, set up is easy and intuitive.
What's it like to sleep on?
I like that this mattress company offers two specific mattress levels, medium and firm, to accommodate most people. The medium firmness is similar to other mattresses I've tried, and is what you would expect from a medium firmness product. Sleeping on the medium firmness minimized hip and back pain, and was comfortable in any sleeping position. This versatility would make it great for a guest bedroom.
This product did not have extra levels of pressure relief, though it didn't cause additional pain or pressure. If you have a medical condition requiring more support, though, you might opt for something more helpful for that.
The edges are strangely over-rigid and supportive. This is good for people who often sit on the edge of their bed to put on shoes or do other tasks. It's also helpful if your bed is crowded and you end up sleeping near the edge. Though the edges are supportive, in a water test for motion transfer, we did find there to be significant motion transfer, so it might be worth noting for those with bed partners who roll around a lot.
The mattress has some cooling features, but they are lower down in the product layers and didn't overtly impact use. I didn't feel hot or cold on the mattress, so the features aren't really close enough to the surface to have a major impact.
The design is a bit floppier compared to some other mattresses. In addition, I experienced some pilling of the mattress cover with normal use, which was a bit concerning given I didn't test it for more than a few months.
How does it rate online?
On their website, users report 4.8 stars out of 5 stars, with 32 customer reviews available. Reviewers had some mixed opinions, such as the meaning of firm – one called it 'smushy'. Others noted that it was heavy to lift and took two people. Some reported feeling better about eliminating 'off gassing' due to the organic nature of the materials. In other reviews, a pregnant parent in particular reported feeling the mattress was helpful and supportive to side sleeping.
Is the Earthfoam mattress worth it?
The mattress is worth it if eco-friendly, budget friendly, medium firm mattresses are your priorities. Mostly, you are paying for the materials, and eliminating potentially toxic ingredients you might find in other products. If you are hoping for a middle of the road mattress in terms of comfort and pricing, this might be for you. If you need more structure and support than usual, you might want to consider other options.
Sign up to the Homes & Gardens newsletter
Decor Ideas. Project Inspiration. Expert Advice. Delivered to your inbox.
Alex Frost is a Cincinnati-based journalist and content marketing writer who specializes in medical/health, mental health and wellness, parenting and relationships, education, trends, business, and lifestyle writing. You can find Alex's work in Huffington Post, The Washington Post, Glamour, Parents, Women's Health, Reader's Digest, Popular Science, and Today's Parent, among other publications.