Narwal T10 4 in1 robot cleaner: quiet, but not always clean
A mop and vacuum robot that gets the job done – quietly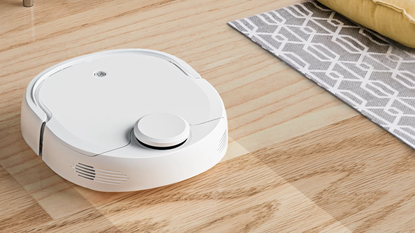 (Image credit: Narwal )
If you are looking for a quiet option that can handle medium amounts of dirt and grime, the Narwal might be for you, but it has some drawbacks to bear in mind.
Reasons to buy
+

Both a mop and a robotic vacuum

+

Quieter than competitors

+

Set up easy/pairing quickly
Reasons to avoid
-

The app can be difficult to use

-

The mop pads get dirty pretty quickly

-

Weaker suction than competitors

-

Price
You can trust Homes & Gardens. Our expert reviewers spend hours testing and comparing the latest products, helping you choose the best for you. Find out more about how we test.
Sign up to the Homes & Gardens newsletter
Decor Ideas. Project Inspiration. Expert Advice. Delivered to your inbox.
Thank you for signing up to Homes & Gardens. You will receive a verification email shortly.
There was a problem. Please refresh the page and try again.
Modern home life can get noisy, especially with kids and pets. The last thing you need is a robot vacuum and mop adding to the chaos. Narwal took this into account when they created their mop and vacuum combo product, the Narwal T10, 4-in-1, which features an automatic mop cleaning station.
The product has multiple settings to ensure your entire floor is mopped and vacuumed, and that you don't have to mess with dirty water post-mopping. Its ultra quiet feature means that you can do all this during a Zoom call, while a baby is napping, and more.
But quiet comes with a disadvantage – the suction isn't as strong as competitors. If you want your vacuum to pick up every crumb, which, let's face it, every vacuum should, this might not work for you. Buyers should consider if sound or perfection is more important to them.
Product specifications
Swipe to scroll horizontally
| | |
| --- | --- |
| Charge time: | 2.5 hours |
| Bin capacity | 480 |
| Bagged or bagless: | bagless |
| Robot weight: | 8.3 pounds |
Unboxing
The unboxing process reveals a user-friendly product right from the beginning. There are tabs that help you remove the vacuum, and the company has invested in the aesthetics of the unboxing products, making it look cute, friendly, fun, and secure in the packaging. This is also where you might be pleasantly surprised to find they've included extras like the mop pads and more mopping solution for when you run out, making you feel set up from the beginning.
Set up
During setup it becomes obvious that the company put effort into hiding the water containers that contain the clean and dirty water from the mopping process. None of this is visible without opening the larger machine, which is helpful if you have curious little kids around (it looks like a big boring white box, not a water table to play on). To mop, you have to put water in the container, which you subsequently change out each additional time you mop.
However, you first need to run a mapping cycle to help the robot determine what will be mopped or not (hardwood or laminate vs. carpet). After this process is complete, you can trust your vacuum won't be trying to spray water on your favorite area rug. In the app, you also can determine certain settings like which level of power/suction you want the vacuum to use, where you want to clean, and more. The app is intuitive to set up, as is the vacuum, making it easy for most users to navigate at the beginning.
What's it like to use?
But while initially easy to set up, using the robot can be slightly frustrating until you are extremely used to the app, which offers quite a few settings, and requires some onboarding at the beginning to get your home properly mapped. This makes sense, because you don't want your robot mopping your carpets on accident. However, the mapping process was a bit cumbersome, and took some practice to get the rooms perfectly labelled in the app. But once this was complete, the robot did know what was carpet and what really needed mopping, and was efficient and thorough in the mopping process.
It returns throughout the mopping job whenever it needs to empty its dirty water, and get new cleaner from the home base. This can take some time, but is worth not having to change it yourself. It doesn't empty dirt into the home base from the vacuum function like some competitors do, so the ultimate improvement to this product would be adding that as a feature.
Storage and maintenance
The robot itself docks in a much larger home base and it requires a decent amount of room in an easy to reach place without any nearby objects. Storage might be an issue for people in an already crowded living space. While the all white dock and robot itself aren't exactly an eye sore, and didn't bother me once it was set up, it's much bigger than some competitors.
The vacuum is high maintenance, and needs to be cleaned somewhat frequently as it's vacuuming. That's because the mop pads can be attached as you vacuum, but that means they get dirty quickly. In fairness to Narwal, you can just take these off, but let's be honest - who would be bothered to do this every time they use the vacuum?
You also need to clean the filter periodically, which slides in and out of the robot like a cassette tape, but isn't hard to clean.
How does it rate online?
On Narwal's site, the product has 369 reviews, and 75% of those people have given it a five star rating. It has a 4.5 star rating overall. Users point to similar pros and cons as above, saying it takes a little time to get it up and running, with some citing a few attempts.
More positively, however, one mom of three recommended it as she's able to "wake up to a clean house." It also seems to benefit pet owners (though we have a dog it doesn't shed much), with one user saying they haven't even used their brooms since purchasing the product. On Amazon, the product received 4 stars for "value for money," 3.9 stars for "noise level," and 3.7 stars for both remote control and suction power.
How does it compare to similar models?
Similar models of this product from other brands feature a much stronger suction ability than the Narwal, but are also much louder. I often didn't even know which room this product was in, because it's significantly quieter than other robot vacuums I've tried.
But compared to the more expensive Narwal Freo, this product needs modules replaced, doesn't have DirtSense technology, and doesn't use heat air drying. If those features are important, you might want the Narwal Freo instead.
Should you buy the Narwal T10 4-in-1?
You should buy this vacuum and mop robot if you highly value not having additional noise in your house, don't have exceptionally high levels of dirt, and don't mind helping it get unstuck occasionally. In particular, I have a metal-legged coffee table that it likes to launch itself onto, getting tangled up around the legs. It's also not great at navigating around lamp cords or over medium-sized toys and socks, so clear the path well.
If you find yourself not mopping as much as you should, and not really wanting to, this product is for you. It takes the legwork and guesswork out of mopping once you are set up, and does the dirty work for you with removing the nasty water from the robot and refilling.
Sign up to the Homes & Gardens newsletter
Decor Ideas. Project Inspiration. Expert Advice. Delivered to your inbox.
Alex Frost is a Cincinnati-based journalist and content marketing writer who specializes in medical/health, mental health and wellness, parenting and relationships, education, trends, business, and lifestyle writing. You can find Alex's work in Huffington Post, The Washington Post, Glamour, Parents, Women's Health, Reader's Digest, Popular Science, and Today's Parent, among other publications.