Flair NEO Flex Manual Espresso Machine – easy espresso perfection
Beautifully simple, the Flair NEO Flex manual espresso machine is all you need to make a basic shot of coffee. It's easy to use and store and our barista loved it.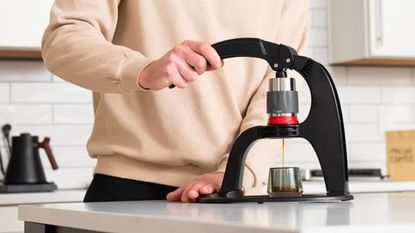 (Image credit: Future)
This made an excellent espresso. Once you are used to a manual machine, you'll love the Flair NEO Flex. It's also really easy to store.
Reasons to buy
+

Simple

+

Makes good coffee

+

Good price

+

Small footprint
Reasons to avoid
-

More involved set-up

-

Plastic feels a little cheap

-

Shape might be hard to store
You can trust Homes & Gardens. Our expert reviewers spend hours testing and comparing the latest products, helping you choose the best for you. Find out more about how we test.
Sign up to the Homes & Gardens newsletter
Decor Ideas. Project Inspiration. Expert Advice. Delivered to your inbox.
Thank you for signing up to Homes & Gardens. You will receive a verification email shortly.
There was a problem. Please refresh the page and try again.
There's beauty in simplicity and this proves exactly why. As a barista, I'm always down to get my hands-on with my coffee, but manual espresso machines can be off-putting for the average coffee drinker.
However, on test I found that this simple machine is everything you need to get started with coffee. It will extract a top quality espresso without the noise, flashing and beeping, of your normal coffee machine.
But it's not just the simplicity of the machine. I've tested some of the best espresso machines on the market and in a taste test, you wouldn't be able to tell the difference between our best and this one.
You'll need to adjust to it and it might not work for everyone, but I think this is a brewing option worth thinking about.
Specifications
Swipe to scroll horizontally
| | |
| --- | --- |
| Dimensions | 12 x 12 x 4 inches |
| Materials | Brushed stainless steel plastic |
| Weight | 4.51 lbs |
| Capacity | 60 ml |
| Brew type | Extraction |
Unboxing
The Flair NEO Flex has stylish packaging. It feels like unboxing a gift, because the box is thick with a luxurious sponge cushioning the various parts that come with the machine.
Inside the box, Flair provides a pressurised basket (for coffee), regular basket (which can become bottomless), brew head, and pressure release valve (to stop your coffee from becoming too grainy if your grind is too fine).
The body is all plastic, which I was surprised by, because it felt a bit cheap for such premium packaging, but Flair have good reasons. This is the 'flex' model, which is designed to be lighter and easier to move around. They make other products with metal bodies, but this is meant to have that plastic flexion. It's lightweight, easy to assemble and disassemble, so it's portable and easy to use.
Who would it suit?
Lightweight, portable, and easy to store, this espresso machine is an excellent option if you're looking for a basic model. It will make a smooth espresso and looks stylish on the countertop. If you don't want to leave it on show, you can place it in a cupboard and fit things in around the, slightly unusual, shape.
This could be daunting for someone who is used to an espresso machine, but the instructions are simple and you will quickly ad just to it. If you're the kind of person who is looking for the closest espresso machine to an automatic, bean to cup machine, you might get frustrated with this. If you put the time in, this will quickly become effortless to use.
What is it like to use?
If you've never used one of these before, make sure that you're familiar with the instructions or watch a YouTube video, so you can see how this is done. First, I preheated the cylinder with boiling water. The cylinder is small, so I used the Fellow Stagg Gooseneck Kettle to get the most precise water steam. There's a useful sleeve, so that I could empty the cylinder once it had filled and warmed from the boiling water.
I used the Fellow Stagg grinder to grind my coffee beans to a fine grind. Then I added 18 grams to the standard basket. If you are using pre ground or coarsely ground coffee, use the pressurized basket. Once my grounds were in the basket, I sued the tamp to distribute the grinds.
I then placed the basket in the stand, which is really secure. I placed the brew head on the basket and filled it with boiling water from the gooseneck kettle again. I placed the piston on top and slowly pulled the lever until I felt resistance. I was worried that I might break the stand, but I gradually applied more pressure until I had extracted a full shot of espresso. It's useful if you have scales like these from QVC, which you can put underneath the espresso stand, and measure out how much coffee you want.
The espresso was smooth and hazelnutty. I had seen people recommending to use boiling water, but mine was 190 degrees Fahrenheit. I didn't want to burn my grounds and make my espresso taste too acidic. I used a medium roast and I wouldn't recommend using beans with a lighter grind, as they are more challenging to extract.
Cleaning, Storage, and Maintenance
I would wash all of this by hand using warm soapy water. There are lots of small spaces where grounds could collect and you are much more likely to get them out if you take care washing them yourself.
You can disassemble the stand and store it anywhere, since it's light and compact. However, there are lots of parts, so make sure that you don't lose any of them. It is much less hassle to leave the stand in one piece. It looks modern and sleek, so should be fine to store on your countertop, especially if you have a coffee station.
How does it rate online?
Lots of people like the NEO Flex. They found it easy to set up and use and really enjoyed making coffee manually. Most people enjoyed the coffee flavors that this could extract, but, as I said, all of these people used more developed beans rather than light roasts. This is aimed at beginners, so if you wanted to explore more coffee flavors, you might want to invest in something more complicated.
A few people worried about the pressure release piston. This is designed to let water flow out of the top of the brew chamber if your grind is too fine, but that's the only time you can use it. You'll need to buy a new one after that. It's a good idea, but could be expensive. This stops you from breaking the frame though. Some people thought the frame was creaky or a little too flexible, but I didn't find anyone who actually broke it, so it's more durable than it looks.
How does it compare?
The Flair NEO Flex is a essentially the plastic version of the older Flair Neo Classic. This is a little more expensive and has a stainless steel frame. Metal feels a lot more durable (as well as more premium), so if you're not on a budget, this is worth considering. However, to get the prefect grind for the Classic, you would need to invest in a more complicated, refined grinder, which is a lot of expense for a beginner. If you aren't a coffee obsessive you won't notice the taste difference anyway.
If you're looking for a lightweight, portable option, it's also worth considering the Wacaco Picopresso. This is about the size of a can of soda, so is more useful if you are tight on packing space. It's less refined and precise when it comes to extraction, so if you're particular about your espressos, the Neo Flex will pull a better shot. However, the differences and price are marginal.
Should you buy it?
This simple, affordable, basic espresso machine is an excellent investment for people who are new to manual espressos. You won't invest too much, but you'll get a good taste of what a manual espresso machine requires and you'll learn a lot about how to extract.
If you're looking for a more durable frame, you might consider the classic model instead. It's more expensive and an unnecessary investment for beginners, but worth considering.
How We Test
We take every espresso machine to our dedicated test kitchen. Here, Laura, a former barista and certified Customer Advisor, tests and makes notes on every aspect of a coffee maker. From the unboxing process to washing up, nothing slips past her. One of the most important qualities is making good coffee. We always make sure to do a taste test, so that you are guarenteed delicious coffee. You can visit our dedicated page if you would like to find out more about how we test.
Sign up to the Homes & Gardens newsletter
Decor Ideas. Project Inspiration. Expert Advice. Delivered to your inbox.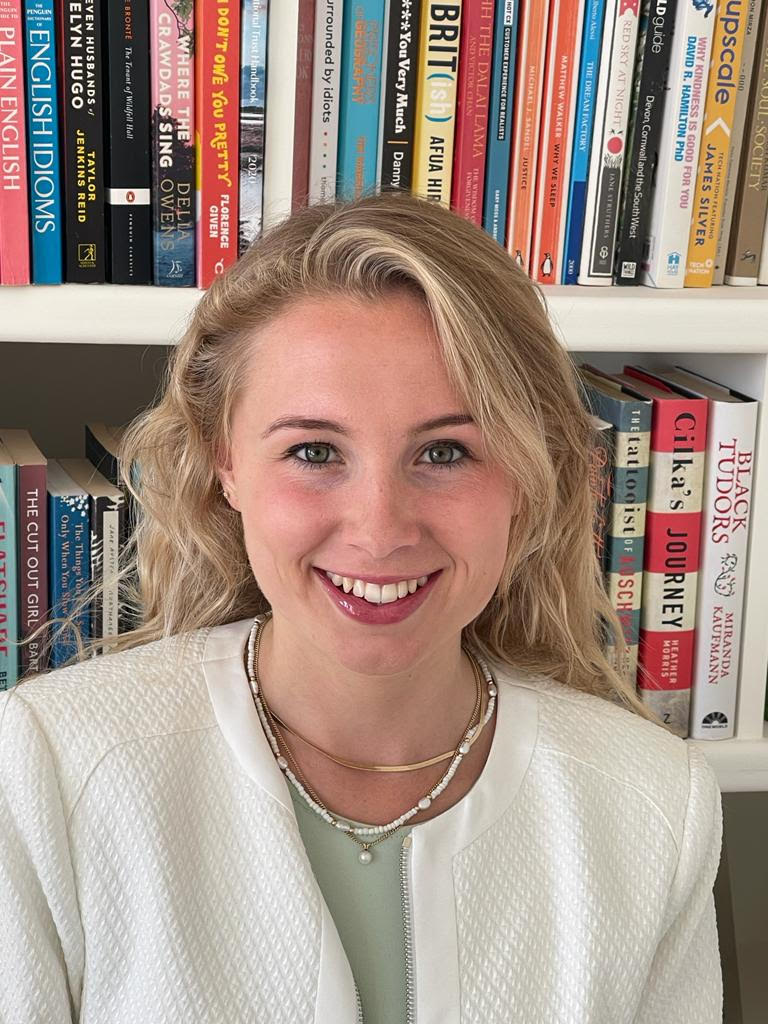 Laura is our eCommerce editor. Before Homes & Gardens she studied English at Oxford University. Alongside her studies, she qualified as a barista and trained as a master perfumer. This makes her our certified expert for all things coffee, candles, and fragrance. She has passed our five-step tests to become a certified Customer Advisor, making her our resident expert. Laura has worked for luxury retail brands, reinforcing the importance of quality and style over quantity and fads. She looks for products which have been designed with thoughtful finishes.