Mightiest on the market: the iRobot Roomba s9+ inhales everything in its path
Prepare for serious suction from the iRobot Roomba s9+ robot vacuum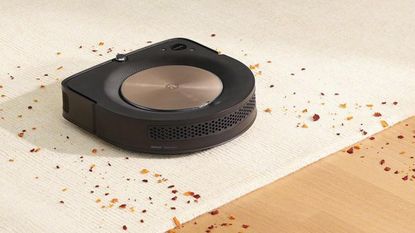 (Image credit: iRobot)
This super-strong robot vacuum is highly effective for heavy dirt loads, tough messes, and frequent cleaning. It's ideal for families with pets and children, anyone with trouble keeping the floors free from debris, and for busy people who don't have time to empty the dirt compartment each time.
Reasons to buy
+

Easily handles substantial or frequent dirt, dust, and debris

+

Can handle big pieces of dirt or trash

+

Self-emptying

+

Can be controlled by an app

+

Childproof and petproof settings

+
Reasons to avoid
-

Incredibly loud

-

Pushes over lightweight furniture
You can trust Homes & Gardens. Our expert reviewers spend hours testing and comparing the latest products, helping you choose the best for you. Find out more about how we test.
Sign up to the Homes & Gardens newsletter
Decor Ideas. Project Inspiration. Expert Advice. Delivered to your inbox.
Thank you for signing up to Homes & Gardens. You will receive a verification email shortly.
There was a problem. Please refresh the page and try again.
As a product tester and mom, I've tried and hated my fair share of vacuums. From ones without enough suction, to others with tiny storage bins that only hold as much debris as my kids produce in one meal, they've all disappointed. Until now.
The iRobot Roomba s9+ is more than a match for my messy household. This powerful robot has made it look like I'm doing way more housework than I actually have time to take on. The robot vacuum's most attractive feature is a self-emptying process, that sucks dirt out of the vacuum after use automatically, into a storage container that doesn't need to be emptied for a long while.
It also works seamlessly with an easy to use app for initial home mapping, so it can learn your space, creating schedules for automatic cleaning, stopping and starting. This is especially impressive given that my flooring is a combination of carpeted, area rug, and laminate flooring. This has the added bonus of securing your vacuum from kids and pets who might love pushing buttons.
The flipside is that it's exceptionally strong and noisy. It's the most aggressive robot vacuum I've ever tested. Unlike other robot vacuums, it isn't one to get itself stuck between dining chair legs, but will instead will push them out of the way and sometimes even topple them over. Its high suction levels means it's a bit noisier than other options, especially when emptying the dirt into the bin. That said, if you are in a household or business with a serious floor dirt and debris problem, this will solve it quickly.
Product specifications:
Model number: s955020
Battery/run time: 120 minutes on one charge
Number of settings: Eco, Standard or Turbo mode, entire floor plan, specific rooms, specific options, Careful Drive
Bin capacity: 550 ml of dirt and debris. The disposal bag can hold up to 2 months of dirt.
Bagged or bagless: Larger storage unit for dirt has a bag, but not the moving robot itself. The product comes with 2 dirt disposal bags
Suction power: 40x the Roomba 600 series
Weight: Robot 8.15lbs; clean base 8.51lbs.
About this review
About this review
Alex Frost
Alex is a 35-year-old mom, wife, and journalist working out of Cinncinati, OH. She tested this product for a month, putting it through multiple mapping programs, charging sessions, and cleaning cycles. She assessed how well it vacuumed her various types of flooring and if it had the skills to weave its way through chair legs, LEGO, and her kids' artwork.
Unboxing
The product and boxing felt high quality and professional, like you were about to use a well-thought through product that would drastically improve your life. The robot was well protected in the packaging, and set up was easy and painless. During unboxing, I noticed that the brushes seem much less wispy than competitors, and more strong and durable, like rubber material.
Setup
Setting up a robot vac can feel intimidating, especially for those who aren't the most tech savvy. Thankfully, setting up the s9+ is simple and intuitive; the app walks you through the directions you need. The easy-to-navigate dashboard and home screen on the app allow you to set up functions you want during initial set up, or wait until later for additional features like two thorough mappings of your whole space that are recommended, and more.
What is it like to use?
The simplicity of the product is one of its most attractive features, as it's designed to do work for you, not create more work. Through a simple tap on the app, or by using your preset scheduled cleaning time, the robot gets started, navigating through your home, around objects that are stationary including furniture and walls. Its brushes work closely to the edges of cabinets and tight spaces, ensuring that even little corners where dirt gathers are clean in the end.
You can also choose specific rooms for it to clean using the app, which is ideal for when your 4-year-old learns how to use scissors for the first time, but you don't need a full house clean. After the robot returns to the home base, it docks itself, and then settles in to have all the dirt forcefully sucked out, into the storage bin. This is quite a loud process, and sounds like a jet engine taking off. Thankfully, it only lasts a few seconds. The product never lost charge mid job, and only got stuck once on a slightly larger toy that had a string on it, so charging time was never an issue with its self-docking and charging function.
Cleaning
We didn't have to empty the dirt container in the entire month we tested, in spite of substantial dirt and debris, and daily cleaning. There's also an option to have the robot finish jobs even if they are full of dirt, or return to the dock to have the debris removed once full.
Multiple times, I wiped down the top of the product itself, if it had encountered some dust under the cabinet areas, but overall it stayed quite clean on its own, with little maintenance. It needed very few cleanouts in the filter and brush areas, making it much more durable than other competitors I've tried, which required a few cleanouts per week.
The robot redoes missing spots, which is a function that contributes to a much more comprehensive clean, without a bunch of areas where you wondered if it even went there. It also has an excellent turning radius, so it isn't missing dirt right underneath the product.
It detangles itself from cords and most objects that are too big to suck up, rarely getting stuck. The three settings — eco, standard, and turbo — help you control the sound issue a bit. Turbo mode is exceptionally loud, but works well for heavy messes, or if you need to deep clean one room, because it dies more quickly in that mode.
Storage and maintenance
The robot does take up a bit of vertical space at around 19 inches high, but it's not exceptionally wide. It works best when it has some breathing room, and that's where the space allocations can be a lot for some people in small spaces. For example, there should be 1.5 feet of free space on each side of the base, and four feet of free space in front, with an additional four feet from any stairs. So, it's nestled in the corner of our dining room, but it might be difficult for some people to find a space this large to make a home base for the robot.
How does it rate online?
The product received 4.1 stars on Best Buy's site, with users finding it easy to use, high quality, and a bit average when it comes to value. Many called out its ability to handle pet hair, a feature we don't have to use much having a non-shedding dog, and admired its high quality cleaning ability. Like me, multiple users found it to get stuck periodically, and to be quite loud. Some had concerns about the price, which can be substantial compared to competitors at $799.00, though I believe it to be higher quality, reflected in the price tag. One user notes that it's a huge time saver, though it doesn't do well in cluttered areas. Another says it can't replace a full size vacuum for a deep clean, though they have two dogs with lots of shedding.
How does it compare to similar models and its predecessors?
Previous iRobot products didn't have the same capability to store dirt in a holding bin, and required emptying the bin on the actual robot frequently. It has many more options than other products, such as the ability to make one or two passes through a room, or to judge the room based on its size, to balance cleaning time with battery charge and ensure it can do the job. It also has a careful drive option if you are worried about it bumping into walls and furniture, which could be helpful around more expensive or fragile furniture.
According to an iRobot spokesperson, this vacuum is a new iteration of the originally released self-emptying base with the i7+ in 2018. This vacuum is also more powerful than its predecessor, with 40 times the suction from the entry-level robot vacuum. It also has an improved square front design meant to get closer to walls and corners than round models.
Who will it suit?
This product is great for moderate to heavy messes, compared to other vacuums I've tried, such as earlier model iRobot products, an Eufy robot vacuum, and handheld vacuums. It also suits homeowners with multiple types of floor surfaces to clean, as it easily navigates between carpets and hardwood, and also is excellent at launching itself up onto higher rugs and surfaces, such as an orthopedic kitchen pad I have that is multiple inches off the ground.
It is simple to use for both beginners and has enough features that more experienced robot vacuum users will appreciate, making it ideal for a wide audience. However, if someone is uncomfortable using an app to power their vacuum, they won't get much use from the product.
Should you buy the iRobot Roomba S9+?
I highly recommend purchasing this product for your daily home cleaning needs, or for businesses. It's ideal for multiple types of surfaces, and offers extensive customization options to ensure the product works well for your needs. I've never been disappointed with remaining dirt laying around after using this, even in hard to reach corners. While other products frequently got stuck or clogged, this product doesn't, and even pushes light furniture around, maneuvering around cords when needed, to get the job done. If you are sensitive to noise or have to have a very quiet environment, I'd recommend a different option, or strategically setting the time to when you aren't home. You won't regret your purchase the first time you see your dirt-free floors after purchasing the iRobot Roomba s9+.
Sign up to the Homes & Gardens newsletter
Decor Ideas. Project Inspiration. Expert Advice. Delivered to your inbox.
Alex Frost is a Cincinnati-based journalist and content marketing writer who specializes in medical/health, mental health and wellness, parenting and relationships, education, trends, business, and lifestyle writing. You can find Alex's work in Huffington Post, The Washington Post, Glamour, Parents, Women's Health, Reader's Digest, Popular Science, and Today's Parent, among other publications.