KitchenAid 9-Cup Food Processor review: a storage-friendly chopper
The KitchenAid 9-Cup Food Processor has a clever hinged lid and a storage-friendly design, making it well-suited to most kitchens. However, it lacks the professional finish we found in more powerful processors.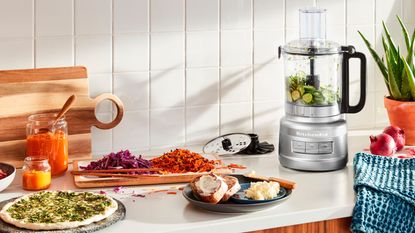 (Image credit: KitchenAid)
The KitchenAid 9-Cup Food Processor lacked some of the finesse that we have seen in more expensive food processors, but its size and price make it a great option for families or medium-size kitchens.
Reasons to buy
+

Neat and storage-friendly

+

Easy controls

+

Cleaning was simple

+

Emulsifying whisk is great for salad dressings
Reasons to avoid
-

Struggled to make mayonnaise

-

Only one cup size

-

Feeding chute width meant we struggled to slice
Why you can trust Homes & Gardens Our expert reviewers spend hours testing and comparing products and services so you can choose the best for you. Find out more about how we test.
In this KitchenAid 9-Cup Food Processor review, we put this kitchen chopper through a number of standardized tests to see how well it compares to some of the best food processors on the market. We tested the 9-Cup Food Processor in the UK, where it is known as the KitchenAid 5KFP0919BAC Food Processor. The machine itself is the exact same though, and comes in a range of lovely colors that will fit right in with just about any kitchen decor.
Although we really enjoyed how storage-friendly this food processor is, it didn't come out on top when we tested it alongside models from Breville and Magimix. The cucumber we sliced came out at an awkward angle, and the emulsifying attachment struggled to make a small serving of mayonnaise. However, it did a great job of chopping onions in seconds, and its hinged lid means it is a mess-free option that will work in any space.
KitchenAid 9-Cup Food Processor specs
Model name: KFP0918BM
Power: 120 volts
Capacity: 9 cups
Size: 7.87 x 9.65 x 16.75 inches
Weight: 6.35 Pounds
Included: 9 Cup Work Bowl, Lid with 2-in-1 Feed Tube, Multi-purpose Blade, Reversible Slicing/Shredding Disc, Whisk Accessory, Refrigerator Lid, Dough Blade
Warranty: 1 year on parts and labor
Getting started
The KitchenAid 9-Cup Food Processor comes in a conveniently small box, and despite the fact that is has a good amount of added attachments, all of the parts tuck away neatly inside the food processor.
It comes with a chopping lid with two different size chutes, and a lid that attaches if you want to store the KitchenAid 9-Cup Food Processor chopping bowl in the fridge.
The packaging was heavily polystyrene, which is a shame as other models we tested came with more recyclable packaging. However, we did feel that this is a product that is designed to last when testing it, meaning you won't need to replace it any time soon. It would have been good to see this quality backed by a longer warranty.
When assembling the KitchenAid 9-Cup Food Processor, we noted that the lid hinges onto the side of the work bowl. When testing other food processors this is something that hasn't featured, which means that we were often left placing a dirty lid onto a kitchen countertop, leaving a mark from whatever was inside the food processor.
This hinged lid also makes it easy to open and close the food processor, but we did find that when it's placed upright, some of the pusher inserts did slide out if not inserted correctly.
Slicing in the KitchenAid 9-Cup Food Processor
The KitchenAid 9-Cup Food Processor comes with a reversible slicing and shredding disc, so we used this to slice some cucumber and shred some carrot.
Our cucumber did not fit into the smaller insert, which meant we had to use it in the wider feeding chute. Although we were pushing it down as it sliced, the speed of the food processor meant that it ended up being knocked sideways, and our finished result was far from the flat and even slices we achieved in other food processors.
Overall, we were off to a disappointing start. A large wedge of the cucumber became stuck between the pusher and the slicing wedge which also meant we had a bit of waste, and our cucumber was not evenly sliced whatsoever.
Shredding carrot
To shred our carrot we flipped the reversible disc and were able to use the smaller feeding chute to insert our carrot whole.
The KitchenAid 9-Cup Food Processor has three buttons: start, stop, and pulse. We opted for the pulse button to shred our carrot to get a bit more control, but the entire thing was finished in a couple of seconds as there is no adjustable speed with this food processor. If you were looking for an option with different speeds, we suggest the Ninja Professional Plus Food Processor.
The size of the bowl meant we could easily have shredded a lot more carrot in the KitchenAid 9-Cup Food Processor, meaning it is a good size for the average household. We also found that almost all of the carrot was shredded, with very little waste overall in this test.
Chopping onion
If there is one hated kitchen task that can be taken away with a good food processor, it's chopping onions. We added a quartered and peeled red onion to the KitchenAid 9-Cup Food Processor and pulsed it for a few seconds to see how evenly it would be sliced.
It is safe to say that the KitchenAid 9-Cup Food Processor had absolutely no trouble with this task. Some models have struggled to chop parts of an onion, while blitzing the bottom half of the bowl into more of a paste, which can catch and burn very easily when cooking.
We had no such issues with this food processor, likely because of the size of the bowl which meant that the onion was able to feed through to the bottom of the chopping blades without getting stuck. The onion pieces were even and perfect for cooking.
Making hummus
Food processors need to handle both solid and liquid ingredients, and they are particularly well suited to making dips from scratch. We made a batch of hummus in each of our tests by first blitzing some chickpeas and then adding tahini, lemon, onion and olive oil and blending for 45 seconds. Using the same timings allowed us to check and see if there were textural differences between our different dips.
This hummus came out very smooth with little textural inconsistency. It was still grainy in parts, but we experienced this across a few of our tests and we suspect that it is in part related to how we prepared the chickpeas.
We did not have to go in and scrape the sides of the bowl at any point, and when we were done it was easy to remove the finished dip from the bowl. It tasted great, and we would definitely trust this food processor to make more dips in future.
Making mayonnaise with the whisk attachment
The KitchenAid 9-Cup Food Processor is one of the few food processors on the market that comes with a whisking attachment. I have used this same attachment in the smaller KitchenAid Cordless 5 Cup Food Chopper and was able to use the controlled oil dropper in the lid of the food processor to make an easy mayonnaise in minutes.
Unfortunately, I struggled to do this in the KitchenAid 9-Cup Food Processor. The whisk sits quite far above the bottom of the bowl which meant it wasn't able to emulsify the yolk fully with my first few drops of oil. This meant I was left with an unstable mix as I added the rest of the oil, causing my mayonnaise to split.
The whisk attachment would definitely work well if you're planning on making whipped cream or even a large portion of egg whites, but unless you are planning on making a lot of mayonnaise I would stick to one of the best immersion blenders to get the job done.
How does it compare?
The KitchenAid 9-Cup Food Processor is certainly one of the most storage friendly food processors we tested, with every attachment fitting inside the compact bowl. We really enjoyed the controls and it felt secure to use, with safety features such as a latch to keep the lid in place.
If you are looking for a large food processor for families, we think the Cuisinart Custom 14-Cup Food Processor would be a more suitable choice. While a 9-cup capacity is an average size and perfect for small families, it won't manage large servings in one use.
The Nutribullet 7-Cup Food Processor comes with a spiralizer, and has a slightly smaller capacity. In testing though, we much preferred its slicing abilities and it performed very well for the price.
Should you buy the KitchenAid 9-Cup Food Processor?
The KitchenAid 9-Cup Food Processor did not excel in each of our tests, but it is a well-made and thoughtfully designed machine that takes into account the demands of a home kitchen. While it does not have an extensive range of attachments, it does everything we want in a food processor and will not place any demands on already-full kitchen cabinets.
If your main concern is quality of slicing, the KitchenAid 9-Cup Food Processor did fall short in our tests. However, it did an excellent job of chopping and shredding, and the hinged lid means it's mostly mess-free. We also enjoyed being able to place our attachments in the dishwasher when finished, which made cleaning a breeze.
About this review, and our reviewer
Millie Fender is our Editor for all things small appliances at Future. She spends a lot of time testing everything from toasters to air fryers in her London flat, and recommending the very best ones to readers.
Millie tested the KitchenAid 9-Cup Food Processor in our test kitchen, alongside models from Breville and Magimix, to see how well it performed in a series of standardized tests.
Millie Fender is Head of Reviews on the Homes and Gardens Ecommerce team. She specializes in cooking appliances, such as the best kettles, and also reviews outdoor grills and pizza ovens. Millie loves to bake, so she will take any excuse to review stand mixers and other baking essentials. When she's not putting products through their paces in our dedicated testing kitchen, Millie's reviews are conducted at home, meaning she uses these products in her own day-to-day life.