Saatva Zenhaven Natural Latex Mattress review
The dual-sided Saatva Zenhaven showcases the best latex has to offer, including optimal temperature control (as tested during two heat waves) and A+ support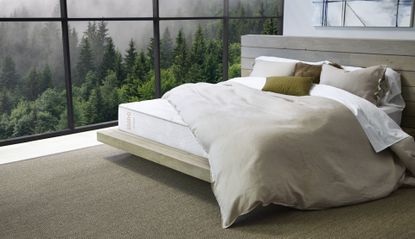 (Image credit: Saatva)
Saatva's Zenhaven mattress is a high-quality, long-lasting latex mattress that excels at temperature control and the kind of even support and pressure distribution that's best for back and stomach sleepers while offering more durability and firmness than most latex mattresses.
Reasons to buy
+

Constructed with hypoallergenic, organic, and eco-friendly materials

+

Natural materials allow great temperature regulation for hot sleepers

+

Two built-in firmness options in one mattress

+

Each bed is made to order in the United States

+

Longer lasting than innerspring or hybrid mattresses

+

Year-long in-home trial and a lifetime warranty
Reasons to avoid
-

Requires a specific foundation (others void warranty)

-

The mattress is heavy and floppy and can be awkward to flip

-

$99 return fee
You can trust Homes & Gardens. Our expert reviewers spend hours testing and comparing the latest products, helping you choose the best for you. Find out more about how we test.
Sign up to the Homes & Gardens newsletter
Decor Ideas. Project Inspiration. Expert Advice. Delivered to your inbox.
Thank you for signing up to Homes & Gardens. You will receive a verification email shortly.
There was a problem. Please refresh the page and try again.
Saatva holds a reputation for high-quality natural and organic materials, and its natural latex mattress, the Zenhaven mattress is no exception. Previously, I'd slept on a 5-year-old hybrid that had arrived compressed, emitted chemical odors after unboxing, and was constantly slipping off the wood slat foundation.
The upgrade of quality in the Zenhaven was immediately apparent. Constructed from organic cotton, natural latex, and New Zealand wool, it struck an ideal balance of bounce, firmness, and breathability. This core provides bounce while four other layers add firmness, for a surface that cradles but still supports you, and won't sag with use.
Saatva Zenhaven At A Glance
Firmness: Two firmness in one: gentle firm, which is moderately firm (about a 7-8 out of 10 on the firmness scale where 10 is tabletop hard), and luxury plush, which is medium soft, or about 4-5 out of 10).
Type: Dual-sided latex
Construction materials: Organic cotton, natural latex, and GOTS-certified organic New Zealand wool
Sizes: Twin, Twin XL, Full, Queen, King, Cal King, Split King, Split Cal King
Height: 10"
MSRP: $1,574-$3,576
As a lifelong stomach sleeper, I need this kind of even support to feel cushioned, but not suffocated. And as a woman approaching menopause, who is occasionally joined by a 60-pound mutt who takes cuddling to an extreme, I require maximum airflow. The Zenhaven impressed on both levels, particularly with its cooling abilities, which were tested to the limit by two separate summer heat waves.
The Zenhaven also offers versatility with two sides that are each a different firmness: gentle firm and luxury plush. Saatva suggests Luxury Plush side for all sleep types, especially side sleepers, while stomach and back sleepers tend to choose the Gentle Firm.
I tried both but actually preferred the cushion of the luxury plush, though having the option for more support is welcome, particularly when an old shoulder injury flares up.
Truly, the Saatva Zenhaven deserves a spot on any best mattress list, particularly among the best organic mattresses. Follow along in my review about what it's like to sleep with the Saatva Zenhaven.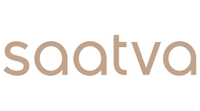 Take $375 off your order of $1,000 or more with a mattress purchase, for a limited time.
Who will the Saatva Zenhaven suit?
Those looking to avoid synthetic chemicals and allergens: Saatva products are made with hypoallergenic, anti-microbial, natural, and certified organic materials.
Back, stomach, and restless sleepers: The springiness of latex keeps you well-positioned and supported while you sleep, and Saatva has a reputation for being firmer than other latex mattresses out there, possibly because of its multi-layer system.
Hot sleepers: Natural latex and organic cotton and wool are among the most breathable materials on the market, maximizing airflow and keeping you cool while you sleep.
Anyone who likes varying levels of firmness: The dual-sided Zenhaven offers a choice between medium-soft and moderate firmness depending on which side you use.
Those looking for an ethically manufactured mattress: Saatva makes its mattresses to order in the United States, at facilities within 100 miles of the shipping address to reduce carbon emissions. The company also uses organic and recycled materials.
Anyone who dislikes mattress shopping: Latex mattresses will easily outlast other varieties by years, and Saatva offers a lifetime warranty on its products.
What's the Saatva Zenhaven mattress like to sleep on?
Overall comfort and support
Overall, the Zenhaven feels as high-quality as it appears. Like most latex mattresses, it has bounce, but also enough firmness that you feel like you're lying on top of it, not sinking into it. The quilted top adds another layer of comfort and lumbar support in the middle of the mattress keeps your spine aligned and evenly distributes pressure.
As a lifelong stomach sleeper, this kind of uniform support is exactly what I need to avoid back, hip, and shoulder pain, and also helps when I move around at night, which is often. It's said to be good for other activities (ahem) for similar reasons: The mattress won't envelop you the way memory foam can, but also has enough give to make movement easy.
Temperature regulation
I wasn't sure what to expect from latex, which I know best as a material for dishwashing gloves. Sleeping on something made of rubber sounded like a formula for night sweats. But here's what I learned: The latex for mattresses comes from the sap of the rubber tree, which is then processed into foam blocks. This foam has an open cell structure (picture a honeycomb) that allows air to move freely through it.
Saatva also adds ventilated pinholes through their latex cores to enhance airflow, and top layers of organic wool and cotton add cushioning while maintaining breathability.
After sleeping on the Zenhaven through two summer heatwaves, I am team latex for life. Waking up hot is probably my biggest issue as a sleeper, and only worsened as I approach menopause. Since getting the Zenhaven, it has not happened once, even when I got the flu. Although I haven't tested it in the winter yet, I usually have a similar problem because I hate being cold and bundling up, then waking up sweating. I'm confident that won't happen with the Zenhaven.
Motion transfer
Due to its bouncy nature, it's typical for latex to have some motion transfer. However, Saatva has managed to minimize this feature in Zenhaven. To test it, I placed a half-full cup of water in the center of one side of the bed and tossed my 12-pound kettlebell onto the other side. As the video demonstrates, the water shakes but does not come close to spilling.
To test this in a real-life scenario, I used my dog, a 60-pound but very active hound mix, as well as another human. I used to wake multiple times a night when my dog turned in circles and re-settled herself, but now, I sleep through her nighttime ritual.
When I invited another person to lay down next to me and toss and turn, I could definitely sense some activity, but the vibrations from it were not enough to wake me from sleep. I also had a married couple who were houseguests try it out and they reported sleeping soundly through the night with no disturbance.
Overall, the Zenhaven does a fantastic job of minimizing the usual drawbacks of a latex mattress when it comes to motion transfer and edge support.
Edge Support
While the center of the mattress is where your body will rest, having proper edge support plays a big role in how supported you'll feel. While a lot of latex mattresses can have weak edge support, Saatva's high-quality construction includes high-density foam rails around the perimeter that reinforce the edges. This helps the Zenhaven feel uniformly flat and doesn't yield too much in any one area. It also helps prevent sagging with use. To test it, I placed a 12-pound kettlebell on the mattress in the center of the bed, and near one of the corners. As the photos demonstrate, the sinkage is roughly the same depth in both areas.
Saatva Zenhaven mattress design and construction
When the Zenhaven arrived, one of the delivery men told me that these mattresses last forever. I don't doubt it. The Zenhaven is only 10" deep but dense, weighing in at about 120 pounds, with a premium natural latex core (no synthetics added).
Because the mattress is flippable, it is constructed with two premium latex cores. Then each side has a layer of latex foam that determines its firmness on that side. There are two main ways of making latex foam, and Zenhaven uses the Dunlop method, without adding petroleum-based chemicals. Saatva also adds ventilated pinholes through their latex cores to enhance airflow.
These layers are each topped with organic wool, which adds extra cushioning while maintaining breathability for temperature control, and has the bonus of being naturally flame retardant and antimicrobial. Finally, the sleeping surface that comes in contact with your skin while you sleep is soft breathable organic cotton.
The quality of the mattress is immediately apparent in the neat stitching and soft organic cotton quilting. Tags easily identify the luxury plush side from the gentle firm.
One of the primary selling points of the mattress is that it uses all eco-friendly, hypoallergenic materials. When something will be in close contact with your skin for as many as 8 hours a night, it's nice to know the materials are natural and won't be emitting chemical odors or gasses even if, like me, you don't have allergies.
In addition to organic cotton and New Zealand wool, which enhance breathability and also serve as a natural fire retardant, the Zenhaven uses a patented nontoxic, botanical antimicrobial treatment on its inner layers.
This is a very well-constructed mattress that's well worth the price. The only potential drawback I can mention is that it has to be spot-treated for stains, but a good mattress protector will take care of that.
Ordering, delivery, and set up
Saatva sells its mattresses through its website, although there are showrooms where you can see them in person in Boston, Los Angeles, New York, San Francisco, Washington D.C., and Chicago. Customer service is attentive and helpful, with a live chat or phone option.
Saatva mattresses are made to order, so you may have to wait between 9-21 days after ordering to receive them. The company partners with facilities nationwide to manufacture and ship its mattresses in the most eco-efficient way.
Saatva offers complimentary "white glove delivery service" for all its mattresses, so you don't need to do a thing. While some mail-order mattress companies are compressed for shipping, the Zenhaven arrives ready to go, requiring no off-gassing period. In fact, natural latex is a plant-based material and doesn't emit VOCs (volatile organic compounds), so you don't have to worry about chemical odors that come from off gassing.
The nature of solid latex does make the mattress heavier (around 120 pounds) and a little floppy, so it can be difficult to maneuver and isn't a product you'll want to move often. Keep in mind you may want to grab a partner to help turn the mattress over if and when you want to try the other side.
Saatva warranty and trial period
Saatva offers a 365-day trial period and a lifetime warranty for all its mattresses. That means you can actually use the mattress in your home for a year and if you decide you don't like it, the company will pick it up and refund your money for a $99 processing fee.
The company's lifetime warranty is also pretty extensive. According to the terms, if the mattress is deemed to be defective within the first two years you own it, Saatva will replace it free of charge. After that, the company will repair and recover your mattress for free, but minus a transportation fee of $149 each way. You can also opt to get an entirely new mattress at anywhere from 40 to 80 percent of the original price you paid (the price is prorated based on how long you've had your mattress.
Saatva donates returned mattresses to veterans' shelters or offers them to employees, so no mattress goes to waste.
How does the Saatva Zenhaven rate online?
On the Saatva website, the Zenhaven has an almost-perfect rating of 4.9 out of 5 stars across over 221 reviews. Other online review sites have similar ratings, with nothing lower than a solid 4 stars. Most reviews say the mattress eliminates back pain and excels at temperature control, and praise the top-quality construction and service Saatva offers, calling this "one of the best quality organic mattresses on the market."
The most critical reviews suggest this may not be the best option for side sleepers because they often need more cushioning to prevent pain in shoulder and hips, but as someone with shoulder pain issues, I've noticed that sleeping on the Zenhaven has eliminated it (I am usually a stomach sleeper, however).
Is the Saatva Zenhaven mattress worth it?
Latex mattresses can be pricey, and the Zenhaven, while definitely in the luxury mattress category, is still at a very good price point for what it delivers. It also seems like more of an investment, given that the mattress is likely to last longer than other kinds.
If you're looking for a high-quality mattress without synthetic chemicals that performs well as far as comfort, temperature control, and stability, I recommend the Zenhaven.
Of course, if you find yourself not quite ready to take the full leap to a pure latex mattress, the H&G team has also tried and endorsed Saatva's latex hybrid version.
Given Saatva's enduring reputation for excellent customer service and quality products, you can't really go wrong even if the mattress doesn't suit you, as you can return it easily. But I'm betting that you won't need to take them up on that offer.
Where to buy
About our review – and our reviewer
Jill Waldbieser is a 43-year-old freelance writer living and sleeping (on her stomach) in Bucks County, Pennsylvania. She has written and reviewed sleep products in the past for U.S. News and World Reports and DotDash. Although she considered sleeping her superpower, she does have a princess-and-the-pea-like sensitivity for a comfortable mattress, especially when it comes to temperature control and as she ages.
Jill's Sleep Stats
Sleep position:
stomach
Insomnia:
rarely
Sleep problems:
occasional shoulder pain, night sweats
Average sleep time:
7.5 hours per night
This Saatva Zenhaven mattress was gifted to us for the purpose of a review, which we have been able to keep. Jill wrote this review after four weeks of sleeping on the Saatva Zenhaven, which she will continue to use for the duration of its lifetime. It was the first fully latex mattress she has used, but won't be the last.
Sign up to the Homes & Gardens newsletter
Decor Ideas. Project Inspiration. Expert Advice. Delivered to your inbox.
Jill Waldbieser is a journalist with 20 years of experience in the health, wellness, and lifestyle space. Her work has appeared in EverydayHealth.com, Eating Well, The New York Times, AARP.com, and Women's Health, among others. She lives and works in Bucks County, Pennsylvania, where she enjoys hiking with her dog, practicing American Sign Language, and volunteering at her local farmers' market. She considers sleep to be her superpower.