Smeg 50s Retro 2 Slice Toaster review: raise a toast in the kitchen
The Smeg 50s Retro 2 Slice Toaster has plenty of throwback charm whilst (almost) perfectly toasting your bread.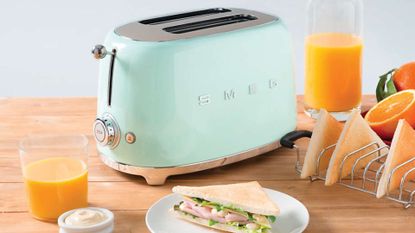 (Image credit: Smeg)
This luxury toaster looks fabulous on the counter-top and is super easy to use with special functions, but it misses out from achieving a perfect score - it feels a bit plasticky and not every slice of bread will result in the perfect toast.
Reasons to buy
+

Looks fabulous

+

Easy to use

+

Special functions (bagel, reheat and defrost)
Reasons to avoid
-

Slices of bread can only go in one way

-

Feels plasticky

-

Expensive for a toaster
You can trust Homes & Gardens. Our expert reviewers spend hours testing and comparing the latest products, helping you choose the best for you. Find out more about how we test.
Sign up to the Homes & Gardens newsletter
Decor Ideas. Project Inspiration. Expert Advice. Delivered to your inbox.
Thank you for signing up to Homes & Gardens. You will receive a verification email shortly.
There was a problem. Please refresh the page and try again.
Toasters aren't the most essential countertop appliance, but they sure have a time to shine when it's breakfast or snack time. Perhaps the most common conception of a toaster is for it to be a boring box with a plunger at the side to push down a couple of slices of bread.
But this is a complete misconception when it comes to the Smeg 50s Retro 2 Slice Toaster. It does the basics but with 3 special functions, illuminated controls and a handy removable crumb tray it breaks the mould and enters the market as a luxury toaster.
I put it to the test over a few months, using it every day to either warm a bagel, toast bread or defrost a slice of frozen bread. I've removed the crumb tray on several occasions and given it a wipe-down to keep it looking like new. It was the only toaster in our household at the time of the review so it has certainly been given a run for its money. Now the testing is over, I've found one of the best toasters that you can buy.
Smeg 50s Retro 2 Slice Toaster
Smeg 50s Retro 2 Slice Toaster specifications
Swipe to scroll horizontally
| | |
| --- | --- |
| Model number: | TSF01BLEU/TSF01WHUK |
| Number of slots: | 2 |
| Cord length: | 3ft |
| Functions: | Bagel, Reheat and Defrost |
| Size: | 8"x12"x8" |
| Weight: | 5lbs |
Smeg 50s Retro 2 Slice Toaster: First impressions
The Smeg 50s Retro 2 Slice Toaster is part of the iconic brand's award-winning toaster collection. You can choose between the Red Dot-winning two slot toaster, the two slot four slice toaster or large four slot toasters.
The toaster I reviewed was glossy black, though the toaster is available in 10 other colors too. It has a thick metal lever and centralized browning dial. This dial - along with the bagel and defrost buttons - are illuminated and has a stop button. It'll let you choose between 6 browning levels when you pop an item in for toasting into the 3cm built-in rack.
Smeg 50s Retro 2 Slice Toaster: Setting up
The Smeg 50s Retro 2 Slice Toaster arrived in a cardboard delivery box. It used recyclable packaging throughout, which is always nice to see.
Before first use, I read in the user manual that users are to heat up the toaster without anything in it on the maximum temperature setting. This is pretty standard practice for new toasters because some dust may have settled on the heating elements during construction and packaging that can cause a smell when burnt.
I can confirm that there was a slight burning smell during the first use, but it went away after it was first used.
Test 1 - Toasting bread
This was the most popular function in my family. I slotted in medium sliced bread to the 3cm-wide slot and set my preferred browning level to 3.
It took 47 seconds to finish a partially toasted slice of bread. You can see in the image above that I slotted in the bread portrait, as it were, which resulted in the tops of the bread missing out grilling. If you put the bread in landscape, however, you can achieved the perfect browning, and perfect degree of toasting in the same amount of time.
This is my biggest criticism of this toaster - that you can only grill with the bread in one direction. It's pretty tedious to have to bear it in mind. If you're making breakfast early in the morning and you're tired and thinking about something else, you could easily forget to put your toast in the right way and wind up with an underwhelming breakfast. There are much bigger problems in the world, but it's mildly frustrating when other toasters don't have this problem.
Test 2 - warming bagel
I love a bagel but when they loose that soft inside it just feels like they loose all their charm. Keen to see if the bagel setting performed, I popped in a whole bagel into one of the 3c-wide slots. This special bagel setting will only activate the outer elements of the toaster, whereas the more standard toasting setting activates the inner elements too.
The slot was wide enough to fit the bagel in without cutting it in half, although it was a little snug. What it achieved was a crispy top and soft bottom - a perfectly toasted bagel. I ramped up the browning setting to 4 to try a frozen bagel, and this was perfect, too.
Test 3 - defrosting bread
I always put my sliced bread in the freezer to keep it fresher for long. The problem is when I come to make a sandwich and need soft bread.
I used the defrost setting on the toaster to do just this. I had the browning setting on the lowest possible and it worked a treat, restoring the bread back to a soft, plump slice. I also tried ramped up the browning level to a 4 or 5 if I wanted to make toast straight from frozen bread and again, it worked perfectly.
Smeg 50s Retro 2 Slice Toaster: Cleaning
There really wasn't much to cleaning the Smeg 50s Retro 2 Slice Toaster. The most minimal amount of effort had the toaster looking like new.
It has a removable crumb tray - a small stainless steel dish at the bottom of the toaster which collects any rogue crumbs that fall down from the slots. When it's full, you can just slide it out and throw away the crumbs, making it easy to clean and reducing the risk of smoke from leftover crumbs burning.
Cleaning the outside of the toaster is even easier. A quick wipe-down with a damp cloth will restore the shine of the glossy black casing, thick metal lever and slot opening.
How does it compare?
This is a good toaster, but it's overpriced. This Smeg toaster is nearly three times as expensive as our #1 toaster, the Cuisinart CPT-180WP1 , yet it has two fewer slots and the same number of functions. Money-wise, I think it's a no-brainer to make another choice.
However, it does as good a job of making toast as our top picks, and it looks much better. Most toasters are utilitarian and ugly, whereas this 50s-style toaster will - ahem - slot into most kitchens aesthetics. If your boring old toaster is throwing off your kitchen design then it could be worth the investment.
Should you buy it?
If you need to replace your toaster because it's broken, you fancy a stylish upgrade or you would like to make the perfect pairing with the Smeg 50s Retro Kettle, then I feel that this toaster is a fabulous choice.
The build quality, design and usability is faultless. It looks gorgeous on the counter-top and it's so easy to pop in a slice of bread or bagel to plunge into toasting. I'm a big fan of how easy it is to keep looking like new, too, with the most arduous task being to remove the crumb tray without spilling any crumbs.
A couple of small issues that I had with it is that slices of bread can only slot in one way; going in portrait results in a not fully toasted slice of bread, and that it feels a little plasticky. Yet neither of these issues are relevant when you consider that this toaster is $199.95 - which is more than double the price of other models which are more in the region of $30 - 80.
Sign up to the Homes & Gardens newsletter
Decor Ideas. Project Inspiration. Expert Advice. Delivered to your inbox.
Jennifer (Jen) is our resident Large Appliance Editor who looks after the content you see about appliances (big and small). She reviews whatever appliance she can easily fit through the front door, which is mainly vacuum cleaners; corded, cordless and robotic. As well as writing for Homes&Gardens, she has written for John Lewis & Partners, Ideal Home, Real Homes, Gardeningetc and Livingetc. When she is not bringing the best in-class products to your attention, Jennifer can be found going for walks in the Somerset countryside with her husband and daughter or enjoying some tea and cake with a magazine when she has a quiet moment.