Vitamix Immersion Blender review: premium power at a lower price
The Vitamix Immersion Blender makes quick work of even the toughest ingredients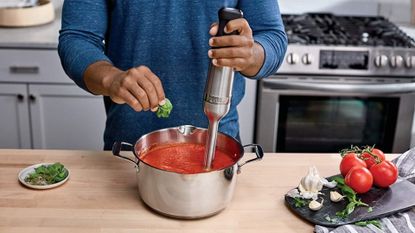 (Image credit: Vitamix)
If you're looking for a powerful and versatile immersion blender, the Vitamix 4-Piece Immersion Blender Bundle is worth the splurge. The blender itself is heavy-duty and delivers consistent results, and the included accessories make the tool extremely convenient to use.
Reasons to buy
+

5 speeds

+

Super-sharp four-prong blade

+

Consistent results

+

Includes whisk attachments

+

Convenient docking station
Reasons to avoid
-

Not dishwasher safe

-

Power button must be held down

-

Heavy
You can trust Homes & Gardens. Our expert reviewers spend hours testing and comparing the latest products, helping you choose the best for you. Find out more about how we test.
Vitamix is well-known for making some of the best blenders available today, but they've recently branched into immersion blenders. These handheld blenders are a must-have for making soups and sauces, and they're compact and easy to store if you live in a smaller space.
The Vitamix 4-Piece Immersion Blender Bundle comes with the brand's heavy-duty immersion blender, as well as a whisk attachment, blending jar, and storage station for the tool. (You can also buy just the immersion blender, if you don't want the added accessories.) The tool looks sleek, but we wanted to see if it lived up to the brand's reputation, delivering the same blending power as its full-size models.
To put the Vitamix Immersion Blender to the test, we used it to make a variety of foods, including smoothies, apple butter, pasta sauce, and more. After several weeks of testing, here's what we thought about this high-end kitchen tool.
Camryn Rabideau is a freelance writer and product reviewer who has been testing small kitchen appliances for years. She's tested everything from immersion blenders to juicers to mattresses.
Camryn does her product testing from her small homestead in beautiful Rhode Island. When she's not tinkering around with the latest home gadgets, she spends her time tending to her animals, working in her garden, or crafting.
Vitamix Immersion Blender Specifications
Dimensions: 18 x 3 x 3 in
Product Weight: 2.86 lbs
Electrical Ratings : 120 V/60 Hz
Horsepower: 625 watts
Cord: 5 ft
Material: Motor housing is stainless wrap over plastic; Wand is stainless with plastic coating on bell; top of motor housing materials at controls: plastic and LEDs
Unboxing the Vitamix Immersion Blender
The Vitamix Immersion Blender arrived in an unassuming cardboard box, and all the components were wrapped in individual plastic bags. Because we received the 4-Piece Immersion Blender Bundle, the package contained several different pieces, including the motor body, removable blending shaft, whisk attachment, blending jar, and a base for all the pieces to sit in.
Right away, I was surprised at the weight of the motor body. The brand says the whole thing weighs less than 3 pounds, but it was significantly heavier than the KitchenAid Immersion Blender that I've used in the past. When the blending shaft is attached, the blender is quite long, as well, measuring 17.5 inches, and the 5-foot power cord is much longer than average, allowing you to use it even if there isn't an outlet nearby.
My favorite part about this product bundle was the convenient base, which has space for the motor body, blending shaft, and blending jar. Immersion blenders can be quite awkward to store due to their long, skinny size, but this little dock made it convenient to keep the pieces neat and organized right on the kitchen counter. I only wish it had a slot for the whisk attachment, too.
Vitamix Immersion Blender - Making Smoothies
I buy frozen smoothie mixes from Daily Harvest, and the Vitamix's blending jar seemed like the perfect container to mix them up. I started by transferring all the frozen ingredients into the blender jar, then filling it up with almond milk. Once everything was in the container, I shook it around a bit to mix up the ingredients, then inserted the immersion blender into the jar.
I quickly found that the lowest power setting wasn't enough to cut through the frozen ingredients, even with the four sharp blades. There's a button on the front of the blender that allows you to change the power level, and there are LED lights on the top of the motor that show you what setting is currently selected. Setting four ended up being the sweet spot for this task—it was able to puree the frozen blueberries, bananas, and kale into a smooth mixture in around two minutes.
When I was finished mixing, I noticed that a few pieces of kale were stuck in the holes in the blender's bell guard, but overall, I was really happy with the consistency of the smoothie. There were no large chunks left behind, and it did just as good a job as my full-size blender. Plus, cleanup was much easier, as I simply had to rinse off the blending shaft. I opted to transfer my drink into a glass, but you could drink right out of the blending jar if you wanted to—it's just a little large to hold.
Vitamix Immersion Blender - Making Penne alla Vodka
Penne alla vodka is another recipe I make regularly that requires an immersion blender — the vodka sauce is made using whole tomatoes, which you later blend into a smooth consistency. After the ingredients had been cooked, I tried to use the immersion blender right in my fry pan, but the sauce level was too low and it ended up splattering out onto the stove. I ended up pouring the sauce into a smaller pan before blending.
Despite there being whole tomatoes and onion pieces in the sauce, the blender only needed to be on its second power setting for this task. It did a great job pureeing all the ingredients into a smooth consistency, and after just a few minutes, there were no chunks to be found.
Vitamix Immersion Blender - Whipping Cream
I also wanted to take the whisk attachment for a spin, so I decided to make some homemade whipped cream to put on brownies for dessert. I poured a cup of heavy cream into the blending jar, along with a few tablespoons of sugar. I used the blender on its highest setting to whip the liquid, and I was surprised at how well it worked. It only took a minute or two for the cream to become stiff—it was faster than using my stand mixer and made less of a mess. Plus, it was extremely convenient that I could simply cover the blending jar with its lid to store the leftover whipped cream in the fridge.
Vitamix Immersion Blender - Making Date Butter
While I used the Vitamix Immersion Blender on a regular basis to make smoothies, I wanted to test it out with other recipes, as well. Vitamix has a collection of recipes on its website, and I decided to make the Apple Date Butter, which is designed to be made with an immersion blender. The recipe is very simple, and it basically entails cooking several pounds of apples and some dates in a slow cooker for 10 hours on low heat.
By the time the 10 hours had passed, the apples were already a fairly mushy consistency, but there were still pieces of apple skin and dates within the mixture. I put the immersion blender on the third power setting, using it directly inside my slow cooker, and it was able to puree the rest of the larger pieces and process the apple skins. It took a few minutes to blend all the apple butter, and I didn't like that I had to hold the power button down the whole time—I think there should be an option to turn it on continuous power for these types of larger tasks.
Vitamix Immersion Blender - Cleaning
This immersion blender needs to be hand washed. You're supposed to hand-wash the shaft with warm water, which is fairly tricky to do because of the four super-sharp blades — they make it hard to get a sponge up into the bell. After some trial and error, I found that the best plan of attack is to rinse the blades and bell off right away so food doesn't dry onto them. If you clean them immediately after use, the food can simply be rinsed off.
Alternatively, you could probably fill the blending jar with warm soapy water and use the blender to agitate everything — a trick I often use with my regular blender.
Should you buy the Vitamix Immersion Blender?
If you're in the market for an immersion blender, the Vitamix 4-Piece Immersion Blender Bundle is a worthwhile splurge. It's quite pricey as immersion blenders go; the bundle retails for around $200, and if you opt for just the blender, it's $150. However, it's incredibly powerful and delivers extremely consistent results, no matter what you're cooking. The only downside is that it is on the heavier side, which might make it hard for some people to handle.
If you're on the fence about whether to get the bundle, I think the accessories are worth the extra $50. In particular, I loved the docking station, which made it easy to store the blender within reach, and the whisk attachment is ideal for making whipped cream, salad dressings, and more.
Sign up to the Homes & Gardens newsletter
Decor Ideas. Project Inspiration. Expert Advice. Delivered to your inbox.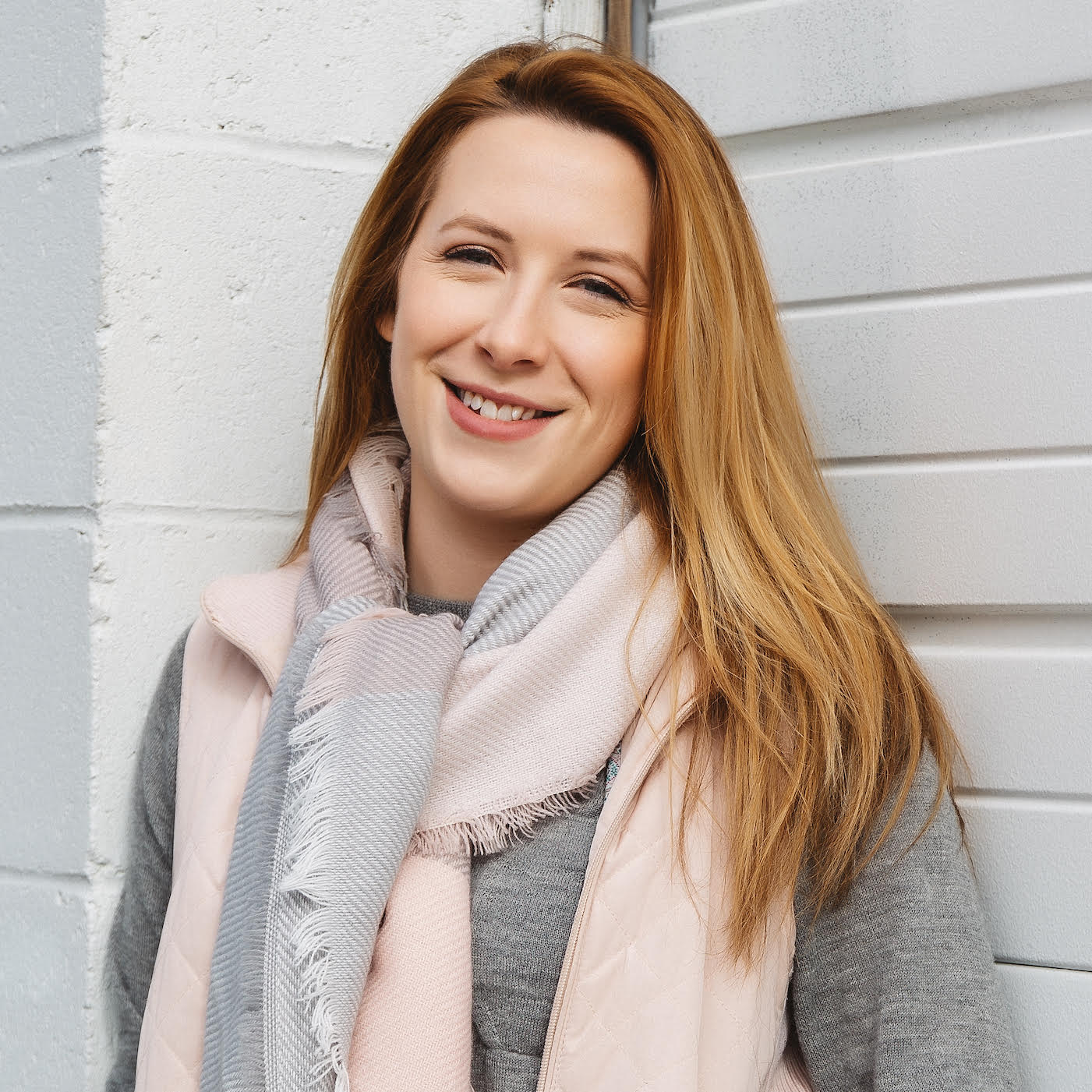 Contributing Reviews Editor
Camryn Rabideau is a writer and product reviewer specializing in home, kitchen, and pet products. In her five years as a product tester, she's tested hundreds of items first-hand, including many, many kitchen appliances for Homes & Gardens. Camryn does her product testing from her small homestead in beautiful Rhode Island.