Best interstate moving companies
Moving between states? Take the stress out of the big event by hiring one of these experienced movers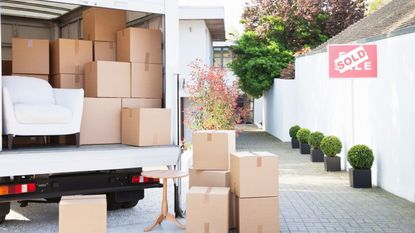 (Image credit: Getty Images)
Moving between states can make the already complex process of moving home more logistically challenging and stressful. Fortunately, hiring an experienced moving company can considerably reduce said stress, especially if the mover you go with offers a full-service move. When packing and loading are taken care of for you, you can concentrate on other aspects of moving home, from changing your personal details to completing any necessary documentation if you're buying.
The best interstate moving companies on our list pride themselves on offering great coverage countrywide (and many internationally) and fantastic customer service. They also all have a great deal of experience in the moving business and many offer specialist service add-ons that allow you to move all your high-value and fragile items safely.
And if you are looking for the best ways to cut house moving costs and prefer doing your packing yourself or don't have fixed moving plans, we've included a very intriguing moving option that offers maximum flexibility.
You can trust Homes & Gardens. Our expert reviewers spend hours testing and comparing the latest products, helping you choose the best for you. Find out more about how we test.
Known for: Full-service moving interstate and internationally
Available at: International Van Lines
International Van Lines is the best interstate moving company for a number of reasons, but the top one has to be the impressive coverage the company has achieved across all 50 states. Even if you live in a remote location, they likely will have you covered.
Not only does IVL have a vehicle fleet of its own, but it also has numerous partnerships with smaller local moving companies. So, if you live in a remote location, you can still rely on them for a full-service move that will include packing/unpacking and loading/unloading. Trust these guys: they have over 20 years of experience in the business.
Known for: Complex moves, oversized and antique items
Available at: American Van Lines
If you have fragile, large, and valuable items in your home that will need to be moved, American Van Lines is the best moving company for you. Whether it's a painting or a concert piano, the movers at AVL are specially trained to handle high-value items, with each team average over 10 years of experience in complex interstate moves.
What we also really like about his company is the opportunity to add extras to the full-service moves. Not only will they do the usual packing and unpacking service, but they can also help assemble furniture, move your vehicle for you, and arrange storage for items you won't need in the short term.
Known for: Bespoke moving containers
Available at: PODS
If you want to save on the cost of moving (we don't blame you) but still want a bespoke service tailored to your needs, then you should check out the PODS moving company.
The way it works is the company lends you a shipping container that you load with all your stuff, and then you have three options. The first one is you can keep the container as long as you need on your property, which is useful if you haven't yet found anywhere to move to but want to be ready. The second is you can store all your stuff in a storage facility. The third – the company will move the shipping container for you to its new location.
Although you have to do your own packing and loading, the flexibility is great for people without firm moving dates. And it's cost-effective.
Known for: Full-service moves
Available at: North American Van Lines
Another company on our list that offers full-service door-to-door interstate moving NAVL is represented in all 50 states and has a great network of local partners for more challenging locations.
What we really like about this company is the wide range of add-on services, which includes everything from the specialist packing and moving of electronics and high-value items to moving a boat. One of the most versatile interstate moving providers out there, for sure.
Known for: A marketplace for local movers
Available at: Moving APT
If you prefer hiring a local moving company but aren't sure which one to go with, then Moving APT will be an invaluable resource. Moving APT is a moving broker, which means they act as a middleman between you and local movers, giving peace of mind in the process.
The company handles insurance as well as pre-screening of all local companies to ensure they can deliver a high standard of service. The great thing is that all movers on the APT network have to provide an agreed range of services, which includes packing and unpacking and even connecting and disconnecting appliances.
Known for: Vehicle relocation, long-distance moves
Available at: Allied Van Lines
Most moving companies will hire a partner to relocate your vehicle if it's one of your requirement, but AVL does it themselves. This perk makes the company stand out among many other movers.
There's less liaising for you to do as they will handle everything from your car to packing and unpacking. A solid choice boasting 90 years of experience in the business.
Known for: Last-minute moves
Available at: First National Van Lines
If your plans have changed suddenly, or another mover was unavailable, First National should be your first port of call. In most cases, the moving broker should be able to connect you with a local moving company within hours, providing you with an estimate and helping arrange moving dates. If nothing else works out, they can arrange a storage facility for your stuff in the meantime.
Known for: Personalized moves and insured moves
Available at: JK Moving
It's a sign of a company that is confident in the quality of its services that JK Moving offers the option to insure the items they'll be handling for up to 4% of their value. The experienced mover can handle anything from vehicles to electronics and high-value items. The full-service moves are available in all 50 states.
Sign up to the Homes & Gardens newsletter
Decor Ideas. Project Inspiration. Expert Advice. Delivered to your inbox.
Anna K. Cottrell is now a freelance writer, having previously been a Content Editor for Future's homes titles. She writes about interior design, property, and gardening. On H&G, she specialized in writing about property – buying, selling, renting – sustainability and eco issues.