Cyber Monday All-Clad deals: snag a 13-piece All-Clad cookware set for as little as $299, and many other amazing savings
Kit our your entire cookware collection with these Cyber Monday All-Clad deals from Macy's, Bloomingdale's, Nordstrom and more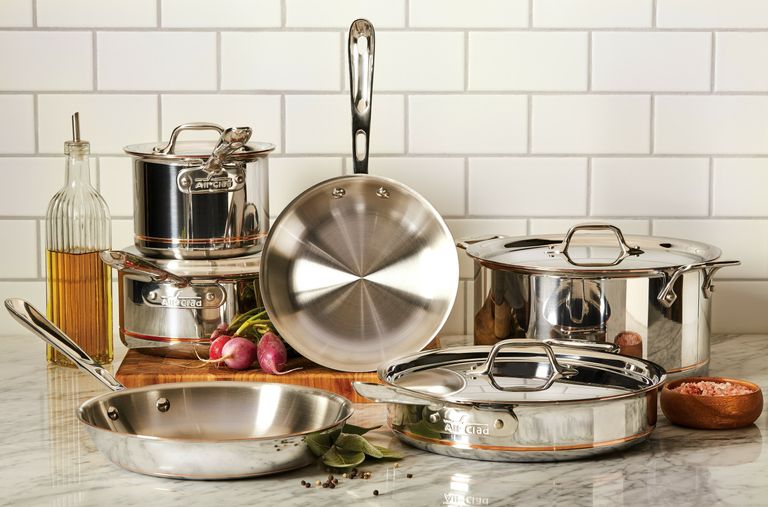 (Image credit: all-clad)
For those of us who have a thing for premium cookware, well All-Clad should very well be your very first destination for top-tier, made in the USA cookware. If you've been on the hunt for some great kitchen deals, All-Clad's Cyber Monday savings are quite simply, unforgettable this year.
All-Clad is credited with quite literally revolutionizing stainless steel cookware, when in the 1970s, All-Clad founder, a metallurgist by day, home chef by night took layers of stainless steel, bonded them with aluminum, and shaped them into pans. From, here, he found that these pans cooked food more evenly, were easy to clean, didn't interact with flavors, didn't tarnish or warp, and there were no dangerous coatings, that were popular during the time. Today, All-Clad's cookware is still a cult-classic hit, with a variety of stainless-steel-based collections that'll suit everyone from the cooking hobbyist to the Michelin-rated chefs across a range of price points. All-Clad also expanded into a PFOA non-stick collection that is pretty top-notch too.
We rounded up our favorite Cyber Monday All-clad deals across a variety of retailers and collections. While we mainly featured sets, tons of single-pieces of cookware are on sale too. Whichever type of cookware is best for your needs, from full sets to individual pieces in stainless steel or non-stick, and even electrics, these are definitely some of the most noteworthy savings, among perhaps all the Cyber Monday home deals, we've seen all year.
Best places to shop Cyber Monday All-Clad deals
Cyber Monday All-Clad Editor's Picks
Essentials Hard-Anodized Nonstick Cookware Set, 13-piece | Was $700, now $299.99 at All-Clad (opens in new tab)
While stainless steel may be the proverbial bread and butter of All-Clad, don't forget about their non-stick collection. It's also excellent, and this 13-piece set will leave your kitchen fully stocked with an 8.5", a 10" and a 12" fry pans, 4-quart saute pan with lid, 2.5-quart saucepan with lid, 4-quart soup pot with lid, 7-quart stockpot with lid, straining insert, a 13" square pan, and 2 bonus silicone trivets.
Stainless Steel 7-Pc. Cookware Set| was $839.99, now $499.99 at Macy's (opens in new tab)
This exclusive to Macy's set continues to thrill each year when it goes on promo. With a durable mirror-polished 18/10 stainless steel construction, these stainless steel beauties are highly heated conductive and don't react with the flavors of your food. The seven-piece set includes a 10" fry pan, 2-qt. covered saucepan, 3-qt. covered sauté pan and 6-qt. covered stockpot.
Mixed Materials 12-Pc. Cookware Set| was $999.99, now $599.99 at Macy's (opens in new tab)
When you want the best of both worlds when it comes to your cookware, try this mixed set which features a variety of stainless steel and non-stick cookware pieces. You'll get an HA1 10" fry pan and a 4-quart sauté pan with lid, a durable D3 stainless 12-inch fry pan and D3 saucepan with lid, a versatile 6.5-quart nonstick cast-aluminum cocotte, and an 8-quart stainless steel multi-pot that features both a steamer and colander. The pieces are dishwasher save, non-stick pieces oven safe up to 500°F, and D3 stainless pan up to 600°F.
All-Clad Copper Core 10 Piece Aluminum Non Stick Cookware Set| was $2500, now $1499.99 at Wayfair (opens in new tab)
Splurge on All-Clad's best, with the Copper Core collection, made in the USA with a thick copper core, 2 layers of aluminum, and 2 layers of stainless steel for durability and top-tier heat distribution, and cooking precision. The 10-piece cookware set includes 8" and 10" fry pans, 2- and 3-quart saucepans with lids for sauces, a 3-quart saute pan with a lid, and an 8-quart stockpot with a lid.
Jaclyn is an eCommerce editor at Future Home Interest, where she oversees sleep content including mattresses and bedding– in fact, she has passed our five-step certification process to become a verified customer advisor on mattresses. She regularly scouts out the best of the best for buying guides to help you fill your home with only the best. She joined the team in January 2021. She has previously worked with Apartment Therapy, The Kitchn, The Spruce, The Spruce Eats, and MyDomaine. When Jaclyn's not working, she loves browsing real estate listings, unwinding with a chilled glass of Rosé, and entertaining her Cavapoo puppy, Reese.