Husqvarna 115iHD55 cordless battery hedge trimmer review – an hour-and-a-half of quiet trimming
This battery-powered hedge trimmer is easy to use, will tackle small to medium hedges in your yard, and won't disturb the neighbors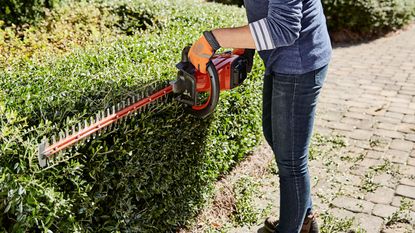 (Image credit: Husqvarna)
If you have small or medium-sized hedges, you can keep them well maintained with the battery-operated Husqvarna 115iHD55 hedge trimmer. It runs on a 40V battery that offers about 1.5 hours of runtime. The 22-inch blade and .63-inch cutting capacity makes trimming easy, while the two-year warranty gives you peace of mind.
Reasons to buy
+

Safety features

+

22-inch blade

+

Two-year warranty

+

.63-inch cutting capacity

+

Battery-powered and easy to start

+

savE mode increases the runtime without reducing power
Reasons to avoid
-

Somewhat heavy

-

Smaller cutting capacity
You can trust Homes & Gardens. Our expert reviewers spend hours testing and comparing the latest products, helping you choose the best for you. Find out more about how we test.
Growing up, my dad took pride in trimming our hedges and making our family home look nice. When I bought my own house, I wanted to do the same, but I needed the tools to do that.
My dad knew which yard tool brands were the best and Husqvarna was always in his top suggestions. And I get why. Did you know that Husqvarna was founded in 1689 and began producing yard tools in 1919 when they created their first manual lawn mower? When a company has been around for over 330 years, you know they're doing something right.
So, of course, I said yes when I got the opportunity to test the Husqvarna 115iHD55 hedge trimmer and see how it would fare trimming my hedges into shape.
Husqvarna 115iHD55 cordless battery hedge trimmer specs:
Blade length: 22 inches
Power source: 40V battery
Cutting capacity: .63 inches
Weight (with battery): 10.2 lbs
Dimensions: 43.9 inches (L)
Noise level: 90 dB(A)
Cutting speed: 3,000 cut/min
Based in Dallas, Texas, Alex is an award-winning author and freelance writer. She's written for a number of leading publications and websites, including Real Homes, Dwell and Architectural Digest. She recently bought her first home, a green Sears & Roebuck house that's over 100 years old and sits on half an acre of land and features a stunning wraparound porch. Alex loves to test products for her outdoor space, covering everything from the best grills and hot tubs to essential backyard tools. For this review, she put the Husqvarna cordless hedge trimmer through its paces on her backyard hedges to see if it was up to the task.
Setting up the hedge trimmer
The hedge trimmer arrived on my front step in a long box. Upon cutting the cardboard away, I discovered that the hedge trimmer was practically put together. The only thing I needed to do was charge the battery.
This hedge trimmer comes with a single 40V battery. Most cordless hedge trimmers have batteries that are between 20V and 60V so the Husqvarna 115iHD55's battery sits in the mid-range. For reference, the previous version of this hedge trimmer, the 115iH45, had a 36V battery. The higher the voltage, the more powerful and efficient the trimmer.
The battery comes with a charging cable that you connect to the battery and plug into the wall. I've found that most yard tools have battery charging cases that plug into the wall, so this was a nice change.
When I started charging the battery, one LED light flashed which meant the battery was very low. I waited until all the LED lights were flashing before I unplugged the battery and placed it into the hedge trimmer. It took less than two hours to reach its full charge.
What is it like to use?
After placing the battery into the hedge trimmer, I removed the sheath that covers the 22-inch blade. To start the hedge trimmer, all I had to do was press the start button and then hold the front and the back triggers at the same time, which made the teeth on the blade move.
The first thing I noticed when I started trimming my fast-growing hedges with the Husqvarna 115iHD55 hedge trimmer was how it wasn't that loud. I found it interesting that the sound pressure level was 90 dBA, but to an operator like me, the sound pressure level was only 78 dBA, which is below the recommended 80 dBA (anything higher can cause sound loss). Of course, I made sure to wear ear protection, but aside from that, I was glad the hedge trimmer didn't cause too much noise pollution in the neighborhood.
My privacy hedges have a mix of branch sizes – from tiny twigs to one-inch branches. The hedge trimmer is designed to cut twigs that are .63 inches or smaller, so I will say that a few times the hedge trimmer got caught on some thicker branches. When that happened, I had to stop the hedge trimmer and be careful to remove the teeth from the branch, which wasn't always that easy.
Besides that, I had a positive experience using this hedge trimmer. It's incredibly easy to start and stop and the design makes it comfortable to hold and maneuver as I cut with either my left or right hand in front (I'm ambidextrous). The 22-inch blade allowed me to reach a decent distance during my trimming. I was glad for the safety shield which minimized kick back of twigs. Because of its size, I expected the hedge trimmer to be a little lighter than it was. At 10.2 lbs., my forearms became weary and sore after a while.
I did test the SavE function, which is a power saving function that maximizes the run time of the battery. What I liked about this feature is that it did not decrease the cutting power of the hedge trimmer. To use the SavE function, all I needed to do was press the button on the keypad. With the BLi22 battery, I got a maximum of an hour and a half of run time before I had to recharge.
One of my favorite features is the automatic shutdown, which kicks in if the product hasn't been used in 45 seconds. This is a nice safety and power-saving perk.
How does it compare to similar models?
The previous version of the Husqvarna 115iHD55 was the Husqvarna 115iHD45, which was tested by a colleague of mine for a sister site of Homes & Gardens. In comparing the two, it seems like the 115iHD55 has a better battery (40V compared to 36V) and a longer blade (22 inches compared to 17 inches). However, I couldn't help but notice that the 115iHD45 was about two pounds lighter than the 115iHD55, which would make it easier for some to handle.
I have previously tested another hedge trimmer, the Black + Decker 60V Max cordless hedge trimmer. Not only did it have a better battery, but it is cheaper, is two inches longer in terms of the blade, and has a 1.5-inch cutting capacity. It's definitely better designed for homeowners with tougher and larger hedges.
If I was keen to go for a more powerful model and wanted to stay within the Husqvarna family, I might be tempted to try the Husqvarna Hedge Master 320iHD60. This battery-powered hedge trimmer has a one-inch cutting capacity, a 24-inch blade, and a higher cutting speed of 3,800 cut/min (the 115iHD55 has a speed of 3,000 cut/min). Its battery voltage is also 42V, meaning it's a higher-powered and more efficient hedge trimmer overall.
Is the Husqvarna 115iHD55 cordless battery hedge trimmer worth the money?
Husqvarna has a great reputation in the yard tool industry, so it's no surprise that the the Husqvarna 115iHD55 cordless hedge trimmer is a quality product. With a 22-inch blade that can cut up to .63-inch twigs and branches, it's the perfect hedge trimmer for those with small to medium hedges.
The 40V battery can last up to 1.5 hours, especially when the power-saving SavE function is in use. Sure, it's a little heavy for some at about 10 lbs., but the lower noise level ensures a more comfortable cutting experience for you and your neighbors.
At about $250, it's not the cheapest on the market. You can find comparable hedge trimmers at a lower price – but they may not have the trusted name power as Husqvarna and they're unlikely to have a two-year warranty like this hedge trimmer does.
About this review
As with all our reviews, the Husqvarna 115iHD55 cordless hedge trimmer was tested first-hand in Alex's backyard, using it just as you would so you know exactly what you are buying.
The products are given to us free of charge and we test them for as long as possible before sending them back to the brand unless we are able to keep it. This means that we can continue to use the product which gives us the opportunity to return to our reviews for updating, so you can keep up-to-date with how it's fared over a period of time. You can find out how we test products on Homes & Gardens for more details.
Sign up to the Homes & Gardens newsletter
Decor Ideas. Project Inspiration. Expert Advice. Delivered to your inbox.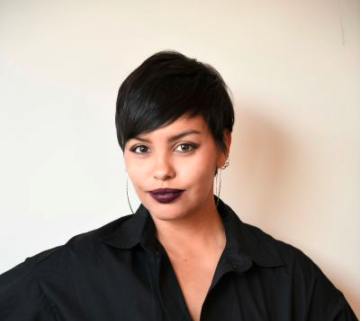 Alex Temblador is a Mixed Latinx award-winning author and freelance writer based in Dallas, Texas. Her work in the home space has appeared in outlets like Real Homes, Dwell, Architectural Digest, Culture Trip, and Neighborhoods.com, among many others. She writes on a wide variety of topics for H&G, and has tested everything from vacuum cleaners to fitness equipment and pizza ovens in the name of product research.