Platform bed vs box spring – what's the difference and which is best for you?
Unsure whether a platform bed or a box spring is right for your set up? We break down these two mattress foundation options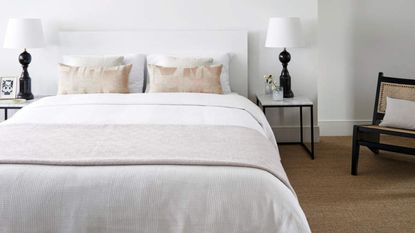 (Image credit: Future)
Sign up to the Homes & Gardens newsletter
Decor Ideas. Project Inspiration. Expert Advice. Delivered to your inbox.
Thank you for signing up to Homes & Gardens. You will receive a verification email shortly.
There was a problem. Please refresh the page and try again.
You might not have thought long and hard about the differences between a platform bed vs box spring when buying your last mattress – and that's okay. (It gives us happy sleep nerds something else to dive into.) Based on our research and experience, knowing the specific ways each one can enhance the feel of your mattress will go a long way in sleeping better.
Having a knowledge on the various types of bed frames is just as important as researching the best mattresses. A platform bed can be used as a standalone piece of furniture since it has mattress support already built-in, but most other bed frames will have to rely on a box spring for that. Of course, as with all things, both platform beds and box springs have their pros and cons.
Below we've put together an at-a-glance graph that highlights the bullet points of the platform bed vs box spring battle. If you want to dive deep like we did, however, keep scrolling for an in-depth look at the differences between a platform bed and a box spring, along with the key things to consider when deciding which one to buy.
Platform bed v box spring at a glance
Swipe to scroll horizontally
| Header Cell - Column 0 | Platform Bed | Box Spring |
| --- | --- | --- |
| Materials | Materials Wood, metal, and/or upholstery; built-in support via slats or solid foundation | Upholstered wood or metal frame with coils inside (or sometimes a metal grid) |
| Price | $100 - $2,000+ | $100 - $500+ |
| Pros | Supports any type of mattress; lots of designs to choose from; built to last | Absorbs shock and prevents sagging for innersprings;; adds height; relatively cheap |
| Cons | Makes mattresses firmer; heavy to move; low profile not always practical | Short lifespan; only really good for innerspring mattresses; not as much variation in styles |
| Best for | Memory foam, latex, and hybrid mattresses | Innerspring mattresses |
What are the differences between a platform bed and a box spring?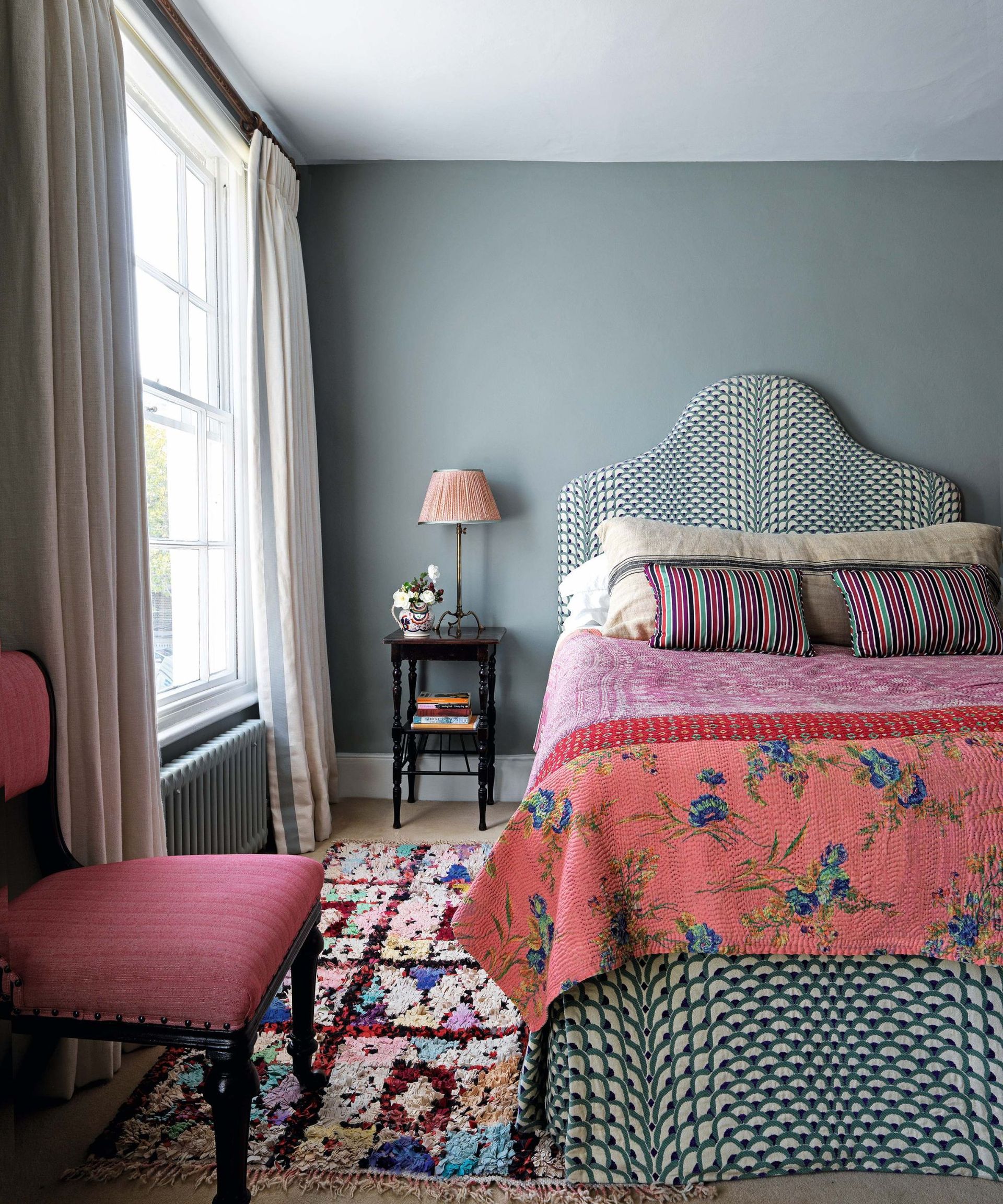 Both a platform bed and a box spring are made to support a mattress, but each has their own ways of doing that. Here are the four main differences between them:
1. Construction and design
A platform bed is a bed frame with an integrated support structure consisting of either wooden slats or a solid foundation. They're typically made from wood, metal, or upholstery, and come in an array of styles. Platform beds may showcase minimalist designs, traditional-style features like a headboard and footboard, or even built-in storage.
A box spring is an upholstered wood or metal frame placed between a bed frame and a mattress. It contains wire coils, although more current iterations feature a metal grid. Design options for box springs are limited compared to platform beds, but a box spring primarily serves a utilitarian role and is often masked by a comforter or bed skirt.
2. Support and comfort
A platform bed can be paired with any type of memory foam, latex, or hybrid mattress – as well as an innerspring mattress with a box spring. It's able to withstand a lot of weight (up to 1,500lbs.) so it's a prime choice for heavier sleepers seeking maximum support. Conversely, a platform bed can yield a firmer feel that may not appeal to side sleepers who need oodles of pressure relief or lightweight sleepers who want to sink into their mattress.
A box spring is meant to impart shock absorption and stability to innerspring mattresses while preventing them from sagging. It gives off a more responsive bed feel that'll cater to sleepers who need deep pressure relief, like side sleepers and those who struggle with back and joint pain. Beware that box springs have a relatively short lifespan because the inner coils can deteriorate with nightly use.
3. Durability
A box spring lasts between 5 and 10 years on average; by comparison, a traditional innerspring mattress is good for 5 to 7 years. The inner coils wear down over time, especially with frequent use. By the time you have to replace your mattress, you'll want to be thinking of buying a new box spring to go along with it.
Platform beds, for the most part, are built to last – though they can be quite bulky, which could make moving house or rearranging a bedroom a cumbersome endeavor. Still, with proper care platform beds can last for years. You won't have to purchase a new platform bed frame any time you replace your mattress unless you absolutely want or need to.
4. Price
Platform beds cost as little as $100 for basic budget builds, as much as $500 for mid-tier models, and over $2,000 for luxurious pieces. There's no need to purchase a separate box spring or foundation for support as that's already built into the frame. Depending on the quality of the build and materials, a platform bed can be a costly investment but thanks to its versatility and durability, you won't have to replace it nearly as often as a box spring.
A box spring can range in price from $50 to $500, though the average going rate is $250. With the very rare exceptions, a box spring can't be used on its own so you'll need to buy or already have a bed frame in place. It's cheaper upfront than a platform bed, but you'll end up paying more for a box spring over time since it'll need to be replaced up to every 10 years.
Buy a platform bed if:
You have a memory foam, latex, or hybrid mattress
You want a stylish focal point for your bedroom
You like a firmer bed feel
Buy a box spring if:
You have an innerspring mattress with a traditional bed frame
You want to add some height to your bed
You require plenty of pressure relief
What to consider when choosing between a platform bed and a box spring
Beyond the mattress type you own, there are several other factors to account for when making the decision between a platform bed and a box spring:
Compatibility: You can pair a platform bed with any memory foam, latex, or hybrid mattress. A box spring can only be used with an innerspring mattress. Although you can place a regular mattress on a platform bed frame, make sure to also include a box spring for better shock absorption and pressure relief. Plus, several sleep brands forbid the use of box springs with non-traditional mattresses, which can void the warranty.
Support and firmness: Choose a platform bed if you're seeking a firmer and more supportive feel – particularly if you're of a larger build and/or a back or front sleeper. Side sleepers and those who struggle with back pain may prefer the responsive pressure relief that a box spring provides.
Ease of access: Think about what you need to get in and out of bed comfortably. A low-profile platform bed could make it more difficult to maneuver if you have mobility issues. A box spring will elevate a mattress, but to ensure a manageable height make sure you can sit at the edge of the bed with your knees at 90 degrees and feet flat on the floor.
Ventilation: Both options do a sufficient job of allowing air to travel under your mattress so you won't overheat or expose yourself to mold and mildew. Make sure to seek a platform bed with slats or a solid platform with holes.
Mobility and setup: If you move often or like to frequently rearrange your room, think twice before deciding on a platform bed, which is often bulky and heavy. A box spring is lighter and easier to handle, but you'll need to have a bed frame to put it on.
Longevity: Consider how long you plan to use your bed. Platform beds are very durable and will last for a long time, but box springs will need to be replaced once up to every 10 years.
Best box springs
Best box spring
If you are already the owner of a Casper mattress, go for a Casper box spring. In fact that goes for any of the big mattress brands, pair it with the box spring from the same manufacturer if you want that extra support of height. It's high-quality, durable, and will prevent your mattress from sagging quickly.
Best affordable box spring
If you are after a super affordable box spring, this Amazon offering is basic but does the job well. It will support your mattress and the simple design makes it fairly easy to disguise with a wrap or a bed skirt.
Best box spring for a firm sleep
Sleepy's Basic Box Spring
A box spring can be a good idea if your current mattress is too soft or starting to sag as it can offer support and extend the life of even an old mattress. This best seller from Sleepy is again simple but sturdy. It will help with weight distribution, so you can get a comfier night's sleep.
Best platform beds
Emma Upholstered Platform Bed
The sleek and simple design of Emma's platform bed is ideal if you want to create a minimalist aesthetic. The contemporary grey foam base can work in any style and as well as looking lovely it's designed with FlexiSlats® to help distribute your weight evenly and provide additional pressure-relief for your back and joints. It's currently on sale too!
Saatva Santorini Bed Frame
Again, a very Scandi-esque design with a low profile and minimal lines. The slimline legs give the impression that this bed almost floats off the floor and there is the option of a headboard too to add comfort. There are a few color options – all very neutral and contemporary – and a big plus, it's also currently got money off.
This is a great price for a uber-chic platform bed, the Nectar offering is again always on sale and right now there's over 30% off. The mid-century style is simple yet sophisticated and it's available in black, white and oak you can pick which suits your style best. If you are considering buying an Emma mattress or looking to upgrade the feel of your current setup, this is an easy and affordable way to do so.
Platform bed vs box spring FAQs
Do you need a box spring with a platform bed?
A platform bed already has support built into it, so a box spring isn't needed. The lone exception to this rule is if you have a traditional innerspring mattress, as a platform bed isn't built to offer enough shock absorption or responsiveness.
How thick should a mattress be for a platform bed (or a box spring)?
The average height of a mattress is between 8 to 15 inches. Regardless of whether you choose a platform bed or a traditional frame with a box spring, you'll want to choose a mattress thickness that makes it possible for you to sit comfortably at the edge of the bed with your knees at 90 degrees and your feet flat on the ground. Also take into account your level of mobility, as you'll want to be able to get in and out of bed easily.
---
So there's all the information you need to hopefully make the right decision between platform bed and box spring. If you aren't buying a brand-new mattress, the type of mattress you have could make the decision for you. But if you are investing in a new mattress look at what the manufacturers recommend too, it will be mentioned in the specs if your mattress needs or would benefit from a box spring.
Sign up to the Homes & Gardens newsletter
Decor Ideas. Project Inspiration. Expert Advice. Delivered to your inbox.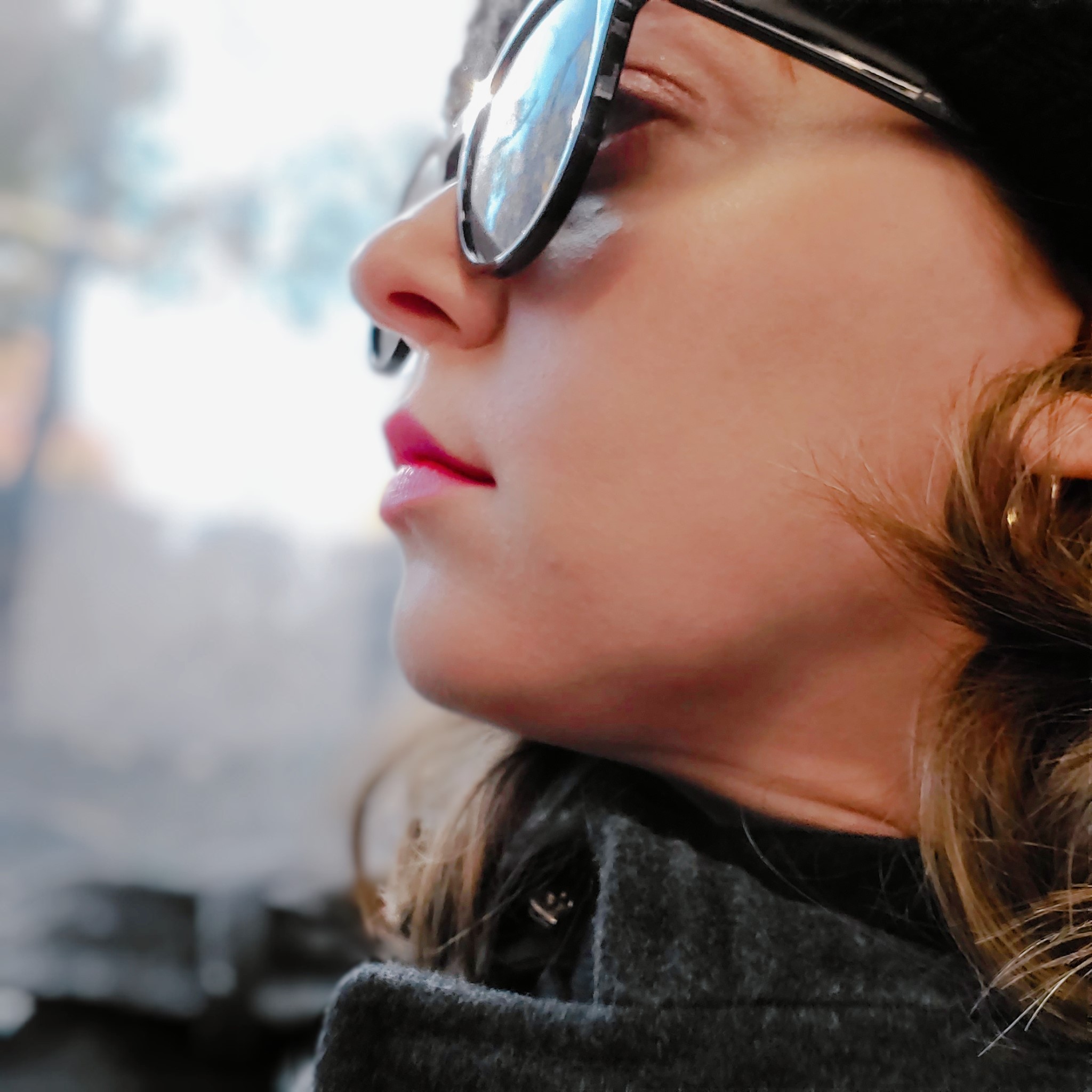 Alison Barretta is a freelance writer and editor from Philadelphia, USA. She's been covering retail news and sales for well over a decade, but since 2020 she's dedicated much of her time to all things sleep. No, she's not in a perpetual state of rest (quite the contrary) – she tests mattresses and pillows from brands like Saatva, Sleep Number, and Nectar and also talks with experts about the little things we can do to wake up feeling our best each day.
In her freelance career, Alison has written for several other Future outlets including Tom's Guide, TechRadar, Creative Bloq, and Woman & Home. You can also find her work at Forbes, Insider, and Mashable.
When she isn't dropping 50-lb. weights onto mattresses or hunched over her laptop scoping out the best deals, you can find Alison practicing martial arts, trying new recipes, scoping out new cafes, or going for a long walk in the park.