How to declutter without throwing away – 7 pro organizer tricks to prevent waste
Not every household tidying session needs to end in a mass exodus of belongings, experts assure – it's all about smart storage management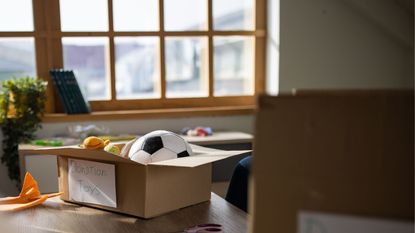 (Image credit: Getty Images)
We have all been in a situation where our homes are full to bursting but we just don't want to throw anything away. Maybe we just want to keep everything or are held back by eco-guilt. So, how do you declutter without throwing away?
Fortunately, professional home organizers have been facing this conundrum for years, and have come up with some smart decluttering tips you can use to help pare back your spaces without tossing your belongings in the trash.
Whether you keep hold of everything and find new storage, or find non-wasteful ways of decluttering your home, these are the solutions professionals use to declutter without throwing away.
How to declutter without throwing away
Although there may come a point where your storage ideas simply can't hold on to anything else anymore, there are some methods you can try to help declutter your living spaces and make the most of existing household storage to hide clutter away. Just remember to get rid of trash, broken things, and items you really don't need anymore to make this easier.
With that in mind, here is how the professionals work:
1. Find smart storage extenders to keep your belongings safe when packed away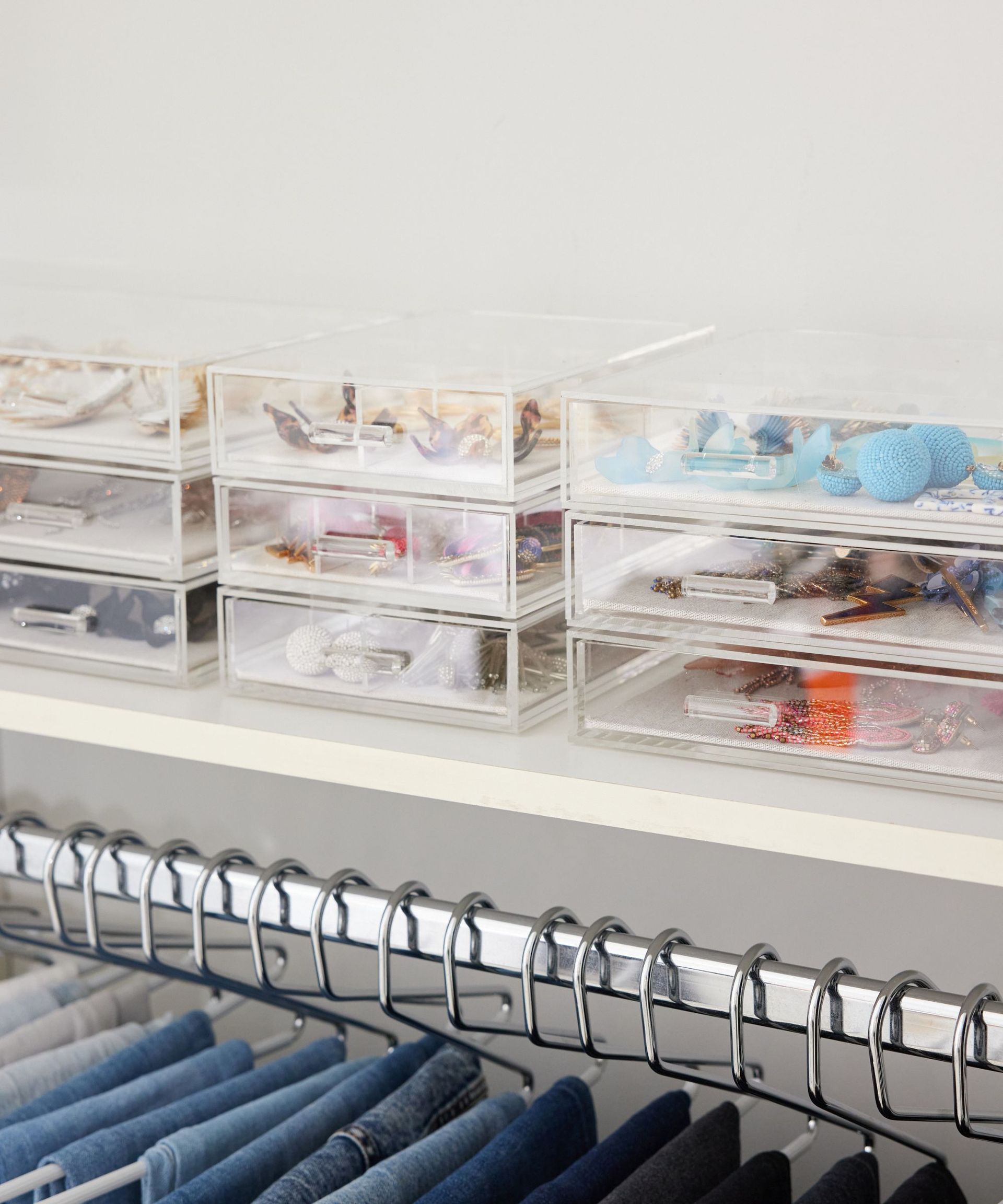 Madison Popper, designer and founder of Chill Casa suggests finding ways to make your existing storage go further with products that will help to protect your belongings in cramped areas.
'If you are a fashionista, for instance, this could mean buying some space-saving hangers, such as these from Amazon, to help keep your important clothing hanging up and not screwed up in a drawer,' he says. 'If you love to host, it might be that you invest in some dinnerware storage boxes, like these from William Sonoma to help protect lesser-used plates in cabinets,' he suggests. 'Everyone's belongings are different, so it can take some time to find the right thing for you – but it is out there.'
2. Upcycle things that don't match your style anymore
If you are looking to avoid declutter regret, but have clothing and home decor pieces that don't quite match your style anymore, then upcycling could be the answer, says Theresa Russell, professional home organizer, therapist, and founder of Homegirl Space.
This could mean starting a home DIY project and repainting an old piece of furniture or home decor, or getting crafty with some sewing to readjust ill-fitting clothing, or using an at-home dye kit for old clothing.
If you don't have a creative streak in you but want to learn, then there are often some classes available in your area that can teach you, Theresa adds. 'In San Diego, for example, they have the fix-it clinic for those items that need one or two adjustments. This might be something offered in other cities too. This is a space where you can learn to fix certain items for free.'
Theresa Russell is an intentional home organizer, marriage family therapist, and energy healer. As the Founder + CEO of Home and Heal, she works with purpose-driven women to release mental and physical clutter to create an energetically aligned and organized life.
3. Embrace the 'clustering' decor trend to make your clutter trendy
Not all home clutter needs to be hidden away – some of it can be functional and often beautiful. A great way to get around not having a storage spot for them is to embrace the clustering trend by using them intentionally as interior decor and displaying them in clusters.
'The trick to acing this trend is to corral your belongings together intentionally, using items you would logically find in that space,' explains Millie Hurst, Solved section editor at Homes & Gardens. 'Using a tray of decorative chopping board to stack your salt and pepper mills or oil bottles in a kitchen, for instance, makes them into a cute focal point without sacrificing functionality or making your counters look cluttered.'
Millie Hurst is Section Editor at Homes & Gardens, overseeing the Solved section, which provides readers with practical advice for their homes. Millie has written about and tried out countless decluttering, cleaning and DIY hacks in the six years since she became a journalist, and has worked in both London and New York.
4. Consider donating old pieces
If you are looking to avoid throwing things away due to concerns over creating waste, then donating is the go-to solution, says Theresa Russell, a professional home organizer.
'Personally, I take all my donations to local women's and homeless shelters, animal shelters, the library, and other sustainable businesses. There is almost always a place to repurpose items. E-waste can be recycled at places like best buy or your local recycling center.
'My number one tip to make sure you move everything on to its new home is to create a schedule for yourself in your calendar with a notification as a reminder. Break it down by item so you do not get overwhelmed,' she recommends. 'For example, one week you will find a local homeless shelter and drop off items. Another week you will drop books off at the library. Ask a friend or partner to hold you accountable too if this helps,' she adds.
5. Consolidate items to discover what you have too much of
When trying to declutter your home without throwing away, it can help to sort like-with-like items to help assess what it is you actually own and what is causing the feeling of clutter, suggests Bonnie Borromeo Tomlinson, professional organizer and author of Stop Buying Bins, available at Amazon.
'So you are overwhelmed with clutter and chaos but you don't want to downsize? The next best option is consolidation,' she begins. 'Grab a large laundry basket or sturdy box and go through each room collecting a single category of item. Let's say it's back-to-school time and you've decided that before you head to Target for school supplies, you are going to go through the house, where you know in your heart you already have more than enough supplies for your kids plus the entire school. Walk from room to room collecting ALL the pens, pencils, erasers, notebooks, loose-leaf paper, etc., and collect it all in one box (more if you need, of course). Then on a large surface, sort them all into their individual sub-categories (pens, pencils, you get the idea.)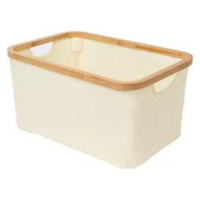 Foldable bamboo hamper | $25.99 at Wayfair
I use these sleek laundry baskets to help declutter my home and sort my laundry. Their foldable design means they are easy to hide out of sight when not in use, too.
'Once that is done, let your kids decide what they each want, strategically put back supplies anywhere in the house where you will use them (you are NOT just putting it all back), and donate the rest to the school or a local donation spot. Many organizations are in need of back-to-school supplies.
'By bringing all your possessions in a single category together en masse, you can see for yourself just how much you have, and by comparison how little you actually need,' she explains.
'Follow this for any category of item – dishes, throw pillows, books, etc. When everything is in one place, the amount tells you all you need to know about your spending and accumulating habits and can help you stop adding before you use up everything you have to make existing clutter more manageable.'
6. Shop your home for existing storage opportunities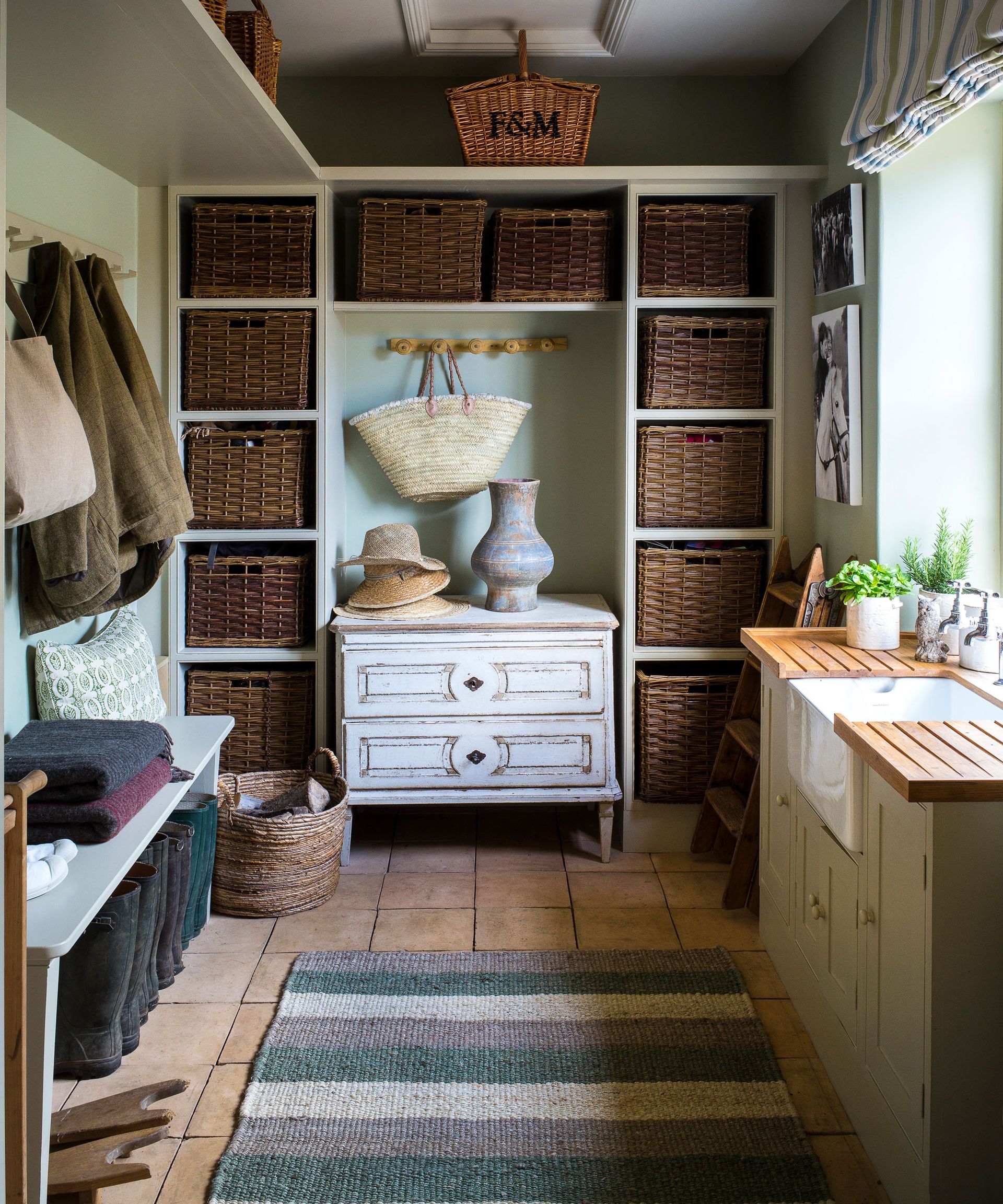 One of the best home organizing ideas professionals recommend time and time again is to 'shop your home'. This involves going around your space and actively seeking out storage opportunities – be it an underused storage bin that could be better placed elsewhere, a stranded shelf that could be reorganized to fit more on, or even an old suitcase that could hold infrequently used items till you need them, says Nathaly Vieira, professional cleaner and founder of InspireClean.
Working this way often means you can organize your home without spending any money, too!
7. Invest in multi-purpose furniture
That being said, there is only so much you can pull out of thin air, so investing in some new storage may be necessary. Cleaning expert Nathaly Vieira recommends picking out storage solutions such as bookshelves, storage ottomans and coffee tables, and open shelving to help make the most of smaller spaces while keeping your belongings organized and out of sight.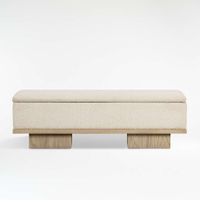 Brighton Upholstered Bench | $999 at Crate & Barrel
This multipurpose ottoman with storage is custom-made to order, offering a perfectly stylish and personal option for storing shoes in tighter spaces.
FAQs
What is the first rule of decluttering?
The first and arguably most important rule of decluttering is to set your expectations low and work through a decluttering checklist. Trying to do too much at once and having the aspiration of having your whole home decluttered in a day or two is unrealistic and can lead to negative thought processes that make it harder to declutter in the future. Take it slow, and set small achievable goals to help inspire you to get the job done.
Why am I so bad at decluttering?
There can be several reasons why people may struggle with decluttering and feel 'bad' about doing it successfully. Usually, it is because we form deep attachments to our belongings and become overly sentimental, making it hard to let things go. Alternatively, it may be that we feel guilty for having spent money on an item just to throw it away. Both are completely normal, and it is about finding different approaches to dealing with them, whether it be to power through or enlist the help of a professional, or friends and family.
---
When trying to declutter your home without throwing away, what you bring into your house is just as important as how you store what you already have, says Karina Toner, cleaning expert at Spekless Cleaning. If your home is already feeling the squeeze, you should avoid adding things that can make it worse. 'To prevent clutter from accumulating again, adopt a mindful approach to your purchasing habits. Before buying something new, consider if you really need it or if it will add value to your life. Focus on acquiring experiences rather than material possessions,' she advises.
Sign up to the Homes & Gardens newsletter
Decor Ideas. Project Inspiration. Expert Advice. Delivered to your inbox.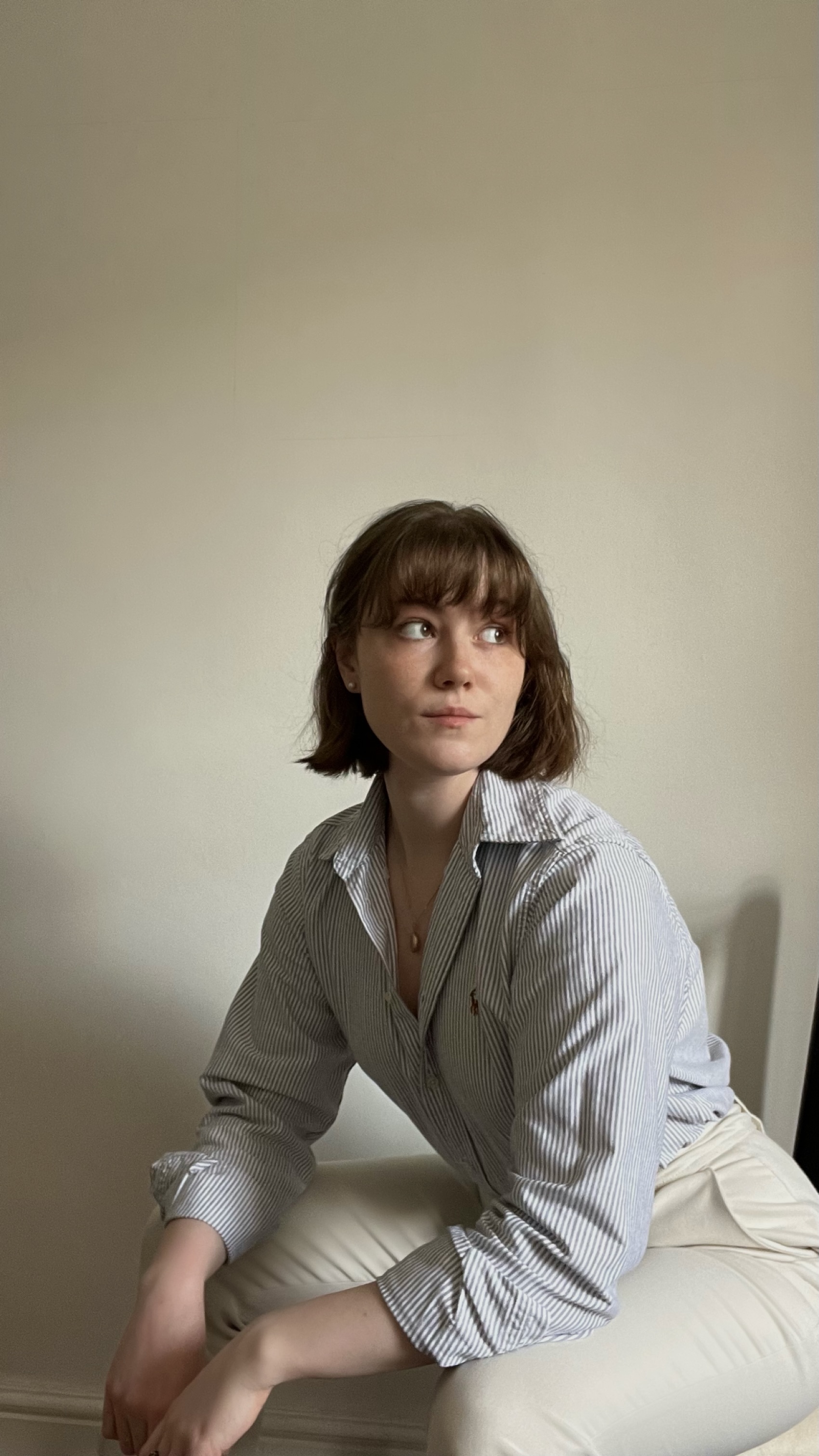 Chiana has been at Homes & Gardens for a year, having started her journey in interior journalism as part of the graduate program. She spends most of her time producing content for the Solved section of the website, helping readers get the most out of their homes through clever decluttering, cleaning, and tidying tips – many of which she tests and reviews herself in her home in Lancaster to ensure they will consistently deliver for her readers and dabbles in the latest design trends. She also has a first-class degree in Literature from Lancaster University.