Items to store on your nightstand for better sleep, according to experts
Experts share what works, and what to reconsider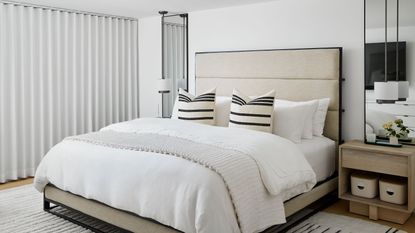 (Image credit: Devon Grace Interiors, Dustin Halleck)
Sign up to the Homes & Gardens newsletter
Decor Ideas. Project Inspiration. Expert Advice. Delivered to your inbox.
Thank you for signing up to Homes & Gardens. You will receive a verification email shortly.
There was a problem. Please refresh the page and try again.
Though we may not realize it, we spend a lot of time in close proximity to our nightstands and therefore, to the objects that we place on them. But could this classic surface for a 'TBR' list – and perhaps a soothing cup of camomile to sip on before lights out – actually have a more significant impact on how comfortable we feel in our surroundings?
We were curious to know whether there are objects to favor in this spot for a better night's sleep over others.
So we caught up with a handful of experts who specialize in Feng Shui, organization, and good design to see what they recommend keeping on bedside tables for a beautiful space and positive rest.
What items should you store on your nightstand for better sleep?
Decluttering a nightstand will positively clear your mind for a more restful sleep, in the first instance. But there are a few finer details to consider for an even more restful and good-looking space. It's all about being particularly thoughtful about the objects you keep, including your bedside lighting. This is what our experts recommend.
1. Trinkets that bring you joy
Second to the essential bedside lamp, trinkets are likely to be present on your nightstand. They get the green light, most of the time, but there are some considerations to pay attention to when including bought items or any trinkets you have been gifted says Laura Cerrano, Feng Shui consultant CEO and founder of Feng Shui Manhattan, Inc.
'You want to make sure you have really good emotional memories attached to those items or trinkets or objects,' says Cerrano. You want to listen to your emotions when you look at the object. Such as, if it makes you feel happy, this is a trinket you can comfortably keep on your nightstand. If on the other hand, it fills you with apprehension, look at replacing it with an object that has more positive sentimental value.
'You have to listen to your body and your own emotions, those are your barometers,' adds Cerrano. Find items that feel supportive for the best results.
If you are in a positive relationship, you could consider photographs of loved ones. Though some Feng Shui consultants don't always agree to keeping images of loved ones on a nightstand, saying they should rather be spread throughout the home, Cerrano is more part of the conversation that says you can in some instances. 'What I'll usually say is if you're in a really healthy relationship, feel free to frame up some great images.' The key is to not go overboard, perhaps choosing the design number three, and to consider balancing them out with others around the room. 'It depends on what surfaces you have to play with,' she continues.
Laura Cerrano is a second-generation certified Feng Shui master who founded the international consulting firm, Feng Shui Manhattan in 1997. Laura began her Feng Shui studies around age 12, under the guidance and mentorship of her mother. Her practice integrates modern-day and classical Feng Shui applications. Laura has appeared in highly respectable publications and media outlets that include: Oprah Magazine, Emmy Nominated HGTV's Property Brothers Forever Home, and The New York Times.
2. Decorative boxes or bowls
The less clutter present on a nightstand, the better. There are likely items that you will want to keep close by, which might be a matter of personal choice and perhaps the design of the nightstand itself.
'When choosing nightstands for clients, I first try to understand their specific storage requirements,' says Benet.
'Generally, they will need at least one drawer for the items that are more personal such as ear plugs, lip balms, etc. Then for the surface of the nightstand a decorative box if they need something easy to reach but more hidden and a pretty bowl for jewelry. Organization is always going to help sleep as it calms the mind.' So consider a beautiful bowl, or even a decorative tray, where you can corral items easily if you are keeping them on display here.
3. Soft lighting that promotes a restful ambiance
Lighting can define a decor scheme, especially in a bedroom. Though many of us will entertain the morning rush in this space whereby a ceiling light might need to be switched on, come the evening, it's only natural that we want to create calmer surroundings.
Bedroom lighting can play an important part in bringing the overall energy of your space down so that you can settle in for sleep. Cerrano shares with us that lamp shape, light direction, and even the type of lighting are all features to consider when choosing a bedside lamp.
Cerrano encourages us to choose lamps with soft curves that point downwards rather than upwards. Consider wall sconces or reading lamps you can easily adjust so that nothing overpowers or shines too brightly in your eye line. Furthermore, Cerrano notes that LED lighting is often far too bright, and to favor other, less harsh options. Soft lighting is more likely to promote relaxation and create an ambiance of getting ready for rest.
'My bedside lamp has a low-wattage bulb, which I also find relaxing,' adds certified professional designer, Shara Kay.
Shara Kay (she/her) is a Certified Professional Organizer® and the owner of SK Organizing, a Los Angeles area company specializing in move management, estate clearing, and helping busy professionals achieve the calm and organized spaces they desire at home and at work. Shara also has over 10 years of experience in the entertainment industry where she produced several independent films, won the NATPE Digital Luminary Award for Best Branded Entertainment Series, and served as a senior development and production executive. She holds a Bachelor's degree in Romance languages & literature from Harvard University.
4. Books that inspire you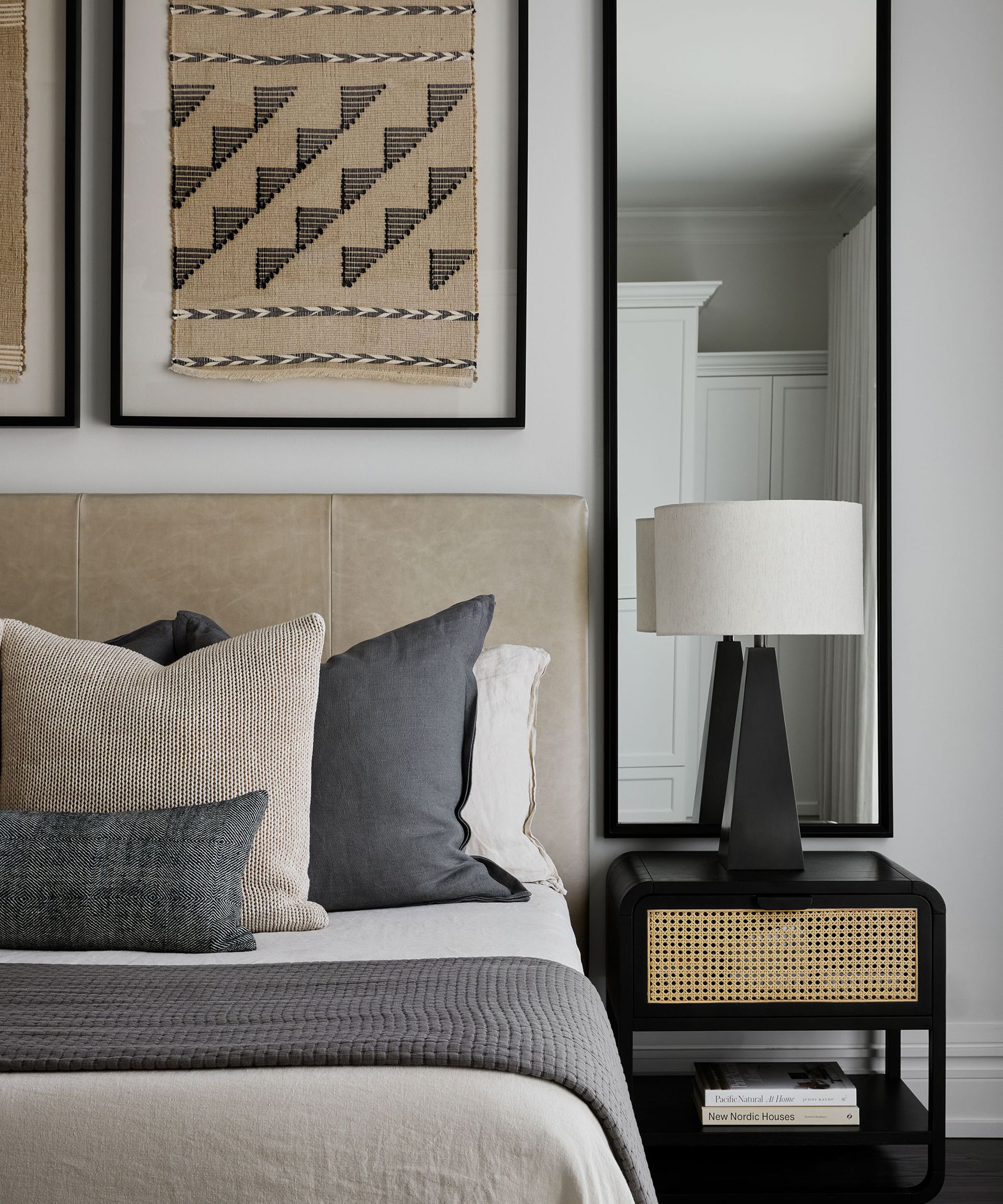 Most of us will keep books on our nightstands and they are, unsurprisingly, a favorite addition by designers.
'I also have an ever-changing and inspiring stack of books on my nightstand,' shares Kay.
Note that you should be thoughtful when it comes to the literature you keep here, so as to encourage a calmer and more restful sleep – whether your books feature on the top of your nightstand, or in a drawer.
'You still want to be conscious of the book content and the title,' shares Cerrano. For example, you don't want to lean into anything too hard-hitting before bedtime. Opt for inspiring reads or even learning something fresh and new, over reading the latest headlines or anything a little stressful.
5. Considered florals or candles
Houseplants and foliage can bring softness to a bedroom space, but it is all about choosing the right type of flowers.
There are some house plants to avoid in Feng Shui as they might block you from receiving positive energy. If you are one for foliage in the bedroom, opt for flowers or healthy houseplants with soft edges, avoiding cacti and anything particularly angular.
'Finally, for better sleep as well as being aesthetically pleasing, we often source a small vase of flowers, fragrant candles, and beautiful hand creams,' shares interior designer Tara Benet.
Tara Benet Design is a prestigious and award-winning firm, based in the New York area. The award-winning firm helps clients achieve luxurious, balanced, and sophisticated surroundings by taking a collaborative approach to making the most of every space.
What should you avoid keeping on your nightstand?
There are some nightstand design mistakes you will want to avoid in this space. When it comes to the items that you store here, keep it simple and avoid clutter, or objects that you don't find particularly inspiring or positive. 'Store as little as possible on your nightstand – particularly avoid anything that lights up, which can negatively affect your sleep quality,' says Ami McKay, creator of PURE Design: Interior Design, Build & Shoppe.
Cell phones and electronic items should also be avoided. Cerrano notes that you want to reduce the electromagnetic frequencies that come from digital items. 'We really want to reduce that amount by our bedside. So we usually recommend leaving all of those electronics completely out of the bedroom if possible.' If you must keep a cell phone in this space as your alarm clock, keep it as far away from the bed as you can to support a better dream state.
Kay shares another tip that might make more for more positive cell phone placement: 'We all know it's best not to put your cell phone by your bed, but if you do, using a white noise app can help you fall asleep.'
Shape also plays an important role in Feng Shui. Cerrano says that anything particularly sharp and protruding, including plant designs like catus, shouldn't feature in this space. 'Anything with a pretty noticeable 45, 90-degree angle or that just looks or feels intrusive, we say avoid that.'
Similarly, approach colors with care. Red is quite a fiery color so might be best avoided, but Cerrano reminds us how colors can be interpreted quite differently around the world. In light of this, when approaching what we could call 'modern day Feng Shui' consider keeping colors neutral with pops of brighter hues in the rest of your bedroom scheme.
Ami McKay founded PURE Design in 2000 on the belief that design is found in the art of giving. The work that she puts into each project reflects her personal life experiences and she believes they are at the heart of her business. Today, she is proud to be named one of Canada's Top Five Interior Designers.
What else could help promote better sleep on a nightstand?
Your favorite candle can make a lovely nightstand addition. Opt for relaxing fragrances where you can. 'Natural lavender or camomile essential oils in a diffuser beside your bed can help you relax as you unwind. I have one on my bedside table that I turn on when I climb into bed,' shares Kay.
Kay also recommends bringing soothing sounds like white noise into the bedroom. 'I'm a big fan of the Dohm white noise machine (available on Amazon) which is intended to be placed at least a few feet away from the bed.'
Cerrano also recommends selenite crystal sticks, which you can find on Amazon or Etsy quite easily, as they might help promote better sleep.
Much of styling this space is about being intentional with what you are inviting onto your nightstand. Cerrano notes: 'Why am I doing this? What is the focus?' can be the types of questions you ask yourself when deciding on specific objects to help you understand what works for you and your subconscious.
Should your nightstand have a drawer?
A drawer certainly has its uses for the less beautiful but much-needed objects, like earplugs, and we needn't name the rest. You should still, however, not go overboard with how much you store in there.
Cerrano highlights that much like what is under the bed or stored in the closet, what is in your drawer(s) can say a lot about your subconscious. So keep it considered for hopefully better sleep. 'We just say be really consciously connected to what you're deciding to put in there,' advises Cerrano. Note how items make you feel, like journals, letters, and even literature, and favor objects that bring more positivity and inspiration.
---
The nightstand is a space that should promote joy and calm for a restorative night's sleep. Prioritize soft shapes and objects that inspire and calm you.
It can in some instances be a matter of personal choice and will depend on your living circumstances, and emotions. Much like in the world of modern Feng Shui, this is something that might change over time so don't be afraid to tap into this and to lean into different objects if they feel more suited to your nightstand and bedroom space in that particular moment.
Sign up to the Homes & Gardens newsletter
Decor Ideas. Project Inspiration. Expert Advice. Delivered to your inbox.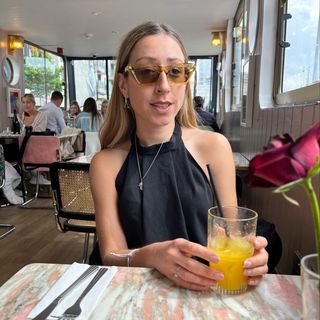 Camille is the former deputy editor of Real Homes where she covered a broad range of topics, including house tours, small space design, and gardens. She studied English language and Italian at the University of Manchester and during a year abroad studying linguistics and history of art in Bologna, Italy she started documenting her adventures and observations in a blog. Camille is always creating and spends her downtime painting, taking photos, traveling, and writing short stories.