The best places to buy a vacation home in Colorado – skiing, hiking trails, and more
The best places to buy a vacation home in Colorado will take your breath away, and will always provide you with a rental income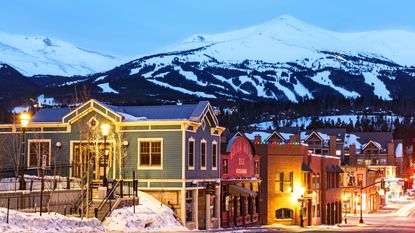 (Image credit: Efrain Padro / Alamy Stock Photo)
The best places to buy a vacation home in Colorado are well worth the investment. In fact, Colorado may well be one of the best places to buy a vacation home in the United States. Firstly, the state is incredibly popular thanks to its reputation as a world-class skiing destination. Secondly, there is much more to Colorado than skiing, with stunning lakes, hiking trails, and hot springs all contributing to its vacation atmosphere. The towns, sometimes undeservedly neglected, are also worth looking at.
We've asked real estate professionals to comment on how to buy a house in Colorado, where the best vacation home spots are, and whether you should be buying now.
1. The best place to buy a vacation home in Colorado: Avon
If it's mountains you are after, Aspen, Colorado, is a showstopper. This area in the state's Vail Valley area comes highly recommended by Jonathan Spears, a leading luxury real estate agent with Spears Group. Jonathan that not only has a great understanding of the Colorado real estate market but also owns a vacation home there himself.
He says: 'What makes Avon so special is that it sits at 7,500 feet of elevation so it's a little lower in terms of height but it gets all the benefits of looking up towards the beautiful Beavercreek mountain range as well as the White River National Forest. It's also a riverfront community, so it sits on Eagle River with a beautiful reservoir called Nottingham Lake and a park that surrounds it.'

Avon's winning card is its affordability considering the area: 'Of course, Beavercreek and Vail are some of our favorite spots for actual second homes, but what's nice about Avon is it brings a level of affordability relative to the pricing of Vail and Beavercreek, but it's also an immediate gateway to both world-class destinations. The restaurants, the walking art district, as well as the community events and
amphitheater make Avon a very special place.'
The typical home value in Avon is $795,718.

2. The runner-up: Breckenridge
If you really want to go for it in terms of the ski appeal, then Breckenridge is the place for you. Jeremy Scott Foster, real estate writer and founder of
TravelFreak, points out that 'Breckenridge is the most visited ski resort in North America. About 3 million tourists each year visit the town located at the foot of the
Tenmile mountain range. The town has a laid-back vibe, making it a perfect
place for vacation rental homes.'

If you're worried about only making rental income in the winter season, Jeremy has this to say: 'Year-round activities like mountain biking, fly fishing, and hiking keep the town alive all year. It is one of the most captivating destinations in Colorado. Tourists enjoy characterful historic district, trendy bistros, quirky museums, boutique shops, vibrant après-ski, and gourmet restaurants.'
It's not cheap, with typical home prices very close to $1 million. If that's a barrier, 'surrounding towns like Dillon and Frisco also offer an excellent location for an investment property. Both are a short drive to Breckenridge and have slightly lower property values.'
3. Boulder: not a typical choice, but worth it
Elizabeth Boese, realtor and investor at Coldwell Banker Realty based in Boulder, is keen to remind potential investors that Colorado is not all about ski resorts.
'While we typically think about the mountains as a premier vacation place for Colorado, there are also a lot of visitors to Boulder and Denver as well. Boulder has a strong reputation and many people flock here for the ambiance, startup community, Naropa University, as well as CU.'
Boulder does have some restrictions on short-term rentals, but that doesn't seem to reduce its appeal for visitors: 'While Boulder has restrictions on STRs to a minimum of 30 days, many investors have been successful in Boulder even with this restriction. We have Texans visiting for a month during the summer to get away from their excessive heat, Minnesotans visiting in the dead of winter to get away from their frosty cold, and many students learn Reiki and other alternative certifications at Naropa for one to three months.'
4. Colorado Springs: a solid vacation home classic
You've probably heard about this place, and with good reason – it's one of the most beautiful and iconic spots in the state, perfect for hiking. Alan LaFrance, of moving specialists PCSgrades, said: 'Colorado Springs is a solid area for a vacation home. It has all of the accommodations of a city yet it's right on the doorstep to the great
outdoors.
'You can fly in direct from several major cities and events like the Pike's Peak International Hill Climb, US Air Force Academy graduation, and an endless stream of art, nature, and outdoor events will certainly help short-term rental earnings. The entry cost can also be substantially lower than Denver and other popular areas, so your money will go a bit further as well.'
The typical home price in Colorado Springs is just over an affordable $400,000.
5. Steamboat Springs: not just for skiing
Steamboat Springs comes recommended by Matt Strickland, Real Estate Broker & Owner of Modern Realty Guam. The big draw of this place is that it's got both a renowned ski resort with six peaks to choose from, and geothermal hot springs for those who are not so keen on snow and skiing.
It's incredibly popular with visitors, and, although the typical home price here is over $800,000, you will more than recoup the spend.
Is now a good time to buy in Colorado?
If you are – understandably – worried about investing in a vacation home during Covid, Matt's assessment should reassure you: 'If you are interested in investing in a vacation home in Colorado, the first question that you should ask yourself is "Is now a good time to buy?" Based on the statistics, the number of covid cases in Colorado became lower compared to last year. I think if you have the money and the means to buy a property, a vacation home is good to go!'

How do I choose the best vacation home spot in Colorado?
Setting out your goals – and understanding restrictions that exist in many places in the state – before investing is essential.
Elizabeth says: 'When buying a vacation home as a rental in Colorado you will need to determine what your goal is – long-term rental or short-term rentals like Airbnb or VRBO. Many counties and cities have instantiated restrictions and/or fees for rental properties, so it is important to become familiar with the rules in the location you wish to buy. For example, Steamboat Springs is in Routt county and they do not allow STRs!'
Elizabeth also cautions against buying in a ski resort by default: 'When people think about Colorado for vacation, people think mountains! Colorado has some of the world's best ski resorts. But keep in mind that those ski mountain towns have two mud seasons in fall and spring when skiing isn't an option and the trails are too muddy to hike. So if you are looking to rent out an investment property in these areas then calculate a high vacancy rate during mud seasons.'
If you are a little put off by the restrictions, consider buying a home with an ADU (accessory dwelling unit). Elizabeth clarifies: 'If your primary home has an accessory dwelling unit, this can be an optimal rental for either long-term or short-term rentals. Many counties including Boulder allow for STR in ADUs if the main home is your primary home. You can find many homes in Boulder with ADUs, and Prospect subdivision in Longmont has a street full of SFH with an ADU built above the detached garage which rent for $1,500/month as a long-term rental.'
Many options and locations to consider, and all of them absolutely gorgeous. We are definitely convinced that Colorado is one of the best second home destinations in the US.
Anna K. Cottrell is now a freelance writer, having previously been a Content Editor for Future's homes titles. She writes about interior design, property, and gardening. On H&G, she specialized in writing about property – buying, selling, renting – sustainability and eco issues.