Birch trees: a guide to popular species
Birch trees are a beautiful addition to the garden, available in a range of colors and textures. Discover the perfect match for your garden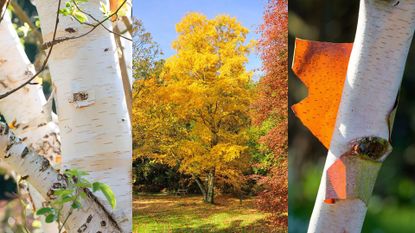 (Image credit: Getty Images)
When you think of birch trees, your first thought will be of bright white peeling bark and small, green serrated leaves, however, this description only fits a few varieties of birch tree.
There are more than 60 different species of birch trees, each with their own unique colors, textures and characteristics. From the red bark of the Chinese Red birch and the richly textured River Birch, to the snow white Himalayan and the miniature Dwarf Birch, there is a birch tree that will be able to complement every one of your backyard ideas.
Birch trees: a guide to popular species
Belonging to the genus betula, birch trees are one of the favorite trees with white bark. They are loved for their pretty bark, colorful leaves and impressive height. Whether you plant several together to provide privacy and screening in a backyard or you opt for a single statement tree to create a display, birch trees are a versatile and hardy addition to the garden.
Regardless of the variety you choose, it is important that you know how to plant a tree properly in order to give it the best chance of success. 'Planting in moist soil, in a spot that offers a bit of shade from blazing hot afternoon sun will help most birch trees thrive,' says arborist Melinda Myers. 'We can't change the weather but we can do our best to place the trees in the most desirable growing conditions. A layer of mulch beneath the tree canopy will help to retain moisture and provide birch trees with the care they need.'
1. European White Birch (Betula pendula)
The European White Birch is a favorite in gardens worldwide and is known by many names including the common birch, silver birch and lady birch. A native to the UK, this elegant tree is also a great fit for American gardens.
'The hardy white birch is a surprisingly fast-grower; it can add nearly two feet to its height annually until it reaches its fully mature height of 40 feet,' says Shannon Bernadin CEO of The African Garden, 'So, be warned if you do choose to grow these birch trees as you'll need plenty of space in your garden'.
2. Paper bark birch (Betula papyrifera)
Named after its curling bark which peels like sheets of paper away from the trunk, the Paper birch has an interesting role in history. 'Before paper was widely available, the sheets of birch bark were often used to write down messages,' explains Shelby DeVore, the founder of Farminence. 'The trees were also called 'canoe birches' because Native Americans would use the mature trees to make canoes.'
These beautiful trees with white bark grow well in almost all soil types, pH levels and aspects, and over its 50 years growing time, the tree will reach over 40 feet making it one of the best trees for shade.
3. Yellow Birch (Betula Alleghaniensis)
Erupting in a golden crown come fall, the Yellow Birch is named for the stunning display put on by its autumn leaves. As such, they are one of the best trees for autumn color and these beautiful birch trees will illuminate any garden.
A stunning addition to your backyard, these birch trees can grow up to 70 feet tall and are one of the largest hardwood species in North America. Hardy from zones 3 to 7, these deciduous birch trees welcome spring with a display of in pretty yellow catkins.
4. Chinese Red Birch (Betula Albosinensis)
Standing in stark contrast to the white birch trees, the Chinese red birch is instantly recognisable by its stunning red, peeling bark. Consider landscaping around trees with circles of snowdrops which will shine against the red bark in winter or try partnering the Chinese red birch with colorful cornus for a vibrant display all year round.
Despite its different appearance, Chinese red birch trees have very similar growing requirements to its paler siblings and as such are some of the best trees for clay soil though they also thriving in most other soil types.
5. Dwarf Birch (Betula Nana)
Unlike their taller counterparts, dwarf birch trees are some of the best trees for a small garden. This low-growing shrub is popularly found alongside bogs and wetlands, and thrives in nutrient-poor soil, making it a great companion plant for garden pond ideas.
'Like other birch trees, it prefers well-drained areas with rocky or sandy soils,' says Emilly Barbosa Fernandes, expert small space gardener and consultant at HouseGrail.
Identifiable by its short-stature, reddish non-peeling bark and serrated leaves, the dwarf birch is native to the cooler climates of northern Europe and North America and thrives in zones 2 through to 7.
6. Himalayan Birch (Betula utilis var. Jacquemontii)
This classic tree with white bark is a stunning variety of birch tree. Native to the Himalayas, this birch tree is 'the most striking of the birch varieties, this tree has snow white bark and glossy green leaves that turn a clear yellow in the fall,' says Blythe Yost, CEO of the online landscape design company Tilly, 'However, it can only be grown is northern regions with cooler weather as it is very susceptible to a borer beetle. '
The Himalayan birch is a great choice to be a statement tree as part of your garden ideas, it will grow up to 50 feet tall and its almost translucent white bark will add interest all year round.
7. River Birch (Betula Nigra)
A fascinating variety of birch, River birch trees are unlike any other trees you'll find in the garden center. The River birch is characterized by its unique layers of peeling bark. 'This is a fast-growing tree and can grow in single or multiple trunks,' says Emilly Barbosa Fernandes. 'Its bark is a beautiful shade that ranges from pink to reddish-brown and when its bark starts to peel, you'll notice that it becomes lighter.'
Naturally found on the river banks of North America, it is one of our favorite trees with white bark as it is very low-maintenance, so long as you know how to plant a tree. 'The River Birch will grow well in full sun and once established, is one of the few birches that can tolerate heat extremely well,' says garden experts from Deepdale Trees.
8. Japanese White Birch (Betula platyphylla)
Native to Japan, these birch trees offer a pretty silhouette of a single trunk and thin spreading branches. It is this dainty outline that makes it the perfect addition to cottage garden ideas.
Growing up to 40 feet tall, the Japanese birch is one of the smaller varieties (at least compared to those that reach 70 feet tall). It is also fairly low-maintenance, not requiring any pruning or specialist care. 'The Japanese birch grows best in cooler climates in sandy or rocky areas that are wet,' advises Emilly Barbosa Fernandes.

9. Sweet birch (Betula Lenta)
While not instantly recognisable as birch trees and often mistaken for cherry trees, the sweet birch is characterized by its dark, cracked bark. In spring its leaves are light green and then darken throughout the season, before igniting in a deep golden tone in fall. A relatively fast-growing tree it can reach over 98 feet tall and therefore will benefit from regular pruning to keep it at a more manageable size.
Also called black birch, cherry birch, mahogany birch, or spice birch, it is native to eastern North America and best known for the wintergreen oil that can be made from its bark.
10. Bog birch (Betula Pumila)
As its name suggests these birch trees are usually found around bogs and wetlands and as a result are exceptionally hardy. Bog birch trees are able to tolerate everything from 'clay soils and wet sites through to occasional flooding and road salt,' says Sharon Yiesla, plant knowledge specialist at Morton Arboretum.
Even though it's growth pattern is more like that of a shrub rather than a tree, the bog birch can still grow up to 8 feet tall and as such is one of the best trees for privacy and screening.
How do I identify a birch tree?
The easiest way to identify a birch tree is to look at its bark. Firstly, consider its color – is it white, yellow, red or darker? – this will help to limit the potential type of birch tree. Next look at the texture of the bark, is it peeling or attached? Finally look at the marking on the tree, are there lines? If so, are they long or short, thin or thick, dark or light? Together these details will help you to identify your birch trees.
Where do birch trees grow best?
Birch trees grow best in a spot that gets full sun but afternoon shade. On the whole, they prefer wet but well-drained soil, though some varieties, like the River birch are more tolerant of heat and drier conditions.
Birch trees are fairly adaptable to a variety of different soil types, though you should always check the label for your specific tree for more detailed advice as there are subtle variations from tree to tree.
'Unfortunately we often plant birch trees in a hostile environment where they succumb to insect pests. So it is important to select the birch suited to your growing conditions, also look for those resistant to the deadly birch borer,' advises Melinda Myers.
Sign up to the Homes & Gardens newsletter
Decor Ideas. Project Inspiration. Expert Advice. Delivered to your inbox.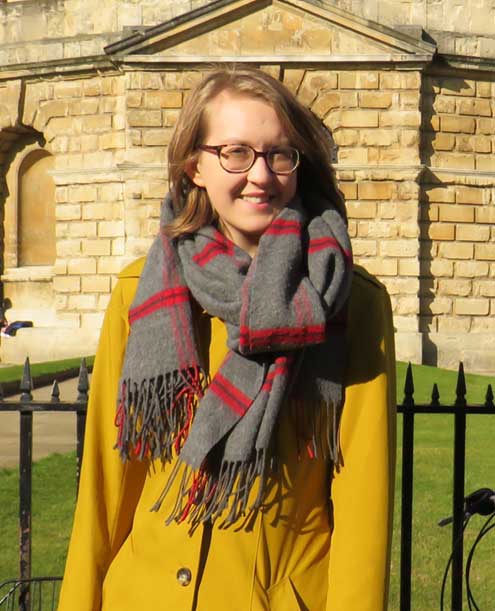 Content Editor and Sub-editor
Having graduated with a first class degree in English Literature, Holly started her career as a features writer and sub-editor at Period Living magazine, Homes & Gardens' sister title. Working on Period Living brought with it insight into the complexities of owning and caring for period homes, from interior decorating through to choosing the right windows and the challenges of extending. This has led to a passion for traditional interiors, particularly the country-look. Writing for the Homes & Gardens website as a content editor, alongside regular features for Period Living and Country Homes & Interiors magazines, has enabled her to broaden her writing to incorporate her interests in gardening, wildlife and nature.