6 items to get rid of for a minimalist bathroom – according to the professionals
These six things have no place in a pared-back bathroom, professional organizers propose – here's why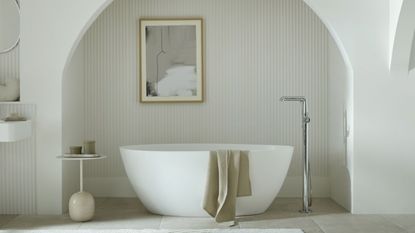 (Image credit: BC Designs)
Sign up to the Homes & Gardens newsletter
Decor Ideas. Project Inspiration. Expert Advice. Delivered to your inbox.
Thank you for signing up to Homes & Gardens. You will receive a verification email shortly.
There was a problem. Please refresh the page and try again.
Bathrooms needn't be over complicated, keeping the space minimalist and refined often makes for the most relaxing spa-like space. But what should you get rid of for a minimalist bathroom?
Between finding the best multifunctional bathroom furniture and paring back your counter decor, shaving back your clutter can help make your bathroom feel that little bit more sophisticated.
We asked several home organizers and interior designers for their thoughts on what we should be ditching in our bathrooms for a more minimalist space – here is what they had to say.
Items to get rid of for a more minimalist bathroom
A minimalist bathroom is often touted to be one of the best wellness bathroom ideas, allowing you to focus purely on the essentials in the space and reduce the visual noise that makes us feel stressed – ideal when you want a relaxing soak in the tub or a laid-back nighttime routine.
Here is what needs to go for the ultimate spa bathroom experience.
1. Bulky laundry baskets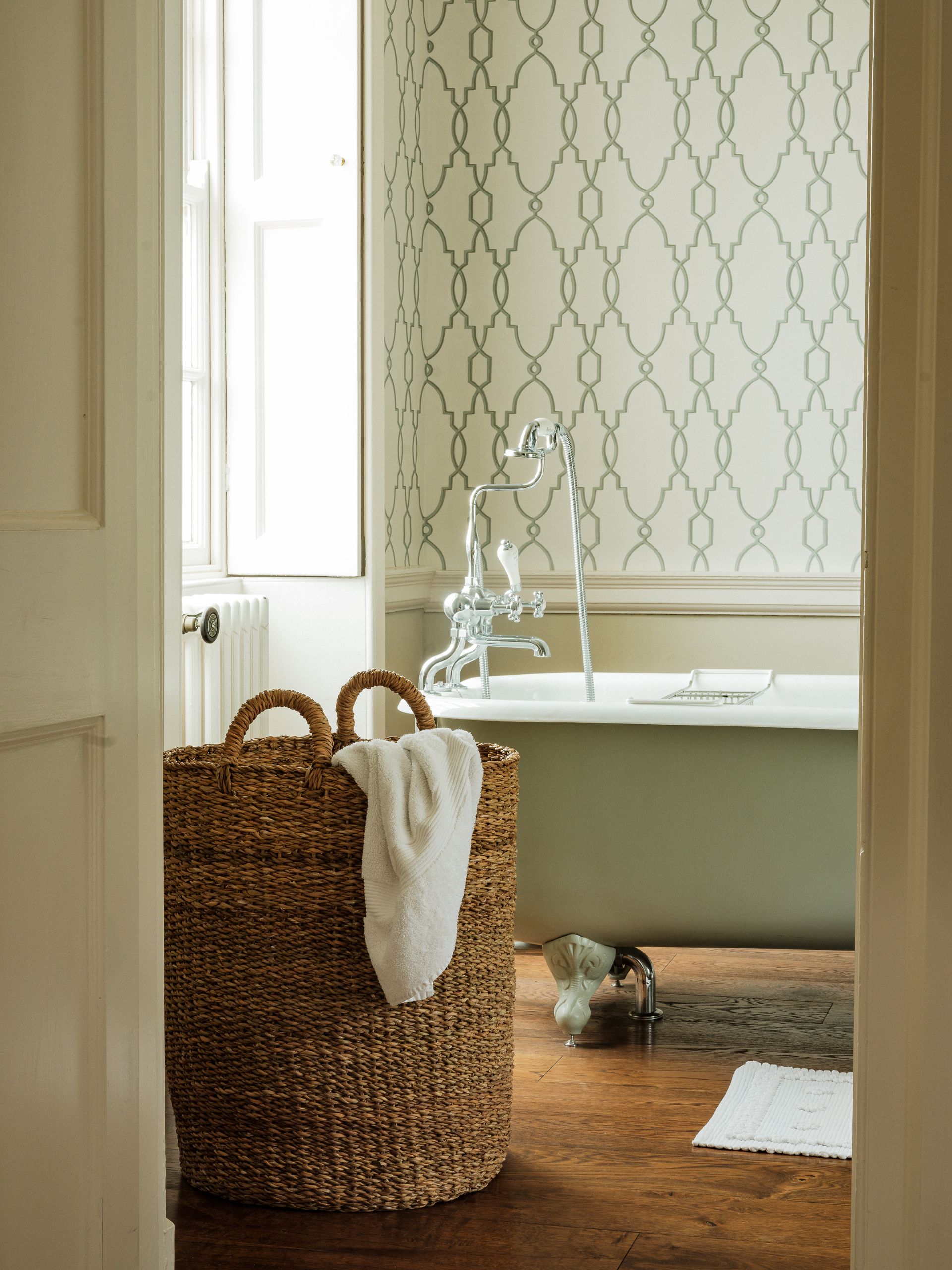 Hiding laundry baskets in your home can be an uphill battle – they are essential to keeping our homes tidy, but they can be a real eyesore in the corner of a well-designed room.
For a minimalist bathroom, Christina Giaquinto, professional organizer and brand ambassador of Modular Closets suggests getting rid of the bulky, plastic laundry baskets altogether, and working with a foldable option instead, taking discarded clothes to a more permanent wicker hamper, like the Anboise Anastaisa Holga Linen Basket, in your bedroom after a shower instead.
'Foldable baskets function just as a regular laundry basket, but the added convenience of folding it up when you are not moving a laundry load around is amazing! If you have a small bathroom, it allows you to save an incredible amount of space. They fold up flat and can be hung on the inside of your door, stand nicely next to your dryer, or fit beautifully in between a shelf. It is the only laundry basket I will ever use again, and I highly recommend it to keep your space neat, tidy, and organized!'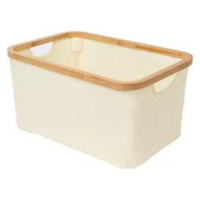 Foldable bamboo hamper | $25.99 at Wayfair
I use these sleek laundry baskets to help declutter my home and sort my laundry. Their foldable design means they are easy to hide out of sight when not in use, too.
Christina combines spiritual coaching and organizing to help her clients let go of things that do not spark joy and happiness. She focuses on giving her clients the tools, methods, and techniques to transform their lives and homes through decluttering and organizing
2. Transparent storage units
Clear bathroom storage can be great to see what you have in a pinch, but in a practical space like a bathroom, it helps to hide the mismatched containers of products and clutter that are essential to everyday life.
To do this, Melissa Caverly, organizer, cleaner, and founder of Imagine Maids recommends having a separate storage cabinet specifically designated for storing extra toiletries and organizing makeup. By keeping these items neatly organized and out of sight, you can prevent clutter from accumulating on your bathroom countertops. This allows you to maintain a clean and streamlined appearance.
'It is crucial to take these proactive measures to ensure that items such as hairbrushes, deodorants, razors, eye shadows, and other personal sundries are not left on the countertop.'
3. Trinkets and countertop decor
A little bit of bathroom decor can go a long way, especially if you want to make a bathroom look cozy. But, in a minimalist space, it only gets in the way, Christina Giaquinto, professional organizer warns. For a pared-back spa space, she recommends removing any decorations from your wall or vanity.
'A minimalist look favors sleek lines, space, and order,' she explains, 'so if you have colorful decorations with mismatched patterns in your bathroom, move them to another room and don't let random trinkets take over your bathroom.
'If you have trinkets from friends, family, and travels on your countertop, keep them organized in another space. Remember, clutter is the enemy of minimalism!'
4. Piles of excess towels
Acing your towel storage is a great way to achieve the minimalist look in a bathroom as you free up counter and shelving space. When you don't have space in a linen closet or hallway cabinet, then you can corral them in a niche nook, Bynn Esmond, designer and founder of Bynn Esmond Designs suggests. This way, they are still on display (acting as some functional bathroom decor to soften the space) while not getting in the way.
Consider stacking and folding hand towels like a spa, or using a decorative basket or tray to help keep them in one spot.
5. Personal care products
While this may seem like a shocking thing to get rid of from a bathroom given how often we use makeup, fragrances, and medicines in our wash spaces every day, it is more about removing them from view than getting rid of them altogether, says Theresa Russell, professional organizer, therapist, and founder of HomeGirl Space.
'Everything from medicines to bulk toilet paper stock, to sunglasses and other accessories should be stored inside of drawers and cabinets, preferably in other rooms if you have the space,' she recommends. 'Hallway closets are a good option for excess products that you do not need yet, while a dressing table or bedroom vanity is a good spot for things you should never store in a bathroom cabinet, such as accessories, hair brushes, makeup, fragrances, and medications that may otherwise degrade in the warm, humid space of a bathroom.'
6. Obvious clutter and empty bottles
It should go without saying that you should declutter the obvious bits of clutter such as empty product bottles, things you are not using anymore expired products, and items that need washing, reminds Christina Giaquinto, professional organizer.
'Do you have empty personal care jars and bottles littering the area around your sink? Dirty laundry all over your floor? Get rid of all of the clutter in your bathroom. An organized and simplified look will give your bathroom a chic, minimalist aesthetic.'
If you have two or more half-opened bottles of the same product, then it can help to pour them all into one container to cut back on how much is on display on your counter or in your shower more quickly too without having to dispose of unused product. Anything you have not opened and has not expired should be donated.
FAQs
What should be in a minimalist bathroom?
When creating a minimalist bathroom, it helps to have fittings with smooth, clean lines and neutral colors to help make the space calming to the eye. Floating vanities and wash basins are good for this with basic shapes to create a visually appealing room. Besides the basic essentials, you should then decorate with purely functional items – a decorative but simple hand soap dispenser, for instance, a candle, or rolled and stacked towels. This can help to soften the space while also keeping it pared back.
How do I make my bathroom look zen?
Making a bathroom look zen can be as simple as approaching the room from a minimalist standpoint. Using only the essentials in the space, along with a pared-back, neutral color scheme, reduces any visual noise that can cause stress or anxiety. Ensuring that you have the right storage, and enough of it, will help keep items off of counters and tucked away for a chilled bathroom space, perfect for a hot shower or relaxing soak in the tub.
---
When getting rid of things from a bathroom for a minimalist aesthetic it can also help to clean the bathroom. With the absence of decor and bulky storage, dust will become more noticeable. Take the time while you are decluttering to deep clean the space, working from the first thing to clean in a bathroom around the space, removing marks from glass and dust from corners to help the space feel truly minimalist and inviting.
Sign up to the Homes & Gardens newsletter
Decor Ideas. Project Inspiration. Expert Advice. Delivered to your inbox.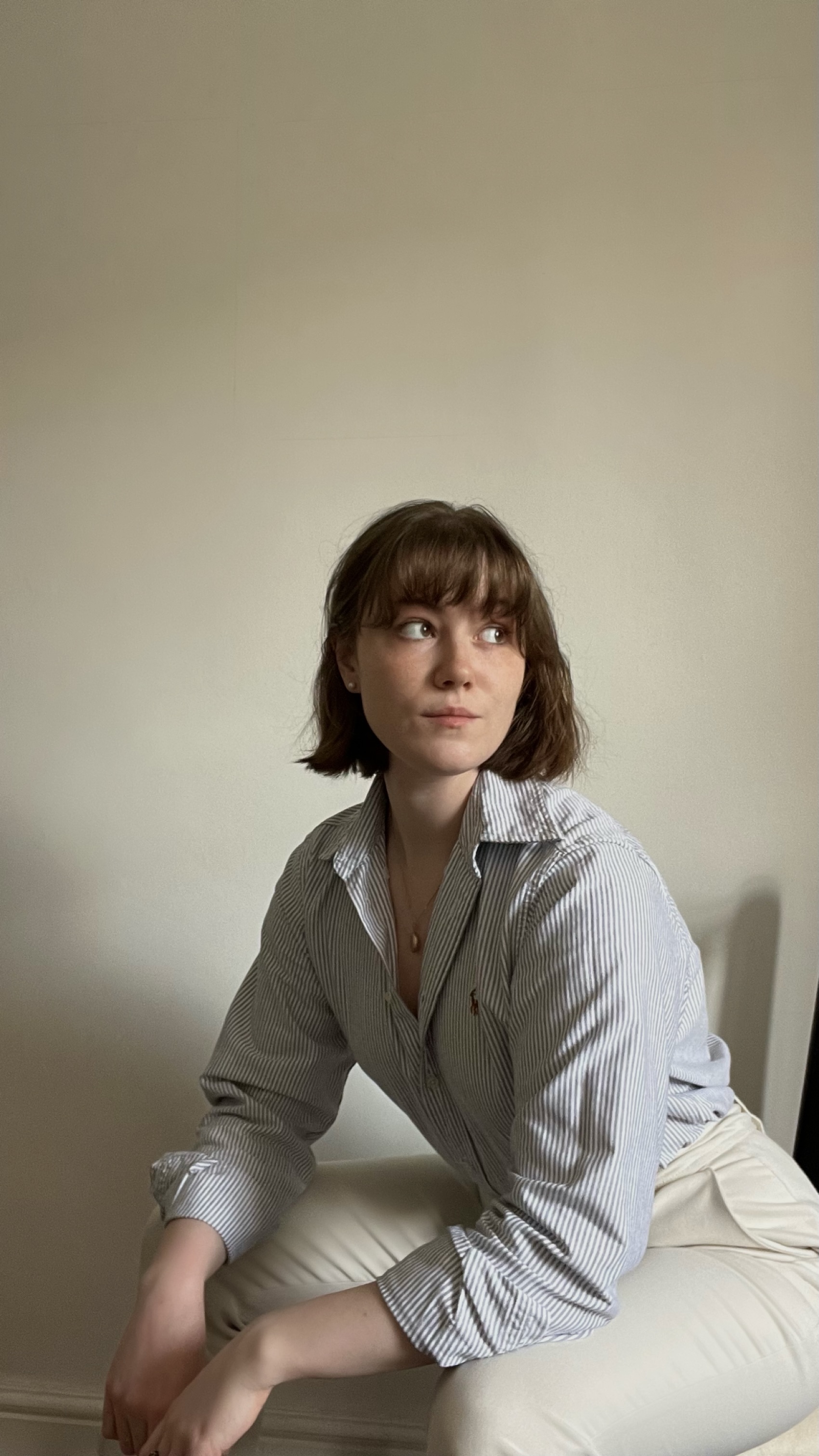 Chiana has been at Homes & Gardens for a year, having started her journey in interior journalism as part of the graduate program. She spends most of her time producing content for the Solved section of the website, helping readers get the most out of their homes through clever decluttering, cleaning, and tidying tips – many of which she tests and reviews herself in her home in Lancaster to ensure they will consistently deliver for her readers and dabbles in the latest design trends. She also has a first-class degree in Literature from Lancaster University.