Best Sonos speaker – find the right speaker for your TV, bedroom and even garden
Find the very best Sonos speaker for your home with help from our intuitive guide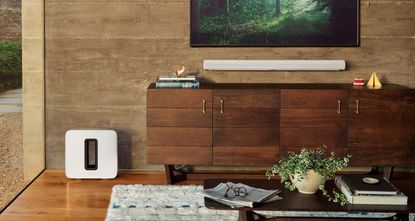 (Image credit: Sonos)
Looking to spend your money on the best Sonos speaker? Sonos is the first brand name many of us look to when it comes to whole-home audio systems – and with good reason. Its speakers are beautifully made, sound terrific, and don't require a Mensa IQ certificate to set them up.
Outside of a working Wi-Fi network, you only need to follow a few simple instructions to get your party started. With a Sonos wireless music system, you can stream tunes from Spotify, Amazon HD, Tidal, Deezer, or Qobuus (the list goes on), to either a single Sonos speaker or specified zones of multiple Sonos speakers.
Do you want Harry Styles simultaneously in the living room and kitchen? No problem! And there's no need to run intrusive cables from one speaker to another.
Of course, Sonos isn't the only option when it comes to multiroom sound systems, and you can't partner a Sonos wireless speaker with a non-Sonos model, but the sheer variety of Sonos speakers, from soundbars to portables, and their undoubted quality, makes the brand difficult to resist.
So what Sonos speakers will suit you best? If you're looking for your first, or need to expand an existing Sonos setup, we've got your new Sonos speaker covered. See our top seven Sonos speakers below to help make your mind up.
Best Sonos speakers 2022
You can trust Homes & Gardens. Our expert reviewers spend hours testing and comparing the latest products, helping you choose the best for you. Find out more about how we test.
1. Sonos Arc
Best Sonos soundbar
Specifications
Dimensions: 87 x 1114 x 120 mm
Connectivity: Wi-Fi, Ethernet, Apple AirPlay 2
Reasons to buy
+
Immersive Dolby Atmos audio
+
Stylish design
+
Airplay 2 support
Reasons to avoid
-
Not suitable for smaller TVs
-
Only one HDMI input
The Sonos Arc is a premium Dolby Atmos soundbar. With a curvaceous design that works as well off the wall as on, it's arguably one of the best-looking Dolby Atmos-enabled soundbars you can buy.
Capable of room-filling cinema sound, when playing back Dolby Atmos movies from Blu-ray OR Dolby Atmos TV shows on Netflix and Amazon Prime, it casts sound high and wide. Driving the Arc are no fewer than 11 digital amplifiers, one for each custom driver, so it's not short of volume!
Connections comprise HDMI with eARC, digital optical audio input, and Ethernet. Like all Sonos speakers, the Arc can form part of a larger ecosystem of connected Sonos speakers, making it great for whole-home audio. It's also Apple AirPlay 2 compatible but doesn't support Bluetooth, though. So if you have an Android phone, that might be a tad frustrating.
On-body controls are touch-sensitive, and there's an integrated microphone for the digital assistants. It works with both Amazon Alexa and Google Assistant devices.
Measuring 114cm wide, the Sonos Arc is best suited for TV screen sizes 50-inches and over.
2. Sonos One
Best Sonos smart speaker
Specifications
Dimensions: 120 x 120 x 160 mm
Connectivity: Wi-Fi, Ethernet, Apple Airplay 2
Reasons to buy
+
Compact size
+
Punchy audio performance
+
Amazon Alexa and Google Assistant built-in
The Sonos One is a smart desktop speaker, with built-in Amazon Alexa and Google Assistant.
Sonic performance is fine, thanks to a pair of amplifiers with custom-built drivers. These enable the Sonos One to sound surprisingly punchy for its size. It's highly recommended if you want a smart speaker that seamlessly integrates with a wider Sonos family of speakers.
Just like any other Amazon Alexa or Google smart device, it uses an always-listening microphone. If you're worried about privacy, this can be muted via a simple button press.
With Alexa or Google Assistant engaged, you can play music across all your connected Sonos speakers, and operate basic system controls, via voice control.
As you'd expect from Sonos, streaming compatibility is top-notch, and covers all the main music services, including Audible.
3. Sonos Move
Best portable Sonos Speaker
Specifications
Dimensions: 240 x 160 x 126 mm
Connectivity: Wi-Fi, Ethernet, Apple Airplay 2
Reasons to buy
+
Splash proof design
+
Boisterous party performance
+
Bluetooth on-board
Reasons to avoid
-
Large for a portable speaker
As the name suggests, the Sonos Move is the only portable Sonos speaker. It also differs from the rest of the Sonos family in that it's Bluetooth-enabled.
You can finally take your Sonos system outdoors (or alternatively, into the bathroom while you enjoy a long soak in the tub).
The Move is dust and splashproof, courtesy of an IP56 rating, and will run for around 11 hours once fully charged, which should comfortably see you through most family BBQs. It comes with a USB-C charging ring.
Though portable, you may not want to take it everywhere as it's actually quite a large speaker, standing 24cm tall. It's a hefty 3kg, too. not exactly picnic-friendly!
A simple rear-mounted button switches from Wi-Fi to Bluetooth mode, required when you're away from your home network. Of course, this is still very much a Sonos multiroom speaker and offers all the usual niceties, including broad streaming music service support, and Apple AirPlay 2 compatibility.
4. Sonos Playbase
Best soundbase speaker
Specifications
Dimensions: 720 x 380 x 58 mm
Connectivity: Digital optical audio input, Wi-Fi, Ethernet
Reasons to buy
+
Smart and easy to accommodate
+
Exciting performer
Reasons to avoid
-
No Dolby Atmos
-
No HDMI input
If you want to upgrade your TV sound, but you don't like the idea of a soundbar, for aesthetic or practical reasons, then the Sonos Playbase is an inspired solution. This is a sound plinth that literally provides a base upon which you can stand your TV (it only works with tellies that have a central pedestal), complete with a fully integrated sound system.
It's best partnered with TVs 42-inches and smaller and is slick enough not to draw much attention to itself. Build quality and finish (especially the white version) is top-notch.
The Playbase connects to a TV using the set's digital optical audio output (there's no HDMI).
It may lack Dolby Atmos audio, but it still sounds remarkably good, with plenty of aggressive bass that's so necessary for action movies, and a clear midrange from easily understood dialogue.
You can also add a Sonos Sub, and a pair of Play:1s to create a 5.1 surround sound system - although that's a pricey upgrade path to take.
5. Sonos Five
Best living room Sonos speaker
Specifications
Dimensions: 154 x 354 x 203 mm
Connectivity: 3.5mm line input, Wi-Fi, Ethernet
Reasons to buy
+
Huge sound from a single speaker
+
Modern styling
+
Line input for easy integration of a record player
Reasons to avoid
-
No Bluetooth
-
Sonically no different to the Play: 5
-
Can't be stereo paired with a Play: 5
The Sonos Five is the largest Sonos music speaker. Loud and proud, it's a living room powerhouse that eats rival wireless wallflowers for breakfast.
The Sonos Five is a replacement for the brand's original Play:5, but boasts a sleeker design, making it a style match to the new Sonos One. As with its predecessor, the Five can be orientated horizontally or vertically and has little rubber feet to ensure it sits still. Available in either all-white or all-black designs, the Five offers plenty of fun.
The Five works with all the usual streaming music services and is Apple AirPlay 2 compatible, but it isn't just for streaming music. There's also a line input for any connected devices, and that includes a turntable. With a vinyl hook-up, you can send disc audio to any connected Sonos speaker on your network.
Key to the 5's prodigious volume is three large woofers, which ensure a thumping bass performance, and a trio of tweeters, two of which are angled outwards to create a surprisingly wide soundstage.
You'll find it difficult to believe you're listening to a single enclosure.
6. Sonos Beam
Best Sonos small TV soundbar
Specifications
Dimensions: 650 x 100 x 68.5 mm
Connectivity: HDMI, Wi-Fi, Ethernet, Apple AirPlay
Reasons to buy
+
Cute, compact design
+
Integrated Amazon Alexa and Google Assistant
+
Big sound output
Reasons to avoid
-
No Bluetooth
-
No Dolby Atmos
-
Can sound bass light
The Sonos Beam is a soundbar designed for smaller TVs. It lacks the Dolby Atmos immersive audio of the Sonos Arc but compensates with Amazon Alexa and Google Assistant support and a refined performance certain to take your TV audio to another level.
Available in black and white finishes, the Beam is 65cm wide, making it suitable for screens 42-inches or smaller. There are touch controls for volume and track selection, but once installed you'll probably end up using voice control to adjust the volume.
Inside are four full-range drivers and a single tweeter, each driven by their own amplifier, plus three passive radiators to further bolster the sound. It doesn't have the deep bite of the bigger Sonos Arc, but a Loudness Mode in the Sonos app can be used to boost bass.
Hook-up is nice and easy. The Sonos Beam connects to your TV via HDMI (like the Sonos Arc, this means it requires a TV with a corresponding HDMI ARC connection). There's also Ethernet, to support Wi-Fi, plus Apple AirPlay 2 compatibility.
7. Sonos One SL
Best Sonos desk speaker
Specifications
Dimensions: 120 x 120 x 161 mm
Connectivity: WiFi, Ethernet, Apple AirPlay
Reasons to buy
+
Easy to place compact design
+
Can be used as a rear speaker with the Playbase or Beam
+
Dynamic, entertaining performer
Reasons to avoid
-
No Bluetooth
-
At it's best when in a stereo pair
If you like the look and size of the Sonos One, but find the idea of integrated Amazon Alexa artificial intelligence and always-on microphones a turn-off, or you simply don't need them, Sonos offers the One SL.
This compact little belter is a mirror image of the Sonos One and has all the standard Sonos features, including multiroom support, but it isn't hanging on your every word. Apple AirPlay 2 is available though. The diminutive design makes it great for the desktop or your kitchen countertop. It's humidity resistant.
It has the same mid-range/tweeter driver arrangement as the Sonos One, each individually amplified, and can be paired with another One SL to create a stereo pair. It can also be partnered with the Sonos Playbase or Beam to act as rear speakers in a surround sound system.
How do I choose a Sonos speaker?
It's important to have a clear idea of what you want from your Sonos speaker before you buy. Where do you plan to use it? Is it going to be your central living room Hi-Fi or a sound system for your office?
If it's the former, choose a larger Sonos speaker able to deliver a wide stereo soundstage, like the Sonos Five. If it's for your home office, then a smaller, mono speakers like the Sonos One or One SL will be a better fit.
As all Sonos speakers work together, you can always migrate models from one room to another, as your whole home audio system evolves, and your needs change.
Why is Sonos so expensive?
It's true; you'll not find Sonos speakers going cheap, simply because they're premium performers. From the design and materials used, to the quality of components and the ingenious seamless nature of their multiroom performance, they set out to ensure certain expectations are met - which probably explains why the brand has developed such an avid fan base.
Can I connect Sonos to my TV?
Sonos offers a number of speakers specifically designed to partner with a TV (see our guide above). The Sonos Beam, Arc, Playbar, and Playbase are all TV-centric sound systems, offering either HDMI or digital optical audio inputs. What you can't do is hook up a standalone Sonos speaker that's not designed for telly duties.
Where should Sonos speakers be placed?
The simple answer is: wherever you want. Your Sonos speaker will perform happily on kitchen tops, bookshelves, or desks - but be aware sitting them closer to a wall, or in a corner, could result in deeper bass performance.
If you're an iOS user, we recommend you download the Sonos Trueplay app, which allows you to calibrate the performance of your Sonos speaker by using the microphone in your iPhone (or iPad) to analyze room acoustics. This allows you to optimize the performance of the speaker, regardless of where it's placed.
You can also buy custom mounts to either wall-mount your Sonos speakers, or set them on dedicated speaker stands. Accessories specialist Flexson for Sonos offers a wide range of cosmetically matched stands and mounts.