Backyard wedding ideas – 19 ways to celebrate your big day alfresco
Curate a memorable, magical day in your own outdoor space with these expert tips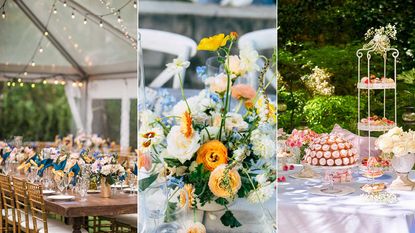 (Image credit: (From left to right) Priscilla De Castro / Alamy Stock Photo – Spring Street Fever / Richard Wade – Image Professionals GmbH / Alamy Stock Photo)
Planning a wedding is such an exciting time, but why hire out a venue when you could host a beautiful event right in your own backyard? Doing so will make the big day feel even more personal and unique – and there are other benefits, too.
As with any garden party, the natural surroundings are definitely a plus point. 'They are very naturally pretty events that often don't necessarily need a ton of extra decor, because they're already in a manicured nature setting,' says Brittney Bartling, Founder of BLB Events. They also have a more laid-back feel, which allows guests and the couple to feel relaxed and enjoy their evening, she adds.
What's more, Britney highlights how backyard weddings are super customizable events given that everything has to be brought in, including furniture, decor, food, and lighting. 'The event can truly be whatever you want since you don't have venue restrictions.'
Brittney Bartling has worked in events for over a decade. She says that weddings are her favorite, 'because what's better than celebrating someone's relationship surrounded by so much love?'. As the Owner and Founder of BLB Events, she strives to bring celebrations to life as seamlessly as possible, so clients can celebrate and feel all the feels with their nearest and dearest.
Host a beautiful backyard wedding with these ideas
There are lots of factors to consider when planning a wedding in your backyard. These ideas will help make it a day to remember.
1. Create informal arrangements with seasonal blooms
From the bride's bouquet to the table decor, flowers are one of the most important considerations for a wedding – and it's easy to become overwhelmed by all the decision-making it entails.
Backyard weddings tend to embrace a more relaxed air, so extend this theme by opting for posies of seasonal, cut flowers. Using blooms that are also planted around your garden adds a personal touch.
Vintage glass vases and mason jars make the perfect vessels for displaying these blooms and can be turned into centerpieces, tied onto the sides of chairs, or even hung from tree branches for an enchanted look. Stick to a color scheme that complements your dinnerware and other decor for a sense of harmony – pretty pastels are a classic choice, or you may prefer sumptuous, jewel-like hues.
To ensure your floral arrangements stay looking beautiful throughout the day, it's important to think about the climate. 'Consider firmer flowers in season,' says Carin Hunt of Celebration Pros. 'Flowers such as hydrangeas and peonies tend to wilt quickly if not kept at a cool temperature. Garden roses and wax flowers hold up quite nicely.
'We often use orchids and palms here in the tropic weather. Refer to your florist for the best options during the season of your wedding, as not all flowers are available year-round.'
'If you're DIYing flowers, most often, you can get eucalyptus and other greenery from friends' and families' yards,' says lifestyle blogger and hosting-aesthetic expert Chantelle Hartman Malarkey. She notes how dried flowers for bouquets and centerpieces are also on trend. 'Bonus: they are the most sustainable option.'
Carin has 14 years of experience as an award-winning destination wedding planner and luxury resort wedding specialist. She is also the Founder of Celebration Pros, a community for wedding vendors looking to grow in their field.
2.
50 to 60 stems of ranunculus in pretty white and pink hues make up this stunning fresh bouquet. Use as is, or combine with other delicate blooms and silvery foliage for centerpieces, bridesmaid posies, and more.
3.
Seeded Eucalyptus Garland
Whether strung overhead or used to decorate tables, add a touch of greenery to your scheme with this fresh, handmade garland, made from eucalyptus from Northern California.
4.
Also known as bunny's tails, this ornamental grass offers delicate structure and rustic beauty to tables and bouquets. What's more, as it's dried, you can bring it indoors after the big day to display on a shelf or side table.
5. Use structures to provide shelter
Carissa Kruse, the Founder of Carissa Kruse Weddings, suggests renting a tent or canopy to provide shade and weather protection for your outdoor wedding.
'Weather can be unpredictable, and having a tent or canopy can offer shelter for you and your guests in case of rain or excessive sun. It can also serve as a focal point for your event, where you can place your ceremony altar, dance floor, or dining area, adding structure and definition to your backyard wedding setup.'
With lighting, flowers, and pretty table settings, a tent can be transformed – or opt for a tipi for a festival theme.
Wedding photographer Megan Rei agrees that it's worth having a 'solid rain plan'. However, she notes that you'll need to think about a space for taking photos, too.
'Underneath a white tent is not the most picturesque setting for all of your couples portraits, so have some alternative ideas of where you could take photos in the event of bad weather,' she advises. 'Maybe there's a nice space inside the house or a covered front porch, and of course you can also be willing to grab some cute umbrellas and embrace the weather!'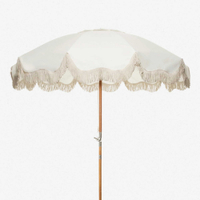 Premium Beach Umbrella | $299 from Lulu & Georgia
Keep guests cool with this beautiful parasol. Its antique-white colorway and tassel details will slot into any outdoor wedding theme.
6. Set the scene with soft lighting
'Backyard weddings often extend into the evening, and having proper lighting can create a warm and inviting ambiance,' says Carissa. 'Consider using fairy lights, lanterns, or torches strategically placed around your backyard to add a magical glow to your wedding celebration.'
LED tealights in jars are a wonderful way to create a romantic vibe, and you won't need to worry about fire risks as you would with real flames. Solar lanterns are another good option and can create impact when clustered together in groups hung from above.
The more the merrier, so be sure to layer lighting up across different levels and always stick to ones that emit a warm, soft glow rather than choosing anything too cold and bright.
'Be sure your power outlet or sources have the power capacity to hold all,' says Chantelle Hartman Malarkey. 'Don't forget other things like DJs that are running on electrical power.'
7.
Edison Bulb Outdoor Lights
Festoon lights are a must-have for making any alfresco occasion feel extra special once the sun sets. These have a timeless, vintage style with their exposed filaments.
8.
Glass Optic Tealight Holder
Go for pared-back, elegant style with these lead-free crystal glass tealight holders. Simply dot them around dining tables to boost the ambiance.
9.
Curate a romantic vibe in your backyard with these classic lanterns. Available in four sizes, they're especially effective in groups of two or three.
10. Get creative with your refreshments
It's crucial to provide refreshments for your guests throughout the big day, from the canapés on arrival to the sit-down meal. Late-night snacks are a good idea, too, to ensure everyone stays fuelled while partying on the dance floor.
Hosting a backyard wedding often offers the opportunity to be more creative with your food, as Megan Rei points out. 'You're not limited by the offerings of your venue's catering menu, so consider including something fun and different – like a soft pretzel bar!'
Confectionary tables, donut stands, or even a popcorn cart are other playful options that can tie in perfectly with a vintage fairground or romantic garden tea party theme.
As well as a serviced garden bar, it's a good idea to provide a non-alcoholic drinks station where guests can serve themselves. Large glass dispensers filled with soft drinks that are garnished with plenty of ice and sliced fruit, mint, or cucumber always go down well.
'Again, considering the weather, you'll want to offer beverages to keep your guests hydrated and delighted,' says Carin. 'Offering both alcoholic and non-alcoholic is appreciated. For example: on a hot day you could offer sparkling fruit-infused water, or a classic flute of champagne. On a cold day, you may offer a local tea or a hotty toddy. Either way, be sure to also have water available at any time.'
11.
Acrylic Drink Dispenser With Lid
This dispenser holds up to three gallons and is easy to refill with its cork lid. Fill with homemade lemonade, iced cucumber water, or a tasty botanical cocktail to keep guests refreshed throughout the day.
12.
Reclaimed Teak Cutting Board
Serve cheese and canapés in style on this board made from reclaimed teak. Two sizes are available, and after the big day, it makes a beautiful chopping board for the kitchen.
13.
Galvanized Beverage Tub With Stand
Keep guests refreshed wherever they are with this handy (and stylish) drinks tub. The stand folds flat for easy storage once the celebrations are over.
Megan Rei is a wedding photographer based in the Washington, DC area. She has been photographing weddings since 2016 and specializes in candid, colorful photos.
14. Install an arch for a beautiful focal point
A decorative arch gives a wedding service a beautiful backdrop, and once the 'I dos' have been said, it turns into a space for photos, or as somewhere to show off the wedding cake.
Adorn it with ribbons, drapes of soft fabric, flowers – either real or faux – and even twinkling LED lights. If you already have a pergola or arbor, think about whether there's a way to transform it for the day, rather than hiring a structure.
15. Sign-post the way
Carissa recommends zoning your backyard when hosting a wedding. 'You can create separate spaces for the ceremony, reception, and other activities like dancing, dining, and mingling. This helps create flow and organization, allowing your guests to move around easily and enjoy different parts of your backyard wedding without feeling cramped or overwhelmed.'
But to make sure your guests know exactly where to go, it's a good idea to install some signage – plus it looks super cute. Wooden signs with hand lettering offer a laid-back vibe and will ensure everyone can find the toilets, bar, and photo booth.
16. Consider your tablescape carefully
If you're planning a sit-down meal, a large proportion of the day will be spent at a table, so it's important that it looks well-dressed for the event.
Of course, there are the flowers – and perhaps some candles – as a starting point when decorating a dining table, but the dinnerware itself is also fundamental to curating a beautiful scene. Vintage china, delicate glassware, wooden boards, pastel-colored plates, large platters for family-style feasting – the options are endless, so ensure you choose what works with your theme. Don't forget about table linens, place cards, and menus, too.
'You can actually rent in bulk for your dream tablescape,' says Chantelle. 'There's so many vendors out there that carry it all and the best part is, you just return it as is – no need to wash up.
'Goblet cups, plate layering and napkins can do wonders to a guest table.'
However, if you are having a small backyard wedding, Lexi, a lifestyle blogger of Spring Street Fever recommends buying as much as you can instead of renting. That way, you can serve dinner on your wedding plates after the big event which will make mealtimes extra special.
17.
Edison Portuguese Linen Table Runner
Elevate your table with this 100% linen table runner made in Portugal. There are six colors to choose from, including mint, rose, and ivory.