How to organize an outdoor kitchen – 8 tips to keep summer cookouts simple
Keeping this space organized is the secret to hosting summer barbeques – here is how to keep your outdoor kitchen in order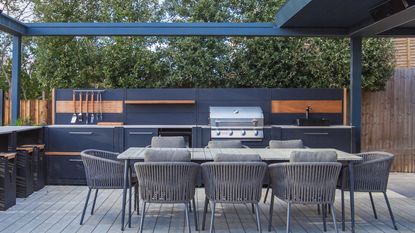 (Image credit: Grillo)
Sign up to the Homes & Gardens newsletter
Decor Ideas. Project Inspiration. Expert Advice. Delivered to your inbox.
Thank you for signing up to Homes & Gardens. You will receive a verification email shortly.
There was a problem. Please refresh the page and try again.
An outdoor kitchen is ideal for hosting family and friends in the summer, but given its seasonal use and exposure to the weather, it can be tricky to keep well organized.
As most outdoor kitchens are lacking in storage space or are exposed to the elements for a good half of the year, it is important to know what should be left inside, and how to protect the cooking equipment you leave with your grill.
Here, professional chefs and home organizers have explained how you can organize an outdoor kitchen to keep your utensils orderly and protected for stress-free summer cookouts with family and friends.
How to organize an outdoor kitchen
Organizing an outdoor kitchen is often a lot simpler than organizing a kitchen in your home, as you are not battling with an abundance of food and organizing kitchen appliances.
That being said, you will be sorting and storing some unusual items, from gas bottles to grill brushes, with each posing a unique challenge.
1. Consider the distance to your indoor kitchen, and relocate items as needed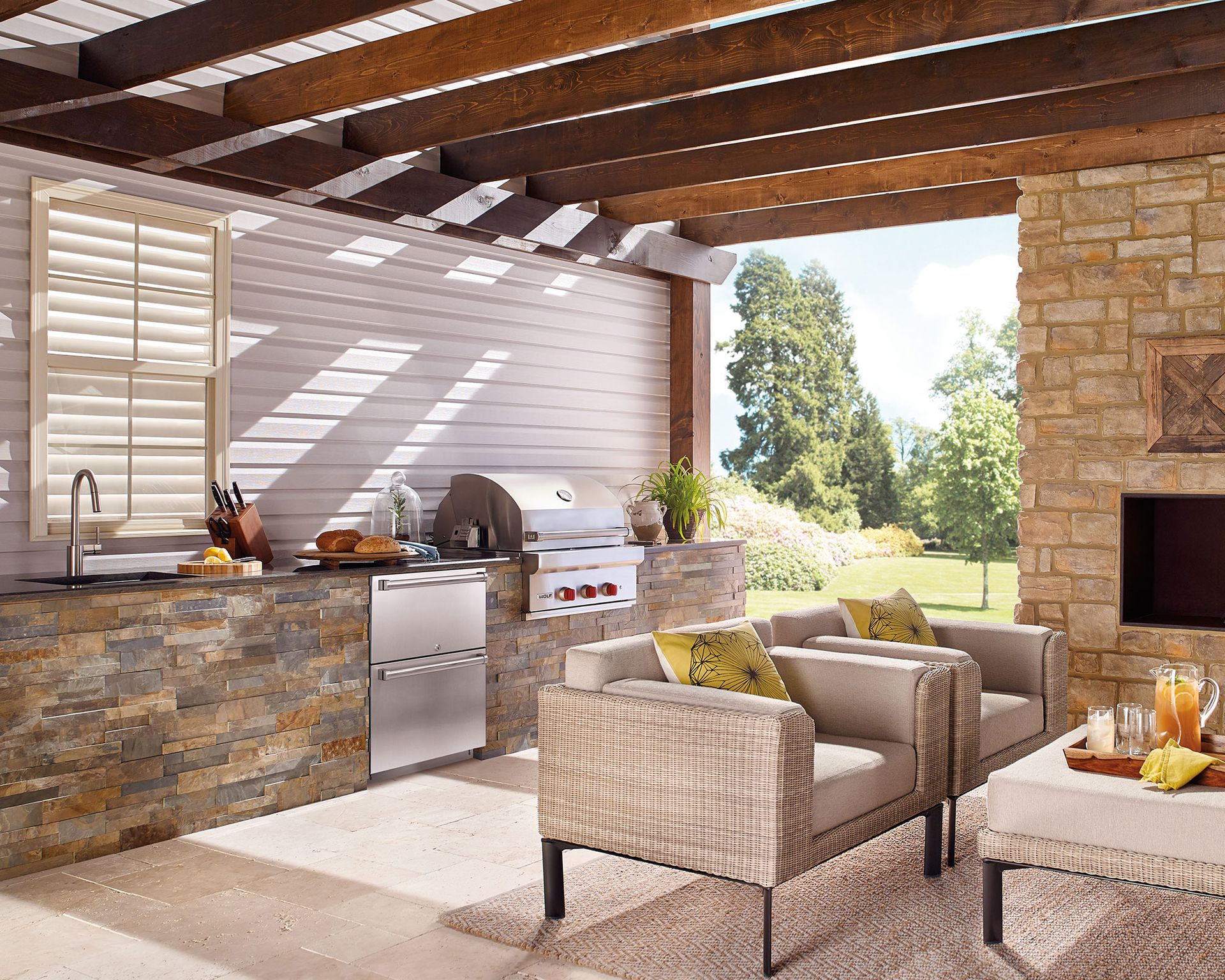 The proximity of your outdoor kitchen to your home kitchen can make a big difference as to what you choose to permanently relocate outside in the summer. You don't want it to feel like a hassle for people to get flatware, plates, and drinks, says Noah Davis, food blogger and founder of Powerup Cook.
If your outdoor kitchen is at the bottom of your yard, then it could be worth investing in some utensils and crockery to stay outdoors (hard-wearing plates if you have young children as guests) and dedicate a secure cabinet to protect them against adverse weather.
If your kitchen is on your patio, however, it makes more sense to grab your plates from your regular kitchen and carry them out when you need them. This can help to save storage space in your outdoor kitchen for other essentials like spare gas bottles if you have a gas grill, or cleaning tools.
2. Use cabinets that stand up to outdoor conditions
When organizing a kitchen outside, it is vital that you pick cabinetry made from materials suitable for all sorts of weather – from blaring heat to freezing rain, Norah Clark, pastry chef and founder of Yummy Taste Food warns. Without these sturdy materials, there is little point in organizing anything outside in the first place, as they will only become damaged as soon as the seasons turn.
'Some great products I love include the Keter Unity XL Portable Outdoor Table with Storage Cabinet, available at Walmart, and the Suncast BMC8000 34 cu. ft. Resin Horizontal Outdoor Storage Shed, also at Walmart,' she shares. 'These storage options provide ample space for plates, utensils, cookware, and even spare gas containers while also protecting them from harsh weather conditions.'
The added advantage of these portable storage units is they can help to extend an outdoor kitchen if you need more space, or make an outdoor grill station into a more professional chef setup.
Norah Clark is a trained pastry chef and has worked at numerous luxury hotels such as The Ritz Carlton Hotel and The Savoy, in London. She is also a trained diet consultant and trained nutritionist and now dedicates her time to sharing her knowledge online on her food blog YummyTasteFood having taken time away from professional cooking to travel and relax.
3. Use bins and shelf dividers to split up limited cabinet space
An outdoor kitchen is usually lacking in storage space, so how you use it is important, says Millie Hurst, Solved section editor at Homes & Gardens.
'I would suggest picking out some good storage bins, like these drawer bins from Amazon, to keep your utensils altogether in deep cabinets, and using shelving dividers, available at Walmart, to split shelves between cooking utensils and cleaning tools – making sure to never keep anything you use on food with cleaning products and chemicals themselves.
'Cleaning solutions should always be kept indoors away from pets, animals, or children,' she adds.'
Millie Hurst is Section Editor at Homes & Gardens, overseeing the Solved section, which provides readers with practical advice for their homes. Millie has written about and tried out countless organizing methods in the six years since she became a journalist, and has worked in both London and New York. She is currently completing a diploma in interior design.
4. Organize logically to keep like items together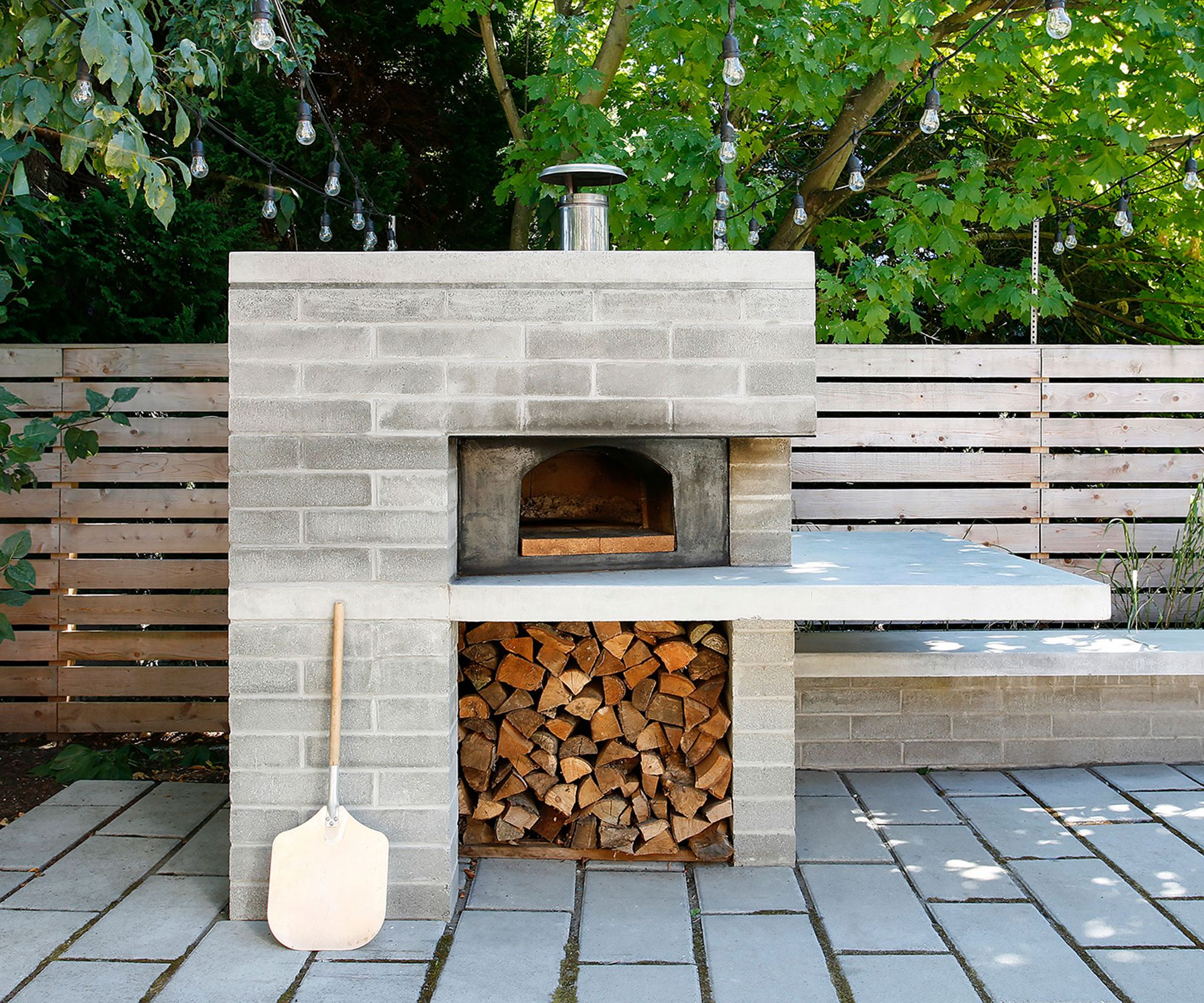 As with indoor kitchens, it pays to use logic when storing your utensils, reminds Amanda Briggs, APDO membership director and founder of Professionally Organized. 'If it is arranged badly it will be more difficult to use, you are more likely to misplace things, and you are less likely to tidy things away after use.'
Think about how you cook outside – you will want to keep grilling tools close to your grill, for instance, but you might leave cleaning brushes near your outdoor sink to make cleaning grill grates easier after serving.
5. Build a trash can into your cabinets
To save yourself from walking in and out of your home with food waste, or resorting to using your garbage cans, build a trash can into a drawer to easily swipe food waste from the counter into a bag out of view.
Organizing your outdoor kitchen in this way will make it easier to prepare food outdoors while talking with guests sitting at your outdoor dining table, and prevents outdoor trash bins from being targeted by pests, or being knocked over in high winds.
6. Keep countertops clear
Outdoor kitchens are usually always smaller than our indoor fixtures, making decluttering countertops even more important for a functional cooking space.
'I encourage my clients to try and keep the countertops relatively clear,' says Gillian Gudgeon, APDO member and Founder of Restore the Calm. 'Cluttered counters not only look untidy and unappealing but also make the space much harder to keep clean,' she explains.
'Try and keep things inside cupboards if you can, while ensuring that they themselves don't become jam-packed. If needs be, be realistic about what you actually use and what you're going to keep. In reality, we need very little in the way of gadgets.'
7. Only store essential non-perishables outside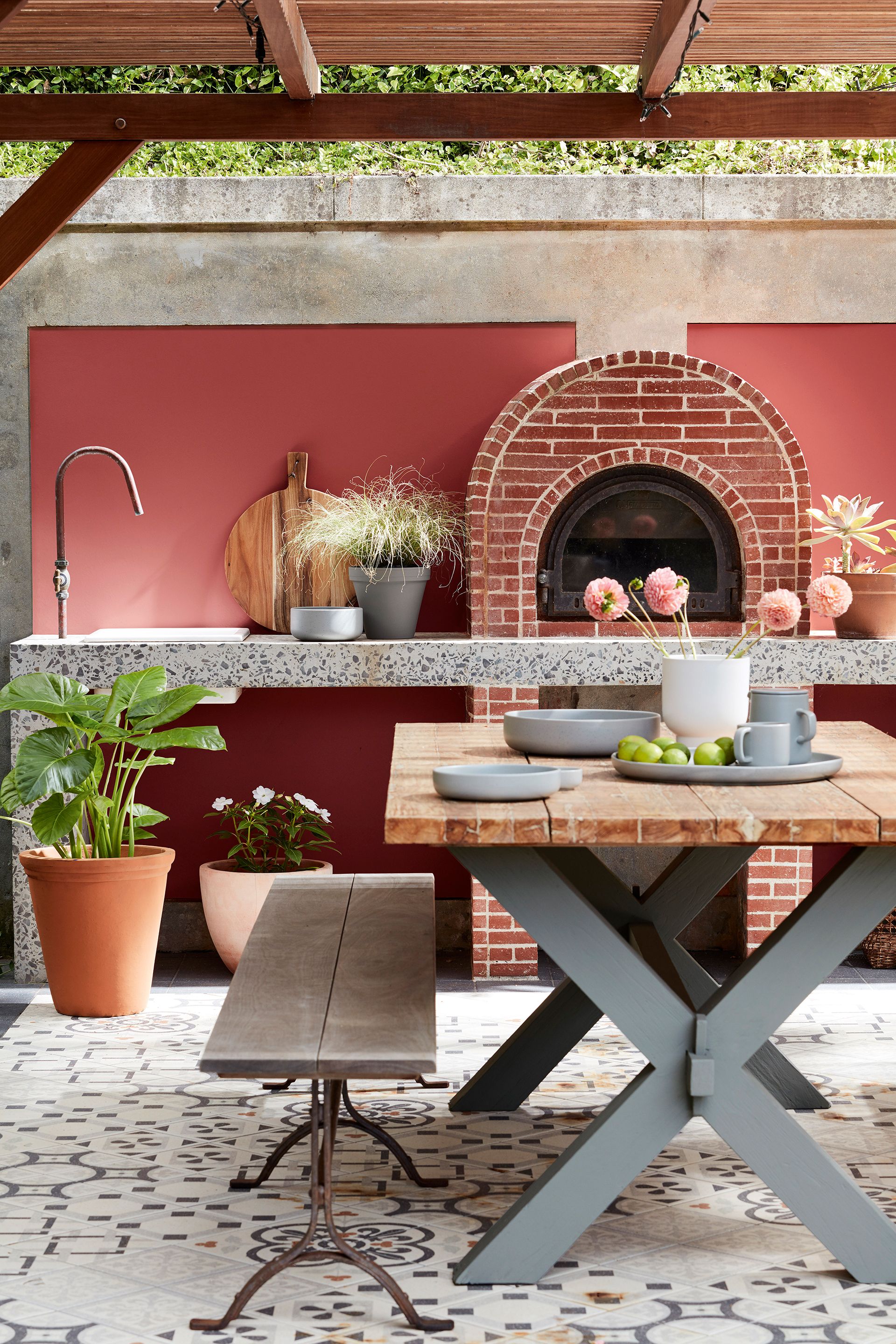 To get a perfect outdoor kitchen, it helps to have some permanent utensils out by the grill to streamline your cooking, but not everything is suitable for outdoor living. Your food and fresh produce, for instance, are best left inside where you can control the temperature and humidity conditions better, advises Norah Clark, pastry chef.
'I suggest only keeping frequently used tools like tongs, spatulas, and grill brushes readily available. It is also helpful to store non-perishable items like paper towels, aluminum foil, and maybe some regularly used condiments for easy access when cooking. Everything else needs to be inside most of the time.'
8. Keep grill safety items close by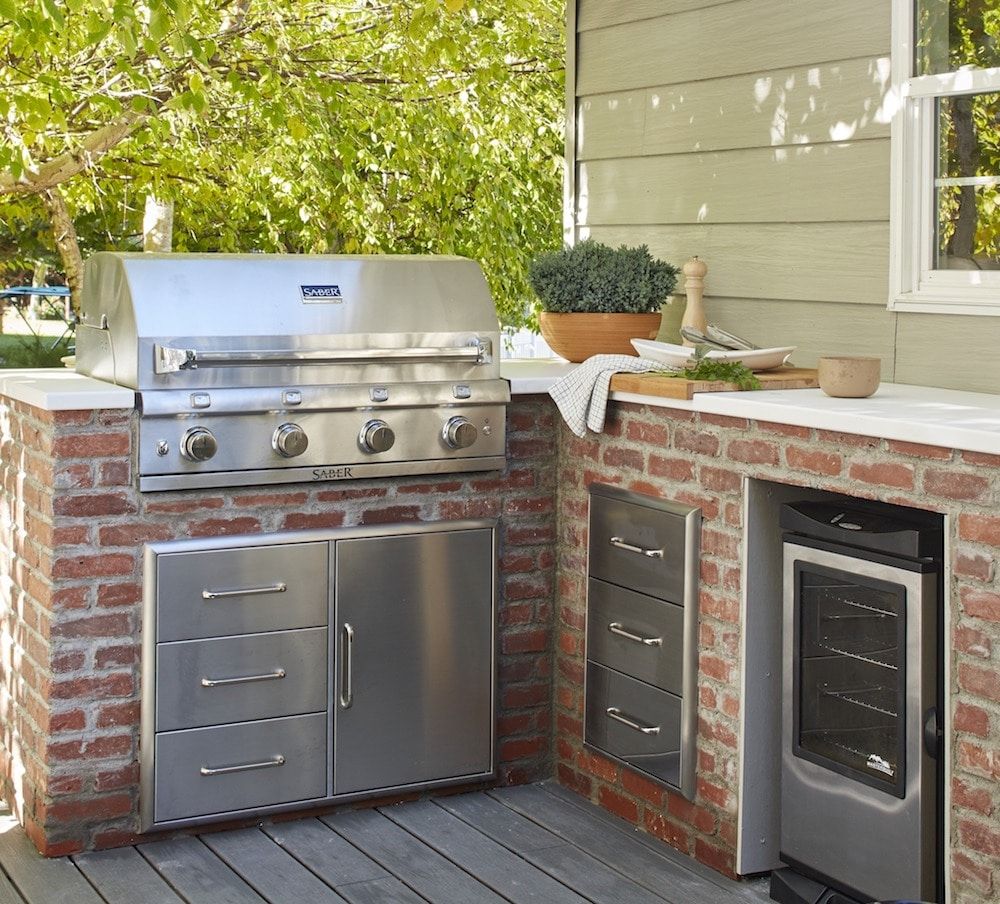 When designating areas of cabinets for outdoor cookware, it is vital to add some safety items – especially if cooking on a gas or charcoal grill.
You may want to think about keeping a set of heat-proof gloves, such as these from Amazon, close by, and maybe an outdoor fire extinguisher suitable for your type of grill in case of an accident or emergency. These should be stored in a secure cabinet, but one that is easy to access quickly should you need to.
FAQs
How do I protect my outdoor kitchen from the weather?
You can protect your outdoor kitchen and its appliances from the weather in a few ways. The easiest is to build cover around your outdoor kitchen, placing it beneath a sheltered trellis or porch. Alternatively, you can opt for an outdoor grill with a cover designed to stand up to the elements and use weatherproof cabinets to store any outdoor supplies when they are not in use. The option you chose may depend on the amount of space you have for your project and your budget.
How do you winterize an outdoor kitchen?
When closing your outdoor kitchen for winter, it can be a good idea to bring any utensils, gadgets, or crockery indoors to protect it from cold weather, pests, and water damage. Grills and hobs should be cleaned and covered to add some insulation against adverse weather, and outdoor sinks should be disconnected and drained where possible, to prevent water from freezing and damaging pipes.
---
Organizing an outdoor kitchen is made easier if you think about your cooking and storage requirements when planning your outdoor kitchen in the first place. This way, you can add the cabinets and drawers you need around your existing tools, offering the perfect fit and a truly customizable cooking experience that is sure to impress guests.
Otherwise, thinking logically about how you use your outdoor kitchen will help keep things orderly. So there is plenty of space and everything you need at hand when grilling in the garden.
Sign up to the Homes & Gardens newsletter
Decor Ideas. Project Inspiration. Expert Advice. Delivered to your inbox.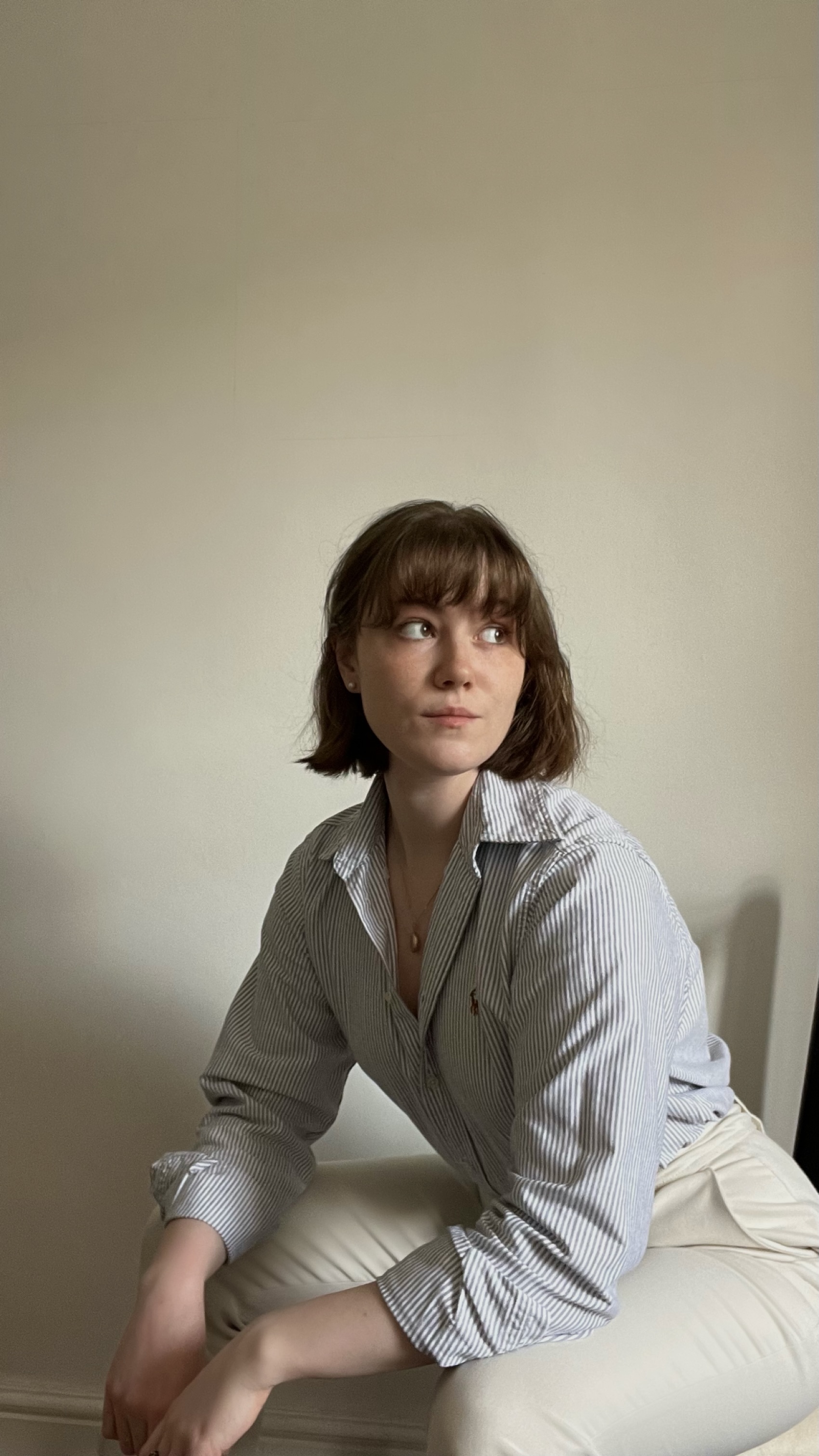 Chiana has been at Homes & Gardens for a year, having started her journey in interior journalism as part of the graduate program. She spends most of her time producing content for the Solved section of the website, helping readers get the most out of their homes through clever decluttering, cleaning, and tidying tips – many of which she tests and reviews herself in her home in Lancaster to ensure they will consistently deliver for her readers and dabbles in the latest design trends. She also has a first-class degree in Literature from Lancaster University.