How to prepare your yard for a storm – 5 pro tips to prevent damage to your plot
Keep your outdoor space safe and secure during inclement weather with this expert advice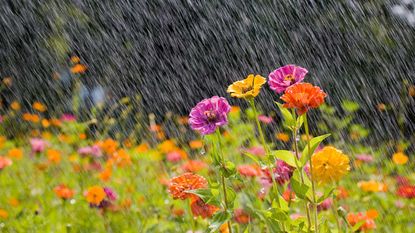 (Image credit: stanley45 / iStock / Getty Images Plus / Getty Images)
Storms can blow through our plots at any time of year. And, without proper preparation, the high winds and heavy rain can wreak havoc on our fences, lawns, plants, and trees. During the colder months, hail and snow can also be problematic.
To help prevent any upcoming inclement weather from leaving a trail of (often costly) destruction in our backyards, it's worth putting precautions into place.
Get your yard storm-ready with these 5 tips
With the cooler months approaching, now is the perfect time to weatherproof your outdoor space.
1. Fortify fences
High winds and rain can take their toll on backyard fences, causing them to bend, break, or even fall over. So, if you live somewhere that's prone to stormy conditions, it's worth bearing this in mind – and perhaps replacing an old and flimsy fence with a design that's up to the challenge.
Semi-solid fence panels that have gaps between the pales are better suited for windy areas, as they allow wind to pass through instead of creating a barrier, says Leigh Barnes from Jacksons Fencing. As a result, less strain is put on the posts, which will reduce the likelihood of damage, he explains.
'Shorter panels are also a good option, especially for front gardens or when privacy is not a concern,' he continues. 'Shorter fence panels have less surface area and therefore create less resistance against the wind.'
Leigh advises against using concrete posts for wind-prone areas, recommending timber ones instead. As timber panels cannot be secured to concrete posts, the likelihood of the panels being lifted out by strong winds is increased. The panels will also move about, causing an annoying rattle as they repeatedly hit the front and back of the slotted post, he adds. 'Over time, if this happens frequently enough, the concrete may start to crack and destabilize the fence.'
'The depth at which you install fence posts is critical in fortifying your fencing against storms,' Leigh says. 'We recommend setting posts a minimum of 2ft into the ground, with deeper installation advised for taller fences.' In regions prone to extreme weather, consider using longer posts and digging them as far as 2.95ft into the ground, he adds.
If you don't want to replace an existing fence, you can reinforce weak sections by adding additional support, as Pete Stockwell, the co-owner of Earth Saving Solutions Restoration, recommends. There are also steps you can take to repair a leaning fence.
Don't forget about garden gates, too. If you're shopping for a new one, prioritize designs with diagonal and horizontal braces for added support, Leigh says. 'Opting for premium pales, which are thicker and sturdier, can fortify the gate, offering extra resilience in challenging weather conditions.
'Additionally, framed gates provide enhanced strength, ensuring they can withstand heavy wear and tear.'
Leigh started at Jacksons Fencing in 2019, leading the Retail Sales Team. He now has 22 years experience in the timber and construction industry, and his knowledge and expertise is immense.
Pete Stockwell is a tenured general contractor with 25 years of experience in the flood and fire mitigation and restoration industry. During this time, he has honed his trade to help teach and coach homeowners, business owners, HOAs, property management organizations, HR departments and many other clients about risk management, how to work through disasters that do arise, and how to make sure they are taken care of by the insurance carriers writing the policies.
2. Check your backyard's drainage
Without proper drainage, excessive rain can lead to flooding in your yard.
Aerating a lawn can help, says Leigh. It breaks up compacted soil, and also allows air, water, and nutrients to reach the roots, improving the health of your turf.
You should also ensure all gutters and drainage areas on your property are free from fallen leaves and other debris, highlights Pete.
Cleaning gutters is also important if you're expecting colder temperatures on the horizon. 'Debris left in gutters is one of the main causes for ice damming', Pete says. This is when ice is forced under roof shingles, which can cause interior water damage and potential dry rot over time. 'Gutter screens of any type are a great way to prevent debris from infiltrating the gutter system and are highly recommended,' he says.
Installing a heat cable is also recommended when living in areas of low temperatures and high precipitation, such as mountain elevations, Pete continues. Otherwise, ice melt can freeze in not only the horizontal, but also the vertical gutters, even if they're cleaned and screened. This can damage the gutters and can also lead to ice damming, he warns.
This heat cable from HeatIt at Amazon is well-rated.
Top tip: Installing a rain chain is a great way to harvest rainwater to use on your plants at a later date.
3. Secure loose objects
'Securing loose objects is another imperative step,' says Leigh. This includes patio furniture and planters which could easily blow over during a storm. Ideally, relocate them to a robust garage or secure shed. Moving them next to a sheltered wall is an alternative option if you don't have a suitable covered space.
'Take down and store any hanging wind chimes or decorations that may blow off the home and be lost or cause damage to something else,' Pete adds.
4. Protect your trees and plants
'Ahead of a big storm, it can be stressful worrying about your outdoor plants you've spent all season growing and nurturing,' says gardening expert Rebecca Sears of Ferry-Morse. 'The first simple step is to cover your plants. Gardeners can utilize a number of items to protect their plants, such as large buckets or even bowls,' she says. Larger plants can be covered in burlap for protection.
If you're expecting heavy snow, you can build covers out of wood to protect particularly vulnerable shrubs from breakage, says Ryan Mange, manager of equipment and vendor relationships at Monster Tree Service and ISA-certified arborist. If snow plowing is to occur post-storm, it is important to put out markers to help prevent plow damage to shrubs that may be buried in snow, he adds.
There are also things you can do to protect your trees from inclement weather. Having an arborist perform appropriate pruning will put the trees in the best position to withstand a storm, says Ryan. 'There are also cabling and bracing systems that can be installed and help in conjunction with pruning.'
Top tip: Gardening in raised beds prevents soil from eroding away during heavy rain, Rebecca notes.
As CMO and resident green thumb for the Green Garden family of brands, Rebecca Sears nurtures the company's heritage but also looks to develop new products and solutions to help gardeners of all skill levels fuel their passion and become more successful in the garden. Rebecca has been gardening from coast to coast, first realizing her passion while living in Portland, Oregon, inspired by the public gardens throughout the city. When she relocated to the Northeast, she built upon her knowledge and craft, and now her backyard garden grows larger each year.
Ryan Mange is the manager of equipment and vendor relationships at Monster Tree Service and an ISA-certified arborist. A native of the Berkshires in Massachusetts, Ryan is an alumnus of The University of Massachusetts at Amherst, holding a bachelor's degree in Urban Forestry. Ryan has dedicated the past 15 years to the tree care industry, assuming various roles and accumulating diverse experience in areas such as general tree care, plant health care, and management.
5. Prepare sheds and other outdoor buildings
Ensure that sheds, greenhouses, pergolas and any smaller structures are properly anchored to the ground to prevent them from being lifted or damaged by strong winds, recommends Pete.
It's also worth checking them over for signs of damage and carrying out any necessary repairs. You may, for instance, need to weatherproof your shed – including re-felting its roof – to protect your garden tools inside.
FAQs
How should you prepare a pool for a storm?
'Lower the water level by about a foot to allow for heavy rain accumulation without overflowing,' advises Pete Stockwell, co-owner of Earth Saving Solutions Restoration. As well as this, he recommends securely fastening pool covers to prevent them from being blown away by strong winds, and removing any loose items around the pool area.

After the storm has passed, you may need to shock your pool, as rainwater can affect its chemical balance.
How should you clear up a backyard after a storm?
Even with precautions in place, storms can still make a mess in our yards. Once calmer weather returns, sweep up fallen leaves and any mulch that's been dislodged by the wind, clear out any drains, consider cleaning your patio, and inspect structures for any damage before repairing them promptly. It's also a good idea to check your trees and consult an arborist if any branches have been broken or damaged.
---
Preparing your yard for a storm will give you greater peace of mind once the weather turns. It will also make it much easier to restore order once it's passed.
And, if you're anticipating colder, winter temperatures ahead, too, there are other things you can do to get your outdoor space ready – from blowing out sprinklers to protecting plants from frost.
Sign up to the Homes & Gardens newsletter
Decor Ideas. Project Inspiration. Expert Advice. Delivered to your inbox.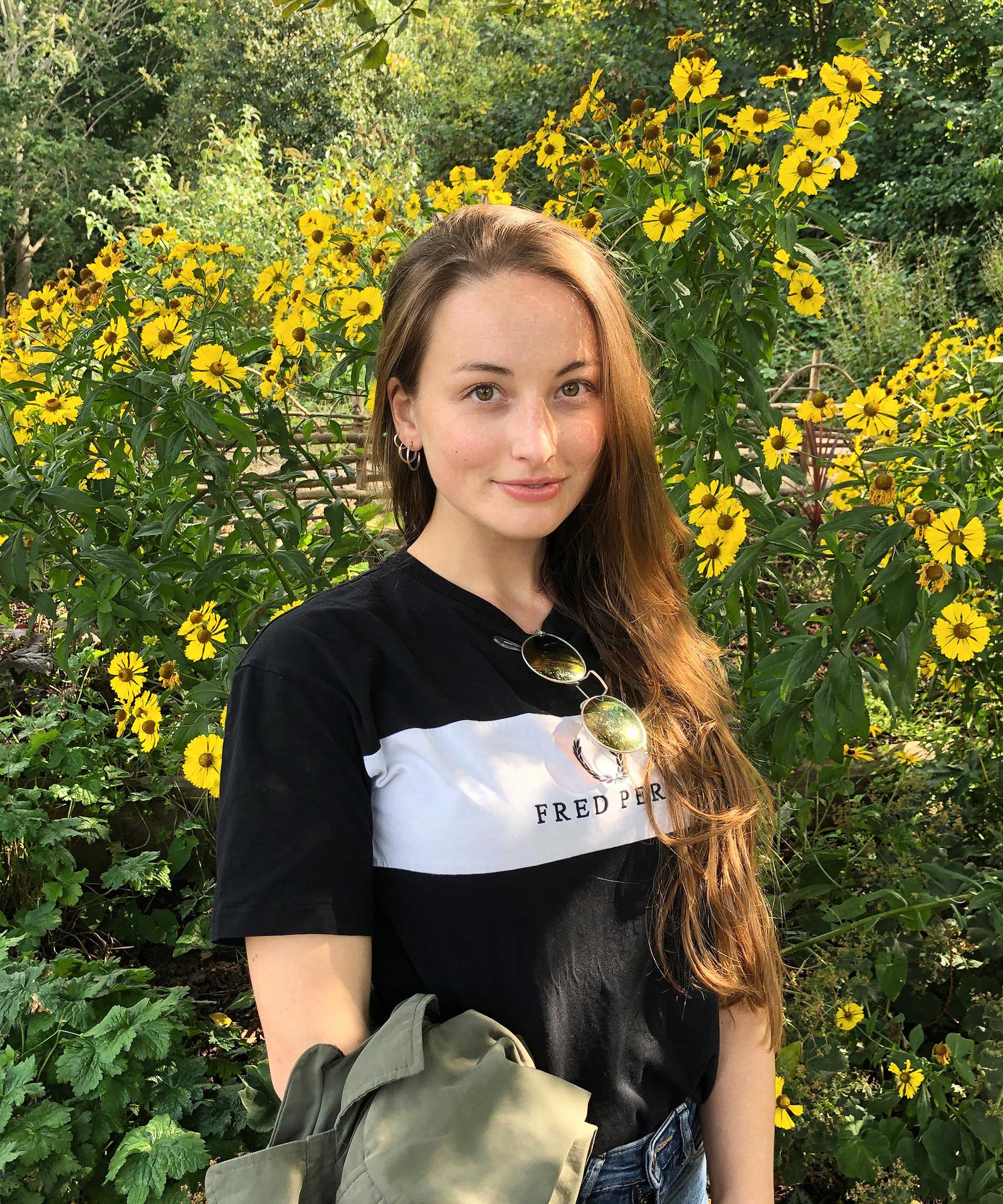 Freelance Gardening Writer
The garden was always a big part of Holly's life growing up, as was the surrounding New Forest where she lived. Her appreciation for the great outdoors has only grown since then; over the years, she's been an allotment keeper, a professional gardener, and a botanical illustrator. Having worked for Gardeningetc.com for two years, Holly now regularly writes about plants and outdoor living for Homes & Gardens.