Outdoor TV ideas – 10 ways to include a screen in your yard
Taking a television outside is a wonderful way to enhance your enjoyment of outdoor living, and we have lots of ideas to show you how to make it work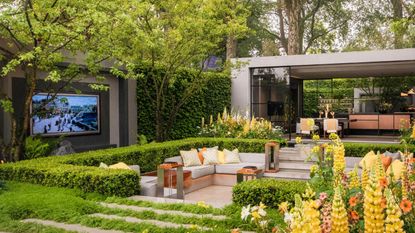 (Image credit: LG Eco Garden at Chelsea Flower Show)
There are so many ways to work outdoor TV ideas into your backyard, providing entertainment al fresco year-round. You can snuggle down for a movie night under the stars, have friends round to watch the big game and thanks to the wonders of Wi-Fi, link up the screen to your favorite vacation pictures to share those special memories with friends. Teens might even love gaming on an outdoor TV.
An outdoor TV may become the focal point of your backyard landscaping ideas, providing a cozy outdoor living room or a welcome distraction in an outdoor dining area, an outdoor kitchen friend, or a smart addition to a pergola.
When choosing the perfect spot, as with TV wall ideas indoors, consider convenience first. If you want to watch TV while lying in a hammock or on a sun lounger, choose a spot nearby, so you can comfortably use a remote control. If you're a foodie, you might like a TV built into your outdoor kitchen so you can cook alongside your favorite TV chefs.
Whichever way you choose to incorporate an outdoor TV, make sure you place your choice in a spot where it will be visible to everyone; in a larger space, especially, use a flexible wall-mounted bracket so it can be easily tilted.
Outdoor TV ideas
An outdoor TV is a great thing to have in your backyard, but you might be worrying about how it's going to fit in. Think about an outdoor TV just as you would an indoor TV. Consider the size of the screen, optimum position for viewing and whether it can be seen from all the angles you're thinking of.
Also, think about how you will sit or relax to watch your outdoor TV. If it's one of your
outdoor living room ideas or outdoor dining ideas, make sure it's possible to arrange comfortable furniture, or if it's part of your outdoor kitchen ideas, check the angles will work out right for your viewing.
Experts advise positioning the screen so that it's away from direct sunlight. How the sun moves around your outside space should be an important factor in deciding on the perfect position of an outdoor TV. And of course, it needs to be sheltered from rain and damp.
1. Put an outdoor TV above a fireplace
If you mount your outdoor TV on the wall of your outdoor fireplace you'll create a welcoming focal point, which will draw people immediately into the garden or backyard.
'If you're using an outdoor TV as a focal point, you need to consider the seating arrangements carefully,' says Lucy Searle, global editor in chief of Homes & Gardens.
'Organizing seating into a U-shape works well, because it allows the TV to be positioned on a wall which faces everyone who is sitting down. Avoid setting out seating in rows, as you need people to feel relaxed and to interact with each other, unless it's a major televized occasion such as a big sporting fixture when everyone crowds around.'
2. Get the screen size right
It's tempting to go for the biggest screen possible, but you should consider the size of your backyard, plus the distance between the outdoor TV and the seating area to get proportions right, says Lindsey Hyland at Urban Organic Yield.
'When choosing a TV to put in your backyard, you should factor in the screen size and the outdoor TV's placement. If you have a large yard, you may want a larger screen, while smaller yards can fit smaller outdoor TVs."
Be careful also not to allow the area around the outdoor TV to become too cluttered, with seating, tables and other wall-hung items crowded around. Remember you need to be able to focus clearly on the screen and not be too distracted by other visual elements in the space.
3. Protect an outdoor TV from the elements
Even though most outdoor TVs are now weatherproof, you will still probably feel happier if yours has protection from some kind of enclosure, and it does feel cozier sitting under a shelter if you're relaxing. If you don't have an inside/outside space, you're going to have to create one with an enclosure, awning, pergola or gazebo.
'When not in use, retractable enclosures are the most impressive,' says Tiffany Payne, spokesperson for Orangeries UK. 'When you wish to watch TV, you can raise the lift stand and lower it again when you're done, so you're not compromising your outdoor space for other activities.'
4. Put an outdoor TV near the grill station
Incorporate an outdoor TV into your plans for an outdoor grill station by mounting it on the wall near your grill or by having it built into a wall-hung cabinet.
Everyone knows that the best parties always happen in the kitchen, and outdoor kitchens have the same gravitational pull, says sports fan Robin Antill, director at Leisure Buildings.
'With a television set attached to your outside grilling area, you'll have an enticing hang-out zone and you won't miss any of the winning plays while you're cooking. When it comes to watching your favorite sporting events or television shows, the kitchen is the ideal place.'
5. Furnish around an outdoor TV just like indoors
Think about what people are going to be doing while they are watching TV outdoors. You may need to bring in low tables and low-level seating such as bean bags for everyone to be comfortable.
'I would always try to focus the seating around a central coffee table ready for social gatherings and locate the TV near to and in eye shot of every seat, just as you would a sitting room,' says landscaper Robert Hughes.
6. Hang an outdoor TV near the pool
The last word in outdoor indulgence would be to mount your outdoor TV near your pool, above a hot tub or outdoor bath-tub, so you can enjoy entertainment while you bathe and chill out.
You must engage a professional electrician to install an outdoor TV in such close proximity to water, to ensure that safety regulations for your pool ideas are met. You should also invest in a waterproof remote control.
7. Pick a portable outdoor TV for flexibility
For ultimate flexibility, you could place your outdoor TV on a portable stand on wheels so it can be moved around the yard depending on who is watching.
This option also allows you to use the outdoor TV as a focal point. Some people choose a sculpture, others prefer a 55-inch plasma screen – with 55-inch being the ideal size for an outdoor TV, according to William Utley at outdoor TV specialists Proofvision.
'However, if you have pets or small children, make sure there's no way they can accidentally knock over the moveable outdoor TV stand,' says landscape expert Lindsey Hyland at Urban Organic Yield.
8. Organize an entertaining space
Pergolas make great spots for an outdoor seating area, particularly those that provide shade and shelter. If your outdoor TV is going to be used mostly during social occasions, your outdoor seating ideas should be arranged comfortably around the screen, optimizing the view for all guests. This is easy if you're putting it in a dining area, more of a challenge in a living space.
Not everyone will want to watch, and the compulsion to keep your eyes on the screen can feel slightly oppressive. So make sure that your outdoor space is organized with smaller 'break-out' areas of perhaps two or three seats and tables too, for people who would rather sit and chat.
9. Make an outdoor TV part of a feature wall
An outdoor TV is often the obvious addition to a feature wall, perhaps in brick or slate.
One of the most visually pleasing ways to make sure your outdoor TV fits easily into place is to surround it with natural materials, such as this. 'Natural stone, slate, weathered timber and tactile decorative and landscaping materials all help to offset the high-tech aspect of an outdoor TV and make it feel more comfortable and appealing in a calm and relaxed environment,' says Lucy Searle.
'An outdoor TV needs a good surface to be mounted to, and they often look best when they're recessed into a wall which also helps protect them from the elements,' says landscaper Robert Hughes. 'A slightly dull patio can often benefit from some architectural or textural interest so why not bring in that outdoor TV and make it the focal point of a stand-out feature wall?'
10. Think: fixings
As we have said, outdoor TVs are heavy and need strong fittings to be fixed to the wall. Choose flexible fittings that allow the TV to be angled so that viewing is always comfortable.
You could choose to suspend your outdoor TV from the ceiling with a strong ceiling-fixed bracket that can retract to a wall if required. This is a good option if you're thinking of adding an outdoor TV to a sturdy pergola, for example.
'A pergola's open design makes it ideal for enjoying a warm summer evening under the stars,' says Robin Antill of Leisure Buildings. 'But you might want to have a wall-mounted hutch or enclosure to keep your outdoor TV safe if there's a sudden thunderstorm.'
Try covering or concealing an outdoor TV when not in use: 'An outdoor TV presents itself with an opportunity to do something cool, such as an automated sliding or pocket door,' adds landscaper Robert Hughes.
Can a regular TV be used outdoors?
A regular TV can not be used outdoors unless it is as protected from the elements as your indoor one is: this includes direct sunlight, humidity and, of course, rain. Manufacturers now make weatherproof TVs especially for outdoor use. However, when you've chosen your outdoor TV and picked the perfect spot, you will still need to ensure it's protected from the extremes – snow, frost, wind, rain and high temperatures. You might decide to site your outdoor TV outdoors/indoors within a loggia or room that opens fully to the yard with folding or sliding doors. This also allows you to enjoy it year-round, when the weather is too bad to sit fully outdoors.
How do I know my outdoor TV is safe?
You must consider potential electrical hazards when mounting a TV in your backyard. There are a few things you need to know in order to avoid costly – and potentially dangerous – issues.
Always make sure the area where you plan to mount the TV will be away from any water sources. This includes pools, ponds, sprinklers and sinks. Water and electricity don't mix.
If you're going to use an extension cord (which we don't advise) to power the TV, rather than having it wired in directly to the mains, you will need to ensure it is rated for outdoor use. Regular indoor extension cords are not made to withstand the elements and could pose a fire hazard. It should also be safely fitted to avoid trip hazards.
It does makes sense to consult a professional electrician to carry out the installation of your outdoor TV. When it comes to electricity, it's far better to be safe than sorry.
Sign up to the Homes & Gardens newsletter
Decor Ideas. Project Inspiration. Expert Advice. Delivered to your inbox.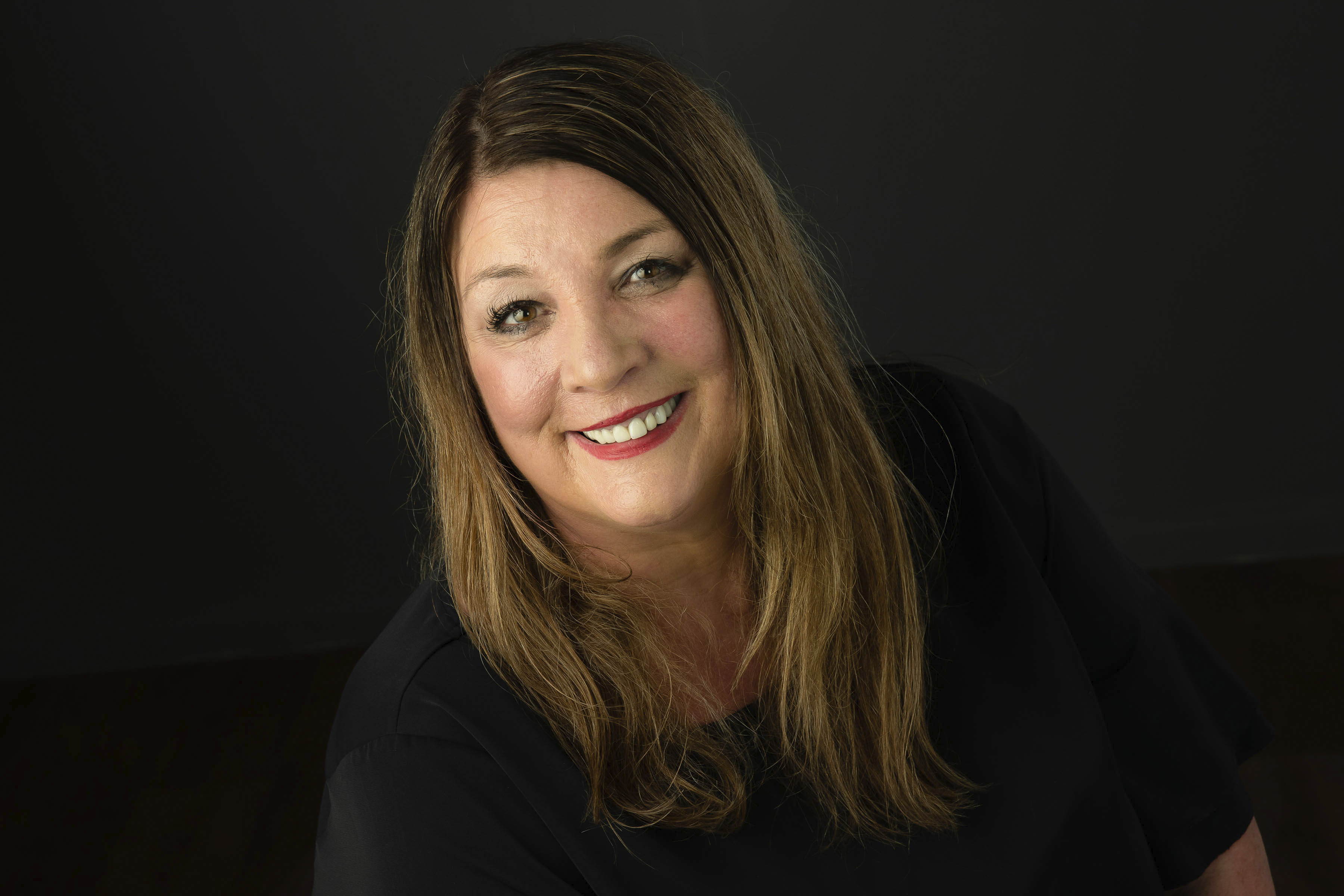 Jayne Dowle is an award-winning freelance gardening, homes and property writer who writes about everything from swimming ponds to skyscraper apartments, for publications including Sunday Times Home, Times Bricks & Mortar, Grand Designs, House Beautiful and The Spectator. Awarded the Garden Journalist of the Year accolade at the Property Press Awards in 2021, she has a degree in English Language and Literature from the University of Oxford and a lifelong love of homes, interiors and gardens. Her first memories include planting potatoes with her grandfather and drawing houses. Her own garden - her fourth - at home in a 1920s house in Yorkshire, is south-facing and on the side of a valley. It's a constant challenge.