How to grow a red creeping thyme lawn – an easy-care alternative to traditional turf
The experts share their tips on growing a pretty pink lawn instead of green grass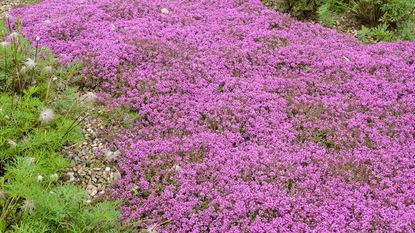 (Image credit: Steffen Hauser / botanikfoto / Alamy Stock Photo)
Q: I am removing some old patio paving in my yard and was planning to sow grass seed in its place. However, pink lawns have recently fallen onto my radar, and now I'm thinking of switching out traditional turf to try this trend instead. Is it a good idea, and if so, do you have any advice on how to go about it?
A: Pink lawns are made by growing red creeping thyme, an evergreen ground cover plant with pinkish-red flowers throughout summer. True, more traditional lawns do have their place (for larger, shadier, or high-traffic areas, for instance). But, if you have the right growing conditions and fancy something a bit more unique in your space, these beautiful alternatives could be the way to go.
Their good looks aren't their only benefit. For one, the flowers of red creeping thyme are great for attracting pollinators, making a garden more wildlife-friendly. The plants also release a pleasing fragrance, particularly if they're crushed underfoot.
But perhaps their biggest selling point is how easy they are to look after – once established, they're drought-tolerant (making them ideal for xeriscaping) and they don't require constant mowing.
How to grow a red creeping thyme lawn in your outdoor space
Ready to opt for a no-grass backyard by growing a pink lawn instead? The experts share their advice.
How to plant a red creeping thyme lawn
'Planting in late spring, after the last frost, offers the best conditions for thyme to establish itself,' says Tony O'Neill of Simplify Gardening. But before you get started, it's essential to check you have the right conditions for this sort of lawn to thrive.
Hailing from hot Mediterranean climes, it's no surprise that red creeping thyme needs full sun. The soil it's planted in also needs to be well-draining, and clay should be avoided. These plants are susceptible to root rot, and clay retains too much moisture, as Dan Bailey, the president of WikiLawn Tampa Lawn Care, points out.
Remember to remove any weeds before you start planting, too, highlights Jeremy Yamaguchi of Lawn Love.
While traditional turf can be easily sown from seed, these fragrant lawn alternatives are usually planted as plug plants or pot-grown plants (you can buy red creeping thyme from Nature Hills). 'Plant them at a distance of about 6-12 inches,' says landscaping expert Tom Su. 'Coverage is done faster with more closely spaced rows.'
After planting, water the area thoroughly and regularly until it's established, Jeremy says.
With the right care, the plants will slowly but surely begin to spread, joining together to create a thick carpet of foliage.
Top tip: You can grow plug plants yourself by planting thyme seeds in trays indoors.
Jeremy Yamaguchi is the CEO of Lawn Love, a company that's bringing high-tech solutions to the lawn care industry. Lawn Love has helped thousands of commercial and residential customers connect with the absolute best local lawn care professionals.
Tom Su is the visionary behind Lawn Edging Australia, a brand synonymous with innovative and sustainable garden design solutions. With over two decades in the landscaping industry, Tom has transformed countless gardens, infusing them with a unique blend of aesthetic appeal and environmental consciousness. His deep-rooted passion for gardens extends beyond business, as he often lends his expertise to community projects, aspiring gardeners, and educational initiatives.
How to maintain a red creeping thyme lawn
At first, you'll need to water your creeping thyme lawn frequently, especially during dry spells. 'Maintain even moisture levels in the soil, but do not overwater it,' says Tom Su. Once the plants have matured, they will hardly need watering at all except in times of very long droughts, he adds.
'Be on the lookout for weeds early in the first growth period,' Tom continues. These can be removed by hand when spotted. Once the thyme forms into a mat, weeds will find it harder to get a foothold.
Although creeping thyme is a low-growing plant, pruning established plants can help to prevent them from becoming straggly and woody. Do this in spring, taking the stems back by about one-third. This pair of long-handled grass shears from Fiskars at Amazon would be well-suited for the job. Alternatively, you can use a mower with the blades set high.
FAQs
---
There is one final point to bear in mind before you start planting one of these colorful lawns: their lifespan. Sadly, creeping thyme doesn't last forever. It's seen as a 'short-lived' perennial that's usually past its best after five years, similar to lavender. On the plus side, this gives you a good opportunity to switch it up after a while if you fancy a change – perhaps by planting a wildflower meadow instead.
Sign up to the Homes & Gardens newsletter
Decor Ideas. Project Inspiration. Expert Advice. Delivered to your inbox.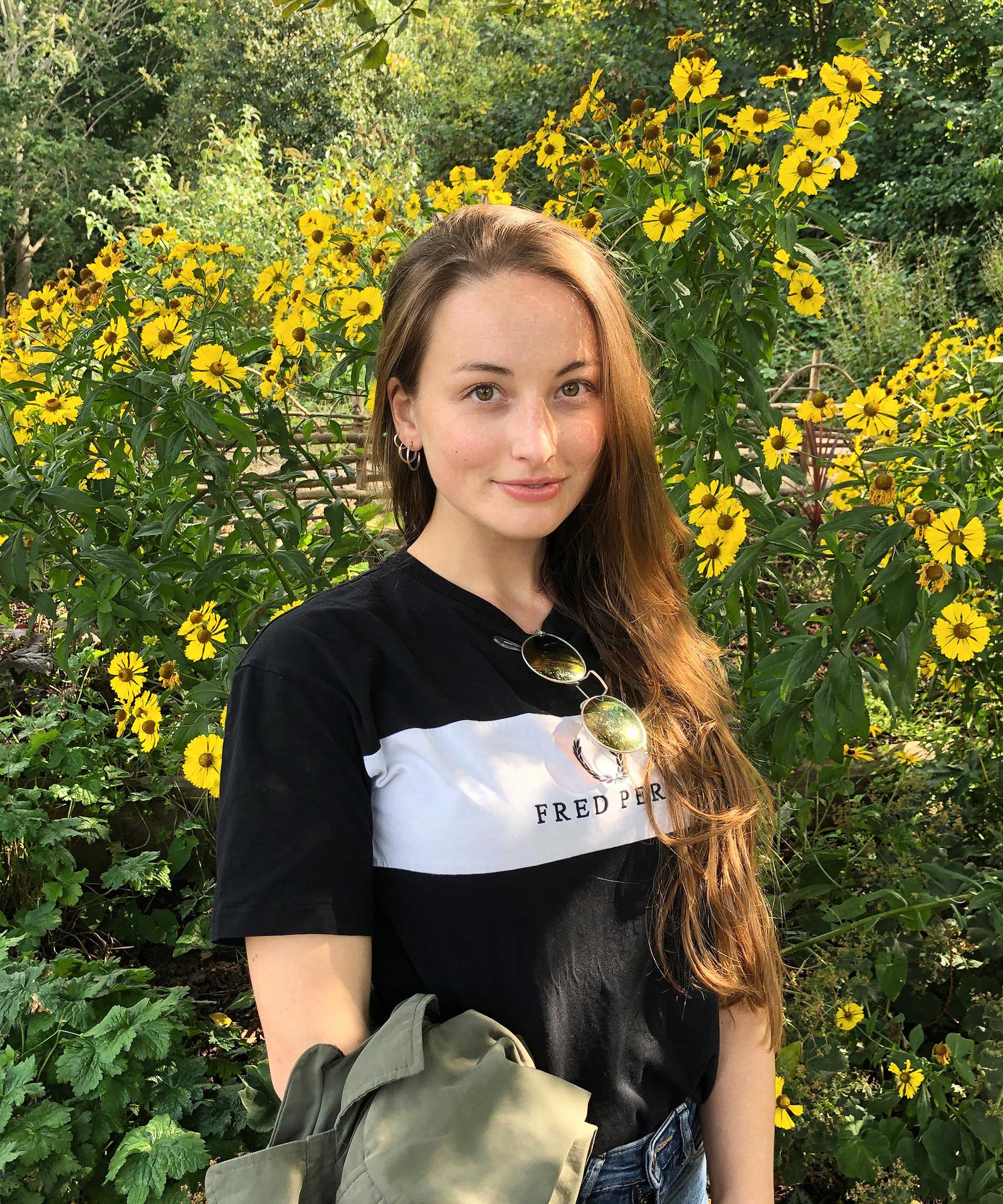 Freelance Gardening Writer
The garden was always a big part of Holly's life growing up, as was the surrounding New Forest where she lived. Her appreciation for the great outdoors has only grown since then; over the years, she's been an allotment keeper, a professional gardener, and a botanical illustrator. Having worked for Gardeningetc.com for two years, Holly now regularly writes about plants and outdoor living for Homes & Gardens.