Where to put a pool in your backyard – 5 essential tips from the experts
Find the perfect spot in your outdoor space with this advice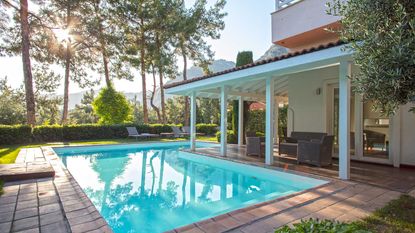 (Image credit: Dreamer Company / iStock / Getty Images Plus / Getty Images)
Sign up to the Homes & Gardens newsletter
Decor Ideas. Project Inspiration. Expert Advice. Delivered to your inbox.
Thank you for signing up to Homes & Gardens. You will receive a verification email shortly.
There was a problem. Please refresh the page and try again.
Planning a new pool is an exciting time – these features are a surefire way to elevate a space and provide plenty of opportunities for entertaining guests, relaxing, and exercising. However, where you choose to put it can make or break the experience. And, as they're an investment, you'll want to get it right.
The shape and size of your plot are the first factors to consider. But, as the pool and landscaping experts reveal, there are other aspects to think about, too. As with most things, careful planning is worth the effort – and by covering all bases, you'll be rewarded with a safer backyard pool that's a joy to spend time in.
5 things to consider when positioning a backyard pool
Factor in these top tips when making your pool landscaping plans.
1. Think about the distance between your pool and your home
Consider the proximity of your pool to your home, recommends Cameron Levick, the CEO of Plungie. Building it nearby can turn a pool into an extension of your living space, to really embrace the indoor-outdoor living trend.
Installing it close to your home can also impact pool safety, as it makes it easier to access. 'In case of emergencies, you'd want to reach the pool or home as quickly as possible,' says Bryan Clayton, a landscaping expert.

Other aspects that can increase accessibility to your pool include pathways or steps that are easy to navigate. 'Ensure that if the pool is near stairs or decking, there are adequate handrails and non-slip surfaces in place,' adds Mark Buskuhl, a property renovation expert and the Founder and CEO of Ninebird Properties.
Building a pool close to the home also increases visibility, another essential factor for a safer swimming experience for everyone. However, avoid placing it too close, warns Bryan – water splashes can damage a home's foundation or structure over time.
Bryan is the CEO at GreenPal, and has over two decades in the landscaping business. He is passionate about creating outdoor spaces that merge beauty with functionality.
2. Consider privacy
If you want to enjoy your pool in privacy, make sure it is situated away from busy streets and other public areas, advises Mark. Moving it as far away from neighbors as possible may be another consideration.
There are additional pool privacy features that you can add around your pool area to help it feel even more exclusive. These range from planting shrubs to installing screens or fencing.
3. Assess the sun and shade in your space
Sun and shade are other factors to bear in mind when deciding where to put your pool.
Mark recommends looking for a space that gets several hours of direct sunlight each day. This will ensure the pool is well-lit and helps to keep the water warm.
However, in hotter climates, too much sun can cause uncomfortable temperatures. Plus, the UV rays can harm your skin. If this is the case, a space that gets some shade for part of the day may be preferable. Alternatively, add some pool shade solutions when planning the pool patio, such as a pergola or shade sail.
4. Factor in existing trees
If you have trees in your yard and want to build close to them, you will need to design your pool with their health in mind, says Michael Shelton of Pool Sharp. 'You can work with a pool designer or landscape architect to come up with a custom design that takes the critical root zone of the trees into account so you do not end up harming or even killing your trees in the process.'
But before you do so, you will also want to consider the types of trees you have and how much time you want to spend cleaning your pool, as Michael highlights. Some, for instance, are prone to dropping more debris than others, making pool maintenance more difficult.
And, if you decide to plant new trees in your pool area, perhaps for extra shade or privacy, avoid planting them too close to the pool's edge. Tree roots can interfere with plumbing lines or cause unevenness in the ground which can create hazardous conditions for swimmers, warns Mark.
Michael is the Co-owner of Pool Sharp, a family-owned pool-building company in the Austin, Texas area. With over 15 years in the industry, Michael has a true passion for building and helping people work together to create beautiful spaces. He is a CBP Certified Pool & Spa Building Professional and manages all Pool Sharp remodels and new construction pools and spas.
5. Check local laws and safety regulations
'Sometimes, local city or county codes will dictate pool placement,' says Michael. For instance, you may not be able to place your pool within a setback or building line, or too close to locally protected trees. 'Ask your pool builder about permitting factors that may influence your pool placement or design.'
'Make sure that you have your local plumber assess the area of your proposed pool before construction begins,' adds Mark. 'Your plumber will need to ensure there are no plumbing issues such as sewage pipes or water lines running beneath the surface.'
Be wary of overhead power lines, too, notes Bryan. 'Always get a proper survey done.'
FAQs
Where should you place an above-ground pool?
Considerations for above-ground pool placement are more or less the same as they are for in-ground pools. They include, among others, local building codes, levelness of the ground, distance from the home, privacy, sunlight and wind exposure, and its proximity to electricity and water connections, lists Kim Tokarski of pool supplies company Leslie's. 'Be aware that for above-ground pools, the location in your yard often dictates the size and shape of the pool you can choose,' she adds.
Kim also recommends putting an above-ground pool in clear view from your home. 'But remember, even with a clear line of sight, it's important to be present and supervise the pool area closely whenever there are swimmers in the water,' she says – and the same goes for in-ground pools, too.
Can you build a pool on a slope?
'The elevation of the property is something that will influence how your pool is built, as well as the cost,' says Michael Shelton of Pool Sharp. 'If your pool is on a flat surface, it will be less costly and an overall easier, more straightforward build.'
It's often possible to excavate soil and create a leveled pool deck on a slope. However, expect to add significant costs to your project, warns Michael. 'You will want to make sure your pool is built properly so that there are no structural issues down the road. After all, no one wants their pool sliding down a hill!'
---
As well as the above, other aspects may come into play when planning the perfect spot for your pool, depending on your plot and the type of pool you want. Your pool builder should be able to advise what's best for your individual situation.
The key thing to remember is that, when planning a pool, don't just think about how it will look. 'While aesthetics are crucial, prioritize function and safety,' says Bryan. If placement compromises these two factors, it's a no-go.
Sign up to the Homes & Gardens newsletter
Decor Ideas. Project Inspiration. Expert Advice. Delivered to your inbox.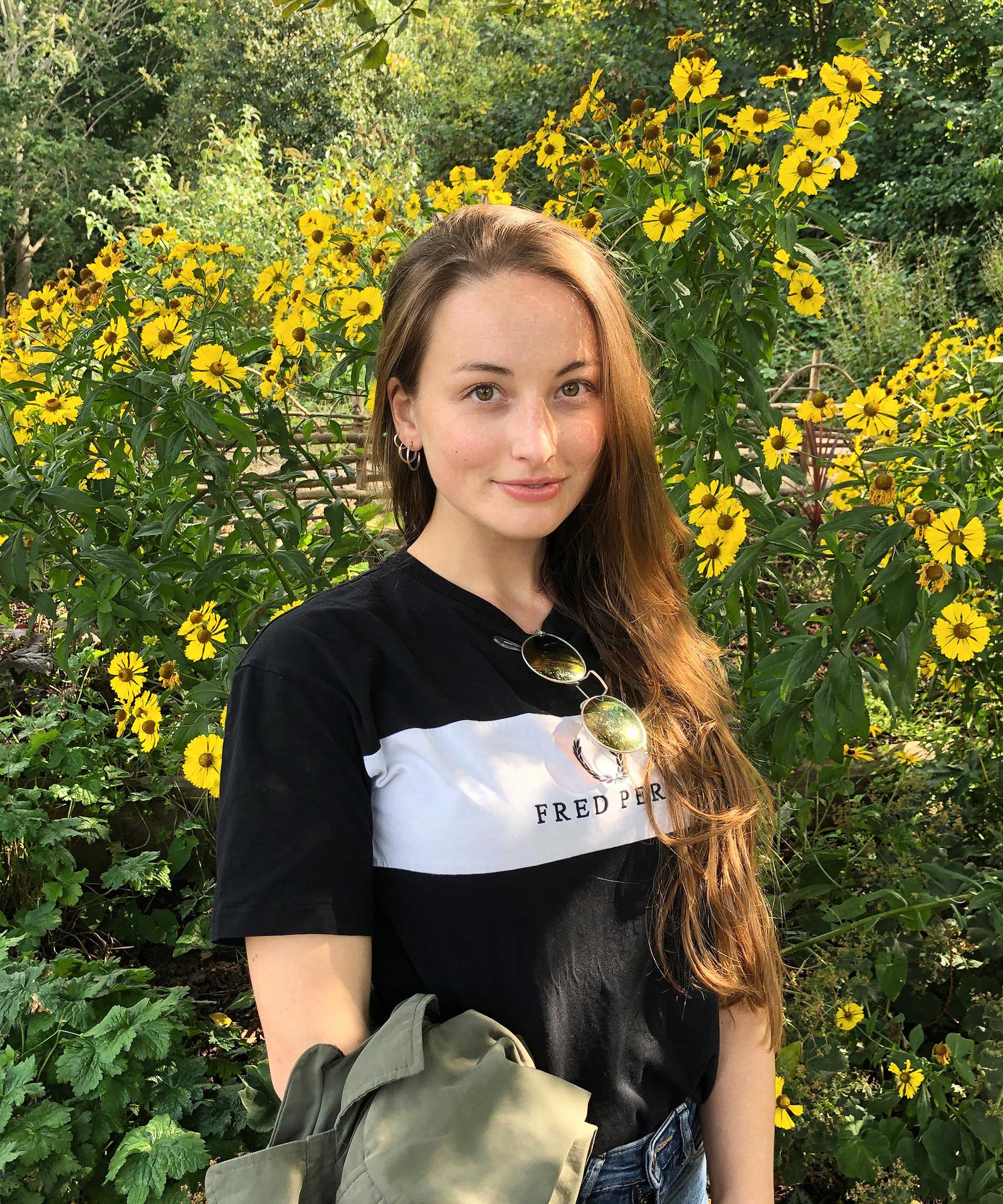 The garden was always a big part of Holly's life growing up, as was the surrounding New Forest where she lived. Her appreciation for the great outdoors has only grown since then; over the years, she's been an allotment keeper, a professional gardener, and a botanical illustrator. Having worked for Gardeningetc.com for two years, Holly now writes about plants and outdoor living for Homes & Gardens.