This backyard is 12 English gardens in one – discover the fascinating story
Garden designer Alison Green has designed a dozen, interconnecting garden rooms in her 17th century English farmhouse garden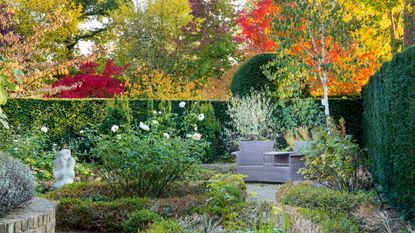 (Image credit: Marianne Lajerus)
The unlikeliness of this impressive garden design only heightens its impact. Hemmed just outside London, Theobalds Farmhouse Garden is the antithesis of the suburban expectation. Whilst city tower blocks feather the distant horizon, the immediate landscape is unexpectedly rural, traditionally horticultural, steeped in glasshouses. Swing through the property's entrance gate and leave Greater London behind you.
Garden designer Alison Green bought the Grade II listed 17th century farmhouse in 1999 for 'its classic architecture typical of the period's style'.
'The land and buildings were once part of the Royal Theobalds Estate,' explains Alison, 'and were part of a former working stud farm. Latterly developers had laid the almost two-acre plot to rough lawn, for ease of maintenance.'
Here Alison explains her extraordinary garden ideas and how this is the garden design of her dreams.
Garden design setting
The symmetrical, double-fronted house sits squarely in the top north-west corner of the plot. 'My instinct was to create four small garden designs around the house, with mirror-image proportions to either side and again front to rear, framing the house, setting it apart from the remaining open space.
'Typical of the Arts and Crafts style and inspired by garden rooms and design diversity at Hidcote, Sissinghurst and Great Dixter each garden was to be unique and all were to be gardened organically and 'designed partly to inspire potential clients'.
These and subsequent garden rooms at Theobalds, are inadvertently linked by a series of designed circles which occur, regularly throughout. 'My designs are based on the 'golden section' principal, a geometry which helps to achieve a feeling of natural balance,' explains Alison who trained at Capel Manor College and The London School of Gardening.
Knot garden
In front of the farmhouse house lies a neatly tied Knot Garden 'reflective of the period' with two mirror-image, Celtic knot designs, identical swirling patterns traced and then crafted in box, Buxus sempervirens, either side of the house's entrance.
Enclosed in yew baccata, evergreen walls contain the space. There is corresponding symmetrical planting of the ornamental wedding cake tree, Cornus contraversa 'Variegata' - silver in spring, caramelising in autumn.
Ruddy-hued peony foliage brings warmth beyond the knots perimeter, which are left unplanted to reduce risk of box blight. The equivalent, fully enclosed space to the rear of the house, has limited sunlight.
Gravel garden
A broad triangular area sits on the northern-most perimeter, bound by yew, and the walls of the house. The enclosed Gravel Garden, formerly a box-rimmed parterre, which 'succumbed to blight' but the inner plantings remain tall and engulfing. Japanese anemones, persicaria, and six-foot-tall scented roses, 'Lichfield Angel' and 'Jaqueline du Pre' flower until first frosts.
Curved beds sweep around a circular, lavender-filled raised plinth planted with an on-the-turn fig tree. Color floods into this cool, green enclave, back lit by the brilliance of autumnal acers, liquid amber and sweet cherries, the borrowed landscape of turning trees in the gardens beyond.
The Courtyard Garden is paved with York stone and is set with a stone fountain on a circular, sun-design pebble mosaic. White planting in blue-glaze pots helps bring some illumination.
Ornamental garden
The 'matching' Ornamental Garden space, enclosed by yew walls and the east-facing side of the house, is open-to-the skies.
'The space was reclaimed from a large overgrown area of open grass. A circular lawn, collared with a necklace of brickwork occupies the central, sun-spilled space with surrounding cottage-garden style planting.' Masses of trees and shrubs, oak-leaved Hydrangea quercifolia and Robinia pseudoacacia 'Frisia' color up in autumn to create great contrast with the evergreen architecture.
This theme is reiterated throughout the gardens where Alison, in ardent pursuit of successional planting, ensures there is year round interest.
Jewel garden
Beyond the original quartet of small garden rooms, intimate to the house, there's an abundance of outlying gardens decorative and different by design.
Contemporary in feel, The Spiral Garden is a living interpretation of an interior room inspired by and created from spoil resulting from earthworks in the adjoining 'Jewel Garden'.
Equidistant plantings of white-legged Himalayan Birches, Betula utilis subsp. jacquemontii 'Grayswood Ghost' frame a spiralling, raised-grass mound, based on the golden section logarithmic spiral. This overall effect is a curved window bay, capped with a foliage roof.
Beyond lies a rippling lake of lawn, giant, naturalistic arcs of ornamental grasses, mown in bands to preserve habitat for pollinators and wildlife, petering away from the more cultivated areas of the garden.
Lawns and beyond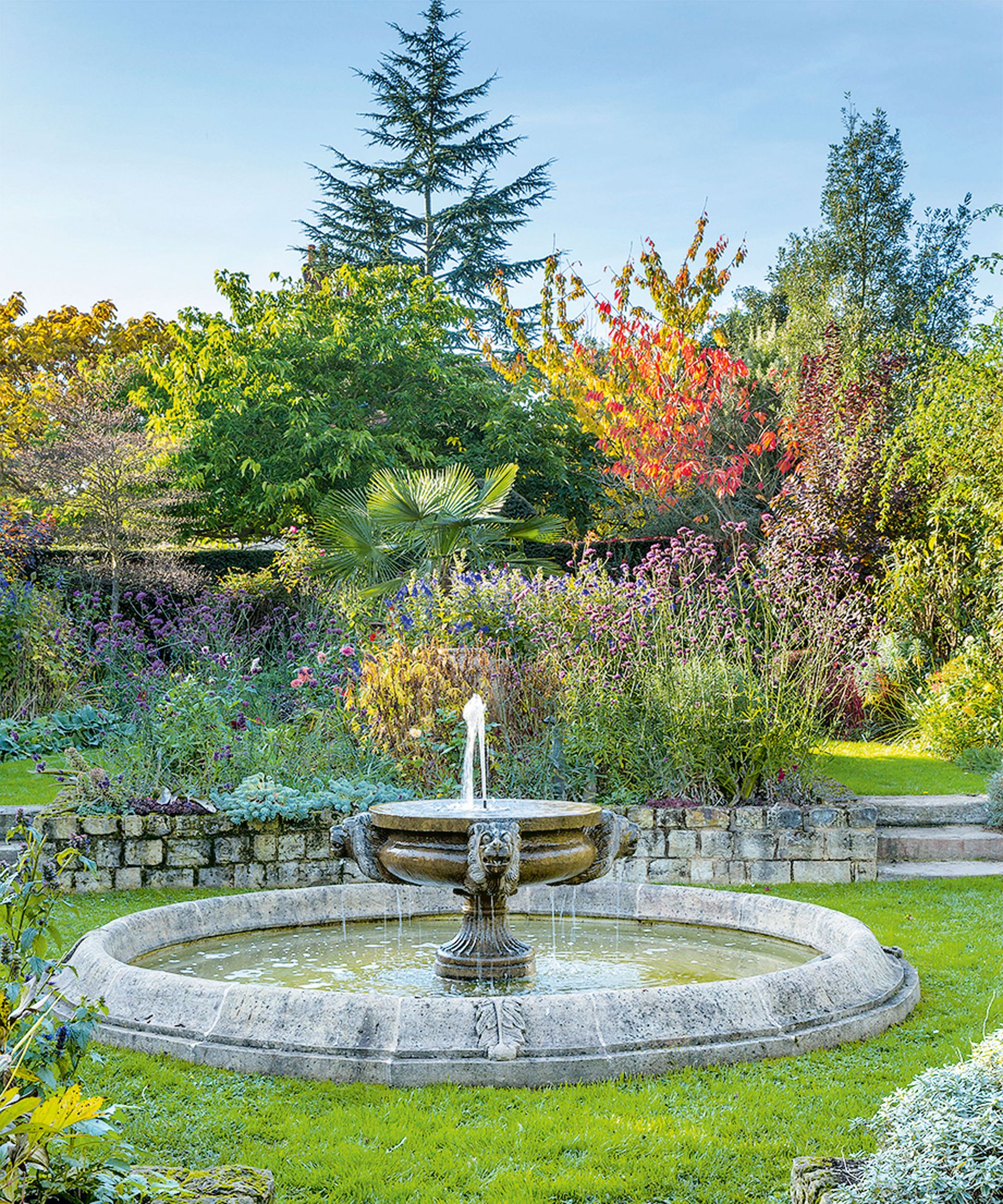 The massive 'lawn' is boldly framed with huge themed big borders. In fall the Exotic Border is a riot of strictly curated color.
'Brilliant oranges and rich deep maroons dominate with explosions of fiery day-lilies, helenium, rudbekias, towering sunflowers and purple clouds of Verbena bonariensis and giant purple Dahlia 'Thomas Edison'. Beyond lies the similarly vibrant Jewel Garden, at its richest in autumn.
'This fluid, figure-of-eight-shaped garden is simply art-on-the ground. I spray-painted the outline, colouring it in with lush foliage and exotic, jewel-coloured flowers between green-grass pathways,' Alison says.
Concentric rings of brick, grass, pool and fountain decorate the lower circle whilst the upper circle bed is planted with a windmill palm, Trachycarpus fortunei, striped foliage, orange-flowered Canna 'Pretoria', Amaranthus panicualta 'Marvel Bronze' surrounded by an array of richly-colored dahlias, 'Tartan', 'Bishop of Llandaff' and 'Preference'.
'Warm and sheltered, I'm able to leave even tender plants to overwinter here, except the potted bananas which are moved into the glass houses.'
Productive greenhouses, fruit and vegetable plots lie just behind the Jewel Garden which is in turn divided from the Water Gardens by a new Pebble Mosaic Garden - 'a place to sit and sip in the late evening sun'.
Water garden
The gardens all slope away from the house, culminating in the distant naturalistic swimming pond, with its circular wooden decks, and wildlife pond and stream, introduced in 2005. Both are camouflaged by a thick fringe of reeds and rushes, and in the far garden corner, tucked from more visited garden areas, hives of contented honey bees.
'I garden organically, and buy plants which are specifically beneficial to pollinators. Birds, butterflies and bees bring the garden to life and help to keep pests naturally at bay,' says Alison.
Woodland color
A shaded woodland walk 'planted to 'shield me from London's buildings,' wends back towards the Wildflower Meadow by the gardens main entrance.
Here, Alison has planted a grove of trees for autumn color, creating a fireball in the skies above; glowering red Acer palmatum 'Osakazuki', deep maroon Cornus contraversa 'Grace', traffic-light Sweet Gum, Liquidamber styraciflua, Black cherry, Prunus cerasifera 'Nigra' and paper handkerchief tree Davidia involucrata.
In contrast to the deliberately concealed nature of each of the garden rooms, this exuberant, colourful display of autumn foliage cannot be contained and is evident throughout the entire garden.
Feature / Jacky Hobbs
Sign up to the Homes & Gardens newsletter
Decor Ideas. Project Inspiration. Expert Advice. Delivered to your inbox.
With over 30 years of working in journalism on women's home and lifestyle media brands, Rhoda is an Editorial Director, Homes Content, at Future. Over time, Rhoda has worked on the entire homes and gardens portfolio including Homes & Gardens, Country Homes & Interiors, Livingetc, Ideal Home, Style at Home, Woman & Home, 25 Beautiful Homes, Amateur Gardening and Easy Gardens. She was also editor of Country Homes & Interiors for 14 years, leading it across print and creating the blog Country Days. She has also worked at Woman's Weekly, Family Circle and Practical Parenting.