7 design tips to take from these luxury apartments in London's exclusive Holland Park
Located in one of London's most expensive enclaves, these apartments blend luxury with a love of the natural world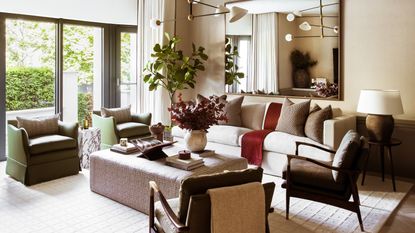 (Image credit: Albion Nord/80 Holland Park/Patrick Williamson)
Apartment living isn't always about compromise – sometimes it can be a real luxury.
And that's just what's on offer at 80 Holland Park, a new apartment building located in one of London's most exclusive enclaves, with stunning interiors by design firm Albion Nord.
The streets around London's Holland Park are the setting for some of the world's best homes, with property prices among the most expensive in the UK. With neighbours including Prince William and Kate Middleton, as well as the eponymous park on the doorstep, it's no surprise that apartments in this complex start at $3.5 million.
'The project is homely and inviting and we are thrilled with the final result,' said Camilla Clarke, Creative Director of Albion Nord. Charged with designing the interiors for numerous properties across the new building, Clarke and her team shunned a 'one-size-fits-all' approach, and instead created individual, unique interiors using antiques, bespoke pieces and inspiration from the park beyond.
'We love the mix of rich, earthy tones and beautiful natural materials in the scheme as they give the spaces a real sense of grounding,' said Clarke, 'Our amazing suppliers and crafts people have allowed us to bring together an exciting mix of furniture, artwork and accessories which have added layers of depth and character to the schemes.'
Clarke also took a surprisingly bold approach to color to make these new-build apartments feel lived-in and welcoming.
'The client was looking for a sophisticated and contemporary aesthetic with an emphasis on comfort and richness of color,' explained Clarke. 'We chose deep earthy colors in the schemes such as ochres, blues and mossy greens mixed with luxurious and natural materials like linens, velvets and oaks to add texture and warmth.'
Taking us on a tour of two of the apartments, Clarke shared her tips on designing spaces for luxury city living that are packed with personality and warmth.
1. Make a statement with artwork
In this instance, Clarke's dining room ideas share the space with a living area in the apartment, in an open-plan layout that needed to straddle both comfort and formality.
'[We used] a dark, rich palette, with buttery brown leathers, deep blues and geometric patterns,' said Clarke, referencing the cushion fabric from Walter G Textiles and the dark wooden table from Treeslounge.
'The artwork is the star of the show, giving the apartment a sense of place,' she added. 'The artwork covers the wall with a map of London from Ben Pentreath made up of 24 individually framed pieces.
2. Give your hallway greater purpose with a seating area
Hallway ideas are all too often an afterthought in a home, but Clarke was keen to turn the transitional area of one apartment into a design feature. 'The design for this space makes a moment out of a hallway,' said Clarke. 'It includes a handmade, textile artwork from LRNCE, and a pair of timber and cane chairs beneath it.' Finishing the look is an elegant Martini table, found in an antique store on west London's Lillie Road.
3. Use your color scheme to bring the outdoors in
The living room ideas at 80 Holland Park are where the outside really comes into play. On one side of this reception room, large windows open up the space to the world beyond, with the natural world carried in through the prominent use of house plants. Earthy tones are also played out through the color scheme in the rest of the room.
'[It's] a comfortable living space with a pop of color,' said Clarke. 'A bespoke green velvet sofa and splash of yellow in the artwork give the room character and warmth.' Winding between these colorful moments are mid-toned browns, present in the cushions, throws and Conran Shop floor lamp.
4. Make a bedroom feel inviting by incorporating texture
'[This is] a fresh, contemporary bedroom with clean lines and calming blue-green tones,' said Clarke. 'The walls are painted in Farrow & Ball De Nimes and the bespoke headboard is covered in natural, textured boucle wool, with fitted bronze wall lights from Soane for night time reading.'
The dramatic contrast in lights and darks seen across the bedroom ideas is softened by a keen use of texture. Crisp white sheets are built upon with a crumpled linen throw, velvet cushions and a woven feature cushion in mottled brown by De Le Cuona.
5. Be bold with your blues
Blue bedroom ideas are a perennial favorite for their calming effect on the mind. That doesn't, however, mean they can't make an impact. Pick purer shade of blue for a hue that will enliven you in the mornings as much as it soothes you at night.
'The palette is bold and fresh, mixing blues and whites with playful patterns and a pom-pom bedspread,' said Clarke. Structure is added through the clean lines of the wall light from Vaughan and the modern accent chair, while more bulbous forms occur in the artwork from Partnership Editions and beyond. 'Organic shapes and curves have been used in the headboard and artwork to add softness to this bedroom,' explained Clarke.
6. Warm up a bedroom color scheme with unexpected reds
A little rarer among bedroom color ideas, red and orange are more usable in a sleep space than you might think.
'The orange bedroom is definitely one of my favorite rooms in the project,' said Clarke. 'It's easy to shy away from bold colors in bedrooms, but it works wonderfully when paired with fresh white sheets and the creamy tones of the headboard and cushions.'
'The wall color is a browny red tone from Edward Bulmer called Sang De Boeuf which is beautiful, and takes on slightly different tones throughout the day – cozy and rich in the evening and vibrant and warm in the morning.'
7. Infuse your study with creative inspiration
As many of us continue to work from home, having home office ideas that inspire and excite is becoming increasingly important.
'[This study is] inspired by Ernest Hemingway,' said Clarke. The American novelist was famed for his sense of adventure, as well as his travels around Africa, Europe and the Caribbean. '[It's] a cocoon of green with a bespoke wrap-around desk and shelving made of natural English pippy oak. The desk is made for two, with a pair of antique bamboo folding chairs. An atmospheric and cosy study, lit with mid century wall lights and a desk lamp from Sigmar for working late into the night.'
Interior Design / Albion Nord
Property Development / 80 Holland Park
Ailis started out at British GQ, where a month of work experience turned into 18 months of working on all sorts of projects, writing about everything from motorsport to interiors, and helping to put together the GQ Food & Drink Awards. She then spent three years at the London Evening Standard, covering restaurants and bars. After a period of freelancing, writing about food, drink and homes for publications including Conde Nast Traveller, Luxury London and Departures, she started at Homes & Gardens as a Digital Writer, allowing her to fully indulge her love of good interior design. She is now a fully fledged food PR but still writes for Homes & Gardens as a contributing editor.