How much does it cost to paint a house? Discover the price of painting an exterior
Budget for refreshing the exterior of a home. These are the details on how much it costs to paint a house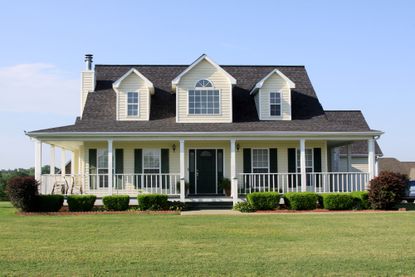 (Image credit: Getty Images)
You may be wondering, how much does it cost to paint a house? After all, it's a large area to tackle and frequently a challenge because of its height. Also critical is investing in the right type of paint to complement the materials and finishes of the home's exterior and to withstand local climate conditions.
Painting a house is a project that involves careful preparation before painting commences. But the exterior of a home also calls for many hours of labor to complete the project, and both will feed into what you can expect to pay.
Choosing paint colors for the exterior of a house is an important feature of house design and will help a home retain its curb appeal and protect it from the weather and, here, we examine the costs to paint a house so you can draw up a budget for the job.
How much does it cost to paint a house?
If you're planning to refresh the exterior of your home, you'll likely be keen to pin down house painting costs.
'The average cost to paint a house is $3,000, but it can cost anywhere between $1,800 and $4,400, depending on the size of your home, type of siding you have, and whether or not you need to complete any prep work beforehand,' says Mallory Micetich, home expert at Angi.
Here, we take a look at the factors that will contribute to the final cost.
How does home size affect house painting cost?
As you'd guess, a bigger home means a larger outlay for painting, and the number of stories is crucial, too. 'Bigger homes require more materials, paint and labor time,' says Mallory. 'On average, painting a home exterior costs between $1.50 and $4 per square foot.
'You'll also need to pay more if your home is more than one story. Expect to pay 50 per cent more per story for exterior painting.'
How does siding type affect the cost to paint a house?
How your home is constructed is also an important element of cost. 'The type of siding your home has can significantly affect the cost of your exterior paint job,' says Mallory.
'Siding materials that are quick and easy to paint will usually be less expensive than more difficult siding materials. You can check whether you can paint vinyl siding in our dedicated guide. Here are the popular siding materials and how much it costs to paint them:
Wood: $700 to $3,000
Vinyl: $600 to $3,500
Brick: $3,500 to $10,000
Metal: $400 to $3,500
Stucco: $1,400 to $6,000
Concrete: $500 to $3,000
How much do paint and other materials cost?
Budget for both paint finishes and the other materials necessary to be confident of the cost to paint a house.
'The cost of paint and materials takes up a large portion of the total project cost,' explains Mallory. 'Exterior paint usually costs between $20 and $60 per gallon. If you opt for primer, expect to pay an additional $15 to $80 per gallon. Other materials, like paint brushes and rollers, drop cloths and painter's tape costs $300 on average.'
How much does labor cost?
One of the worst mistakes to make when painting a house exterior is to omit to factor in the labor charges. Unless you choose to paint a house yourself (see below for more), labor needs to be factored in right from the start. 'Labor costs vary depending on location, but you can expect to pay about $25 to $100 per hour for each painter,' says Mallory.
How does location influence house painting cost?
Where you live will be a large determinant of what you can expect to pay to paint a house.
'You should always check with several local painters to get accurate estimates for your area,' advises Mallory.
But bear in mind that location means costs can vary widely. 'In areas where labor is affordable, you may be able to paint your home exterior for $600 or less,' Mallory says. 'In areas where labor is more expensive, painting costs upwards of $7,000 on average.'
Which other factors affect house painting cost?
There are other factors that can play into the cost of painting a house. One is the state of the house's exterior. 'If your current exterior paint is cracking, flaking or bubbling, you'll need to strip the paint before you can repaint the exterior,' explains Mallory. 'On average, paint stripping costs $0.50 to $2 per square foot.'
Don't forget that you might also need to budget for a permit. 'Depending on your neighborhood, you may need to get a permit to paint the exterior of your home,' says Mallory. 'Expect to pay between $200 and $300 for a permit.'
Lastly, bear in mind that some paint brands are better, and therefore more expensive than others. Always go for quality brands that your painter recommends; cheaper paints and poor preparation will mean you have to have your home repainted more quickly. Consider, too, color choices: colorful paints are often more expensive that pure white.
Can I paint my whole house myself?
You can paint a house yourself, as well as painting walls, and painting ceilings in its interior. Be mindful, though, that it is a job that will take both time and effort, and that requires the correct equipment, including to ensure safety when working at height.
'I recommend hiring a pro to paint your home exterior,' says Mallory Micetich, home expert at Angi. But if you need to save, it's worth discussing how this might be achieved. 'Talk to your pro about your budget and see if you can find a way to save money over the course of the project,' recommends Mallory.
How long does it take to paint a house?
How long it takes to paint a house will depend on its size and the number of people working on the job.
'From start to finish, it can take a team of pros five days to prep and paint the exterior of your home,' explains Mallory Micetich, home expert at Angi. 'While it depends on the size of your home, you can expect your pros to spend a few days cleaning and prepping your home and a few days painting the exterior.
'If you choose to paint the exterior yourself, it could take a few weeks to do a thorough job.'
Sarah is a freelance journalist and editor. Previously executive editor of Ideal Home, she's specialized in interiors, property and gardens for over 20 years, and covers interior design, house design, gardens, and cleaning and organizing a home for H&G. She's written for websites, including Houzz, Channel 4's flagship website, 4Homes, and Future's T3; national newspapers, including The Guardian; and magazines including Future's Country Homes & Interiors, Homebuilding & Renovating, Period Living, and Style at Home, as well as House Beautiful, Good Homes, Grand Designs, Homes & Antiques, LandLove and The English Home among others. It's no big surprise that she likes to put what she writes about into practice, and is a serial house renovator.