How much does it cost to paint a room?
How much does it cost to paint a room in your home? Draw up a budget with our guide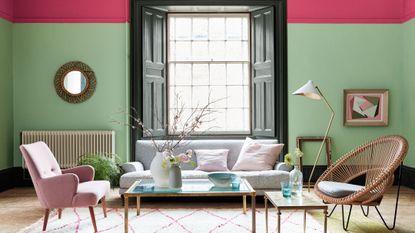 (Image credit: Little Greene)
If you're asking how much it costs to paint a room, this guide will give you the information you need whether you are intending to do the work yourself, or to call in a contractor to undertake the project on your behalf.
Knowing how to paint a room including all the preparation that's needed will enable you to get a pro-style finish if you take the DIY route and, if that's the case, you won't need to factor in labor costs. But you may need to budget for equipment, if you don't already own it, in that instance.
Other elements of the final cost include the type of paint selected, how many coats are needed, and whether the walls have to be primed, and we've provided the lowdown on all of these, too.
How much does it cost to paint a room?
How much it costs to paint a room depends on a number of factors, including whether the job consists solely of painting walls.
'To paint only the walls of a 400 sq ft room, the cost can average anywhere between $600 to $1,400 with labor included,' says Adam Graham, industry analyst at Fixr (opens in new tab). 'If you want to paint the whole room (including the ceiling, trim, and other features) the costs can go up, ranging from $1,200 to $1,600, with labor included.'
How much does it cost to paint a room yourself?
Choose to paint a room yourself and you can, of course, reduce costs. Be aware that the type of paint you select (more on this below) matters when it comes to the final invoice, as does the number of coats that need to be applied, and whether primer should go on first.
'On average, to add one coat of paint to a 400 sq ft room, you will need one gallon of paint which can cost between $15 to $50 per gallon for latex-based paint, and $20 to $60 per gallon for oil-based paint,' says Adam.
'Generally, you will need two coats of paint. You might need to prime the walls before painting, and the cost per gallon for primer is between $16 and $70.'
How much does it cost to paint a room if you call in a pro?
If it's a matter of asking a professional to paint just the walls of a room, costs will naturally be reduced compared to painting the entire room including painting the ceiling and even painting a radiator.
'To paint the walls only, the average cost per square foot is between $1.50 to $3.50,' says Adam. 'To paint walls, ceiling, trim, and extra features, you can expect to pay between $3 to $4 per square foot.'
How do different paint types affect cost?
The type of paint used for a room influences the cost of painting a room, as we've mentioned above, with latex-based paint falling into a slightly less expensive range of prices than oil-based.
But as well as the price, consider the qualities of the different types and where they are going to be used. 'Latex-based paint is an all-round choice with good durability; the cost per gallon is between $15 and $50,' says Adam.
'Oil-based paint is a great option for moisture-prone areas and for areas which have experienced water damage, costing around $20 to $60 per gallon.'
Different paint finishes also have different price tags. 'Generally speaking, glossier finishes can be more durable, however it might not be the best choice for every situation,' says Adam. 'For glossy finishes, you can choose between semi-gloss that costs $12 to $70 per gallon, or high gloss for $17 to $80.
'The most cost-effective finish is flat, usually recommended for spaces that do not receive a lot of moisture, and costing between $10 to $70 per gallon. Eggshell and satin finishes are low maintenance and high durable finishes, making them a great option for any room.'
What else influences the cost of painting a room?
While two coats of paint are frequently sufficient for a room, it won't necessarily be the case. 'The original color of your walls might impact the amount of coats of paint needed for full coverage,' explains Adam. 'Darker walls will need priming and more coats than lighter original colors, especially if using a lighter shade on top.'
And if it's a dramatic or cocooning paint color you're opting for now, you may also need to pay out for extra paint. 'When using darker paint colors, you might need extra coats for an even look, and you might need to add primer prior to painting, which will add to the final cost,' he says.
Also bear in mind whether you have the right tools to paint a room, if you're planning to DIY. Painting with a roller is recommended for walls as well as for painting ceilings, while brushes are necessary for cutting in, and painting trim. You'll also need items such as painter's tape, drop cloths and a stepladder all of which you should add to the costs we've detailed if you don't already own them.
Should I hire a painter or do it myself?
If you're deciding whether to hire a painter or do it yourself, there are a few things you should think about first.
Painting a room is an enormously popular DIY project and it's definitely one of the easiest. But good results require thorough preparation, time and care as well as the proper tools.
'Shortcuts won't result in a pro-style finish,' says Lucy Searle, global editor in chief of Homes & Gardens. 'So if you can't set aside the hours needed, or aren't ready to prepare walls for painting first, I'd say hire a painter every time. Bad results might mean you have to call in a pro to sort things out anyway.'
How much does it cost to paint a 20 by 20 room?
A 20 by 20 room will cost in a range from $600 to $1,400 (labor included) to paint the walls, according to Fixr. But to paint the entire room, the typical cost will be from $1,200 to $1,600 – again with labor included.
Don't forget that the height of the walls can increase what you pay. 'My Victorian home has high ceilings which gives it a wonderful spacious feel but it does mean extra costs when I decorate,' says Lucy Searle.
Sarah is a freelance journalist and editor. Previously executive editor of Ideal Home, she's specialized in interiors, property and gardens for over 20 years, and covers interior design, house design, gardens, and cleaning and organizing a home for H&G. She's written for websites, including Houzz, Channel 4's flagship website, 4Homes, and Future's T3; national newspapers, including The Guardian; and magazines including Future's Country Homes & Interiors, Homebuilding & Renovating, Period Living, and Style at Home, as well as House Beautiful, Good Homes, Grand Designs, Homes & Antiques, LandLove and The English Home among others. It's no big surprise that she likes to put what she writes about into practice, and is a serial house renovator.