How to prep your chimney for winter – 5 essential steps to ensure it's ready for use
Ensure your chimney is prepared for those cozy evenings beside the fire in the cold months of winter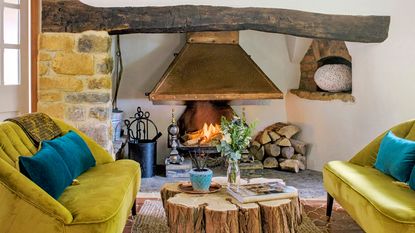 (Image credit: Polly Eltes)
Before you light a fire this fall, ensure you have prepared your chimney so that it's not only safe, but has the perfect conditions for when you're getting cozy and warm this winter.
A chimney requires upkeep throughout the year, and planning in advance for your chimney to be swept and cleaned will make sure you are not caught out and unprepared for the cold – because as we know, the weather can be most unpredictable.
From booking a chimney sweep to remembering how to clean your fireplace, we have made a step by step guide on how to prep your chimney to ensure this warming hub of the home remains inviting, well-kept and safe. It's a vital step in winterizing a house.
How to prep your chimney for winter
Explore our step by step guide below on how to prep your chimney and get your fireplace ideas ready for winter.
1. Book a professional chimney sweep
When it comes to making sure that the inside of your chimney is fully swept and clear of soot and debris, booking a professional chimney sweep will ensure this is done to correct and safe standards.
Your chimney should be swept and inspected once, if not twice a year to make sure it is in perfect condition for use.
Jon Butterworth, Director at Arada Stoves states, 'try and sweep your chimney on a yearly basis, perhaps in the spring when it is out of use and then again before the winter. This will keep your flue or chimney clear and safe ahead of the colder months.'
Vicky Naylor, General Manager at ACR Stoves supports this and says, 'the chimney is always best swept in the spring or summer months so you are ready to use your fireplace as soon as the cooler weather arrives. Always make sure that your chimney is swept at least once a year to make sure there are no blockages or build up of soot.'
Whether you have a large, traditional chimney for an open-fire, or a flue for a more modern wood burner, booking a professional chimney sweep will ensure that these areas are properly inspected for damage and thoroughly maintained for a clean and safe space.
2. Clean your fireplace
Once you have had your chimney professionally swept, it's the time to do a big clean of your fireplace or stove so it is spick and span and ready for that first fire. Some tips to remember when cleaning:
Clean the bricks, stone or tiles that surround your fireplace to get rid of soot and dirt.
Clean the glass on your wood burner for flame visibility.
Sweep the inside of your stove or fireplace to get rid of old ash and soot.
Dispose of left over wood ash with household waste, or it can be recycled in a compost heap or soil patch.
Clean your fireside accessories so they are fresh and ready for use.
Fireplaces and stoves can get dirty very quickly, so regularly cleaning them when they are being frequently used in the winter months will keep them looking their best for years to come, as well as helping to make sure you have a healthy fire.
3. Gather your wood
When prepping a chimney for winter, making sure you have a plentiful supply of wood is an essential, assuming you are allowed to burn wood in your zone.
When deciding on what type of wood is best for your fire, Phil Wood at Contura states, 'never burn wet, treated, polished, varnished or oiled woods or waste woods such as pallets, furniture or fencing. Good quality hardwood species such as ash, oak, beech or birch will burn the cleanest and longest with a bright flame. Avoid soft woods such as pine, firs and cypress, which burn too quickly and produce more smoke.'
If you are cutting your own firewood instead of sourcing pre-cut logs from a supplier, ensure that the logs are cut to fit into your stove or fireplace perfectly.
Nic Snell, managing director of Certainly Wood says, 'if you are sourcing your own firewood to dry yourself, cut into 25cm lengths, split into 5-15cm diameter and store under cover with good airflow. Ash will need 12-18 months drying and oak nearer to 3 years. Use a moisture meter to ensure logs are below 20% before burning.'
4. Consider your log storage
Whether you want to create a bespoke log store outdoors, or are looking for wood burner ideas with built in storage, getting creative with your log storage ideas can help with organization, as well as establish an eye-catching focal point and design feature in a room.
From baskets, to crates and custom built wall niches, there are so many ways to store logs, both inside and outside of the home.
Having a larger log store outdoors, and smaller, decorative storage areas inside the home beside the fire, establishes the perfect balance between style and practicality.
5. Add the final finishing touches
Once your chimney has been swept, your fireplace cleaned and your logs gathered, adding some final decorative and comforting finishing touches can create an enhanced feeling of coziness.
From mantel decor ideas, to adding soft blankets, cushions and candles to your space, these simple additions are what can make a house a home, and can help to create a relaxing and inviting ambience when sat around the fire.
The fireplace or stove area is often the natural, lead focal point in a room, so when planning your cozy room ideas, using this space to get creative with displays and ornaments will only make the area around your fire more eye-catching and personal.
Do I need to clean my chimney before using it?
As we have explored, cleaning and learning how to prep your chimney is an essential part of making sure you have a safe and healthy fire in the home.
Booking in an annual clean and inspection – or two – as well as regularly cleaning your fireplace and its surroundings yourself, will make sure that your stove and fireplace are in proper working order and will last for years to come.
Zara joined Homes & Gardens in February 2022 as a Content Editor. After studying English Literature at University, she worked as an Ecommerce Website Editor, Content Writer and Buying Intern at multiple independent businesses within the luxury retail and lifestyle sectors. Her role at Homes & Gardens unites her love, experience and passion for the world of design and desire to create inspiring written content. She enjoys nothing more than discovering new trends, brands and products, whether that be in fashion, interior design or lifestyle.