Kitchen cabinet lighting ideas – 10 ways to add mood or task illumination
Fall for kitchen cabinet lighting ideas that can bring convenience or make a beautiful feature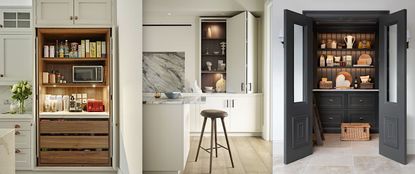 (Image credit: Future)
It's worth incorporating kitchen cabinet lighting ideas into a kitchen design. They can be part of the layers of illumination that make a kitchen a functional room in which to prepare food, but also allow a change of atmosphere for dining and welcoming guests.
Lighting kitchen cabinets can be a practical solution so it is easy to locate items when preparing and cooking food, but they can also make a display of items such as stemware or china in glass-fronted cabinets, so they're always worth considering as an element of your kitchen ideas.
We've collected lighting ideas for kitchen cabinets to inspire along with advice from experts that will assist in realizing its practical and aesthetic benefits.
Kitchen cabinet lighting ideas
Successful kitchen lighting ideas – and the scheme overall – include ambient or background lighting, task lighting, and feature or accent lighting, so when you are planning kitchen lighting, bear in mind that kitchen cabinet lighting ideas can act as task or as accent lighting.
1. Backlight the cabinets
To create an eye-catching feature for a kitchen, consider backlighting your kitchen cabinets, which will create a soft glow behind what's on show.
'With kitchens being the hub of our homes we design our furniture to be both highly functional and also to look beautiful both in the day and at night,' says Richard Moore, design director, Martin Moore.
'This cupboard not only provides capacious storage for wine glasses, wine, china and cutlery, but we have backed the piece with exquisite backlit faux onyx so it adds a sparkling focal point when guests gather for drinks and dinner.'
2. Change the mood with adjustable cabinet lighting
Like, kitchen wall lighting ideas, lights in kitchen cabinets can be used to create a subtle mood. So, think about selecting kitchen cabinet lighting ideas that allow fine adjustment. This SieMatic SLX PURE range kitchen has a sophisticated LED cabinet lighting system.
'The user can create a three-dimensional effect by changing the tone and brightness of the LED lighting system, which in turn also transforms the kitchen space atmosphere and mood,' explains Helena Myers, director of The Myers Touch.
3. Speed up the morning routine
Lighting inside a pantry cabinet can make the early morning routine in a family house a little smoother with cereal boxes and other breakfast favorites easy to grab and prepare.
'I suggest adding a sensor to the doors, so that when they open, the lights turn on and when not in use and the doors are closed, the lights automatically turn off,' says Allison Lynch, senior design consultant at Roundhouse.
4. Showcase stemware
Exploit kitchen cabinet lighting ideas for the storage for stemware. Lighting glass-fronted cabinets turns these essentials into a feature of the room as well as keeping them readily accessible, but free of dust. Glass shelves inside the cabinet allow the light to be transmitted from the top of the cabinet to the lower levels.
Follow the example shown here by specifying sufficient wall cabinets for this purpose to arrange glasses so they aren't crammed together.
5. Provide a beautiful backdrop
Consider the backdrop of the cabinetry that will be lit in your kitchen. Lighting can bring out the best in wood used within open-fronted cabinets, showing off its color, grain, and subtle sheen – in fact, these are great lighting ideas for small kitchens, enhancing space subtly by creating depth.
Equally, the lighting will highlight favorites in the room. 'Adding integrated mood lighting ensures your finest pieces are never forgotten, says Tom Howley, design director at the eponymous company. 'It also provides an alternative ambient light source when you're enjoying a romantic dinner or cocktails with friends.'
6. Put cabinet lighting on a separate switch
When you are working out the answer to the question, 'how much light does my kitchen need?', it's really worth considering that not all lights need to be on at the same time – and that your needs will change, depending on how you are using your kitchen. So, ensuring kitchen cabinetry lighting can be operated independently of other lighting in the room to enable changes of atmosphere when the space is being used for different purposes is vital.
'By putting the cabinetry lights on their own switch, you can turn off the ceiling lights and keep a lovely warm glow from within the cabinetry,' says Allison Lynch. 'There may be items on shelving that you want to showcase so lighting from above washing down a dresser unit is worth considering.'
7. Introduce illuminated niches
Modern kitchen lighting ideas allow for an element of surprise. Consider cabinets with illuminated niches as part of a kitchen design. They can take the place of shelving as a place for decorative display in the room.
'If you covet open shelving but don't want to sacrifice wall cupboards, another option is open compartments on the island,' says Charlie Smallbone, founder of Ledbury Studio. 'It's the best of both worlds, with open space to display pretty things combined with closed cupboards for storing less attractive essentials.
'In this kitchen I wanted the small niches on the island to make a big impact. To achieve this, LED lighting was built into the furniture to cast an even glow across what is being displayed. In my opinion, this gentle lighting effect really comes into its own when the other lights in the room are switched off. '
8. Expand the kitchen's dimensions with cabinet lighting
If a kitchen is relatively small, or the storage requirements large with extensive wall cabinetry required as part of the design, kitchen cabinet lighting ideas can be employed to make it appear larger. Wall cabinets with internal lighting will add visual depth to the room by providing a view right to the wall on which they are hung.
The golden rules in this scenario? Dedicate these cabinets to the most attractive pieces in the kitchen, which might include glasses, platters, and even cookbooks. Don't overfill them either to preserve an uncluttered view.
9. Illuminate a kitchen in a cabinet
A cabinet can contain an entire kitchen in a small home, or a contemporary open property where the kitchen is completely concealed when not in use, and here adequate cabinet lighting is essential.
For this 'secret' kitchen, the cabinet lighting is task illumination, allowing preparation and cooking to take place safely. The light source is reflected by the red glass backsplash, which boosts illumination levels for the counters below.
10. Let shelves shine
Lighting individual shelves can fufill a practical role. 'Kitchen cabinetry lighting is very important nowadays and is essential when designing a kitchen,' advises Allison Lynch. 'It's deemed as "task" lighting as it helps you to more easily find what you're looking for within the cabinet when working in the kitchen or pantry.'
In this pantry as well as making what's on display easily retrievable, the lighting creates a warm glow, drawing the eye to this feature of the room.
How do you light inside a cabinet?
LED light strips or puck lights are both excellent options to use inside a cabinet. Puck lights are small spotlights which can be mounted on a surface or recessed. They can be a good choice to create accent lighting, showcasing a display of glasses, or favorite china, for example. Strip lighting can perform the same task, but it's also an excellent way to illuminate the interior of a cabinet to allow you to locate items easily.
It's preferable that kitchen cabinet lighting is hardwired to create a seamless finish. An alternative is to consider battery-powered designs, which could be fitted without the need to call in a professional electrician.
Are LED lights good for kitchen cabinets?
How to choose kitchen lighting? LED lights are a good choice for kitchen cabinets. They are energy efficient, have a long lifespan, and don't get hot. Another advantage of LED lights is that they can be dimmed, making them ideal if your kitchen cabinet lighting is part of the room's feature lighting. They also come in different colors as well as white, which can make the room's lighting design more interesting when they're used for glass-fronted cabinets.
Sarah is a freelance journalist and editor. Previously executive editor of Ideal Home, she's specialized in interiors, property and gardens for over 20 years, and covers interior design, house design, gardens, and cleaning and organizing a home for H&G. She's written for websites, including Houzz, Channel 4's flagship website, 4Homes, and Future's T3; national newspapers, including The Guardian; and magazines including Future's Country Homes & Interiors, Homebuilding & Renovating, Period Living, and Style at Home, as well as House Beautiful, Good Homes, Grand Designs, Homes & Antiques, LandLove and The English Home among others. It's no big surprise that she likes to put what she writes about into practice, and is a serial house renovator.