Ranch-style houses – the ultimate guide to the look and how to get it
Everything you need to know about the iconic ranch-style house – inside and out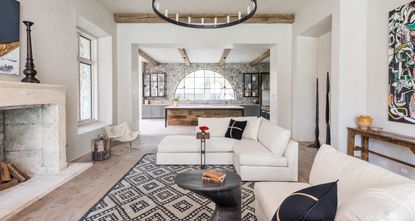 (Image credit: Darla Bankston May)
Sign up to the Homes & Gardens newsletter
Decor Ideas. Project Inspiration. Expert Advice. Delivered to your inbox.
Thank you for signing up to Homes & Gardens. You will receive a verification email shortly.
There was a problem. Please refresh the page and try again.
When you picture a ranch-style house, there's a good chance you envision a remote desert filled with wild horses, cowboys, and the occasional tumbleweed sighting. But, in reality? This American architecture genre has life beyond the wild west.
With a strong presence from coast to coast, ranch-style homes are loved for their versatility and flexibility.
If you want to get acquainted with this beloved architecture, we've broken down everything you need to know about ranch-style houses, inside and out.
See more: House Styles - the complete guide to architectural styles and eras
What makes a house ranch style?
It's not hard to identify a ranch-style house — you just need to know what you're looking for. While these residences come in various shapes, sizes, and styles, ranch style homes are typically defined as sprawling, low-slung structures.
Multi-storied ranch houses do exist, but you'll typically see this type of residence spanning across just one floor. The reason is simple: ranch house styles emphasize the delicate balance between indoor and outdoor living.
'I believe the popularity of ranch-style houses can be attributed to their rugged qualities and connection to nature,' explains designer Marie Flanigan.
'This genre of house evokes coziness and can be recreated in any area of the country by employing raw wood elements, textural fabrics, and expansive patio space.'
When did ranch style houses originate?
The ranch-style house has always been closely tied with American history. The architecture first became popular in the 1920s, as more and more people headed west. Not only were the single-story layouts and low-to-the ground silhouettes easy to maintain, but they also helped beat that grueling Southwestern heat.
Ranch homes dipped in popularity shortly after they burst onto the architecture scene; however, the style made a huge comeback as suburbs became more prominent. In fact, after World War II, nine out of 10 new residences were ranch-style houses.
It's been nearly a century since ranch-style houses were created, and the look is just as popular today as it was back then.
According to a recent study by Trulia, they're the most popular types of residences in 34 states. Ranch-style houses are oftentimes — but not always — more affordable than other abodes. Plus, since most homes don't require cumbersome stairs, they're ideal for family members of all ages.
'Today, they have maintained their popularity for several reasons,' says Liles Dunnigan of The Warehouse Interiors. 'First and foremost, they are ideal renovation candidates. They can be easily opened up inside by removing interior walls to create more of an open concept that is so desirable today. They also have very low simple roof lines that make additions easy to achieve.'
Types of ranch-style houses
Though the ranch house style seems simple, they offer plenty of variety. Deepen your knowledge of the architecture trend with these key categories:
1. The California Ranch
California-based architect Cliff May put the ranch house style on the map back in the early 1930s, and his take is still considered classic.
This tried-and-true type takes cues from the Arts and Crafts movement that reigned supreme well into the 1920s as well as Spanish colonial architecture.
Additionally, many California ranches have an L or U-shaped silhouette, deftly creating a designated courtyard space.
2. The Suburban Ranch
When World II ended, many families wanted to escape their hustling, bustling cities. And, with the rise of suburbs came the rise of suburban ranches.
While this type has many of the same features as a California ranch, but are usually smaller and have a simple silhouette. Think of it as a cul-de-sac-compatible alternative.
3. The Split-Level Ranch
Why settle for one floor when you can enjoy a few? Popular in the 1960s and 70s, split-level ranches stagger their square footage across three to four stories.
Dwellers might enter on one floor, but will need to go up or down a small flight of stairs to reach the den, garage, or bedrooms. The varying stories might be a far cry from the typical ranch house style, but they're great for families who want some privacy.
4. The Raised Ranch
Many people think split-level and raised ranches are the same thing, but the truth is these two styles have some noticeable differences.
While split-level ranches span across several stories, raised residences typically have a total of two floors, usually above and below the entryway.
Both options are departures from the status quo, but the streamlined floorplan makes this style feel more consistent with the classic California home.
Where are ranch-style homes most popular?
Ranch house style was initially created in the Southwest, but they have quickly spread to all across the United States of America.
'They are found throughout the US, from the Southwest to the East Coast; they are just different styles depending on what area of the country you are in,' Dunnigan explains.
'For example, California ranch-style houses are considerably larger in scale featuring vaulted ceilings and sunken rooms whereas the North Eastern versions can be much more closed off and feature more rigid floor plans.'
Additionally, in the Midwest, many people deck out their homes with basements. Not only can this addition make the most of their space – especially as they can't use their backyard in the colder months – but it can also act as protection against tornadoes.
What to look for in a the ranch-style house
Though ranch-style houses come in different shapes and sizes, they do have a few characteristics in common.
In addition to their low-slung – and often single-storied – floorplan, they also usually have a low-pitched roof, wide eaves, picture windows, and a designated porch or deck.
Since ranch-style homes are notorious for bridging the gap between indoor and outdoor living, you can also expect a sliding glass door in the backyard. And, like most modern homes, it's likely a ranch residence will also feature an attached garage.
Of course, those similarities don't stop with the exterior. Turns out, most ranch-style spaces boast an open-concept layout, giving dwellers the chance to craft their homes however they please.
'The main living areas are centrally located with bedrooms set further away and accessed by a long narrow hallway,' adds designer Darla Bankston May.
'The layout makes it easy to change the function of a room or to remodel in terms of tearing out walls to make a space larger or adding on to the structure of the house.'
How to decorate in ranch house style
Since ranch homes offer a lot of variety, there's no one way to decorate these residences. However, if you're looking for some fresh ways to dress up your home, check out these inspiring ideas.
1. Emphasize the open-concept
Want to get the most out of your space? Put your home's layout on full display. While an open-concept floorplan can give your home a light airy atmosphere, filling your place with room dividers or bookshelves can make it feel claustrophobic.
'Don't over clutter with too much furniture,' Bankston May says. 'When you have an open floorplan for your main living areas you want an easy flow between each space.'
If you want to create the illusion of separate rooms without compromising your home's airy reputation, break up the space with various rugs.
2. Pick a neutral palette
A paint color has the power to set the mood for your space, and since the ranch house style is typically open-concept, the hue you choose here is even more pressing.
If you want to keep your home airy, open layout at the forefront, stick with light and versatile neutrals. That said, there are more shades than a pristine white. From sandy beiges, to light greys, to a soothing blue, the options are virtually endless.
'When your living spaces are in one large room or adjacent and visible to another, you don't have to use the same color scheme in each room,' Bankston May recommends.
'An easy way to do this is to choose one or two colors that you repeat in each space. The color used on the dining chairs could be repeated in the pillows on the living room sofa.'
3. Select sleek silhouettes
Ultimately, your home's décor style should be a reflection of your personal taste.
However, if you're not sure which type of furniture works the best with the ranch house style, you can't go wrong with streamline silhouettes – especially those that pay homage to mid-century modernism.
Originated in the height of the 20th century – and currently making an indefinite comeback – mid-century modernism boasts slim, boxy silhouette and subdued color palettes.
Not only will this style keep your home on trend, but the slim silhouettes will create a lot of negative space, which will emphasize your home's layout.
4. Embrace the great outdoors
The ranch house style was designed to create a delicate balance between indoor and outdoor living, so your backyard should not be ignored.
Instead, treat your outdoor space like any other room in the house, complete with comfortable furniture, personable accents, and strategic lighting.
Sign up to the Homes & Gardens newsletter
Decor Ideas. Project Inspiration. Expert Advice. Delivered to your inbox.
Kelsey Mulvey is a New York-born, San Francisco-based freelance journalist who covers lifestyle and design content. She started her writing career while studying magazine journalism at Boston University, where her work was syndicated by top digital publications like USA Today and MSN. Upon graduation, Kelsey covered lifestyle content The Wall Street Journal, Off Duty and Business Insider. In 2017, Kelsey started her freelance journalism career, where she contributes to design publications like AD PRO, Elle Decor, Wallpaper*, and more. W