Saltbox house style – the ultimate guide
Everything you need to know about saltbox house style, and how to make yours your own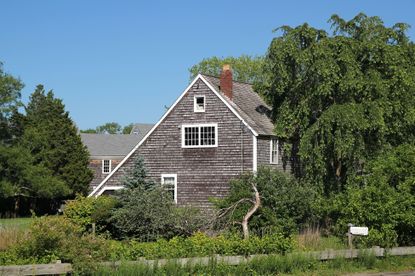 (Image credit: Alamy)
Whether you're looking for a new home or trying to find a chic Airbnb for a summer getaway, drive a few hours north up the Atlantic coast and by the time you've reached New England a familiar shape of home will start to line the streets of suburbia.
Saltbox homes date back to the earliest days of America, as colonial settlers began constructing these two-level homes to support their growing families and create a distinctive style for their way of living. Here, we take a closer look at this distinctive house style.
See: House styles – your complete guide to architectural styles and eras
What is a saltbox house?
Known for their flat front and symmetrical facade, saltbox homes go way back to the 1600s. A single chimney traditionally rises from the center of the home, which in the earlier days provided heat evenly throughout the whole home.
Today, the homes are considered more traditional than their modern counterparts, and commonly feature wood shingles on the exterior and painted shutters. On the interior, many saltbox homes have a more antique-forward design, with patterned wallpaper and exposed beams being common to show off the older models' history.
What does a saltbox style house look like?
Saltbox houses are typically two stories at the front, and one at the back, with a pitched roof with unequal sides. A saltbox house is flat at the front, with a central chimney.
The key feature in identifying a saltbox house is the sloped roof that slants down in the back to be just one story. These homes were originally designed this way both to increase the volume of the space as well as to meet a taxation loophole from the colonial restrictions of the 1600s that specified two-story homes would be taxed more than ranch style houses.
Saltbox-style homes were technically considered only one-story given the shape of the roof. The sloped roof is also said to have been developed so that the heavier snowfall in the northern states would slide off easier as it melted and create less of a weight burden for the rooftop.
Where are saltbox houses popular?
Saltbox houses are popular in New England today, but have always been well-regarded – in fact President John Adams was born in a saltbox house in Quincy, Massachusetts in 1735.
The style has remained popular for the centuries since inception because of the history and detail in every preserved home. There are several examples of meticulously cared for saltbox houses on the National Register of Historic Places.
The style has become so tied to New England culture that saltbox homes have also been created elsewhere to remind people of their northern vacation homes.
Where can saltbox houses be found?
Saltbox houses are most commonly found throughout New England, with the highest density being in Connecticut and Massachusetts. Additional examples can be found as far north as Labrador and Newfoundland in Canada.
Why is a saltbox house called a saltbox?
A saltbox house is so-called because it is named after the wooden salt containers from the colonial period.
How to decorate a saltbox house
The truth is, you can decorate a saltbox house the same way you would any reasonable home. There are ways to make it modern, and (more obvious) opportunities to go for a more traditional look. The important thing is to know what to look for when matching elements together.
1. Make the most of historical parts
Saltbox houses, especially the older ones, will have plenty of charming antiquities to highlight in any interior design. Older windows can be repainted and brought to life with a new shine and some upholstered pieces throughout the living room and dining room to let the history show.
Exposed ceiling beams can also create a more historic look, and rounded, weathered-looking beams won't have the same quality if you're pairing them with stainless steel appliances.
2. Clean lines can be a path to modern design
Because of the angular exterior, and therefore interior ceilings, of saltbox homes, building off these clean lines can leave room for juxtaposed modern furniture in the interior. Sure, the wooden shingles might need to be replaced with something more contemporary, or the exposed ceiling beams worn down to a straighter edge, but being bold with your interior design can pay dividends. Layer in bright colors with sharper edges for a modern look.
3. Match colors appropriately
With natural elements poking through the walls in most saltbox houses like wood paneling, wood-slat roofs, and central chimneys, be sure to pair the structural elements of the home with more natural, organic colors like earth tones and textures.
Timothy Latterner is a writer and editor living in New York City. His work has appeared in GQ, Conde Nast Traveler, Playboy, Vice, and Architectural Digest, where he also worked as the local news editor. He typically covers all things design, travel, and pop culture.