5 colors you should never paint a small bedroom – and the shades you should use instead
Color experts let us know which are no-go shades when it comes to decorating a small bedroom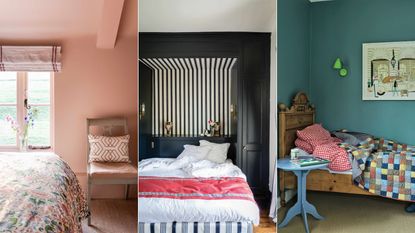 (Image credit: Farrow & Ball)
Sign up to the Homes & Gardens newsletter
Decor Ideas. Project Inspiration. Expert Advice. Delivered to your inbox.
Thank you for signing up to Homes & Gardens. You will receive a verification email shortly.
There was a problem. Please refresh the page and try again.
Small bedrooms can be so tricky to decorate. There are so many rules – should you try and make it feel larger and lighter, or embrace the tiny proportions and go for cozy and snug? A lot of these rules surround color, and it makes sense, color is probably the biggest design decision you make when decorating a room and it can make or break a space. It's important to get your color choices right.
There are endless options to choose from, so we asked color experts to let us know what colors won't work in a small bedroom or more specifically what colors are harder to work within a small bedroom. And if you have fallen for one of these colors already? Don't worry, we do have plenty of suggestions on how to embrace all these shades too...
5 colors to avoid in a small bedroom
'Whatever its size, your bedroom is a place where you must feel comfortable and where you can easily wind down. What colors achieve this best will vary for everyone, but there are some shades that tend to work better than others.' says Patrick O'Donnell of Farrow & Ball. So let's find out what bedroom colors to use with caution...
1. Bright whites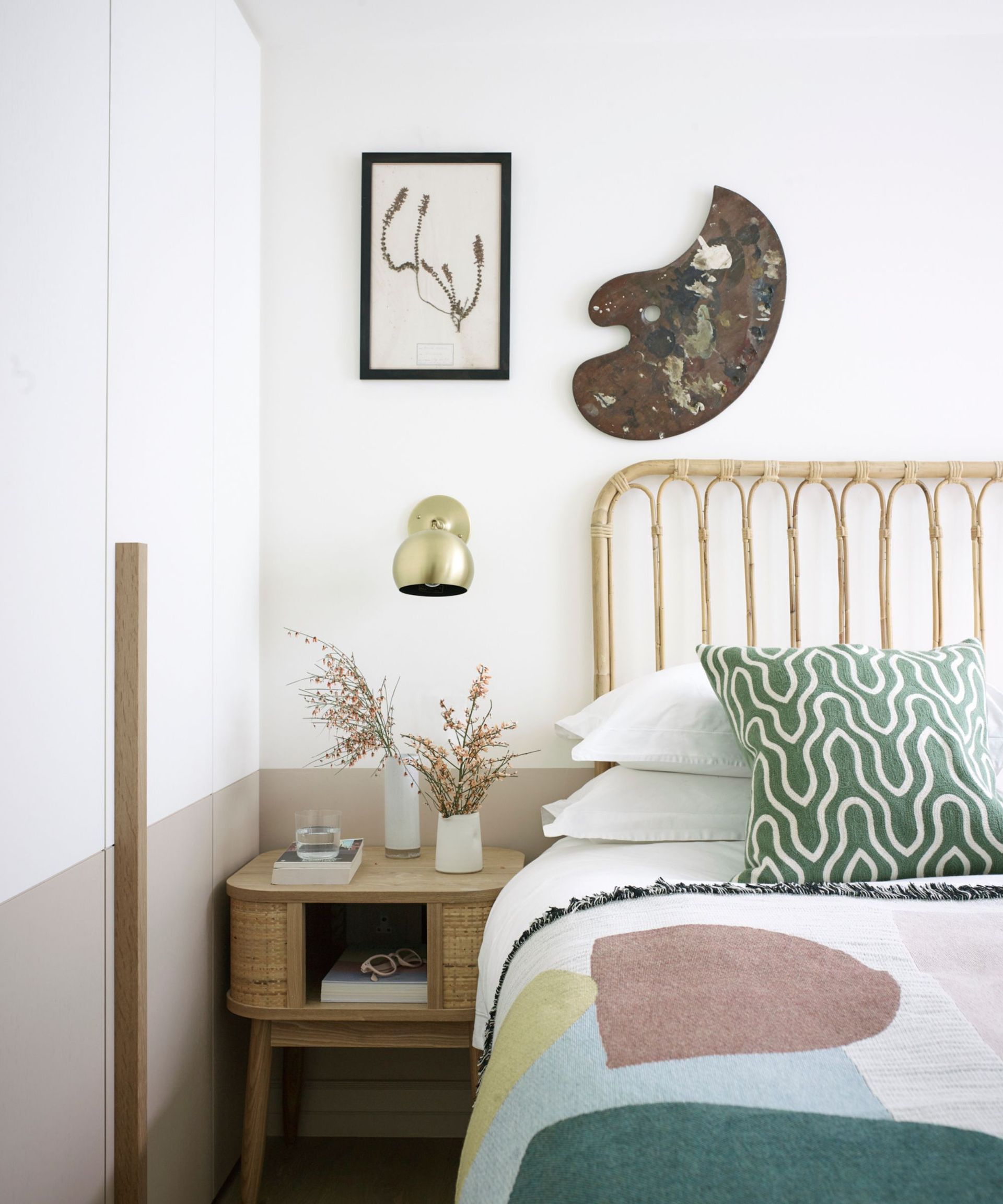 Avoiding white? In a small bedroom? But white is meant to be the color to use in tiny spaces right? Well, actually, in its purest, brightest form, white can be a harsh color and make a small space look stark and clinical.
'If you're looking for a clean, minimalist look, you might want to go for white – but avoid one that is too harsh, especially if your space is both small and poorly lit as it might make the room look boxy with very visible corners,' suggests Patrick O'Donnell. 'Warm-based neutrals with elements of red or yellow, like Joa's White or Setting Plaster, would be better suited to create a light, yet soft and cozy atmosphere if your bedroom is on the smaller side.'
If you are taken with the idea of a white bedroom, be inspired by this space, and as Partick advises, keep the whites on the warm side or pair with a warmer neutral, and fill the room with plenty of textures too to soften the space.
2. Vivid reds
Red comes up a lot when we speak with color experts on 'colors to avoid'. It's not the easiest color to work with since in any form it's bold and vivid. In a small bedroom, there is the risk that it will totally overwhelm the room, and make it feel very claustrophobic and intense. Far from the serene and calming vibes you want in a bedroom.
'In small bedrooms, red should be handled carefully as a vivid red is known to agitate people for long periods of time. Its vibrant intensity could be too much for those of you who want to relax. For a calming and warming hue, deep burgundy or rich berry work best at creating a comforting effect,' suggest Emma Bestley, co-founder & creative director for YesColours.
See how red is used in this bedroom. It's more on the terracotta side of red, a more softer and more livable color than a primary shade. It's also got a chalky matte finish, which again softens the walls and makes it feel cozy and inviting. Finally, notice how it's taken onto the skirting boards and over the woodwork too, there's no high contrast with a white ceiling and architraves. This is how to do red as a small bedroom color.
3. Primary yellows
'Your bedroom should be your sanctuary. When you're limited with space you want to make the best of it. We always avoid tones of orange and yellow on floors and brighter tones of those colors on walls. Bright yellow takes energy and strains the eye over time. It can actually be stress-inducing and tiring, which is not something you want to experience when trying to relax! Plus, these colors tend to be harder to match with other wood tones and are often reminiscent of high school team colors and drive-thru restaurants,' explains Jennifer Walter, founder of Folding Chair Design.
Designer Anne Marie Cousins agrees that 'It's best to avoid brights like yellow and orange, as they're too stimulating and just too much in a space where you can't use neutrals or tethering colors (like navy, grey or similar) to balance them. The odd splash of invigorating color is great, but color-washing the walls with these super bright colors is to be avoided in a small bedroom.'
Yellow can work in a small bedroom if you stick with more muted, mustard yellow. And break it up by using a yellow bedroom wallpaper rather than a solid wall of paint. The stripe used as a feature wall in this space works perfectly, warming the room and enhancing the height (always a good idea when floor space is lacking).
4.Bright pinks
Noticing a theme here? A lot of these colors are bold shades from the warmer side of the color wheel. Blues and greens are known to be perfect bedroom colors, they are the best colors for sleep and always create a soothing space, no matter what size you are dealing with. But these hotter, more vivid shades like pinks, reds, yellows, and oranges are likely to be too intense in a small bedroom.
'Energising and stimulating colors, like bold pink, are risky choices for a small bedroom. These daring hues can create sensory overload, which doesn't work well in a space where relaxation and rest are key. A light, dusty pink shade, with red-blush undertones works well in small bedrooms to bring a relaxed and calmful vibe helping you unwind,' suggests Flora Hogg, interior design consultant at Craig & Rose Paints.
5. True black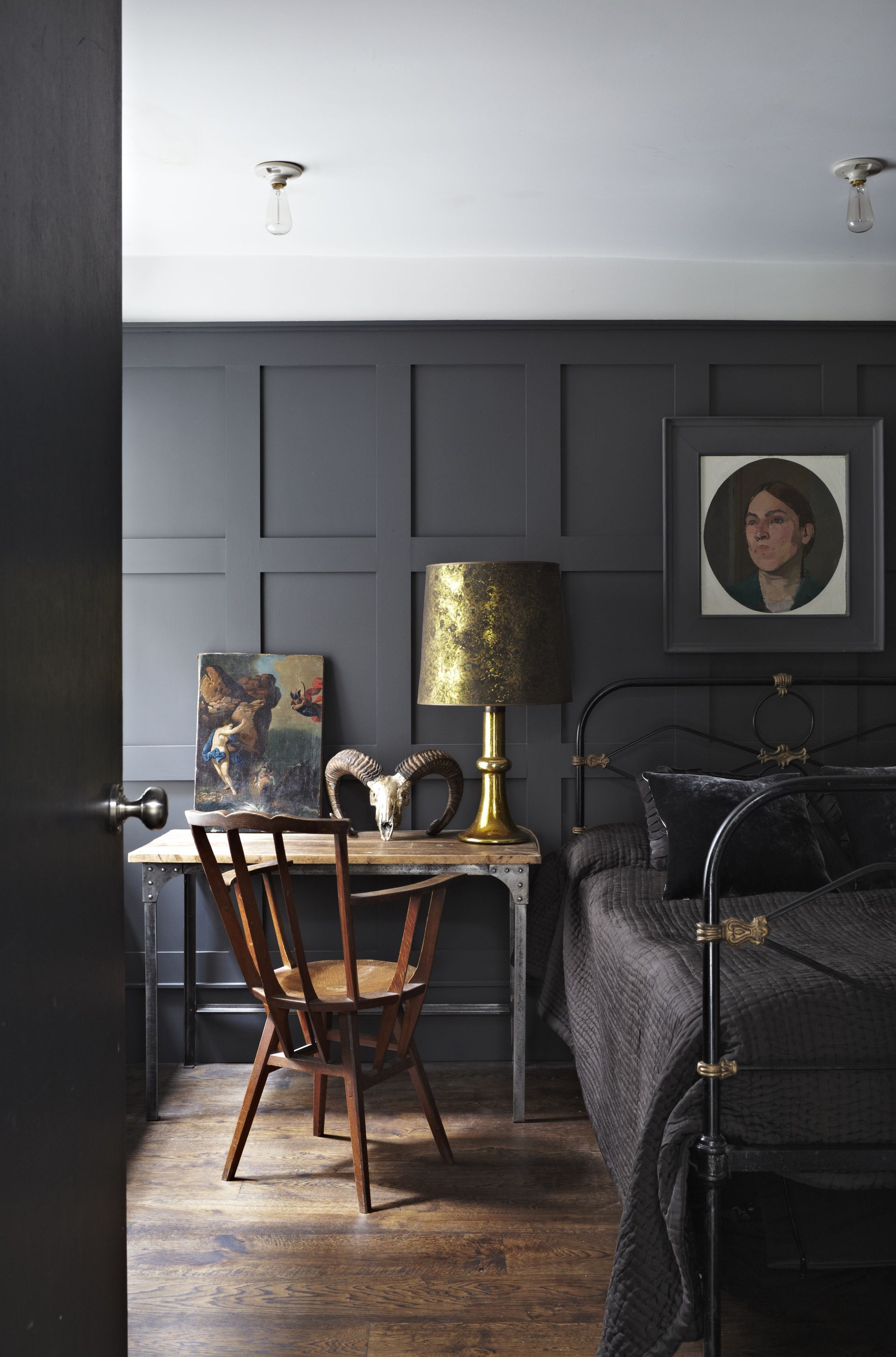 Black in its darkest, truest form is a color to be avoided in a small bedroom. It's a color to be avoided in any bedroom. Even if you do want to embrace darker shades in a small bedroom, you never want the space to feel cave-like. Steer clear of black that doesn't have undertones of any other color, what you want to be looking out for instead is blue/blacks, deep charcoal greys, or for a warmer look really deep moody browns.
'For a bolder style, dark and moody inky tones such as Hague Blue or Railings from Farrow & Ball are great options. Black bedrooms may seem a rather dramatic departure from the perceived norm, but it can be a surprisingly successful option as darker walls tend to recede. For a fully immersive color experience, paint your woodwork in the same color, especially if the bedroom has quite low ceilings as this will help accentuate its height,' suggests Patrick.
FAQs
What colors make a small bedroom look bigger?
There are two options here. The safe bet is that lighter colors like warmer whites, light greys, and pale blues are always going to make a small bedroom look loftier. However, if the room is lacking in light as well as square footage, you could embrace a darker color scheme. Taking a darker shade over all the walls and woodwork (and ceiling if you are feeling brave) can blur the boundaries of the room and make the space appear larger.
Can dark colors ever work in a small bedroom?
'Dark colors might instinctively be colors to avoid if you are looking to create a feeling of space, as people fear making their room look smaller, but I love to embrace small spaces and make them feel intimate and cozy, and rich dark colors are wonderful for creating a comforting cocooning feeling,' advises Ruth Mottershead, creative director at Little Greene.
'Very deep shades of blues, dark greys, and fathomless greens have an almost bottomless depth that our eyes find hard to focus on – and thus create a sense of a wall being further away than it actually is. It's also important to not forget the type of finish: glossier finishes such as our 'Intelligent Gloss' are perfect for use in smaller rooms, as they will reflect the light, helping the space look bigger.'
Sign up to the Homes & Gardens newsletter
Decor Ideas. Project Inspiration. Expert Advice. Delivered to your inbox.