Bedroom wallpaper trends – 10 latest looks for bedroom wallpaper
These bedroom wallpaper trends, from florals and botanicals to abstract and tribal, are the very latest styles to grace our walls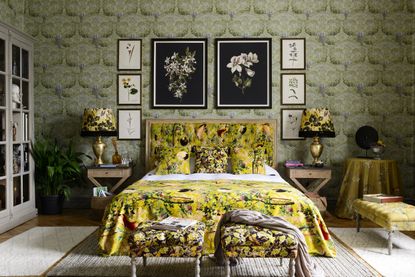 (Image credit: Mindthegap)
When it comes to bedroom wallpaper trends, things are certainly looking serene, tranquil and calming. And it's no surprise considering the tumultuous period we've experienced recently.
Beautiful botanicals, soporific hues and Japandi influences are three trends that work to create a reposeful retreat – and are a great place to start if you are looking for restful bedroom wallpaper ideas.
Abby Hesketh, Color Expert at Graham & Brown, says: 'In a space as personal as the bedroom it is important to choose colors that are reflective of your personality. That being said we are expecting to see more blues and greens creeping into the bedroom color scheme. This is because green is generally considered the most restful color for the eye and is associated with the calming qualities of nature.'
Lyndsay Snodgrass, an expert on wallpaper trends over at Lime Lace, agrees that green is big into 2022, as well as plenty of florals, saying: 'Bedroom décor is such a personal thing. Some people opt for dark and cozy, a place to curl up and feel safe, others prefer a to create a light and airy sanctuary.
'When it comes to bedroom wallpaper trends, floral and botanical prints are going to be even bigger in 2022. There are so many fabulous designs to choose from in both light and dark color schemes. We personally love shades of green as it can bring a sense of relaxing calm and serenity to your space. Psychologists say that the color green can convey a feeling of being safe and secure – perfect for promoting a good night's sleep.'
However, if you're more of a maximalist, bolder colors that spark joy are also making an appearance in bedroom wallpaper trends – as we show below.
Bedroom wallpaper trends
Bedroom trends, not just for wallpaper ideas, come and go, so it's always worth bearing in mind that this most personal of space should be decorated for you alone, whether it's fashionable or not. The bedroom wallpaper trends below are this year's hottest looks – but we've carefully chosen only timeless, classic designs that won't date.
1. Hit the ceiling
Before we even begin to talk about bedroom wall decor ideas, we're going to talk about the biggest and most surprising of bedroom wallpaper trends to become really popular – again – in the past few months.
Yes, using the ceiling to add pattern or color is very fashionable.
'In most rooms, the ceiling is a surface that is often overlooked, but when highlighted with wallpaper or paint, the eye is drawn upward, unlocking the full potential of the room, which is incredibly important in a room where we spend a lot of time looking upwards,' says Paula Taylor, Head Stylist and Trend Specialist at Graham & Brown.
'A single plane of uninterrupted color is extremely soothing to the eye; dark tones create the illusion of infinite space and add a touch of drama; warm hues on the walls and ceiling work well in south-facing rooms, absorbing and reflecting golden evening light for a rich cloak of enveloping warmth.'
2. Blue and green should be seen
Bedroom wallpaper trends are largely dominated by the colors of nature in 2022. And for good reason: green and blue evoke a sense of calm and security when used in interior design, and are both perfect for the bedroom.
Abby Hesketh, Color Expert at Graham & Brown, says: 'Green symbolizes growth, harmony, freshness, and generally makes people feel emotionally safe. We know that introducing elements of nature within the home improves mental health so using green can increase positivity and wellbeing.
'Similarly, blue is among the most calming colors as it relaxes the mind and even slows down heart rate and blood pressure. Lighter shades of blue are linked to tranquillity, bliss, and healing whilst a deeper shade of blue will evoke feelings of elegance, wisdom and courage. The color blue creates an oasis of calm and serenity in an otherwise demanding and hectic world.'
3. Stylish sage
If there's one particular shade of green you should use, make it sage. 'One of the current bedroom wallpaper trends that everyone can't get enough of is the color sage green,' says Amy Hillary, interiors expert at Wall Sauce. 'A hue that evokes images of the outdoors, this tone of green is perfect for creating a sense of stillness and serenity in your pretty boudoir.
'Because this tone is subtle, it means that you can go big and bold with green bedroom accent wall ideas rather than just a repeat pattern wallpaper. From abstract watercolor florals, stylish terrazzos, exotic jungles with a Chinoiserie twist and vintage botanicals designed by the renowned Morris & Co.'
4. Country cottagecore
As well as sage green, the cottagecore trend continues to be a firm favorite when it comes to bedroom wallpaper trends.
'It's all about embracing the outdoors by incorporating natural elements into the room such as a flower wallpaper,' says Amy Hillary. 'Stick to neutral and calming tones so that there is a natural feel to the wallpaper rather than bold and bright shades.'
5. Marvel at marble
As well as beautiful botanicals, nature-inspired wallpaper of all kinds is having a moment.
Connor Prestwood, interior designer at home décor brand Dowsing & Reynolds, says: 'More of us are making conscious efforts to becoming sustainable and living a greener life, and this paired with findings into biophilia's positive impact on our mental wellbeing, we're seeing increases in homeowners bringing greenery and natural textures into their homes.
'The bedroom in particular is a place where we see these bedroom wallpaper trends the most. As it's a place we relax in, it's only natural to want to connect with nature and create a place in which to retreat and recharge, often using botanical and even marble stone-effect wallpapers.'
6. Tropic like it's hot
One for fans of bolder hues, the botanical trend doesn't have to stick to a pared-back cottagecore style. If you're looking for something more vibrant, then tropical botanicals are a great inspiration.
'Tropical, botanical and jungle-esque wallpaper patterns are finding their way into our homes and I believe this is down to our current state of living, says Connor Prestwood. 'I advise people to choose décor that connects with them personally, rather than following trends too rigidly. But jungle-themed prints are certainly popular; perhaps our minds are subconsciously reaching for that holiday we've all been missing out on the past year.'
Abundant with forests, leaf motifs, jungle and palm spring vibes, these prints featuring exotic plants, animals and birds are perfect for bringing the outside in and creating a haven of paradise in your own home.
7. Go wild
Another of the braver bedroom wallpaper trends that will appeal to maximalists is the allure of animal print.
Lucy St George, Co-founder of Rockett St George, says: 'Wild animal print wallpapers made a comeback a few years ago and the trend has continued to appear in homes in unique and unexpected ways; perfect for the maximalists among us. You can use a printed wallpaper on every wall, to line your chest of drawers or even on the ceiling to create a contrast between your chosen wall color.'
8. Renaissance-inspired florals
Make a bold statement with Renaissance-style florals for an impactful aesthetic that also harnesses the joy of nature in a vibrant way.
'Renaissance-inspired supersized florals are a dark, romantic and dramatic backdrop, which add immediate impact and personality to your rooms,' says Connor Prestwood. 'One for the brave!'
9. Statement murals
An easy trend to make a big impact, wallpaper murals are the new feature wall. And you can choose from almost any scene you like.
Connor Prestwood says: 'Very popular at the moment, murals come in all kinds of beautiful styles – from architecture and trompe l'oeil effects to dramatic florals, metropolitan city skylines and misty landscapes.'
10. Tribal influences and abstract prints
Abstract is a wallpaper trend that allows you to easily add pattern and color to your space.
A micro-trend in the abstract category are beautiful tribal influences, and a more graphic animal print trend, with a cool and exotic Zebra prints (above) emerging as funky yet stylish options.
Connor Prestwood says: 'These are the statement makers. The ones that form the beginnings of your room's theme and usually work best if you have simple furniture in uncomplicated shapes and patterns.'
Sign up to the Homes & Gardens newsletter
Decor Ideas. Project Inspiration. Expert Advice. Delivered to your inbox.
Ruth Doherty is an experienced digital writer and editor specializing in interiors, travel and lifestyle. With 20 years of writing for national sites under her belt, she's worked for the likes of Livingetc.com, Standard, Ideal Home, Stylist and Marie Claire as well as Homes & Gardens.