Do low beds make a bedroom look bigger? 5 expert tips on getting bedroom furniture height right in a small space
Get in the know about furniture height and make a small bedroom feel bigger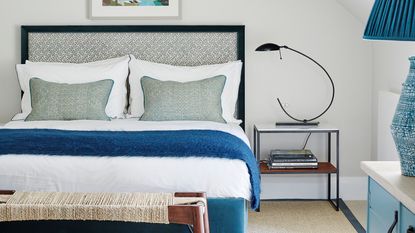 (Image credit: Future PLC)
Short on space? Then you might well have asked: do low beds make a bedroom look bigger? Creating the illusion of extra square footage is always a worthwhile goal.
And it's not just the bed you should focus on as part of small bedroom ideas. While small room bed ideas are likely to be your number one consideration since the bed is the major feature of the room, the height of other bedroom furniture is also crucial to making a small room feel larger.
We asked interior designers to share whether low beds make a bedroom look bigger plus their advice on getting the right height when selecting the remainder of the bedroom furniture, and this is what they told us.
Do low beds make a bedroom look bigger?
A low bed can be one of the ways to make a small bedroom look bigger. 'The height of furniture plays a crucial role in determining the look and feel of the room,' says interior designer Artem Kropovinsky of Arsight. In other words, the bed counts but you should also think about the other furniture choices as their height can also influence how spacious the bedroom feels.
These are the interior design tips you need on getting bedroom furniture height right in a small space.
1. Pick the right bed height for a small bedroom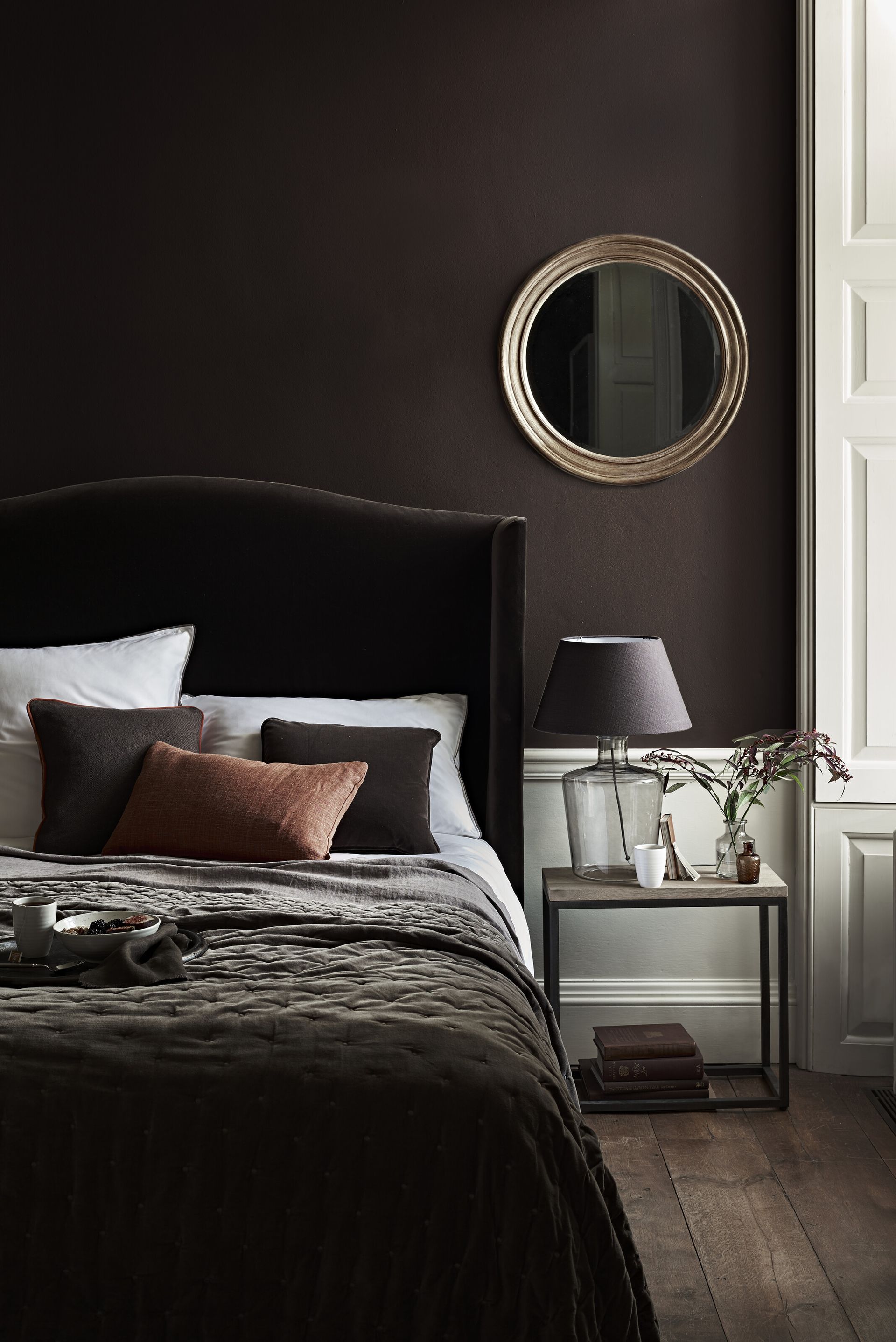 A low bed can be transformative in a small bedroom. 'Opting for low beds can make the room appear more spacious and open, especially if the ceilings are high or the room has large windows,' explains Artem Kropovinsky. 'Additionally, low beds create a warm and cozy ambiance that encourages relaxation.' What's also crucial? 'It's essential to balance the style, color, and shape of the bed frame, bedding, and accessories with the low bed,' he says.
Bear in mind bed frame types when choosing beds for small rooms, however. 'In a small room it's less about the height of the headboard and more about the height of the footboard,' says Sarah Kruse, interior designer and founder of Storie. 'Ideally, there is no footboard on a bed in a small room, making it easy to navigate around the bed without bumping knees, and to visually keep the height in the center of the room as low as possible.'
Think about the mattress, too. 'In terms of the height of the mattress, I would also keep this under 24 inches high in a small room, again keeping the visual height in the center of the room low and allowing you to have height on the walls around (taller headboard, large scale artwork, etc),' says Sarah. 'Just because a room is small, doesn't mean all items in it need to be small as well. It's all about where you incorporate larger-scale items – ideally on the walls. In a tighter Manhattan guest room (see below) we still used a tall headboard, but kept the rest of the room low visually.'
2. Select nightstands to complement a low bed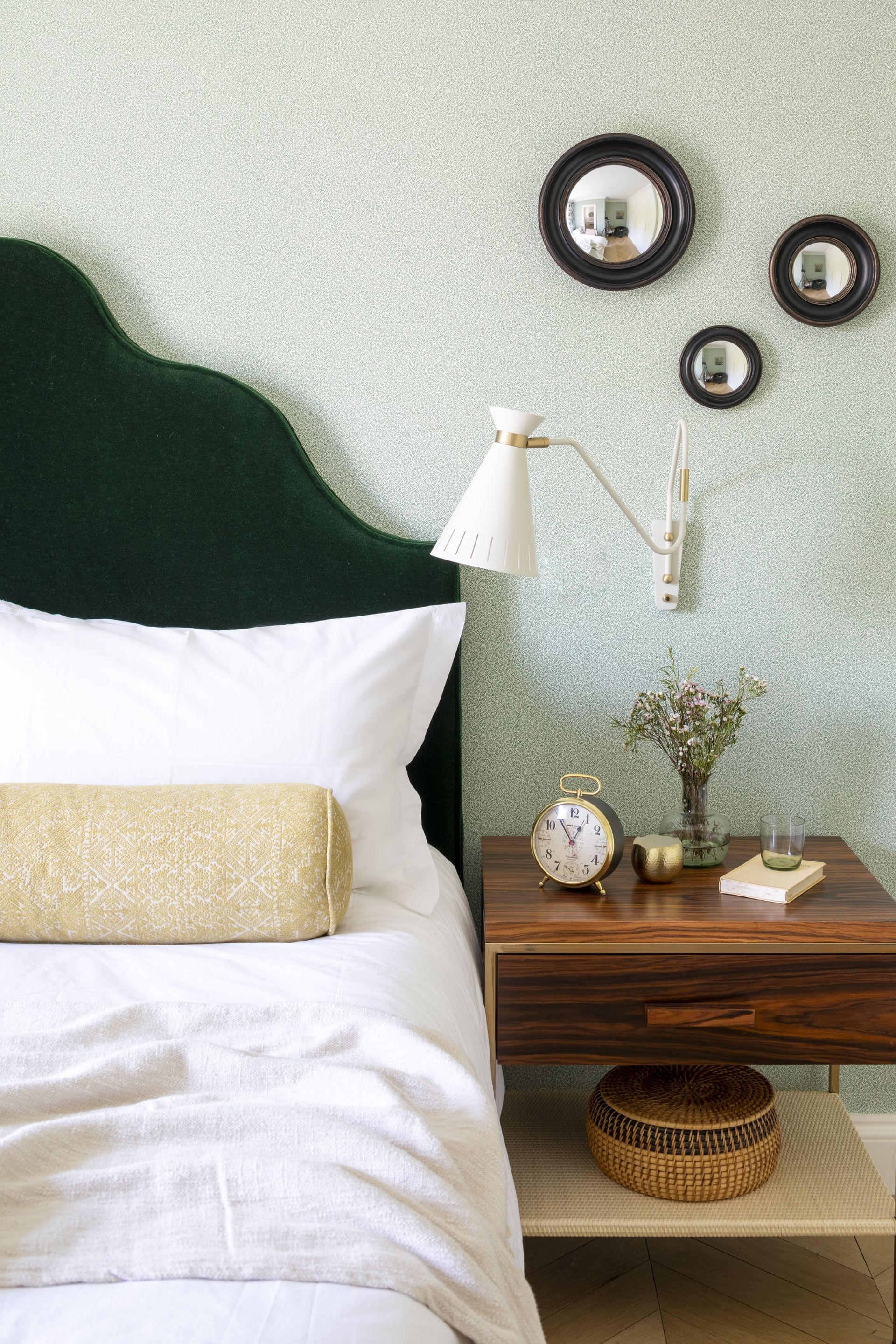 Opting for a low bed? Think balance and convenience when it comes to nightstands. 'Pairing low beds with low nightstands that match the mattress height or are slightly higher is recommended,' says Artem Kropovinsky.
You might also want to focus on the lighting. 'Wall-mounted lamps or pendant lights are preferable to table lamps, as they save space on nightstands,' he says.
3. Think dresser height in a small bedroom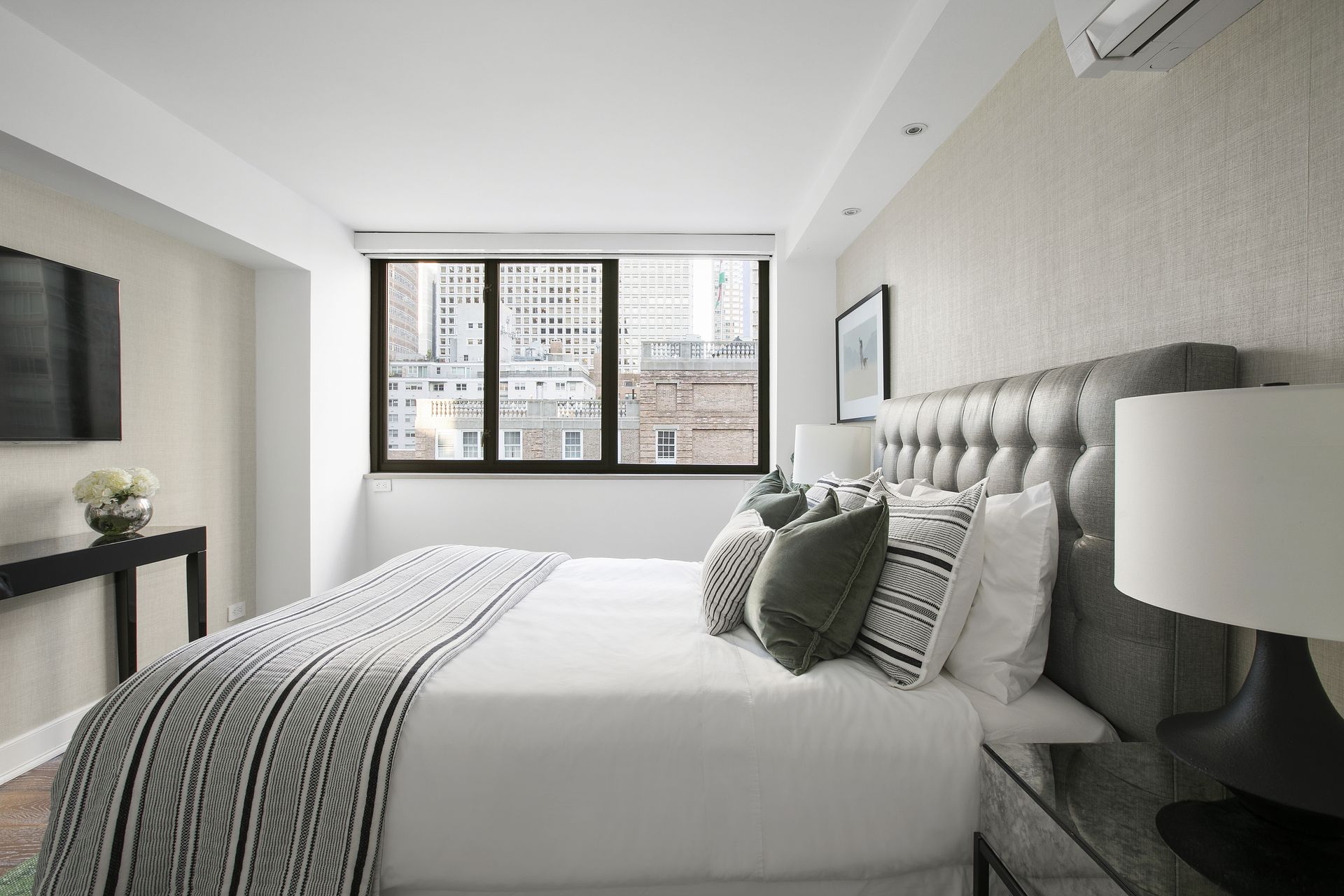 Consider the dresser, in addition, to getting the bedroom furniture height right in a small space. 'Tall dressers should be avoided as they overpower the bed and block natural light,' says Artem Kropovinsky. 'Dressers should be positioned below or at eye level when standing up.'
Be aware, however, that height isn't the only aspect of the dresser's dimensions that's key. 'It is also important to think about the density of furniture in a small room,' says Sarah Kruse. 'Even if a dresser is not tall, if it is bulky visually in a small room it will make the space feel cramped.'
4. Try a slim console
As Sarah Kruse explained, above, it's the center of the room where furniture should be low. Some furniture for a small bedroom can be taller to create variation and interest.
'In this room (above) we used a console under the TV to keep it light and airy, and then incorporated drawers in the closet to store clothing,' says Sarah. While the console is higher than the mattress area of the bed, situated against a wall it doesn't visually shrink the room.
5. Consider leg height
Furniture can be designed with slim legs that elevate the pieces above floor level – such as midcentury modern style. Since it leaves more of the floor on show, it can help a small bedroom feel bigger, but you might be concerned that it will make items such as the bed, nightstands, and dresser too tall.
The answer? 'Midcentury modern furniture can be a good choice for a small bedroom, but be sure to focus on the leg height when choosing individual pieces,' says Lucy Searle, global editor in chief, Homes & Gardens. 'Select those where the legs keep furniture height overall low, but still leave the area underneath open for an airy, spacious effect.'
FAQs
Is it good to have a low bed frame?
A low bed frame can be a great choice in a number of situations. It can make a small room feel bigger than it really is, leaving maximum open space above the bed. A design without a footboard is preferable although you can still opt for a high headboard since this is against a wall. A low platform bed frame can also create a modern aesthetic, so it can be a sound choice for a contemporary style.
However, be mindful that a low bed frame can make access to the bed difficult for some sleepers who find it difficult to get into and leave because it is nearer to the floor level.
Why should beds be off the ground?
Beds should be off the ground to ensure the best mattress is comfortable, stays hygienic, and lasts as long as possible. The mattress should be positioned above the floor either on a slatted platform or a box spring on the bed frame. Always check which is the case when purchasing a bed frame and be sure, too, that the mattress is suitable for the particular bed frame type.
Sign up to the Homes & Gardens newsletter
Decor Ideas. Project Inspiration. Expert Advice. Delivered to your inbox.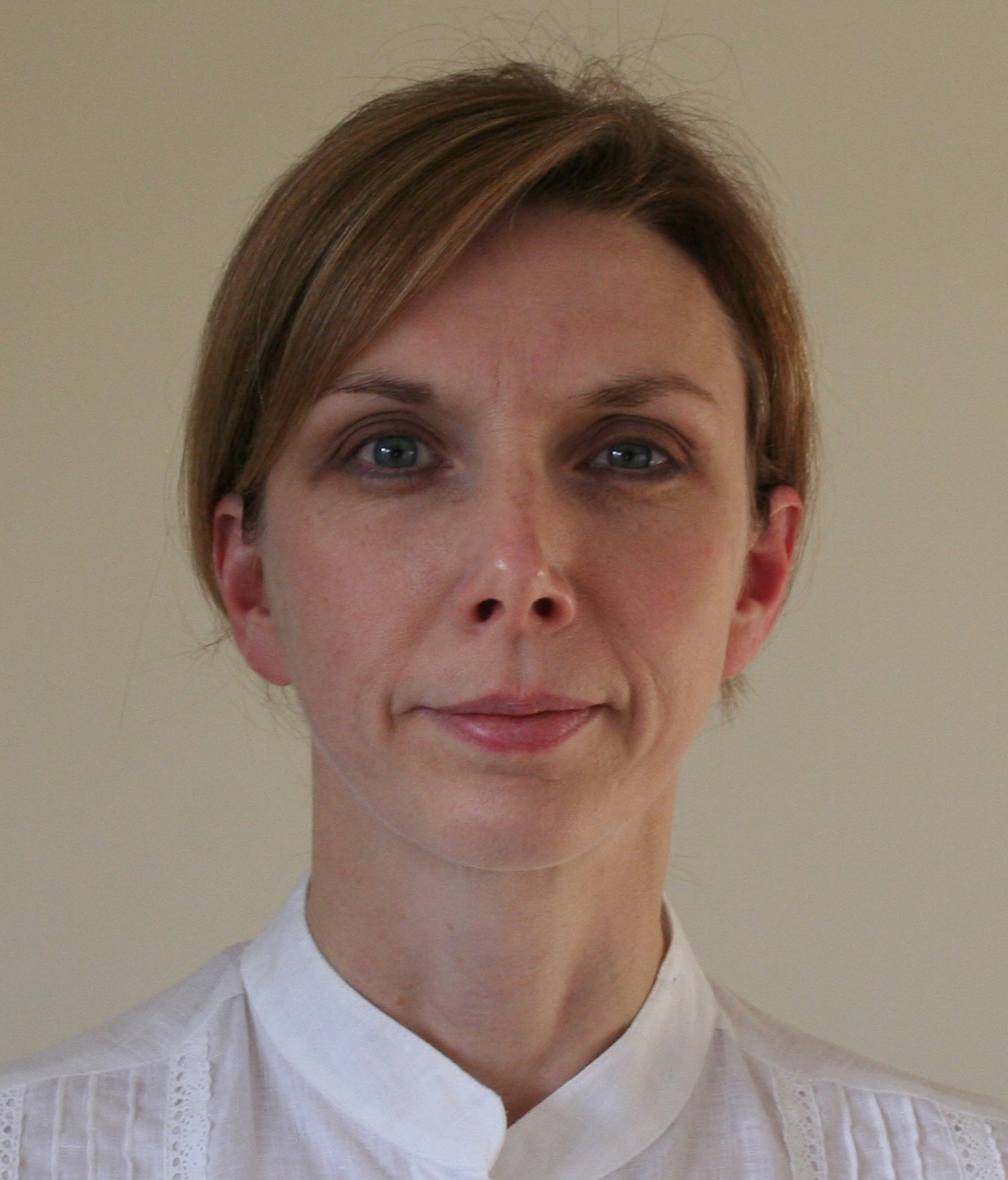 Sarah is a freelance journalist and editor. Previously executive editor of Ideal Home, she's specialized in interiors, property and gardens for over 20 years, and covers interior design, house design, gardens, and cleaning and organizing a home for H&G. She's written for websites, including Houzz, Channel 4's flagship website, 4Homes, and Future's T3; national newspapers, including The Guardian; and magazines including Future's Country Homes & Interiors, Homebuilding & Renovating, Period Living, and Style at Home, as well as House Beautiful, Good Homes, Grand Designs, Homes & Antiques, LandLove and The English Home among others. It's no big surprise that she likes to put what she writes about into practice, and is a serial house renovator.