How deep should a closet be? The optimum dimensions for a bespoke wardrobe, according to experts
Experts reveal the optimum closet depth dimensions for a perfectly designed custom wardrobe...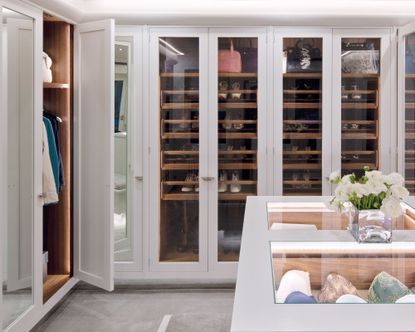 (Image credit: Smallbone)
'How deep should a closet be?' is probably one of the first questions you'll ask when designing your new walk-in closet ideas.
There are many elements to consider when creating a bespoke wardrobe space, from closet storage ideas to closet door ideas. But depth, and the way the closet works for you practically, are particularly important to ensure it's optimized for your clothing collection and your lifestyle.
'Custom closets provide a host of benefits, but most importantly they are built to your needs and dimensions so there are no wasted components, and space is used most efficiently,' says Jordan Marks and Cheryl Arzewski, co-owners of premier organizational design firm IT'S ORGANIZED. (opens in new tab) 'If you have a large jewelry or shoe collection, or prefer to hang vs fold, a custom closet is designed specifically for you.
'Custom closets are also beautiful reflections of your style and how you like to display your clothes, and can add a significant resale value to any home.'
How deep should a closet be?
'The first thing you should do is take inventory of what you have and how often you use them,' says Alice Arterberry, Principal at Arterberry Cooke Architecture (opens in new tab). 'If you have a lot of sweaters that only get used in the winter or love socks, you will want to make sure you have drawers.'
Jordan Marks and Cheryl Arzewski also agree that pre-planning is key, adding: 'We always take a complete inventory of our client's closets prior to design so we can customize the sizing of all closet components. This will include measuring the linear width and height of all hang, and counting the number of shoes; flats, heels, and boots.
'In addition, it's important to know how you like to store items. For example, some clients prefer to hang jeans, T-shirts, and other casual items, so these requirements need to be accommodated as well.'
How deep should closet hanging space be?
'For reach-in closets, 26 inches is ideal for the closet depth and 12-14 inches deep shelving,' says Alice Arterberry. 'Walk-in closets' shelves should be 18-24 inches deep. Shoe cubby shelving should be 12 inches deep.'
Jordan Marks and Cheryl Arzewski suggest very similar numbers, explaining: 'Hanging clothing usually takes up 23-24 inches of depth. If you are placing doors in front of the hang, a minimum of 24 inches of interior space is required so the doors close comfortably.
'If you're planning on putting hanging in the corners of your closet, be sure to leave a little space between the components on the adjacent wall so you can access your clothes.'
How deep should closet shelving space be?
Your shelving space is where your folded clothes and shoes will live. But how deep should your closet shelving be, and how much space do you need to leave between shelving?
'For clothes shelving, 14-16 inches is a great depth, so items don't get lost in the back. The span of the shelf is often maximized for the greatest storage.
'We also consider the heights of the shelves so clothing is not piled too high and easy to access. We prefer adjustable shelving to provide flexibility for storing all your items.'
Alice Arterberry suggests that 'folded clothes shelving should be spaced every 12 inches'.
'For shoe shelving, we like to use shallow shelves so you can see what is placed there,' continues Jordan and Cheryl. 'A good rule of thumb is to measure the size of our client's shoes to accommodate their needs. Traditional shoe shelves are 14 inches deep, as they accommodate most shoe sizes.'
And how much space should you leave between shoe shelving? 'Shoe shelving should be spaced every 10-12 inches with a few shelves, at the top or bottom, double spaced at 24 inches for taller shoes like boots,' explains Alice Arterberry.
And what about shelving with hanging space below? Alice says: 'Regular shelves with single hanging below should be 72-84 inches above the finished floor (or millwork base), allowing for the rod below to be at least 70 inches above the floor for longer clothes like gowns.
'Shelves with double hang: the top shelf should be at least 84 inches above the finish floor, and the bottom shelf should be 42 inches above the finish floor. This will allow for the bar to have at least 40 inches clear.'
She continues: 'If you are mixing single and double hang in your closet, put all the top shelves, including the single hang, at 84 inches for a cleaner, more organized layout. Give 2 inches clear from the shelf to add the bar below.'
Alice also notes: 'Heights will vary a bit depending on how tall your ceilings are and how tall your reach is.'
What are the practical tips to consider when designing a closet?
As well as how deep a closet should be, there are a few other top tips you should consider when creating your dream closet.
Work out who has more to store: 'Shared spaces are rarely shared equally so it's a good idea to determine who has the larger collection and keep the respective inventory together when designing the space,' says Cheryl Arzewski and Jordan Marks, co-owners of IT'S ORGANIZED. 'We also recommend considering doing seasonal wardrobe switches when the space does not allow for their entire collection.'
Think about extra features and accessories: 'We also recommend always incorporating valet rods, belt tie racks and hampers, if they can be included,' says Cheryl. 'We'll also often incorporate glass doors for client's shoes and bag collections to minimize any dust build up. And Alice Arterberry advises: 'Don't forget about accessories (eg. jewelry, belts etc) and plan for it. You can have belt drums made to either sit on your shelves or have them installed as permanent wall storage.'
Consider your height: 'Vertically challenged? There are great pull-down bars - both manual and automatic – to bring higher hang down to a more accessible level,' says Jordan.
Plan your lighting: 'Lighting components should always be at least 24 inches off the side walls, and chandeliers should be centered in the space or over the island,' say Jordan and Cheryl.
Don't forget about seating: 'If you plan to use your walk-in closet for dressing you might consider a bench or island seating so you can put your shoes on,' suggests Alice Arterberry.
Always include closed storage: It's important to remember how important your closet storage ideas are, says Alice Arterberry. She comments: 'Closed storage is key for things you won't use all the time. Putting things away so you can quickly, clearly see what you use most during the current season will help you use your closet to its full capacity. Make sure to plan for drawers or shelves that will fit boxes (opens in new tab)/bins so you can store things in a way that is easily accessible but also out of sight when not in use.'
What to consider about your closet style
As well as the function of your closet, it's also important to think about the form, too. The style of your closet should fit with the rest of your decor scheme, with closet door ideas and closet curtain ideas just two points to consider.
For a seamless, modern look, try painting the closet doors the same color as the walls. This is also a good small walk-in closet idea as it can help to make the space appear bigger.
'You don't have to paint the cabinetry the same as the walls, but you should make sure your cabinetry is either a neutral paint color (whites, greys, etc) or a naturally stained wood so it doesn't distract from your clothes,' suggests Alice Arterberry.
Jordan and Cheryl add: 'You can certainly blend the paint with the closet material (or use closet backing material) for a seamless finish. A lot of clients are also adding personal touches with wallpaper accents, small benches, and fun hardware selections.'
They continue: 'We love having fun with our closets, wallpapering walls or ceilings, beautiful handles, and chandeliers, fun countertops, leather-wrapped shelves - there are so many options that can infuse your personality and style into a space.
'We often recommend matching the closet style to the other elements of the house. For example, if your aesthetic is more modern, you may want to consider flat-front drawers for your closets. If it's more transitional, Shaker fronts may fit your style best.'
Another element to consider is lighting. Alice adds: 'For large walk-in closets, have some fun with decorative lighting (in addition to your ambient lighting). You want to make sure your lighting is wired on dimmers so you can alter the lighting to better match what you are dressing for (eg. meeting for evening drinks vs morning board meeting).'
Ruth Doherty is an experienced digital writer and editor specializing in interiors, travel and lifestyle. With 20 years of writing for national sites under her belt, she's worked for the likes of Livingetc.com, Standard, Ideal Home, Stylist and Marie Claire as well as Homes & Gardens.