How to declutter kids' rooms – experts share their 9 top sorting and storage tricks
Dreading decluttering your child's bedroom? This task can be made simple when you follow these steps to create a tidy space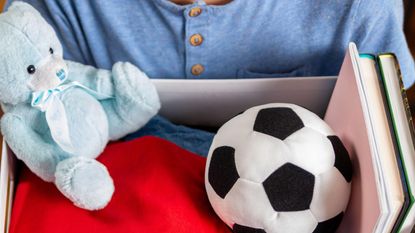 (Image credit: Alamy)
Sign up to the Homes & Gardens newsletter
Decor Ideas. Project Inspiration. Expert Advice. Delivered to your inbox.
Thank you for signing up to Homes & Gardens. You will receive a verification email shortly.
There was a problem. Please refresh the page and try again.
Decluttering your children's bedrooms is necessarily an oft-repeated task that will not only keep their sleep spaces looking neat, but can also positively impact their mood, how they use their rooms, and their daily routines.
Decluttering is never an easy job, especially when you're tackling kids' rooms, since both they and you might have emotional ties to some of the 'clutter' you're looking to be rid of. So, while decluttering kids' rooms is largely about fine-tuning what's kept and what's 'moved on', finding the best bedroom storage ideas can also play an important role.
We spoke to organizing experts to find out how to begin decluttering a child's room, especially if they are reluctant, and how to make the task less daunting for you, too.
Why declutter kids' rooms?
'Children's rooms build up clutter easily as kids are natural collectors of anything and everything! Special little pieces of paper, animal erasers, rocks and leaves, stuffies, the list goes on and on. While decluttering your child's room is daunting, it is doable!', says Amanda Wiss, professional organizer and founder of Urban Clarity.
While you might be tempted to instil rules to make your kids be tidier, before you do so, you need to do an inventory of what they own, tackle large categories first, such as decluttering toys and invest in really great toy storage.
Here, professional organizers take you through the best steps to declutter your child's bedroom.
NYC-based home organizer Amanda Wiss is the Founder of Urban Clarity, which was recently named one of the best home organizers in NYC. They help with home organization, move management, staging and more.
1. Categorize items
Ben Gold, Founder of Recommended Home Buyers suggests, 'Begin by sorting all items in your child's room into categories, such as clothing, books, toys, and school supplies. This process will give you a clear overview of what needs to be organized and help identify duplicate items or those that have outgrown their usefulness.'
It may help to label designated boxes for where the items are going, whether this is 'keep', 'sell', 'donate', 'trash' or 'storage'. This can save a lot of time and prevent confusion about what's going where. Having definitive categories can help prevent your child changing their mind about what can go and extending the decluttering process.
Allowing your kids to store some items they don't have any practical use for or have grown out of but don't want to give up yet can help them feel more in control and better about letting go of certain other items. You can keep coming back to the stored items until your child wants to give them up.
Kelly Brask, a certified professional organizer adds, 'Past items that are nostalgic can be kept in boxes and looked at regularly (because we keep things to enjoy the memories, not just for the sake of keeping them!) and culled as attachment wanes.'
Ben Gold is the Founder of Recommended Home Buyers. With over 5 years of experience in remodeling homes, maintaining rental properties, and flipping houses in Philadelphia, PA, Ben has developed a strong expertise in home organization and decluttering. Ben has been featured on Story By JP Morgan, Better Homes & Gardens, Yahoo Finance, Homes & Gardens, Real Estate Witch, Go Banking Rates, Ownerly, Bankrate, Family Handyman, Realtor.com, Livingetc, Home Station, and many more.
Kelly Brask is a certified professional organizer based in the US. Her website www.kellybrask.com provides advice about how to organise your home, office and more.
2. Assign everything a place
Tom Nolan, founder of All Star Home comments, 'One of the big things that contributes to clutter is not having a space for everything. When things don't have a place to go, they tend to sit on flat surfaces, like the top of dressers, the bed, and the floor. Making sure that there's a space for everything, and staying accountable to putting those things away is the best way to eliminate clutter.'
This is particularly important for small kids' bedrooms and, of course, shared bedrooms, where clutter will be more impactful.
Theresa Russell, an intentional home organizer and the Founder and CEO of Home and Heal advises, 'Allowing an allotted amount of space helps with making decisions of how much to declutter. For example, this one bin will be for stuffed animals and once it is full then we need to let go of more. These are just a few tips to declutter your child's bedroom.'
To ensure there is no need for clutter, you should make sure there is enough storage space to store everything that is not intended to be on display. Not only does this add a purposefulness to the aesthetics of your child's room, but also means there is no excuse for clutter. This can also create a routine where when your child knows where their stuff belongs, they are more likely to take action and put stuff in its place.
When designing children's bedrooms, 'make sure your youngster can easily use storage alternatives to promote independence and the capacity to keep a space organized,' says Cam Dowski, an interior designer and founder of We Buy Houses Chicago.
Tom Nolan is the founder of All Star Home, a home improvement company that helps individuals turn their house into the home of their dreams. As a home improvement expert, Tom is always looking for ways that people can live better in their homes, including minimizing clutter.
Cam Dowski is an interior designer and founder of We Buy Houses Chicago. Cam has over ten years in the real estate industry.
Theresa Russell is an intentional home organizer and founder and CEO of Home and Heal. Based in San Diego, CA, the company helps advise how to release mental and physical clutter to achieve an organised home.
3. Invest in functional storage solutions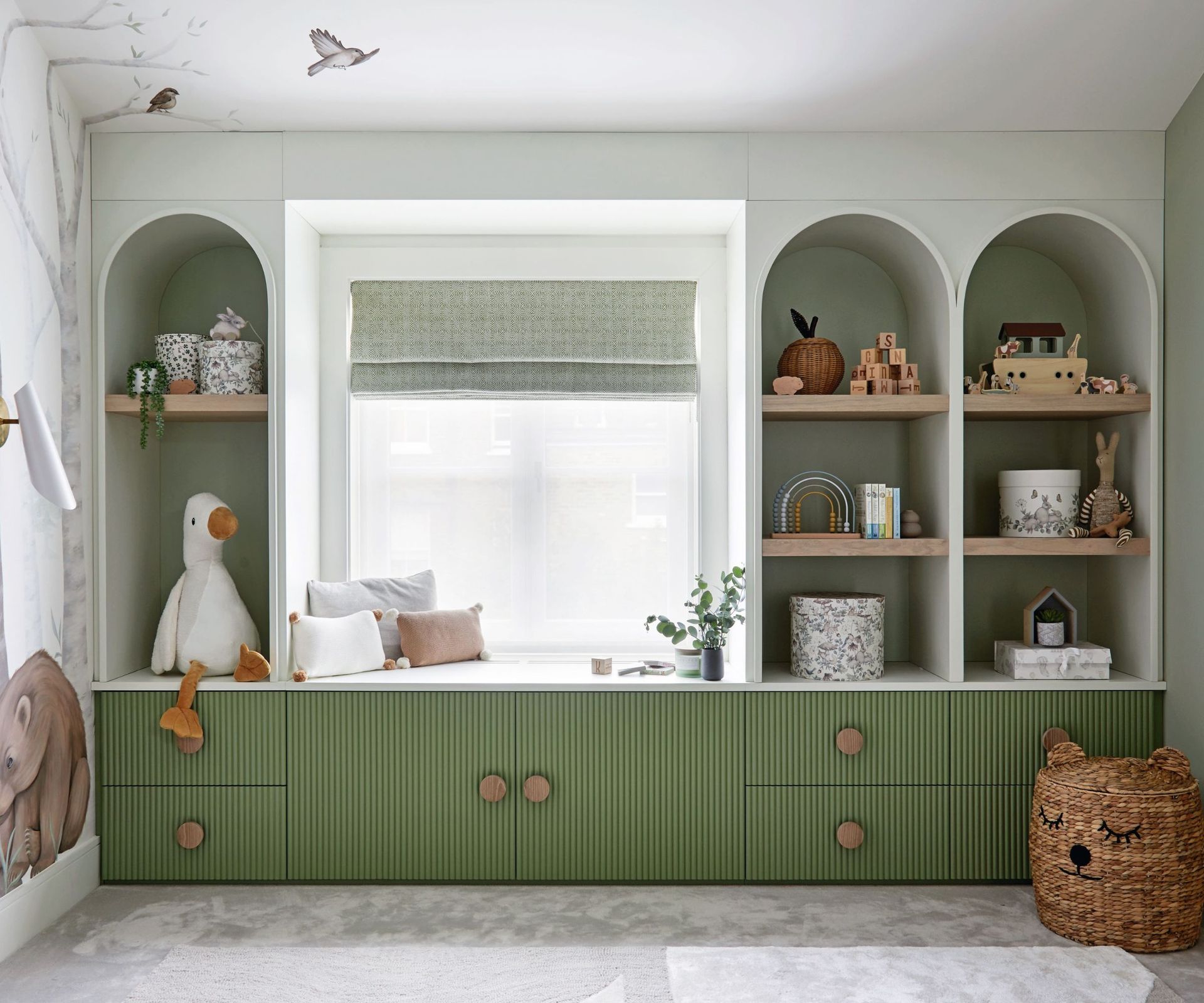 'Invest in functional storage solutions that cater to your child's specific needs. Consider using labeled bins, shelves, and drawer organizers to make it easy for your child to find and put away their belongings. Additionally, utilize vertical space with wall-mounted shelves and hooks to maximize floor space', advises Ben Gold, Founder of Recommended Home Buyers.
Where possible, try to integrate storage into furniture items. This can help maximize your space without having to add extra items to a room to store your items.
Roman Smolevskiy, owner of A+ Construction & Remodeling recommends, 'Built-in shelves, under-bed storage, and multi-functional furniture like bed frames with drawers are great for saving space.' Not only are these great storage options, but can also be beautiful additions to your child's room.
Headboard shelving can give your children a great opportunity to proudly display their best items while encouraging them to choose their favorite items and hide away or declutter the rest.
On a budget? We recommend this Prepac Sonoma Full/Queen Tall Slant-Back Free Standing Bookcase Headboard from Walmart. Children's beds with drawers, such as this Euroco Wood Twin Platform Bed With Two Storage Drawers from Walmart can blend into the background, while conveniently storing a mass of mess.
'You could also consider a loft bed to free up floor space for other activities,' continues Roman, or simply to add storage under the bed. These beds are often multifunctional, such as the ATH-S Loft Bed from Amazon, which has shelves that also function as the ladder steps to the bed. This Greer Twin Loft Storage Bed from Walmart has in-built roomy shelves for books, baskets and toys.
Organizing toys Another storage solution that you can customize based on the interiors of your child's room are storage baskets or bins which can be used on on shelves, under beds or in cupboards to keep items organised and categorised. Plus they look great!
Tom Nolan says, 'Use square bookshelves, which can easily hold a soft or hard-sided bin. These bins are perfect for quickly sorting children's clothing, without folding, or keeping small toys in order. Integrating these storage solutions in your children's room also provides visual interest in the space, and makes it unique, so your child can feel like they have a space that's specifically theirs, without it losing the character of being a children's room.'
These Sorbus Foldable Storage Cube Basket Bins, available at Walmart and in a range of colors, can be a simple solution to your storage problems and can even be easily folded and stored away when not in use.
4. Organize items based on their usage
Home organizer Amanda Wiss, Founder of Urban Clarity, recommends, 'In regards to what you put back and how, I like to organize things but also be realistic with kids' rooms. Think about what your child uses every day/very regularly and those items can live in more easily accessible places. Things they don't use regularly can be kept in a less accessible place/higher shelf/storage bin.'
For the items you child is going to be using regularly, you may want to consider having somewhere easy to put them that can maintain a clean space but won't require too much effort to tidy away for your child. For example, putting toys in a basket rather than having to arrange them neatly on shelves or putting regularly used clothes in a drawer where they don't necessarily need to be folded to fit, while keeping infrequently used clothes (winter clothes during in the summer season), neatly folded away.
5. Declutter one section at a time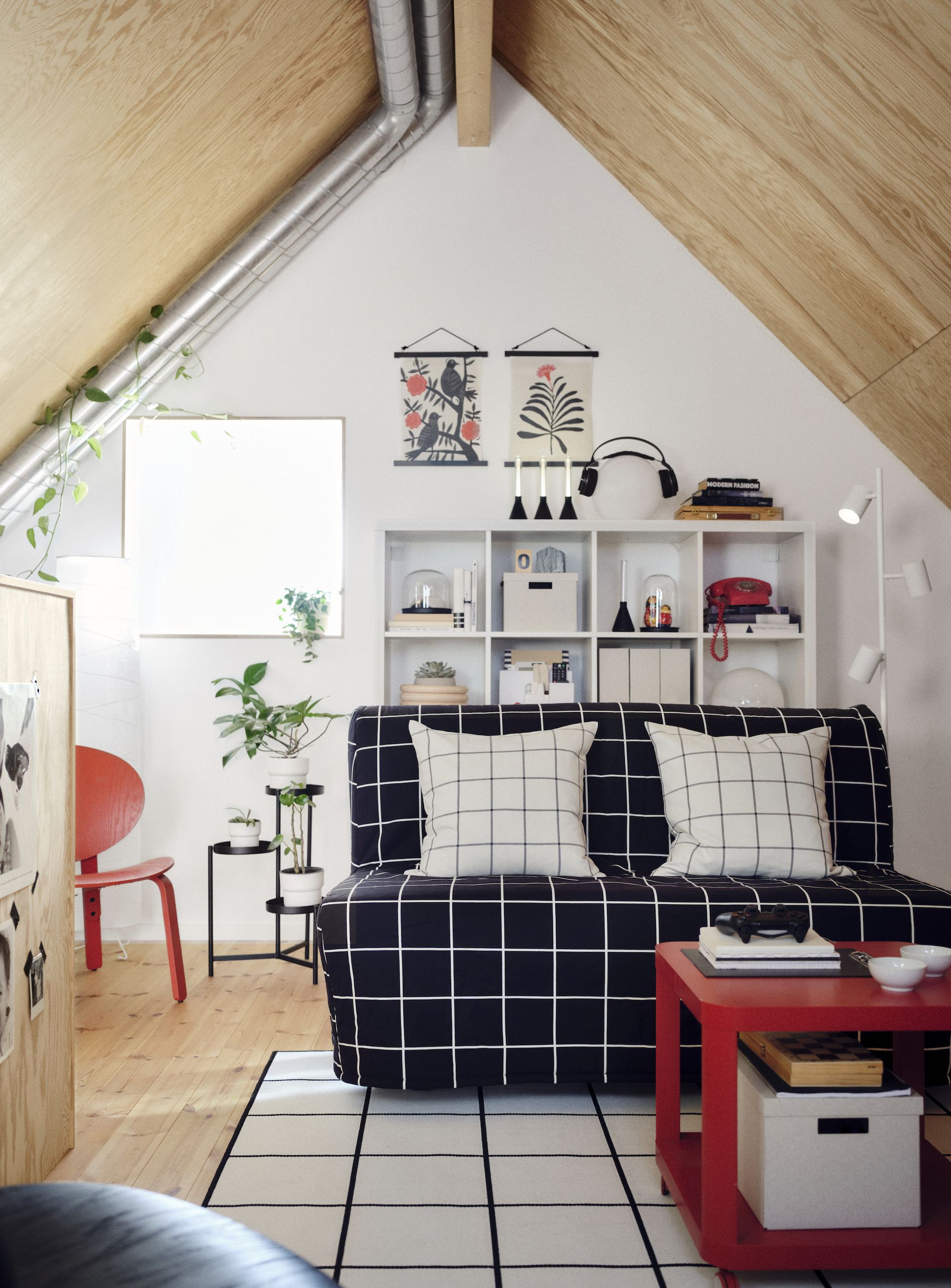 How do you declutter when you feel overwhelmed? Professional organizers suggest you tackle an area of the room at a time.
Macie Kreutzer, the founder and content creator at For the Love of Simple sayss, 'After starting with a complete cleanout, declutter one area at a time instead of trying to do the whole room at once.
'For example, begin with the closet for a full clothing and accessories cleanout, then the dresser, then the desk, and so on. Start with the priority of what is most cluttered.'
This should help the task seem less overwhelming and make it easier to check off what has been done so the goal feels closer.
Macie Kreutzer is the founder and content creator at For the Love of Simple, an organization, decluttering, and simple living blog.
6. Rotate toys
If your child has more toys than space for them, why not keep them on a rotation? Some toys can be stored away, perhaps in underbed storage, while others are left out for them to play with. Then, periodically switch out the ones in storage.
Not only does this reduce clutter without making your child part with any of their favorite toys, but it can also encourage your child to feel excited about existing toys they may have forgotten about. This can also apply to books or display items.
7. Involve your child... or don't
Macie Kreutzer, founder and content creator at For the Love of Simple advises, 'Children ages 5+ can be part of the decluttering process of their own belongings as this teaches two key lessons: (1) not to be overly attached to material things and (2) if you choose to donate their gently used items this teaches compassion and active citizenship in ways you can help others.
'Ask yourself (and your child if they are involved) key questions: (1) do you use this? (2) do you need this? (3) is it in working condition?'
Theresa Russell, the Founder and CEO of Home and Heal says, 'Have a box full of items set aside. Let your child know that they can pick three to five of the items in the box to keep. This will give them control and responsibility over their space.'
'If your children are young and would be in the way of a declutter, do it when they are not at home to avoid negotiation over what to keep or not. If you are unsure of what they may truly want to keep, place "maybe" items in a box out of sight for 30 days. If the time goes by without a mention of the items – go ahead and purge them,' Macie Kreutzer continues.
8. Make decluttering rewarding for your child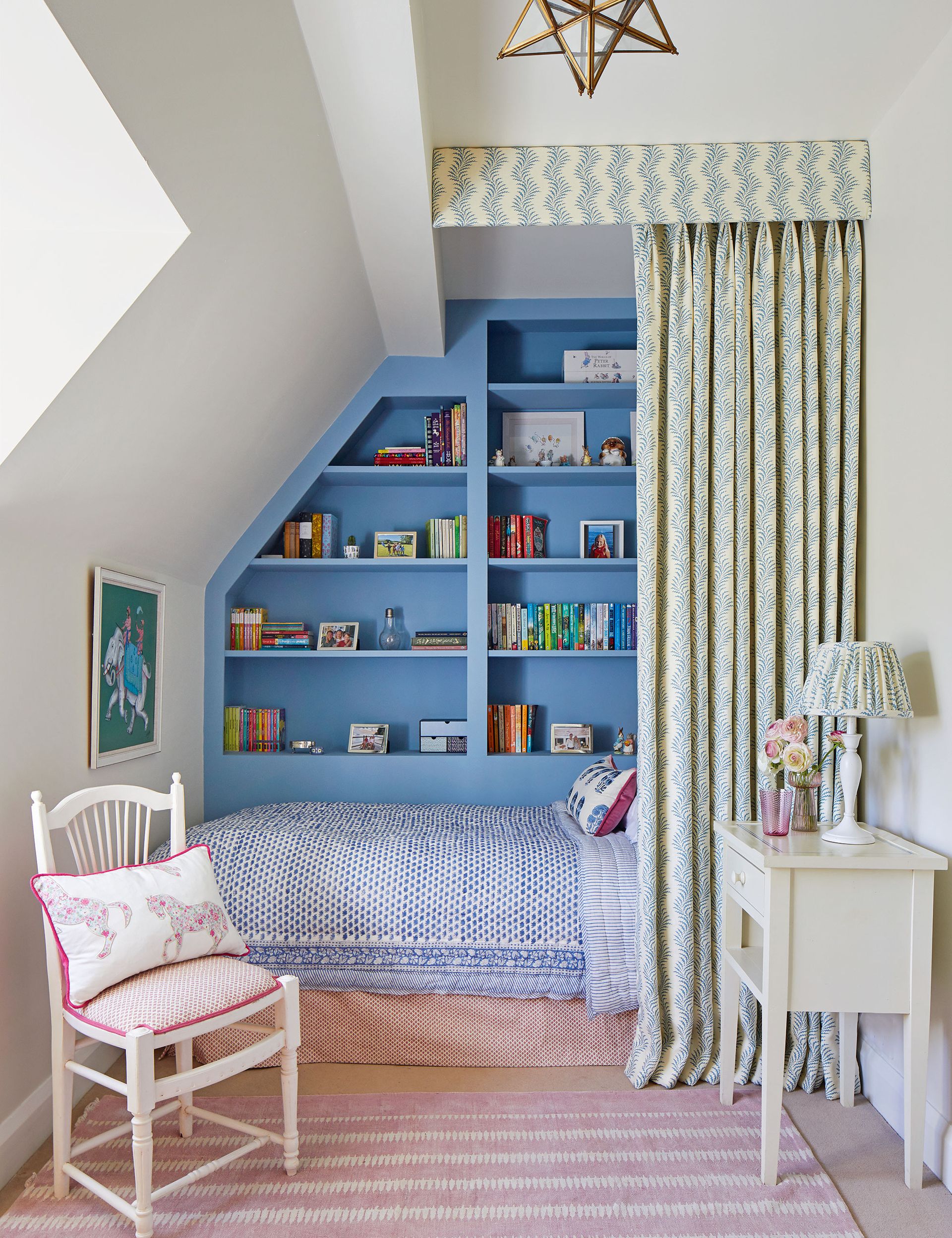 Cam Dowski, an interior designer and founder of We Buy Houses Chicago, suggests, 'Give your kid responsibility by getting them involved in the decluttering process. Describe the advantages of having an organized room, such as quicker access to favorite toys and a tranquil setting for play and rest. Encourage them to take part in decision-making so they can feel ownership of their possessions.'
If they have done a good job and been helpful and generous with what they want to donate, reward them – this should provide some incentive for them to keep up the cleaning and decluttering routine.
9. Keep up the routine of decluttering
Establish regular room tidying routines your child can manage to maintain their room so that they can continue to have a space to enjoy.
Ben Gold, Founder of Recommended Home Buyers, says, 'As your child grows, their needs and interests will change. Regularly reassess the organization of their room to ensure it continues to meet their requirements and make adjustments as needed.'
Roman Smolevskiy, owner of A+ Construction & Remodeling, comments, 'Even the best organization systems can fall apart without regular maintenance. Schedule regular "clean-up" times throughout the week to ensure that the clutter doesn't pile up again. Make it fun by turning it into a game or rewarding them for their efforts.
'In our experience, a well-organized and decluttered space has a significant impact on the mood and productivity of its inhabitants, and a child's bedroom is no exception.'
FAQs
How often should you declutter a child's room?
We recommend considering decluttering every three months, as the seasons change. That way, you can declutter clothes fast because you'll know that it's unlikely that your child will be wearing them again for some months, by which time they will have grown out of them. It will keep the clutter more manageable as time moves forwards, too.
---
Decluttering your kid's bedroom is an important task that can keep everyone's stress levels down, and improve the efficiency of your child's daily routines while ensuring their room looks as good as possible. Have fun exploring the various storage options that can have unlimited design potential, too.
Sign up to the Homes & Gardens newsletter
Decor Ideas. Project Inspiration. Expert Advice. Delivered to your inbox.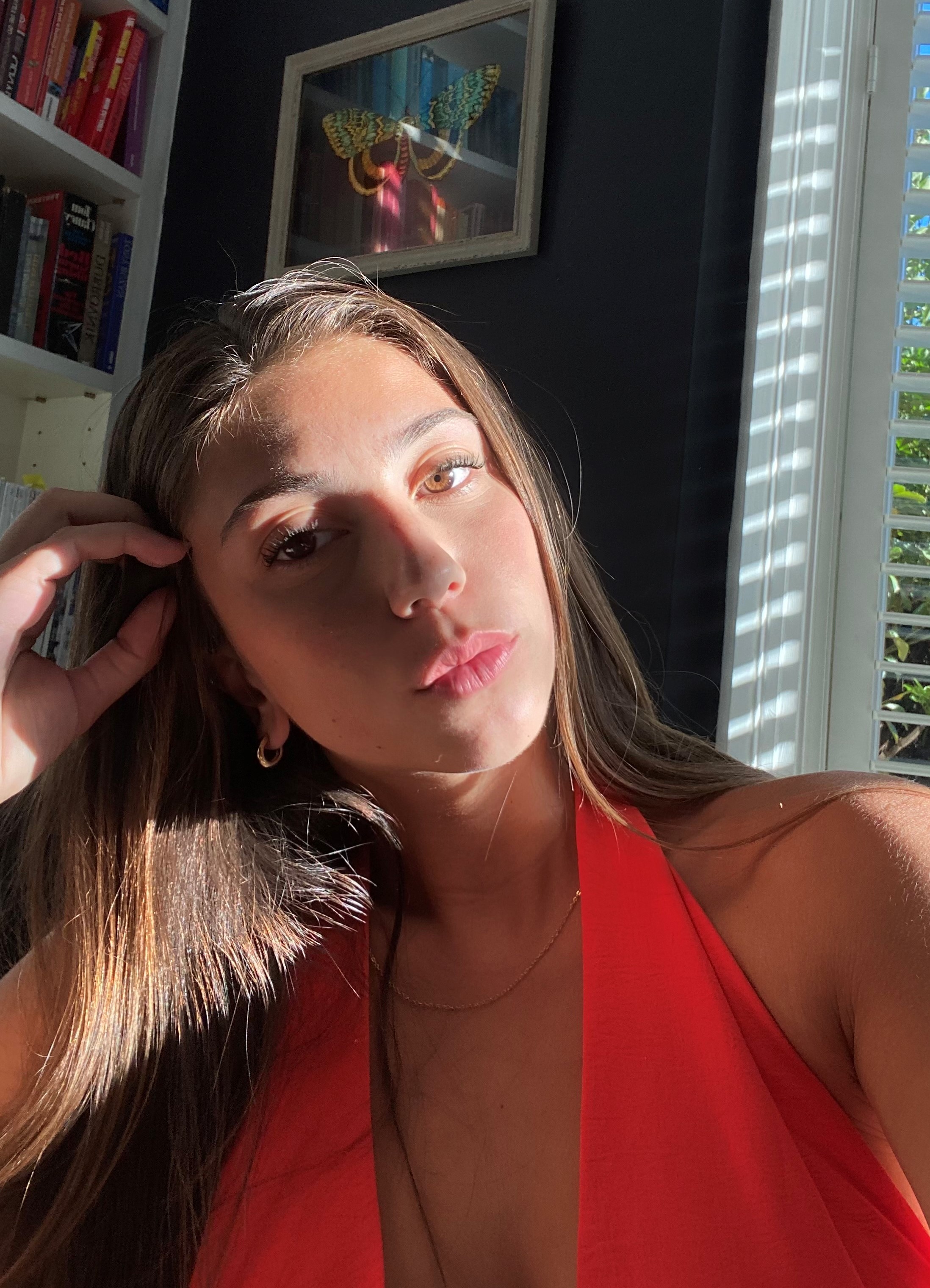 Lola Houlton is a news writer for Homes & Gardens. She has been writing content for Future PLC for the past five years, in particular Homes & Gardens, Real Homes and GardeningEtc. She writes on a broad range of subjects, including recipe articles, reviewing products, writing 'how to' and 'when to' articles. Lola now writes about everything from organization through to house plants. Lola is a graduate student, who completed her degree in Psychology at the University of Sussex. She has also spent some time working at the BBC.