Should you place a rug under a bed? The verdict from interiors professionals
Find out what interior designers think about putting a rug under a bed – and their reasons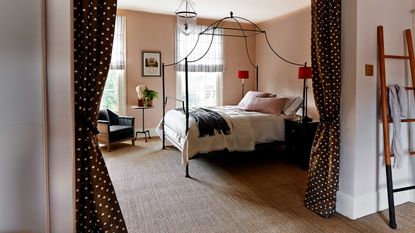 (Image credit: Future PLC)
The thought of stepping out of bed onto a rug can be extremely appealing. A soft texture underfoot might be the ideal way to ease into the day. But is it a strategy interior designers endorse, or one they shy away from?
An area rug can definitely prove an attractive feature as part of bedroom ideas. But there are other places in which it could be positioned aside from under the bed and there could be arguments for preferring these alternatives.
We turned to interiors professionals to answer the question of whether you should place a rug under a bed, and if there are rules to follow for style success, and this is what they told us.
Putting a rug under a bed: what designers think
The answer from interior designers if you ask whether you should put a rug under a bed is a firm 'yes'. 'Placing a rug under the bed is a design choice that can elevate the aesthetics and comfort of your bedroom,' says Cristiana Crin, director of design and founder at Perpetuum Designs.
Interior designer Artem Kropovinsky agrees. 'The sensation of a plush rug underfoot as you step out of bed can't be underrated,' he says. 'It's like a soft welcome to each new day.'
However, there are occasions on which other bedroom rug ideas that complement bedroom flooring might be preferable. Additionally, there are some guidelines design pros recommend following. This is what you need to know.
Based in New York, Artem Kropovinsky, founder of Arsight, has a decade of extensive and considerable global design experience. Prioritizing minimalism, sustainability, and authenticity, Artem, alongside his team of professionals, works on projects in the US and worldwide.
Aesthetic benefits
The look it can create makes a major part of the case for putting a rug under a bed, according to designers. 'The rug can be a visual extension of your bed,' explains Artem Kropovinsky. 'Think of it as the frame to your bed's artwork. The right rug can enhance your bed's aesthetic multifold.'
Equally, as Cristiana Crin points out, it ties together the various elements of your bedroom decor and creates a cohesive look.
Sound absorption
Reducing noise is a practical reason why designers recommend putting a rug under a bed. 'Rugs can help reduce noise in your bedroom by absorbing sound, making it a good choice if you live in a noisy environment or have creaky hardwood floors,' says Cristiana Crin.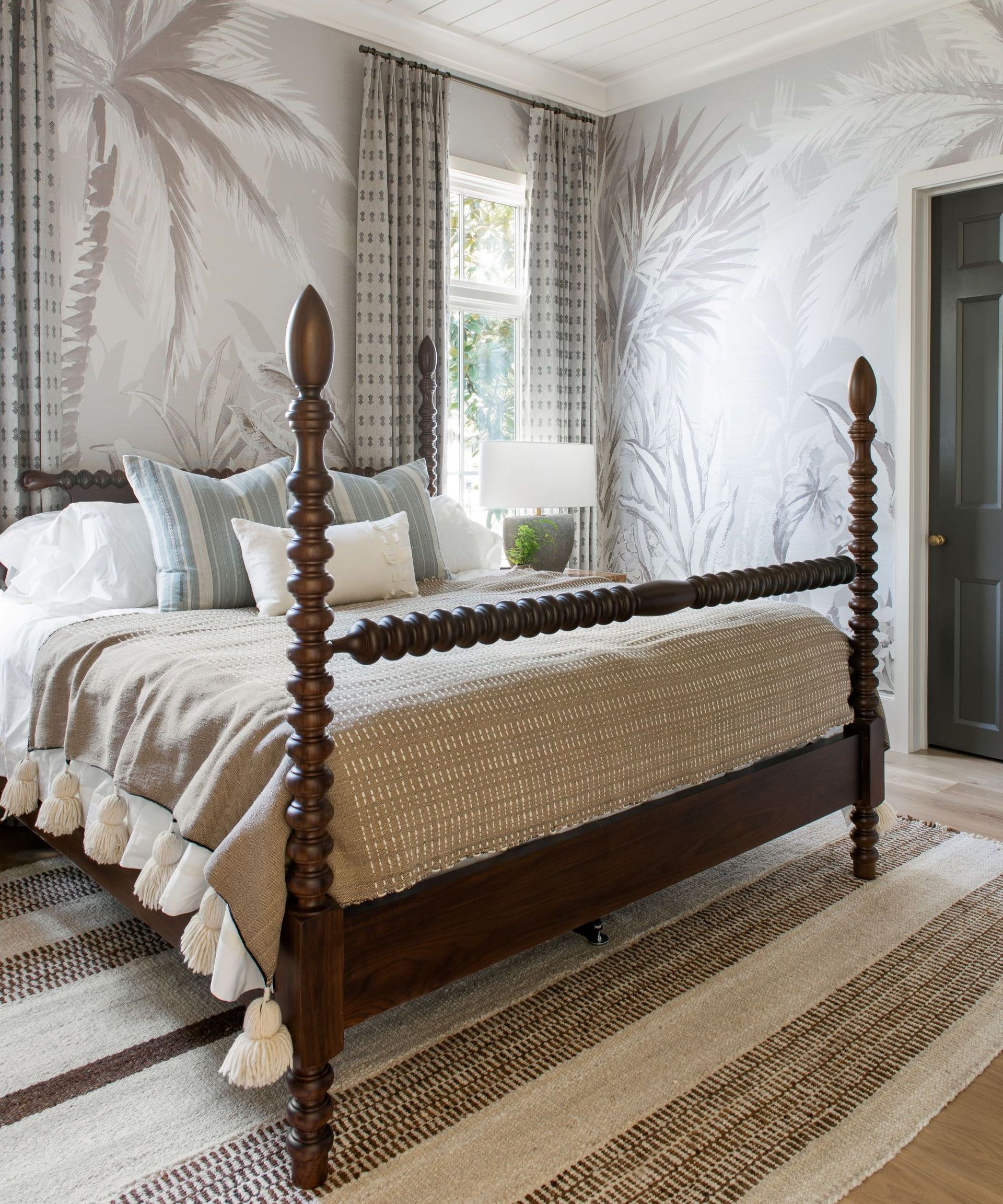 Size guide
Be generous when choosing a rug for under the bed. 'The bigger the better,' says Christina Kim, principal designer and owner of Christina Kim Interior Design. 'It will make the room feel more complete, less choppy, comfortable. Six inches from the walls is a good place to start.'
Cristiana Crin suggests a rule of thumb for the rug's dimensions. 'Have the rug extend at least 18 to 24 inches beyond each side of the bed to create a balanced look.'
Centering the rug beneath the bed creates a balanced look, but it's not the only option. 'Not all rugs need to peek out uniformly around the bed,' says Artem Kropovinsky. 'An asymmetrical approach, where the rug extends more on one side, can add an unexpected twist to conventional layouts.'
Rug fibers
Treat your feet to soft rug fibers. 'The bedroom is not a high-traffic area and so in terms of rugs you can afford to go a little bit more luxury in here, assuming no one is going to walk around in muddy shoes or spill a glass of wine,' says Lucy Small, founder and lead designer at State & Season Home Design. 'A great rug will be high-quality wool so that you're not getting any smell or excessive dust collection, and will still be high enough to feel comfortable under your feet.'
But you might indulge in alternative materials. 'Look for something soft,' says Christina Kim. 'It's a good place to splurge: silk or hair on hide.'
When not to put a rug under a bed
There are many very good arguments for putting a rug under a bed, according to interior designers. However, there are some occasions on which you might do otherwise.
'In extremely compact bedrooms, a large rug might make the space feel cluttered,' says Artem Kropovinsky. 'In such cases, runners on either side of the bed might be a more fitting choice.'
Climate zone might also influence the decision. 'In hot and humid climates, a rug under the bed may trap heat and moisture, making it uncomfortable. In such cases, a lighter, breathable rug or no rug at all might be a better choice,' says Cristiana Crin.
FAQs
Do I need a rug under my bed on carpet?
If you've selected a bedroom carpet rather than hardwood or another flooring type for the bedroom, putting a rug under the bed can still be a good decision if the carpet doesn't already have a high-level pile. A rug on carpet still brings aesthetic appeal, feels wonderful as you step out of bed, and can add contrasting texture and color to the interior. Bear in mind that even if a rug is on carpet, it's still worth using rug pads that can be combined with it to keep the rug in place.
---
'Placing a rug under a bed is essential,' says Christina Kim. 'It's a soft landing when your feet touch the ground in the morning.' Plan it in as part of designing a bedroom and consider it as part of the palette of bedroom color ideas that can make the space full of decorative interest.
Sign up to the Homes & Gardens newsletter
Decor Ideas. Project Inspiration. Expert Advice. Delivered to your inbox.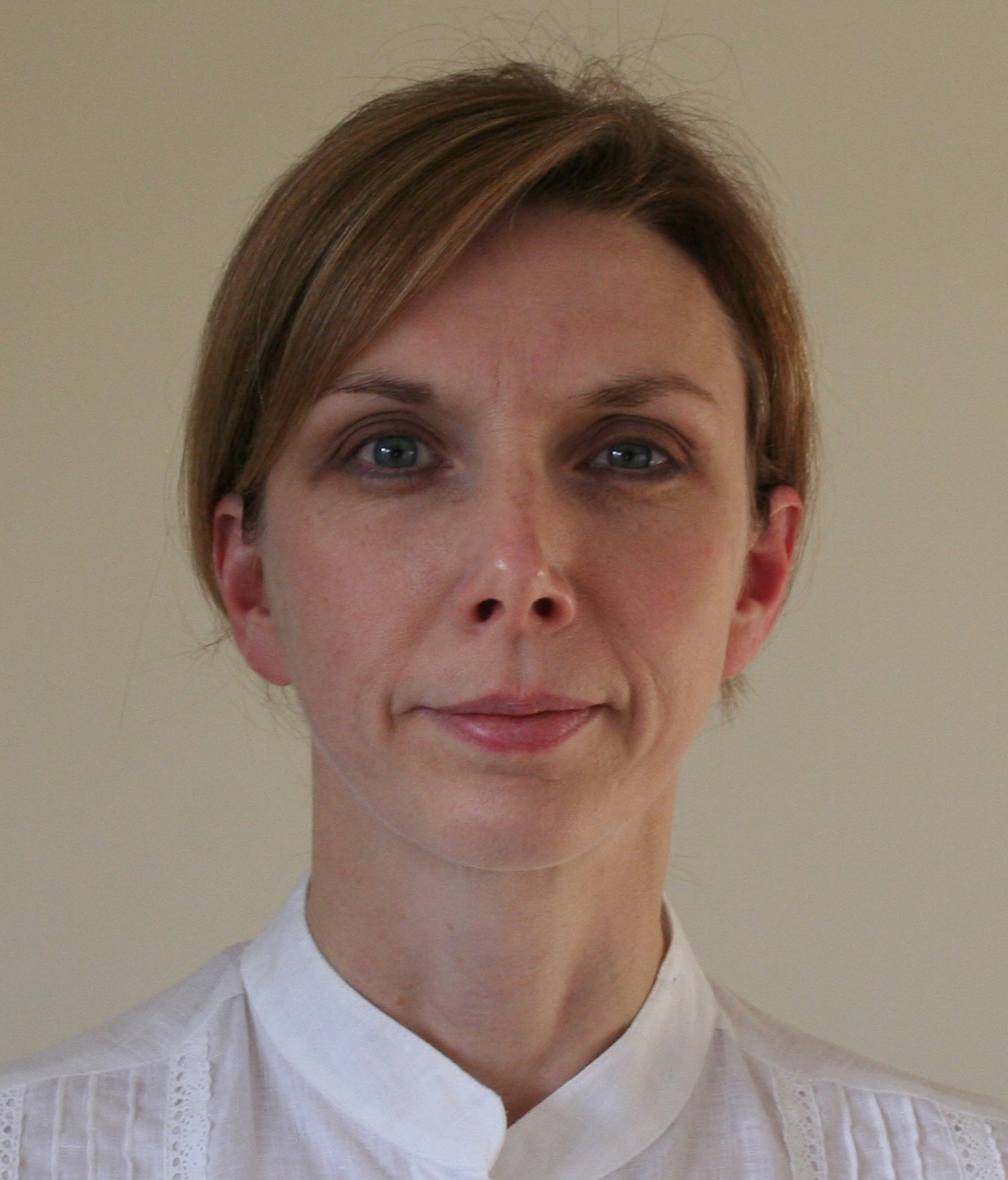 Sarah is a freelance journalist and editor. Previously executive editor of Ideal Home, she's specialized in interiors, property and gardens for over 20 years, and covers interior design, house design, gardens, and cleaning and organizing a home for H&G. She's written for websites, including Houzz, Channel 4's flagship website, 4Homes, and Future's T3; national newspapers, including The Guardian; and magazines including Future's Country Homes & Interiors, Homebuilding & Renovating, Period Living, and Style at Home, as well as House Beautiful, Good Homes, Grand Designs, Homes & Antiques, LandLove and The English Home among others. It's no big surprise that she likes to put what she writes about into practice, and is a serial house renovator.