Eco-friendly paints – a guide to finding and buying the best eco-friendly paints
British designer Sebastian Cox speaks with paint expert Edward Bulmer to better understand eco-friendly paints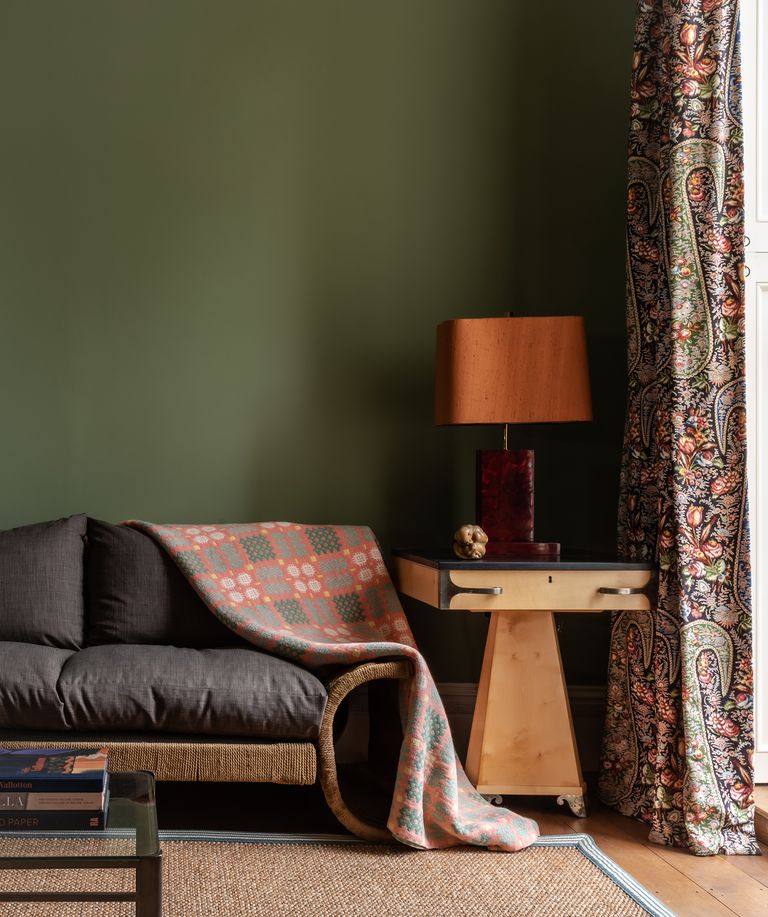 (Image credit: Lorfords / Edward Bulmer living room in Light Olive)
By Sebastian Cox published
If you are considering eco-friendly paints for your home, it's worth following our monthly columnist, British furniture designer, eco expert, Sebastian Cox who charts the renovation of his home one inspiring and innovatively eco-friendly idea at a time.
Each month, he digs deep into the ways in which we can all make a difference within our homes – and this month, we asked him to look at eco-friendly paints.
Before buying a house and thinking about paint ideas as well as the square footage of wall coverage, Sebastian had put paint low on the list of concerns when considering sustainability, thinking it's only a thin layer of material which has a small impact. However, like everything, when you scale it up it has impact – and with millions of paint pots sold every year, Sebastian recognized it needed some scrutiny and exploration.
With an over-saturated market of paint brands all stating various eco-credentials, Sebastian investigated the eco paint market.
'As I Zoomed into the office of Edward Bulmer my nerves peaked,' says Sebastian. 'Edward has a mission to change the paint industry, and I certainly don't want to hold him up for a minute too long. I had some questions prepared, but actually we resonated so quickly they weren't really needed.'
Why are regular paints a problem for the environment – and us?
'I first discovered Edward Bulmer when on the panel for the Homes & Gardens Design Awards, and I'm so grateful I did. Only months later my wife Brogan, pregnant with our second baby, would be painting the ground floor of our house and, thanks to that discovery, not breathing excessive Volatile Organic Compounds (VOCs), which can compromise the health of unborn babies.
'Today there are many low-VOC paints on the market offering a healthier painting experience, but few are derived from entirely natural sources – Edward's paints are.'
What are VOCs?
VOCs are Volatile Organic Compounds – carbon-based chemicals – that are found in regular paint. When the paint goes on, the VOCs are released into the air (hence the 'paint' smell you can detect). Some paints have higher VOC levels than others, and can cause nausea and worsen the symptoms of asthma among other side-effects. The release of VOCs doesn't stop when the paint is dry – their emission can continue long afterwards.
How do eco-friendly paints differ from regular paints?
'Edward explained to me that industrially-produced paint started as a by-product of the refining of fossil fuels,' continues Sebastian Cox. 'In recent decades, these oil-based paints became gradually replaced by high-performing emulsions of plastic suspended in water, which has become the ubiquitous and seemingly unquestioned wall covering of today.
'Making paint water-based seems a good step forward for this industry, but synonymizing the term with ecological benignness is perhaps a red herring. To use only naturally derived ingredients: maize starch, beech tree cellulose and clay and earth pigments, for example, is a leap only pioneers are taking so far.
'"It wouldn't take much for the rest of the industry to switch to a plastic-free formula,"' Edward said, acknowledging that mission accomplished also means his pioneering position becomes diluted.'
What are eco-friendly paints like to use?
'When Brogan levered open our Edward Bulmer tins to see the colors inside, what struck us both was the lack of smell.
'It was almost unnerving to open a tin of paint with no scent, getting our noses cautiously closer to the surface of the Ochre yellow to see if it was real. As Brogan began to roller it on, carefully following the application instructions as it does require some skill, there remained no fragrance and we began to question the durability of the product, thinking there must be a catch.
'I'll report back on the durability once our toddler has had a year to test it.'
Which are the best eco-friendly paints – and why?
'With durability in mind, what should our priorities be when examining paint and sustainability? There are no industry-wide regulations on making 'eco' or 'green' claims in paint, unlike the relative clarity of certified organic food, for example.'
These, however, are the elements of the best eco-friendly paints, plus where to buy them.
Low VOCs: 'Certainly VOCs are a concern to our personal health, and paint companies across the board have lowered these with impressive pace. Eico, Little Greene, Farrow & Ball, Earthborn and Edward Bulmer all seem to perform well here.'
Natural alternatives to fossil resources: 'I also believe we should be moving away from materials derived from fossil resources where natural alternatives exist, and we should be concerned about what happens when we wash our brushes – anything that contains acrylic or other plastics obviously puts tiny plastic molecules into our water system. Edward's paints omit fossil-derived acrylic, so become my first choice alongside lime paints like Bauwerk and Graphenstone which we will try elsewhere in our house.
Low impact of production: 'Farrow & Ball seem to be a larger producer striving for lower production impact, recycling 100% of their dry and 97% of their liquid waste and have an on-site water treatment facility, but Eico, who run their factory on geothermal energy seem unbeatable here, although their product is made in Iceland and is 100% acrylic, leaving you to pick your environmental priorities.'
Ingredients published on the tub: 'Amid a lot of claims and counter-claims, the brands that really stand out to me are those who publish their ingredients on the tin (or tub – incidentally recyclable plastic tubs have a lower carbon footprint than a tin!), and those who have high accreditation from recognizable bodies.'
Lowering consumption with a quality-first approach: 'Perhaps, as always, lowering our consumption is the best starting point when thinking about sustainable living and picking colors that last, avoiding short-term interior design trends and instead respond to a space, its aspect and use, might be the greatest impact you can have.'
While it feels like a burden to decide, it's also exciting to see smaller players in a large industry challenging their peers and leading change.
What other types of eco-friendly paints are there?
Other types of eco-friendly paint include casein, clay, limewash, mineral and plant-based and vegan paints. All are made from natural products – casein paint uses milk proteins, mineral paints are made with natural pigments, for example – usually mixed with water for low VOCs. None are widely available, but specialist brands do sell them.
Try Emery & Cie for a wide range of colors in their casein acrylic paint range, Earthborn for clay paints, and Edward Bulmer for plant-based paints. Lakeland Paints are a great one-stop shop for vegan paints.
I'm a designer, craftsman and environmentalist and am deeply curious about the link between the things we make and buy, and their impact on our environment. I run a business with my wife Brogan which makes furniture from British wood, and what makes us really different is that we also manage woodland and mill trees to give us material to work with, deepening our understanding of the connection between resources and habitats. We've won awards for our work, which spans individual pieces for private clients, contract projects with public bodies and brands, and ongoing relationships with architects and interior designers. This gives us a broad understanding of how to bring beautiful design into useful, meaningful spaces, while having a positive impact on the natural world.
In 2019 I was invited to write a monthly column for Homes and Gardens charting the seasonal rhythms of my business and the woodland we manage, and in 2020 we bought our first home by the sea in Margate, which changed to focus of the column to a sensitive and ecologically focussed but soulful renovation of a sea-weathered Victorian terraced house. Researching and writing the column has opened my eyes to new materials and ideas and it evolves naturally as our house progresses, slowly, as I do all the work myself alongside the growing up of our two baby daughters. I often write the column while paint or plaster dries or during periods of downed tools while the babies nap, and Brogan often takes the pictures as I'm working, so it really reflect the life of house as it changes.
I'm happily stretched between city, seaside and woodland, with a home on the coast, a business in London and a woodland in mid Kent. I love the change in pace and energy each brings to my life and I'm privileged to have all three as part of my life and work.