Not quite ready for fall? These Hellenistic decor ideas will extend your European summer aesthetic
Whitewashed walls, light floating fabrics and a heavy dose of sunshine, we are always lusting after Greek interiors no matter what the time of year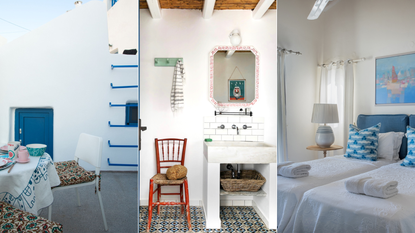 (Image credit: Lime Deco/Howark Design/Yellow London)
Sign up to the Homes & Gardens newsletter
Decor Ideas. Project Inspiration. Expert Advice. Delivered to your inbox.
Thank you for signing up to Homes & Gardens. You will receive a verification email shortly.
There was a problem. Please refresh the page and try again.
Fall might be on its way, and while we love cozy set up as much as the next person, our heads are still in the summer, and we are keen to cling onto those warm weather vibes for as long as possible. So before we dive fully into plaid and sheepskin and pumpkins and baking scented candles, we want one last hurrah to summer vacations.
The European summer aesthetic has been plastered all over our social media pages for months, and we want to bring some of those carefree laid-back interiors into our homes in the form of Hellenistic style.
By that, we mean the ever-loved, always-on-trend Greek interiors – white-washed walls, slubby linens, and of course a heavy dose of blue. Here's how designers suggest extending the warmer months and bringing this interior design trend into your home.
What is Hellenic design?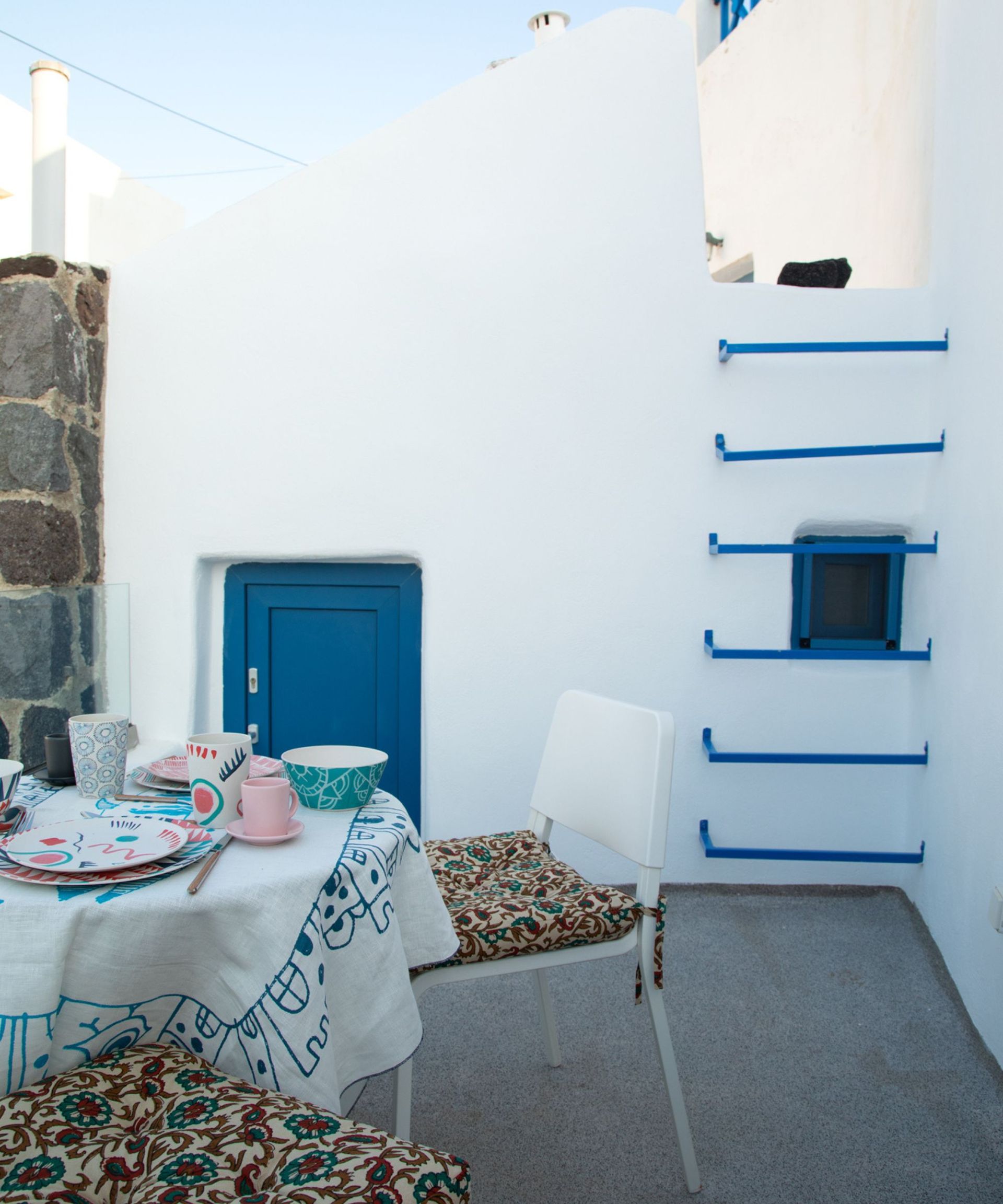 'Hellenistic design is all about leaning into inspiration from ancient Greek aesthetic traditions,' explains Kathy Kuo. 'This style features a lot of sculpture as a decorative element and really uses statement-making art pieces and statues to communicate a sense of goddess-worthy luxury. Ornate details and rich textures are also signatures markers of this style.'
But there are contemporary approaches to the style too. There's way more to it than stone busts and ornate architecture. There's a very relaxed side to the Greek aesthetic, one that blends old and new to create spaces that nod to heritage but also feel very laid back, chic, and actually quite minimalist. It's this approach to Hellenist interior design that we want in on.
Interior design expert Kathy Kuo founded her eponymous home store in 2012 – and it has since gone on to be an e-commerce destination for luxury furniture and decor essentials from a variety of beloved home vendors. Kathy and her store specialize in styles like French Country, Coastal Beach, and Modern Classic while offering interior design services to their clients.
1. Blend the classic blue and white combo with neautrals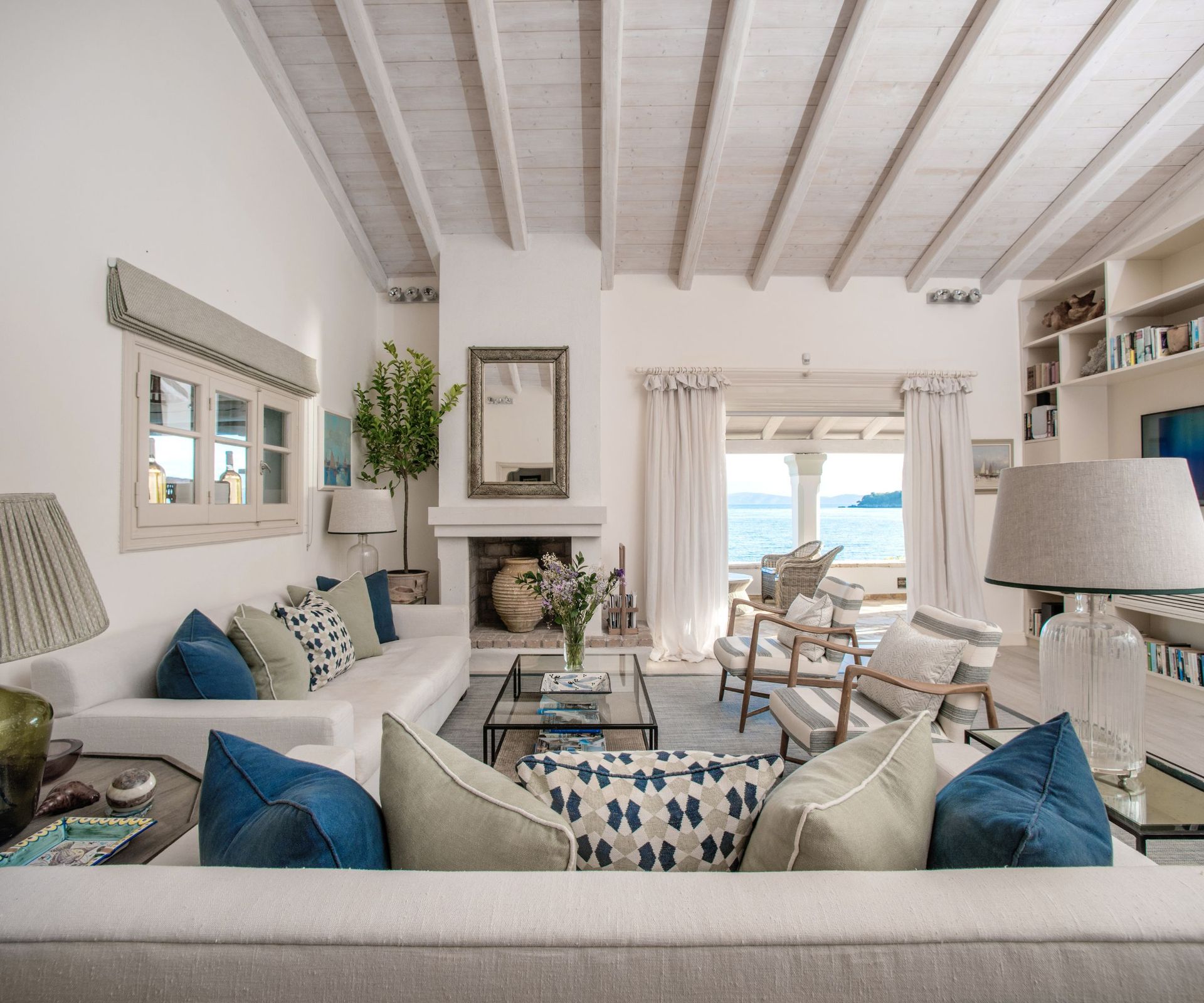 White and blue are synonymous with Greek interiors. Of course, they are the colors of the Greek flag, but they are the colors of so much of the landscape too. The deep, azure blues of the ocean and the sugar cube-like houses that tumble down so many of the bays, come together to create an iconic color scheme.
There are ways to bring this color combination into a home in slightly more subtle ways, so you get a hint of that Grecian vibes without having to fully commit to this bring bold, and potentially quite limiting color palette.
This living room designed by Yellow London embraces the white and blue combination but leans more towards a layered neutral color scheme just bringing in touches of blue in different shades.
'This stunning Greek villa is set on the northeast coast of Corfu and has been in the client's family for many years. We were brought in to modernize all the rooms and to create calm schemes that complement the beautiful exterior of the villa,' explains the studio's co-founder Liv Wallers. 'We kept the original fireplace in the sitting room to help create the focal point of the sitting room and we applied a limed wash to the existing ceiling boards throughout the villa.'
'We kept all aspects of the furnishings pretty natural, timer framed furniture, washed timber tables, and lots of natural and airy linens. We brought in smaller and often geometric patterns through cushions to add depth to the schemes and to reflect Greek designs.'
'Stereotypically, we used a lot of blue and whites throughout the villa and on the outside furniture. We wanted there to be a harmonious feeling between the furniture and the sea outside. We broke these up inside with some greens, aquas, and yellows which also reflect the colors from the nature outside,' adds Liv.
2. Keep it light, bright and simple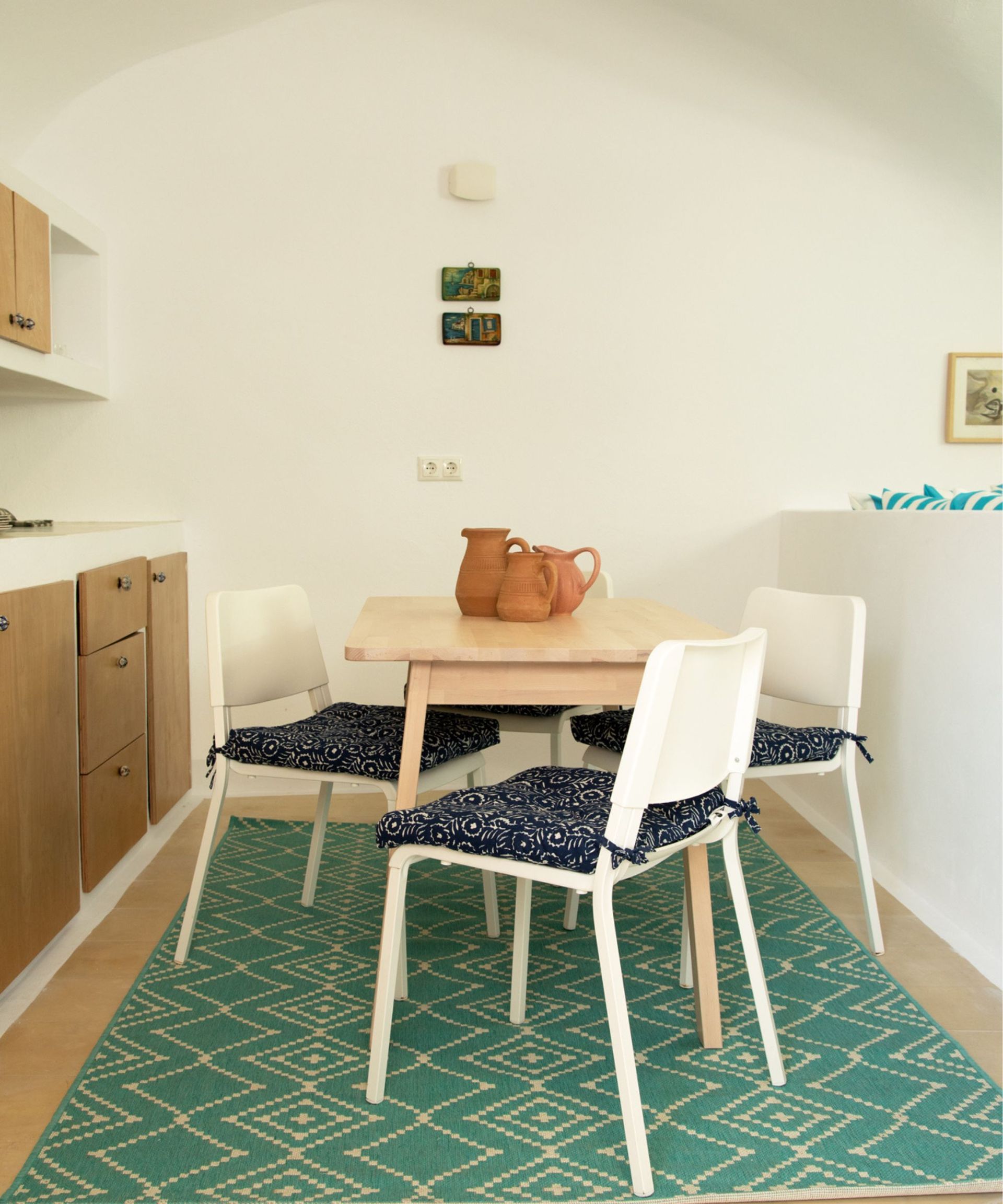 Despite all the grandeur and elaborate architecture associated with Hellenic style, the most chic, and most livable approach to Greek decor is to keep things minimal. A paired back, simple color palette, with a few accent shades and then just laying up textures and interesting materials. This is also the look with the most longevity as we see it crop up in interior design trends year after year.
Maria Chatzistavrou is the founder of the Greek Interior design firm Lime Deco, which specializes in chic hotels, villas, and homes both in Greece and the rest of Europe. She explains that 'For me, Greek-style or better Greek design is minimal, classy and elegant. Nothing unnecessary or excessive. Greek design serves ergonomics combined with a fine aesthetic. This combination gives balance to the space and rests the eye.'
'Greek design, modern or classical, draws inspiration from nature and the unique light that Greece has. The distinctive Greek light has historically played a significant role in art, architecture, and daily life, influencing the way colors appear and creating a sense of luminous beauty throughout the landscape. Also, the use of natural materials such as marble and wood offers a sense of timelessness. Like being back home!' she adds.
And while not all of us can benefit from that gorgeous sounding, space-changing Greek light you can create spaces that are reminiscent of these light, bright spaces. As Maria advises, 'Just keep it simple! Embrace minimalist style and go for clean lines and open spaces. Remember how important a pause is, and empty space can have the same value as the full one. And always maximize natural light.'
Maria Chatzistavrou is the founder of interior design studio Lime Deco. The studio specializes in both residential and private properties both in Greece and the rest of Europe.
3. Add interest with textures and materials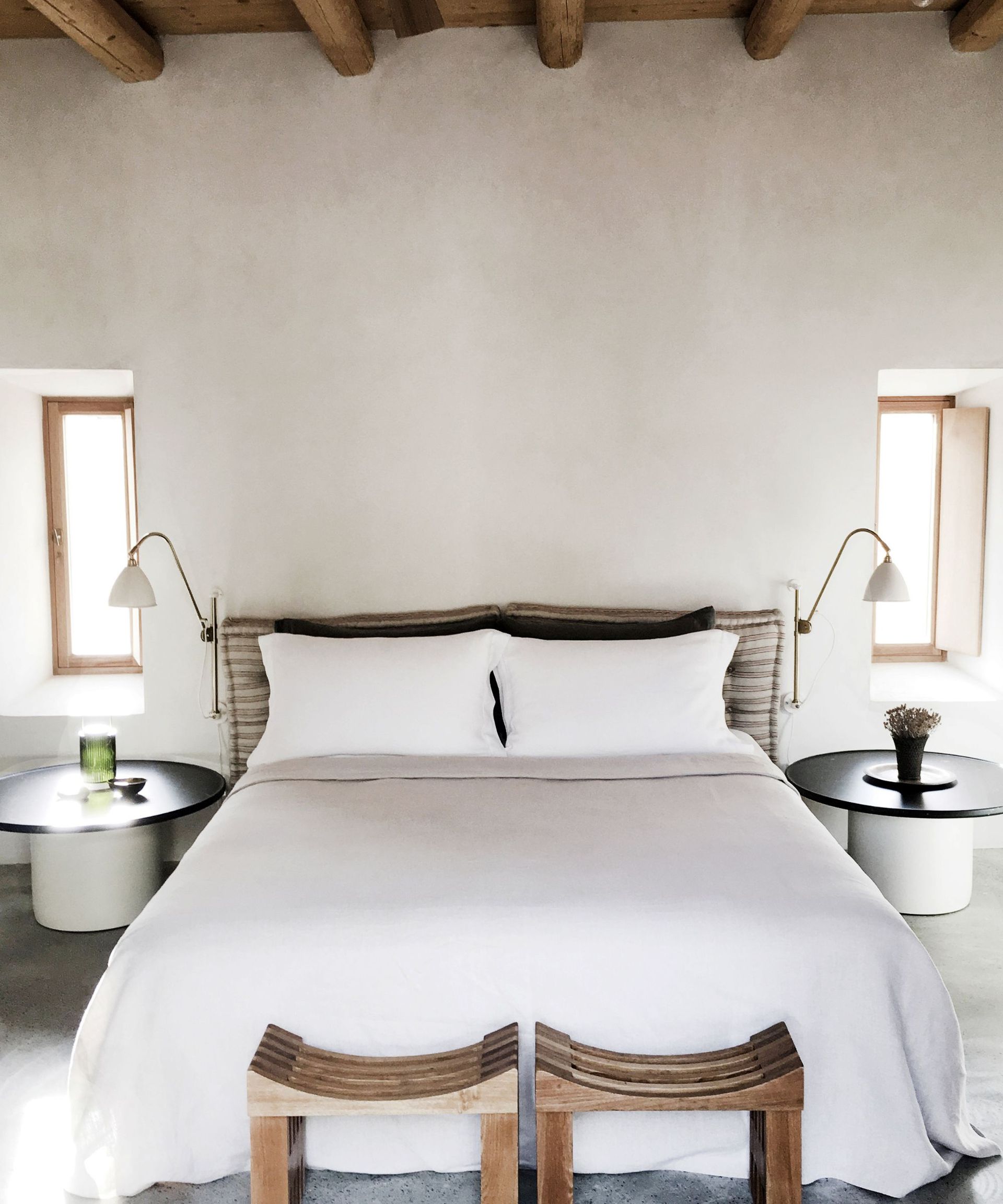 Greek interiors are all about nature. With landscapes that are gorgeous, of course, it's going to influence interiors. So while a lot more modern Greek spaces are very minimal, they do draw on natural textures and materials to add interest.
Using texture in interior design is a simple way to ensure a room has depth and character without having to bring in bold colors or patterns. This minimalist bedroom, designed by Greek designer Anestis Michalis is the perfect example. The plaster walls, the plush linen headboard, and the wooden accents all ground this chic and simple space.
'Life in the Greek islands is surrounded by simplicity,' explains Anestis. 'And modern life must be integrated into each place without altering it. The houses I have worked on and the design choices I have made are according to the elements present in the landscape, which I always bring to the interiors. The result is always a palette of colors and materials that starts from the outside to the inside, adding my own materials along with those already existing.'
Anestis Michalis is an Athens-based interior designer who specializes in minimalistic, nature-inspired spaces. Working on both residential and hospitality projects, his style has that classic laid-back but sophisticated feel that's synonymous with Greek interior design.
4.Mix in vintage pieces for a characterful space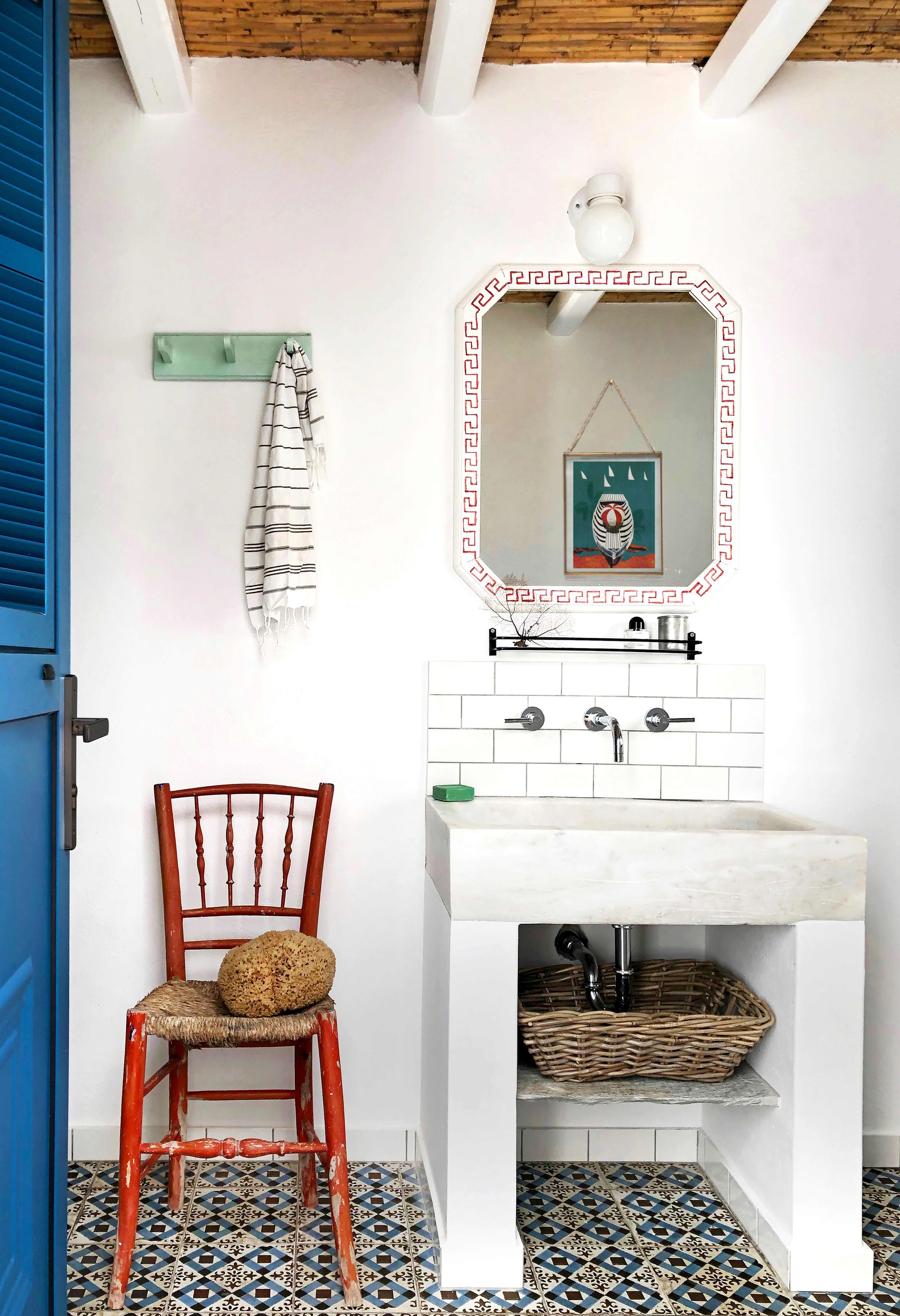 A key part of Hellenistic style is character, the spaces have depth and interest and a uniqueness to them. And that comes with collecting unique pieces that do more than just add style to a room but add in some personality too. This Greek home designed by Howark Designs is filled with vintage pieces that do just that, but with the white-washed walls as a backdrop and the fresh bright color scheme, the rooms have a contemporary edge to them too.
The bathroom is a perfect example of this quirky but considered style. 'We used a mix of vintage pieces to give a relaxed feel,' explains James Arkoulis, the studio's co-founder. 'The marble sink in the bathroom was originally in the kitchen and we sourced tiles in a traditional style for the floor. The bamboo ceiling was typical of the island's interior style.'
5. Combine more traditional Hellenic styles with modern pieces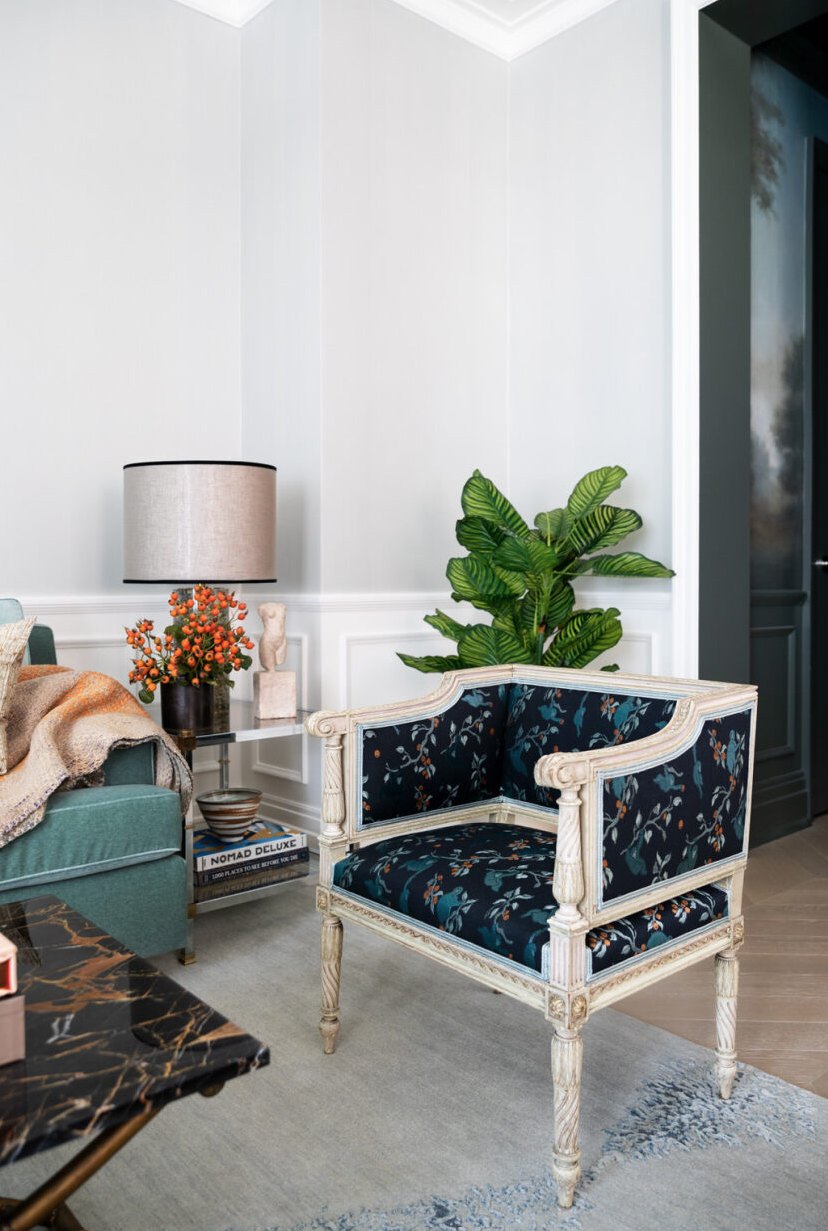 The more traditional Hellenistic style is one that while beautiful can be tricky to bring into your home. It's incredibly decorative and can be very dominating in a modern space. However, contemporary Greek interiors are all about mixing the old and new, being inspired by the ancient past, and making it work with a more contemporary aesthetic. It's why these spaces have so much character.
'Hellenistic architecture was known for its grandeur, use of columns, and intricate detailing. In our work today, we're incorporating classical elements like fluted columns, Corinthian and Ionic capitals, and ornate friezes into modern interiors creating a fusion of old and new,' explains designer Kati Curtis.
'Greek interior design often featured opulent materials, mosaic floors, and richly adorned furnishings, but I prefer to use elements sprinkled into my designs like an intricately carved side chair in a more modern interior, rather than a totally Hellenic-themed room.' she adds. This is a far more approachable way to introduce the style. We would recommend scouring online marketplaces to look for one really standout piece – a chair, a sculpture, or a piece of artwork and then use that as the jumping-off point for blending styles.
FAQs
What are the colors of Greek interiors?
Blue and white are the most known colors of Greek interiors, but you will find plenty of soft neutrals and rich tones like dark greens and terracotta within the palettes too.
As Maria Chatzistavrou explains, 'Look at the Greek landscape and you will see how these colors work together. Even intense colors such as the dark green of a forest or the deep blue of the sea, calm you when it is next to soft earthy colors. Or in the absence of color such as white, which with light reflects all the other colors and balances a space.'
How can you bring Greek style into your home?
If you are after that relaxed, rustic look you find in so many chic Greek hotels, the easiest way to embrace that vibe is to strip back your color palette and up the textures. Layer up whites, beiges, creams, and a touch of blue, and then bring in lots of natural textures like wood, rattan, and jute. Switch out your window treatment to something light and floaty too to really maximize any natural light.
Greek interiors are all about those natural materials, stone, and marble in particular. They add a subtle, organic texture to any space and you have so many options, both big and small, when it comes to bringing those materials into your home. If you are having a full reno, stone flooring can be found in most Greek homes, giving that lovely laid-back, rustic feel. If you're not starting any big projects and just after an update, stone pots and vases, the more rustic the better, will and a touch of Hellenistic style.
Sign up to the Homes & Gardens newsletter
Decor Ideas. Project Inspiration. Expert Advice. Delivered to your inbox.