Why I store broken bath bombs in my shoes
This hack took my shoe cupboard from stinky to scented and even made my hallway smell great too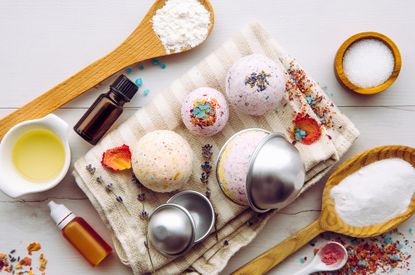 (Image credit: Getty Images)
Sign up to the Homes & Gardens newsletter
Decor Ideas. Project Inspiration. Expert Advice. Delivered to your inbox.
Thank you for signing up to Homes & Gardens. You will receive a verification email shortly.
There was a problem. Please refresh the page and try again.
In an effort to keep my home tidy, I have a rule: once you come through the front door, the shoes come off on the doormat and then go into the shoe cabinet.
In summer, this is absolutely fine – the cupboard is full of strappy sandals and sliders. In winter, however, damp boots from country walks; sneakers that have come straight from the gym and the obligatory Wellington boots, resulted in this cabinet being a little pungent. To the extent that it is also starting to affect the scent of my hallway – even the best candles and best reed diffusers weren't making a lot of difference.
Cue me trying to find a way that would deodorize my shoe cupboard and make my home smell nice. Odor-eating insoles had no effect, nor did an air freshener. Just when I was thinking about alternative shoe storage ideas, I stumbled across this hack that solved my problem: storing broken bath bombs in my shoes. I tried it out and I haven't looked back.
Why I store broken bath bombs in my shoes
Bath bombs are the perfect tool for making your shoes, as well as your shoe cupboard or boot room, smell great. Not only do the bath bombs absorb odors, but they also replace them with beautiful fragrances. It's also easy and cost-effective, as one bath bomb will go a long way.
I store my bath bombs in a jar in my bathroom – they make a beautiful display as part of my bathroom ideas – and the bottom of the jar is full of bath bomb dust and broken bits of bath bomb. These broken bath bombs are perfect for this shoe cupboard hack. I simply add a tablespoon or two of the dust to a muslin sachet – I use these Reusable Drawstring Cotton Tea Bags from Amazon. Then place one in each of my shoes.
If you don't have a jar of bath bombs, you can buy a bath bomb for this specific task and roughly crush it with a rolling pin. One bath bomb will cater to about six pairs of shoes, depending on the size of the bath bomb (this organic pack of 50 will last a family well over a year).
This hack is also recommended by artisan bath bombs and soap company Buck Naked Soap Company. 'We recommend a sachet of broken bath bomb added to the inside of the shoe. The baking soda in the bath bomb helps deodorize, while the essential oils add a fresh scent. Once the odor from the shoes is taken care of, the bath bomb sachets help keep the whole boot room smelling fresh and inviting.'
1. Baking soda in bathbombs deodorizes
Bath bombs are made from a mix of baking soda, cornstarch, Epsom salts, citric acid, coconut oil (or similar oils), and fragrant essential oils. This makes them the perfect deodorizer.
Baking soda is an essential part of many cleaning tips and there are loads of ways you can clean with baking soda – it can be sprinkled on upholstery and carpets to absorb bad odors and then vacuumed up to make your home fresh. It also does the same thing with shoes as the baking soda (and the citric acid) absorb unwanted odors.
You can sprinkle baking soda directly into your shoes, however, it can be hard to remove and may leave residue on your socks. That's why bath bombs are the perfect solution.
The Epsom salts and cornstarch will help to absorb moisture helping to dry out any damp shoes – Epsom salts are also antibacterial helping to keep your shoes clean.
2. Fragrance replaces bad odors
There's a reason that you can identify a Lush shop halfway down the sidewalk – bath bombs are highly fragrant! They have been expertly created to fill your bathroom with their beautiful perfume and they have exactly the same effect on your shoes.
Pick your favorite fragrance and your hallway will soon be full of its sweet perfume – much better than the scent of damp shoes.
3. Cost effective
Experts at Nike recommend this DIY recipe to keep your trainers smelling fresh. 'Mix ¼ cup of baking soda, ¼ cup of baking powder, and ½ cup of cornstarch. Put the mix in a pair of cotton socks or sprinkle the mixture in both shoes and leave overnight. For an extra scent booster, add a few drops of your favorite essential oil.'
Since baking soda, cornstarch and essential oils are all components of bath bombs, Nike's advice is based on the same science. However, it is more cost-effective to use bath bombs as you don't need to buy lots of different ingredients, the scent will be stronger and it also doesn't require you to sacrifice a pair of cotton socks which would quickly add up when you take into account the number of shoes you own.
Sign up to the Homes & Gardens newsletter
Decor Ideas. Project Inspiration. Expert Advice. Delivered to your inbox.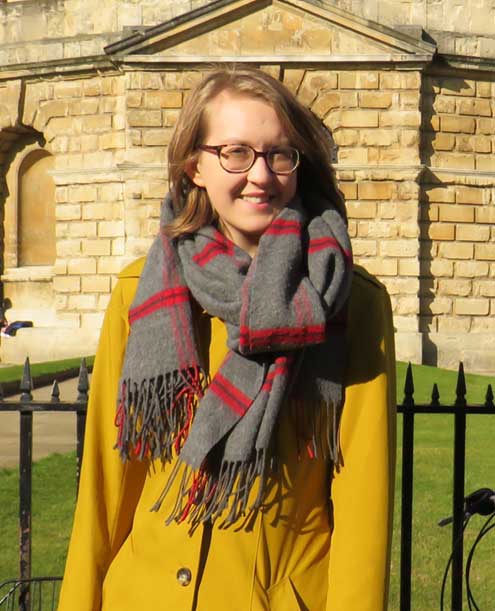 Content Editor and Sub-editor
Having graduated with a first class degree in English Literature, Holly started her career as a features writer and sub-editor at Period Living magazine, Homes & Gardens' sister title. Working on Period Living brought with it insight into the complexities of owning and caring for period homes, from interior decorating through to choosing the right windows and the challenges of extending. This has led to a passion for traditional interiors, particularly the country-look. Writing for the Homes & Gardens website as a content editor, alongside regular features for Period Living and Country Homes & Interiors magazines, has enabled her to broaden her writing to incorporate her interests in gardening, wildlife and nature.