How to hide a washer and dryer – interiors experts on keeping laundry appliances out of sight
Not everyone has a dedicated laundry room – sometimes you need tricks to keep your appliances hidden away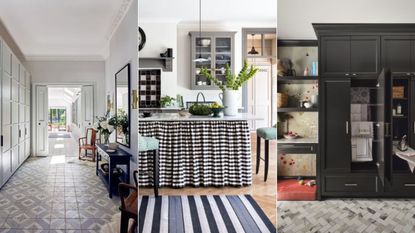 (Image credit: Richard Powers / Future / Kathleen Walsh)
While plenty of homes are blessed with dedicated laundry rooms, that's definitely not the case for everyone.
Laundry closets are increasingly common – as are laundry hallways, and alcoves. Unfortunately, even the most high-end washers and dryers can still be pretty unsightly and majorly cramp your overall design aesthetic.
We turned to the experts to find out their top tips for hiding a washer and dryer. Here's what they had to say when it comes to making these necessary home appliances blend more seamlessly into their surroundings.
How to hide a washer and dryer
No matter how small your space, you can find a way to hide a washer and dryer to ensure laundry doesn't dominate decor.
1. Hide a washer and dryer behind doors
The easiest way to hide a washer and dryer is to put the appliances behind closed doors. Kathleen Walsh gave us tips on making a laundry room stand out, and designed the beautiful space with bountiful laundry room cabinet ideas above, which has ironing and airing kit behind closed doors, and plenty of other laundry room storage ideas, too.
If some practical hardware has to be on show in your laundry space, interior designer Kate Marker says you should change the focal point:
'Instead of having the washer and dryer as a focal point, create a beautiful space around these machines!' she says. 'If there is a dedicated laundry room, we suggest a patterned floor tile, styled shelves, a stone countertop, charming light fixtures, and pretty cabinet color to make this pleasing instead of dreaded.'
An artist at heart, Kate has been honing her talents while developing her signature fresh, timeless look since 2000. As Principal Designer of Kate Marker Interiors, Kate oversees all design projects to ensure they are a reflection of the client while incorporating the KMI aesthetic. Kate's strengths lie in her endless ideas & inspiration, relentless work ethic, unwavering vision, and great sense of humor, which, lucky for everyone she works with, is infectious.
2. Disguise a washer and dryer behind a 'skirt'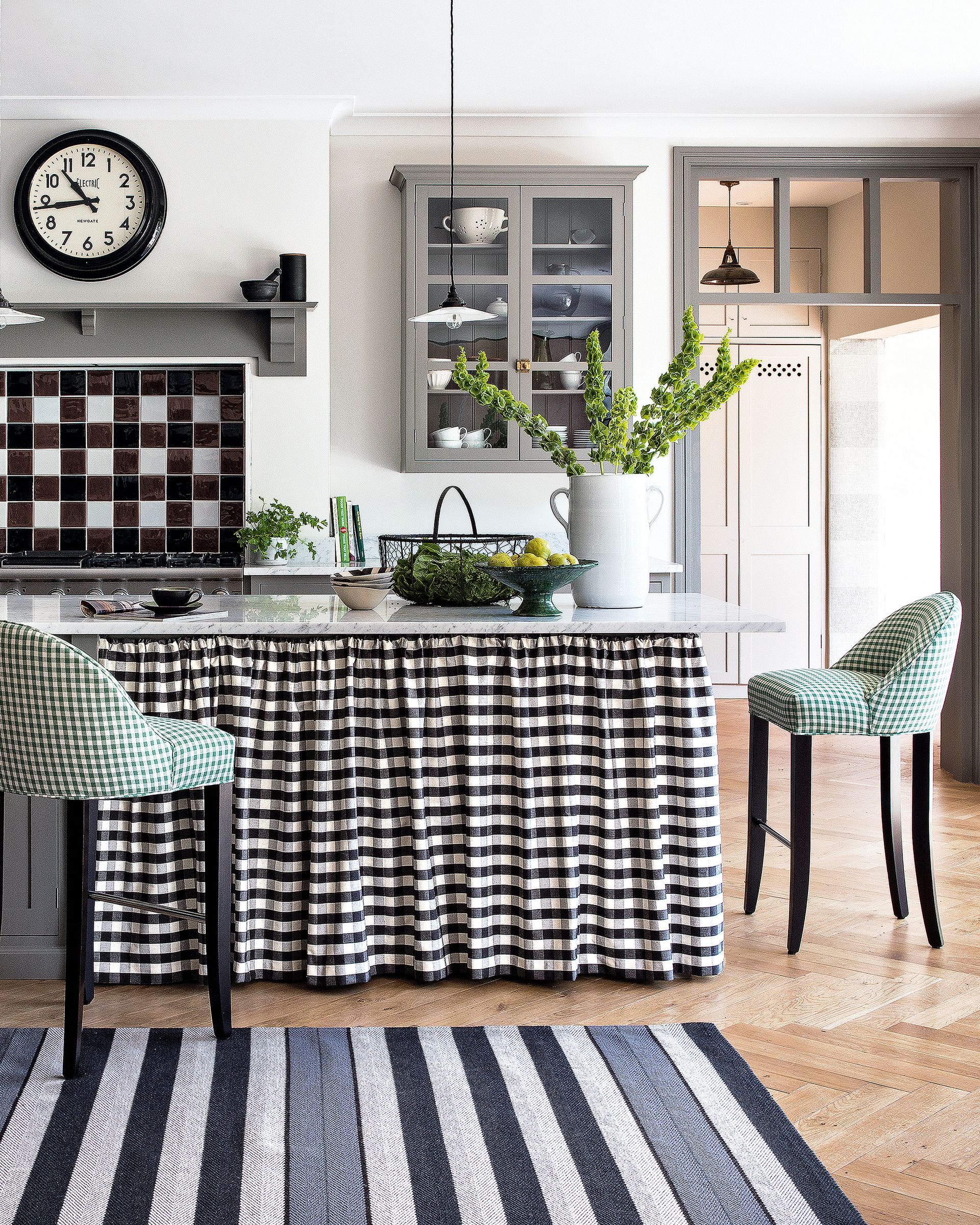 The suggestion to 'just add curtains' gets tossed around a lot when it comes to concealing your laundry machines, but that's because it's solid advice.
'If the washer/dryer is exposed, a little draped fabric on a rod can cover the doors for an unstructured yet functional detail,' says Kate Marker.
Peter Spalding, Interior Designer, Co-founder, and Chief Creative Officer of Daniel House Club, however, got a little bit more specific.
'Get the white oak countertop available at Ikea and place it over your machines,' Spalding explains. 'Buy a brass cafe curtain rod and mount it under the counter, about 1.5 inches from the front edge. Hang a curtain from the counter to the floor. Put your bar on top of the machines. You could have your washer and dryer in the living room with this solution and I'm sure a lot of people would never notice.'
With this approach, you'll have a far more refined and chic set-up than just stringing a shower curtain along a spring rod.
The concept behind Daniel House Club is both personal and professional to CEO Alexander Spalding and Chief Brand Officer Peter Spalding. As past owners of an interior design firm, they had experienced the many challenges and complexities of running a design business themselves. The Spalding brothers knew all too well that designers spend excessive amounts of time finding products, managing vendors, and handling logistics – and spend less time on being creative. The two knew there must be a better way. And so, Daniel House Club was born.
3. Distract attention with a decorative countertop
If you don't have a full laundry room but crave the feel of one, Dan Mazzarini, Principal and Creative Director of BHDM Design and ARCHIVE by Dan Mazzarini, assures us it can be done.
'If you have a side-by-side front load washer and dryer, consider building a countertop to give you surface area above the machines,' he says.
Then populating the countertop and laundry room shelving above with more than just practical laundry kit will distract the eye, as in the space (above).
As the Principal and Creative Director of BHDM Design, Dan Mazzarini oversees a creative collective of designers, architects, artists, and illustrators who are passionate about approaching each design challenge with a fresh and discerning eye. He's an award-winning, bi-coastal interior designer with over 20 years of building brands across hospitality, home, fashion, and cosmetics.
4. Put a washer dryer into a dividing unit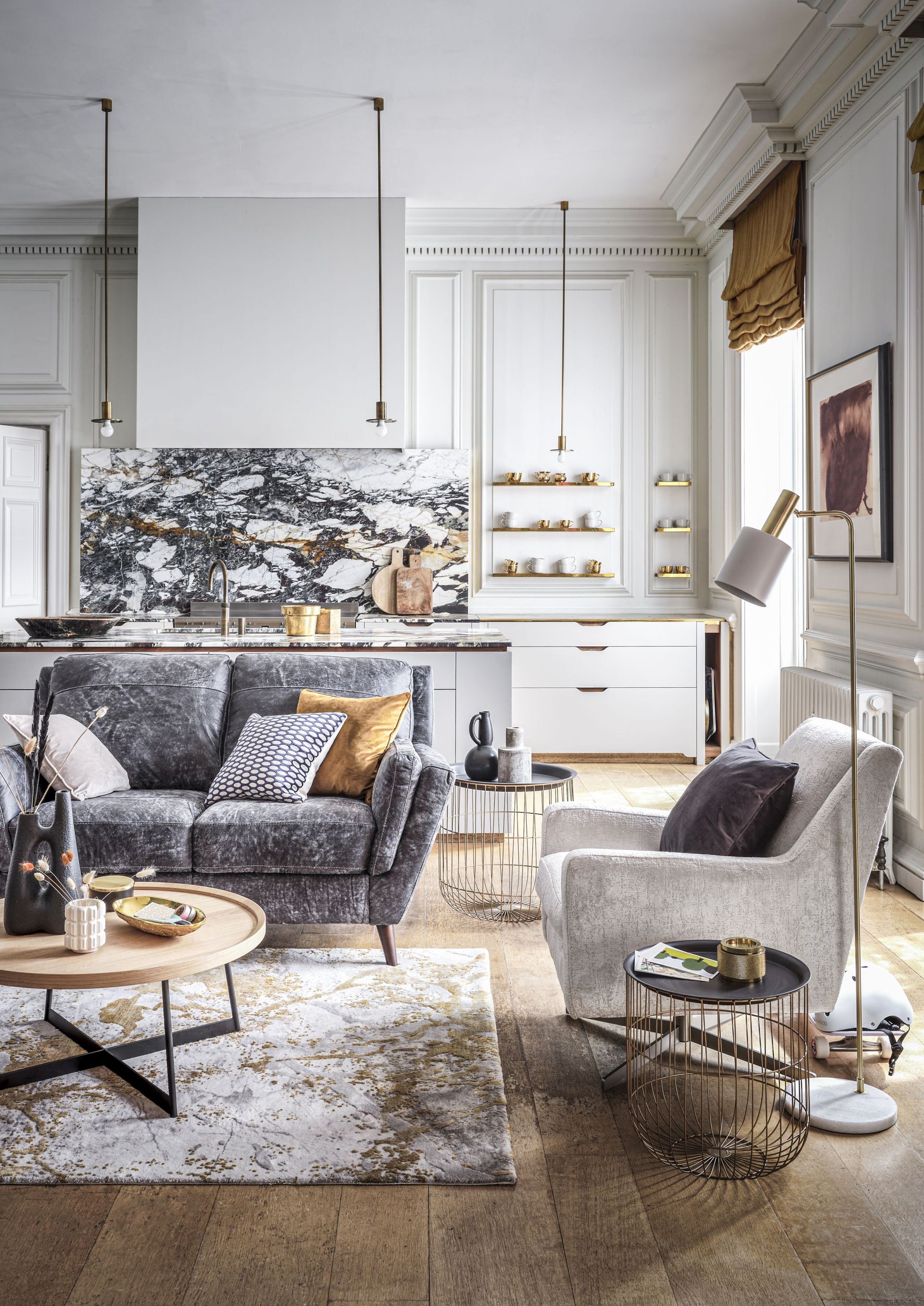 Spalding has another great suggestion that's perfect if your laundry set-up is using up valuable room space – or if you just want to add a pop of color to the room but curtains won't quite work.
'My brother had this situation and bought an industrial packing table that he placed over the machines,' Spalding explains. 'He then had thin upholstered panels mounted on three of the four sides to conceal the ugly parts. The packing table was perpendicular to the main wall, so he was able to use it as a divider that created a workspace on one side and a cozy alcove on the other. It cost maybe $450.'
Another option in an open-plan apartment with no separate space to hide laundry appliances? Put one within a kitchen island.
5. Make use of alcoves and hallways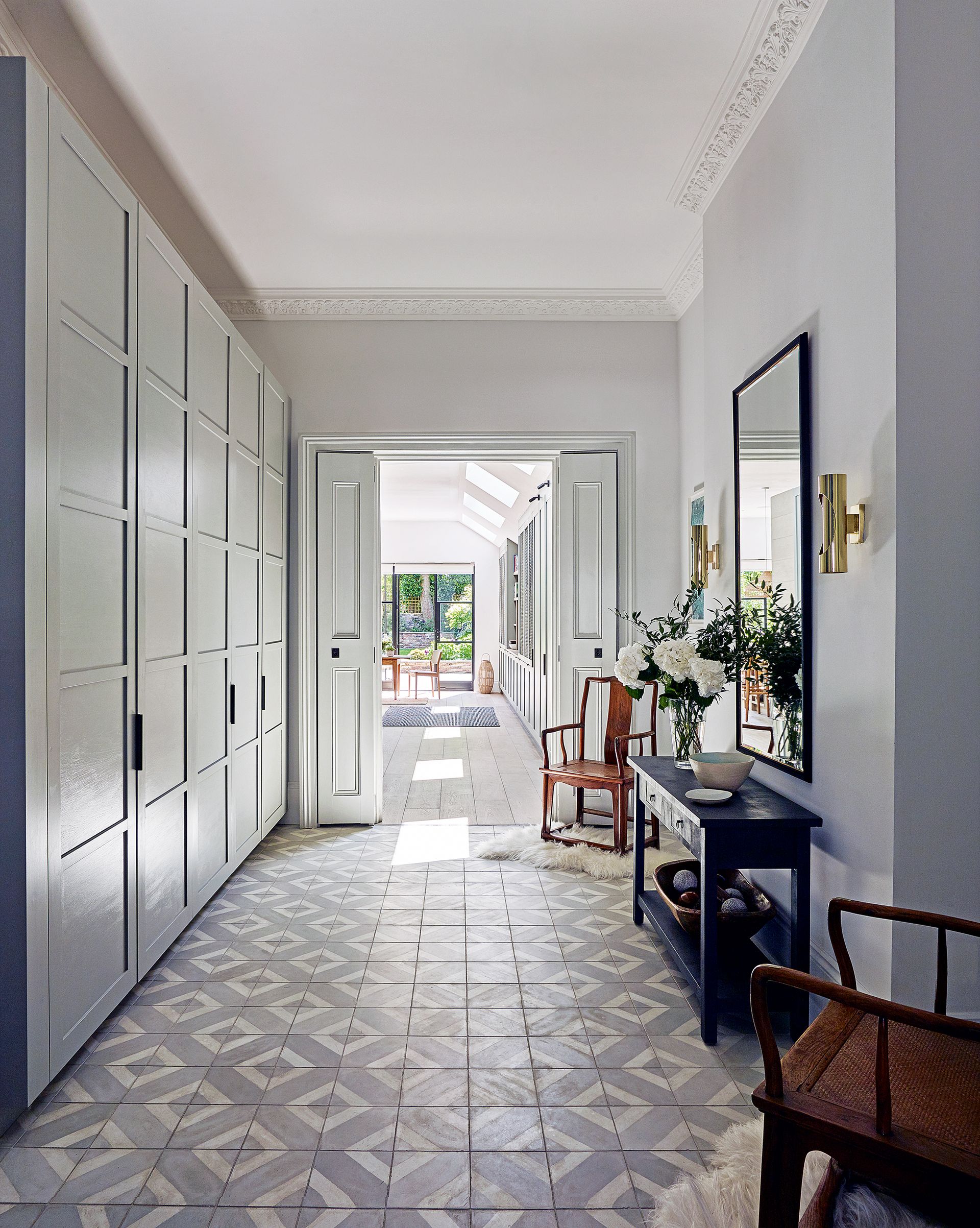 If you don't have a dedicated laundry room or closet but do have hidden alcoves or wider hallways, Spalding suggests making the most of these areas for your laundry set-up.
'Deep passageways are very luxurious in a house. They create thicknesses between each room that can be used for closets, cupboards – anything really,' says Spalding. 'I have used these deep passages to create totally hidden laundry rooms complete with sinks and folding tables. Guests would never even realize these tiny rooms existed, but they can be placed in super convenient locations.
'In my last house, my laundry was in a passageway that was four feet wide and six feet long,' he assures us. 'I had a niche for the stacked machines, a niche for the sink, and a small folding counter. I had a little fridge for drinks, too. It was a laundry and an overflow bar for parties – no one ever really thought about the fact it was a laundry room, but I had everything I needed to clean and fold my clothes when a party wasn't going on.'
FAQs
Can you enclose a washer and dryer?
Yes, you can enclose a washer and dryer. The cabinetry will need to be a little deeper (around 4in) to take account of drainage pipework, and you should allow an inch all around the appliance, front, back and sides, for ventilation and movement.
Can you put a stackable washer and dryer in a closet?
Yes, you can put a stackable washer and dryer in a closet. Ensure there is around 4in space behind the appliances for drainage pipework, and an inch between the appliances and cabinetry all around for ventilation and movement.
---
The tips above will mostly suit front load washers and dryers, however you can hide top load appliances just as easily with a tall cabinet: simply use the space above for a rail for hanging and airing clothes or stack shelves above with laundry supplies. If you are using the cabinets to air clothes, too, have sliding or retracting doors that can be left open for ventilation, or have ventilation holes drilled into the doors or sides of the cabinet.
Sign up to the Homes & Gardens newsletter
Decor Ideas. Project Inspiration. Expert Advice. Delivered to your inbox.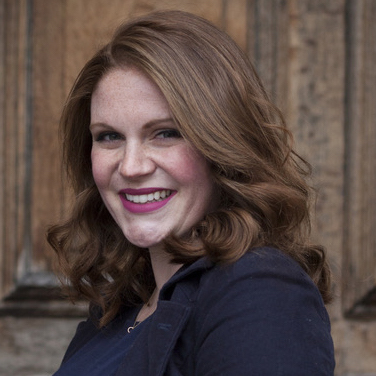 Ashley Chalmers is a freelance writer for Homes & Gardens with over 10 years' experience as a digital writer and content creator. Ashley started her career in entertainment and fashion PR in New York, before moving to the French countryside and taking up travel blogging. Now, Ashley lives in London. Her passion for travelling is only matched by her love of making her house feel like a home, and she loves to include her finds from around the world in her decor.