Does a coffee table make a room look bigger or smaller? Design experts share a magic formula
What effect can a coffee table have on your space? Interior designers share their tips and a design secret to help you get it right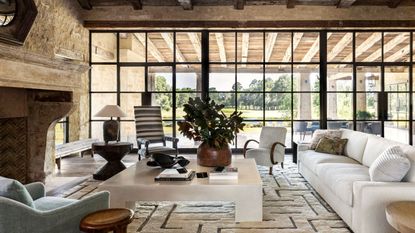 (Image credit: Julie Soefer)
Sign up to the Homes & Gardens newsletter
Decor Ideas. Project Inspiration. Expert Advice. Delivered to your inbox.
Thank you for signing up to Homes & Gardens. You will receive a verification email shortly.
There was a problem. Please refresh the page and try again.
Forget received wisdom that you shouldn't have a coffee table because it makes a living room look smaller – that's not always, nor necessarily, the case. And anyway, what if you really need one for the space to be functional or to feel balanced?
A coffee table is central to your living room furniture ideas, but its impact on your space is important and real. Clearly, a coffee table won't necessarily to make a room look bigger since it takes up visible floor space. However, choose the right one and its presence can only be a positive.
Either way, we're working on the basis that most of you will want to make your room look bigger, though a lucky few may be reversing our advice to make it look smaller.
So, we asked design experts: does a coffee table make a room look bigger or smaller – and how can we get our choice spot on? The key, unsurprisingly, is to choose one that's the right size, shape and material.
The right-size coffee table is everything
It may not seem important, but the effect a coffee table has on the perceived size of the room will affect how you feel about the space, how you use it, and of course how the room looks. The relative size of the coffee table in your scheme is crucial when deciding how to design your living room.
New Jersey-based Interior designer Jennifer Muirhead agrees, 'It's all about the scale of the room and the furniture already in place. A coffee table should be large enough that everyone seated around it can reach it comfortably, without having to stand up and walk over to it. That is what makes a room look "wrong." Conversely, no one should be bumping knees against it either. A too-large coffee table will make a space feel cluttered and small.'
Take the time to consider your options carefully and you'll be more than halfway to creating a harmonious and relaxing living room for all to enjoy. And if you need a little help working out how best to match a coffee table to your living room layout ideas, here are some starting points to keep you on track. More on that next.
The 'magic' coffee table formula
We're often asked the question: 'how wide should a coffee table be?' But it's not the width of the coffee table that's important. If you're looking to create a comfortable, relaxing living room, the key measurement to bear in mind is the distance from your sofa or chair to the coffee table.
Designer Stephanie Brown says; 'Our rule of thumb is minimum 18 inches from seating to the table edge.'
And 18 is the magic number for Heather Hilliard, too, who develops the formula, saying, 'A maximum of 18 inches is the correct distance to set a coffee table from the edge of the furniture that it serves, for both its long and short ends. Working backward from where your large furniture pieces need to be situated in your space will give you the perfect size for your coffee table and space. Less than 18 inch spacing narrows circulation and greater than 18 inches makes it a stretch to set down a drink or rest one's feet – and makes the space feel smaller and more cramped.'
A large coffee table can make a room look bigger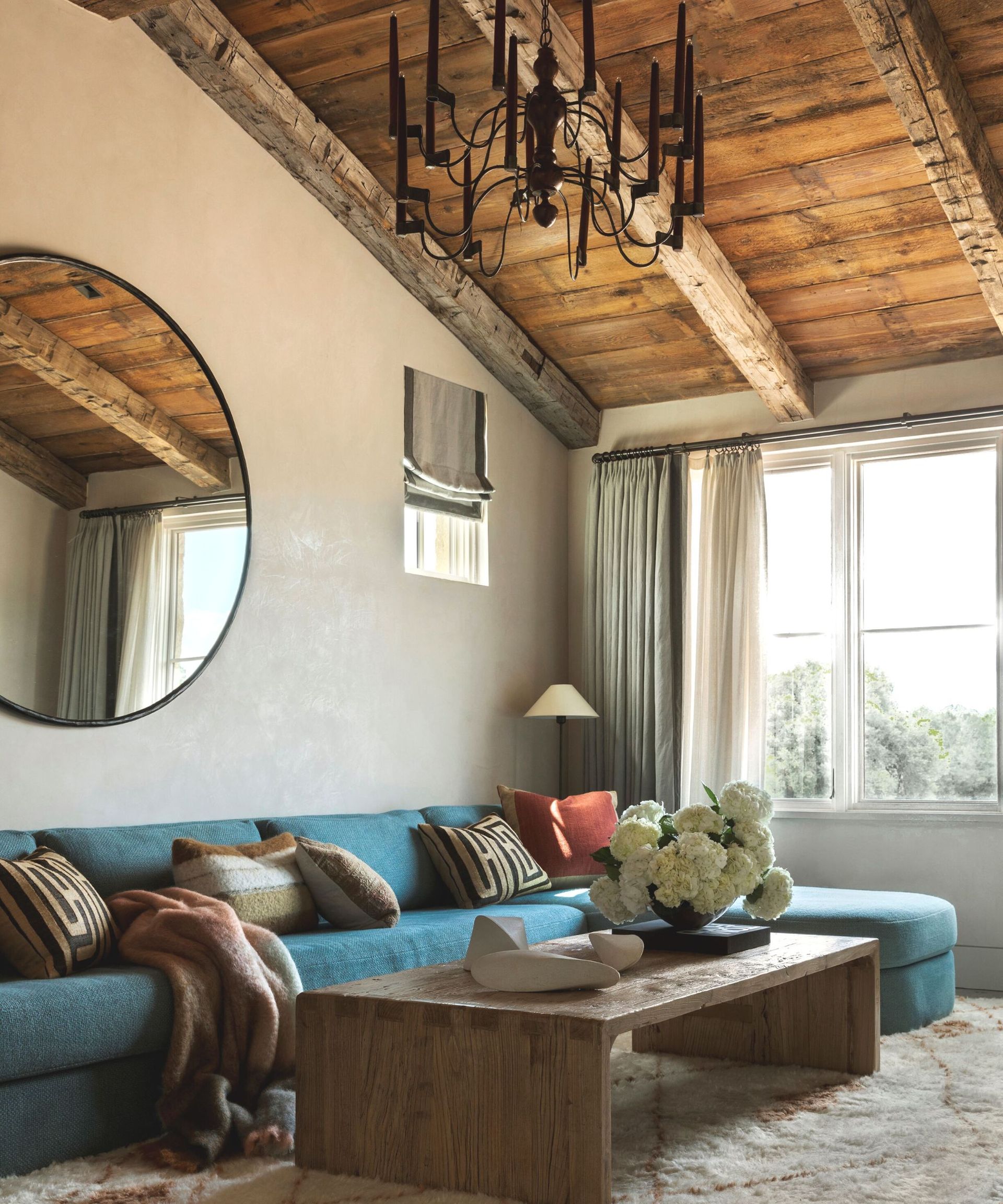 It sounds counter-intuitive, but the best coffee table to make a small living room look bigger might actually be the largest one you can comfortably fit in the space. In choosing a large coffee table, you're making a confident statement about the generous proportions of your room and thus adding to the illusion of more space.
Interior designer Eleanor Cummings, whose company designed and furnished the room pictured above, says, 'On certain floor plans, a large coffee table can make a room look bigger. Any large coffee table, whether concrete, wood, glass or Lucite; can make a room appear larger. Clear materials allow for more translucency, making the room feel more spacious.'
Be warned though: going large with your coffee table to make the room look bigger doesn't always work if you make some classic small living room layout mistakes, says Vancouver-based interior designer Stephanie Brown, 'A large square table can help a room look expansive, but if it's too close to the chairs and sofa it can do the opposite and look oversized for the space.'
Having sufficient circulation space in your living room is crucial. If opting for a large coffee table means there won't be enough space to cross the room then it's time to think again. It's all about getting the balance right.
San Francisco interior designer, Caitlin Flemming agrees: 'You always want to be sure you have plenty of room between the coffee table and the sofa and chairs in the room. Otherwise, it will not only make the room look small, but will also make it feel small.'
Want your room to feel smaller? Cut down on circulation space – though we'd never advise this.
A glass coffee table makes a room look larger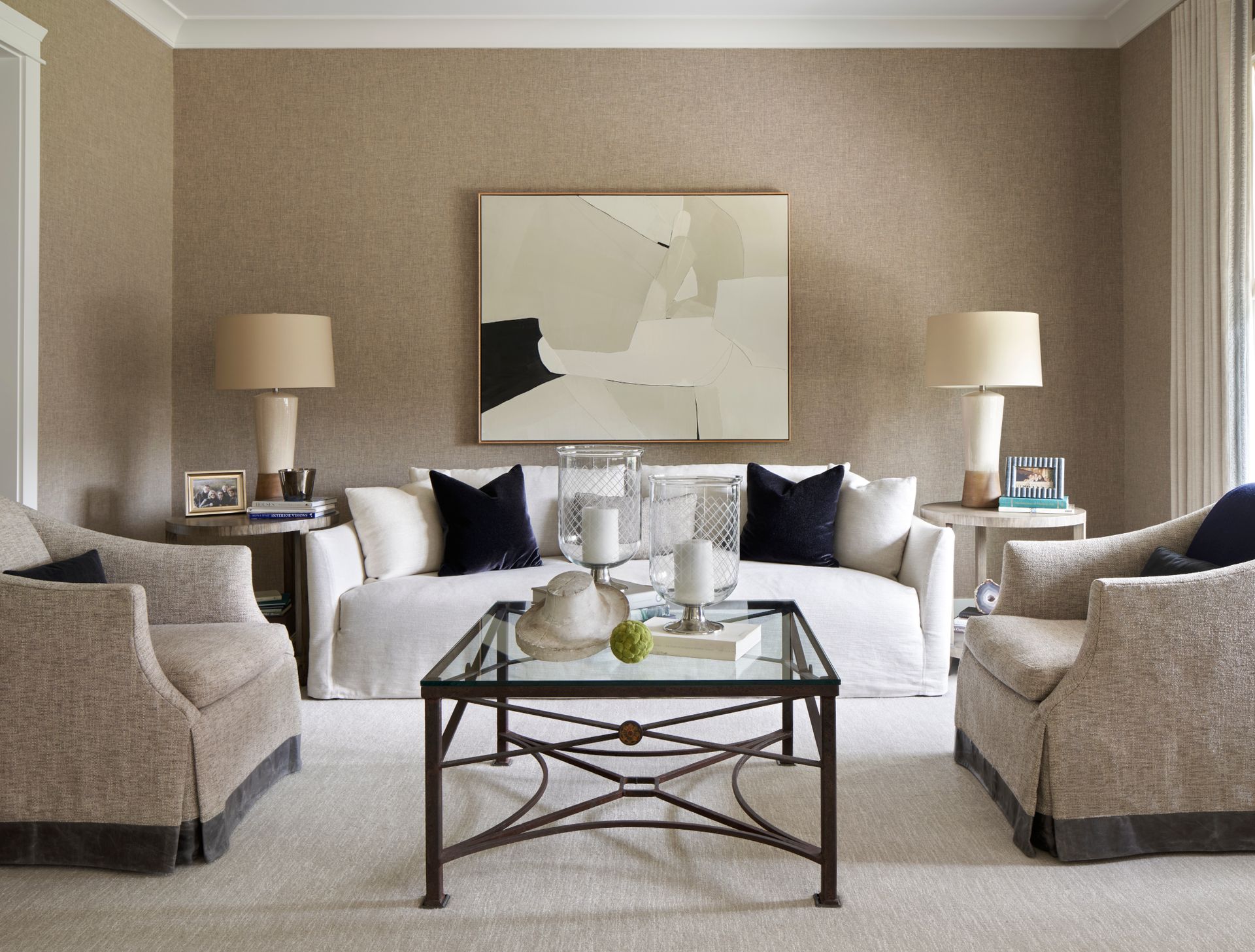 Coffee tables make a room look bigger if you opt for designs in certain materials. For instance, a glass coffee table fades into the background allowing other pieces, such as a rug beneath, or the sofas either side, to take the limelight.
Stephanie Brown believes that coffee tables in other materials can share the same spacious quality of glass: 'Glass, light wood, and light textiles are all helpful in creating an airy space that feels more open and spacious. The eye moves past them and continues around the room. Dark wood or dark textile tables do the opposite and stop the eye. Which can be great if seeking a pop of color or trying to make a central focal point.'
Heather Hilliard, the San Francisco-based principal of Heather Hilliard Design, agrees, but adds a note of caution: 'A glass coffee table will add lightness and airiness to the space, but it isn't suitable for bearing a lot of weight, resting feet, or being bumped into by little ones.'
Want your room to feel smaller? Darker, denser materials will do this efficiently.
A round coffee table makes a room look bigger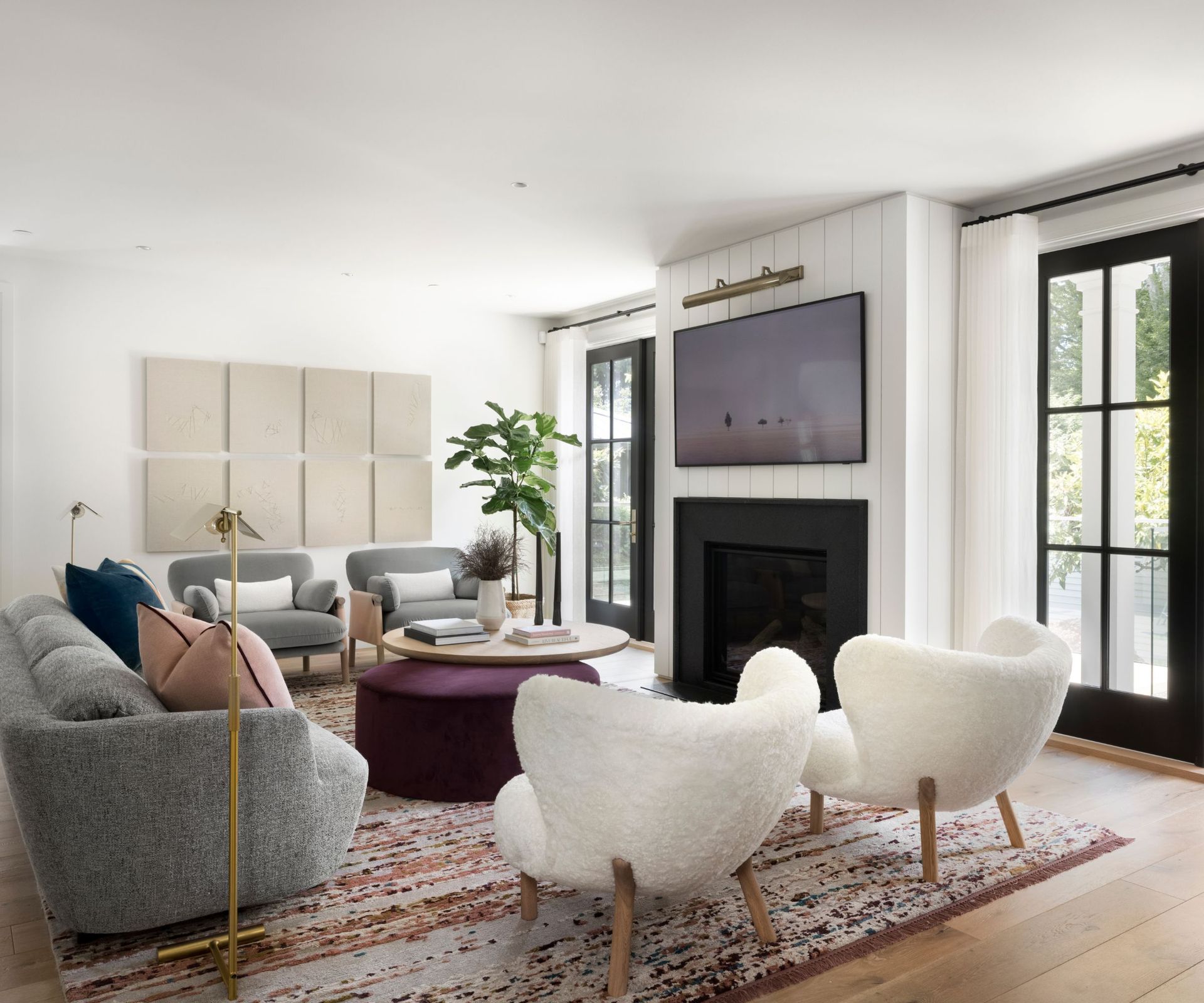 What about a coffee table's shape? Does a round table take up more space?
No, on the contrary, round tables take up less space, says Stephanie Brown, who came up with the space-saving idea of layering two round coffee tables, one pale wood, one a dark, textured ottoman, for the room above.
'Round coffee tables can help give the illusion of more space, as can glass coffee tables,' says Brown. 'A group of smaller tables will provide some breathing space where otherwise the space would have been filled with a solid larger table. Imagine a square table with its corners clipped off… a round table is a great way to gain more space in a room.'
On the question of coffee table shape, Caitlin Flemming disagrees: 'A rectangular coffee table works best. Round tables can take up too much space, although in some cases, with a curved sofa, they work well.'
Whatever the shape, if you're wondering if coffee tables should be lower than a sofa, the answer is 'yes, if you want it to the room to feel larger. Taller coffee tables will make the space feel smaller, and will be awkward looking, too.
FAQs
Why have a coffee table at all?
If magic formulas and complicated measurements for choosing and positioning a coffee table are not your thing, maybe you're asking yourself why have a coffee table at all? Wouldn't the room look bigger without one? Well, large or small, shiny glass, or soft upholstered ottomans, coffee tables add an element of coziness and personality to your living room.
And it's that personal touch that designer Joan Enger of J. Patryce Design & Company feels is just as important as any layout conundrums, as she shares her coffee table styling ideas. 'The idea is to create a focal point. Perhaps there is a beloved sculpture or piece of pottery which becomes the anchor on your coffee table alongside a stack of books and some fresh flowers and candles,' she says. 'Experiment with different groupings. The combination is what makes it work. And don't be afraid to rearrange every so often – think of your coffee table as a revolving vignette.'
Caitlin Flemming agrees, 'A coffee table finishes the room, grounds the space and brings the room together. It's a central part of the living room. Without it, the room would look unfinished and not be as practical to use in everyday living. In addition, it's a practical area for trays of tea, books, and items that tell the story of those living in the house.' And who doesn't love a house story?
Sign up to the Homes & Gardens newsletter
Decor Ideas. Project Inspiration. Expert Advice. Delivered to your inbox.
Karen is the houses editor for homesandgardens.com and homes editor for the brand's sister titles, Period Living and Country Homes & Interiors, and an experienced writer on interiors and gardens. She loves visiting historic houses for Period Living and writing about rural properties for Country Homes & Interiors, and working with photographers to capture all shapes and sizes of properties. Karen began her career as a sub editor at Hi-Fi News and Record Review magazine. Her move to women's magazines came soon after, in the shape of Living magazine, which covered cookery, fashion, beauty, homes and gardening. From Living Karen moved to Ideal Home magazine, where as deputy chief sub, then chief sub, she started to really take an interest in properties, architecture, interior design and gardening.