7 outdated kitchen cabinet trends to avoid if you don't want your kitchen to look old-fashioned
Run, don't walk, from these old-fashioned cabinet ideas that are guaranteed to date a new kitchen before it has even been fitted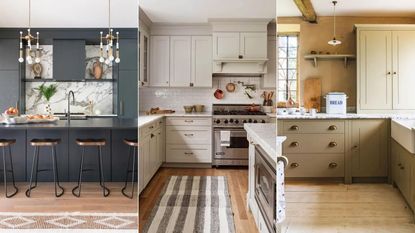 (Image credit: Cortney Bishop Design/Katie Charlotte / Becca Galbraith/Rikki Snyder / British Standard by Plain English)
As one of the biggest investments you'll ever make in your home, and a permanent fixture to boot, a new kitchen should be designed to last at least a decade. Ideally longer. With that in mind, there's a lot of pressure to get it right when considering the many kitchen cabinet ideas available.
Avoiding outdated kitchen cabinet trends is one step on the road to success. If a particular look, finish, or color is falling from grace now, it could well be old news before you've even turned your kitchen ideas into fruition.
If you're really concerned about the longevity of fast-paced trends, the simplest solution is not to engage! Shaker kitchen cabinets or simple flat-fronted doors are both timeless choices that are unlikely to ever look old. 'Going for classical kitchen cabinets that will never date can take a lot of the pressure off when planning a kitchen and there are lots of ways to make a classical kitchen look unique, interesting, and filled with personality,' says Tom Howley, design director of Tom Howley.
Outdated kitchen cabinet trends
Another great way to swerve outdated kitchen cabinet trends is to identify what IS in vogue. Right now, that's green kitchens (all the greens but earthy, nature-inspired tones are scoring high in the popularity stakes), fluted doors, and designer pantry ideas, which are all investment-worthy trends you'll never regret.
1. Ultra-modern kitchens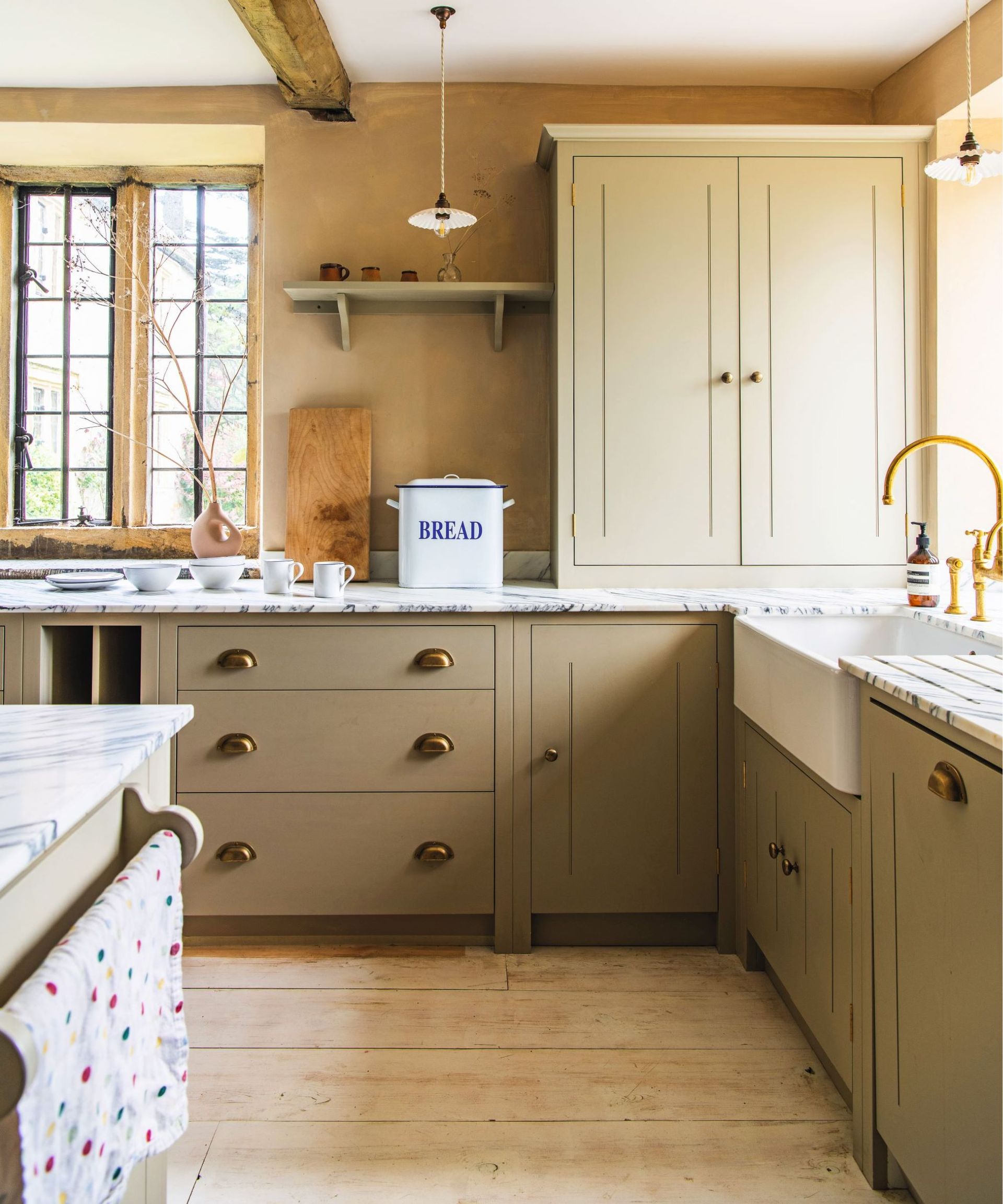 Ultra-modern kitchens, once popular in the early noughties, have had their time, according to kitchen designers and homeowners alike. The old cliché of 'hub of the home' is truer than ever – all life happens here, so taking the time to craft a kitchen that exudes character is back at the forefront of design. But that doesn't mean you need to skip all the mod-cons of a contemporary kitchen.
'It's a fact of life that we all want to feel special rather than one of many – and that applies to the way we approach our kitchen remodel projects,' says Charu Gandhi, director of Elicyon, on getting the tailored look. 'We want to give our clients something tailored, in every detail, to their requirements.'
This often means doing away with the ultra-modern look once favored by quick flippers. Kitchens, these days, are now warmer and more welcoming than ever, as demonstrated above. The best kitchen designers agree that the stark, modern look is over.
Designer Hubert Zandberg loves to pack personality into his designs. 'Consider also what will bring true enjoyment in the space. I believe that comes from the color, texture, and aesthetic of the room – and from a sense of soul. It is important that a kitchen reminds you of a happy childhood memory or has a certain energy, even if it is subconscious.'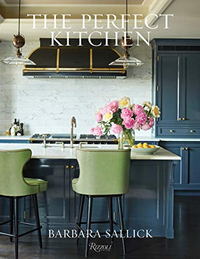 The Perfect Kitchen, Barbara Sallick | From $21.87/£30.45 at Amazon
Learn more about the fundamentals of kitchen design in this bestselling book. Find practical advice as well as hundreds of images to inspire your own remodel
2. Handle-free doors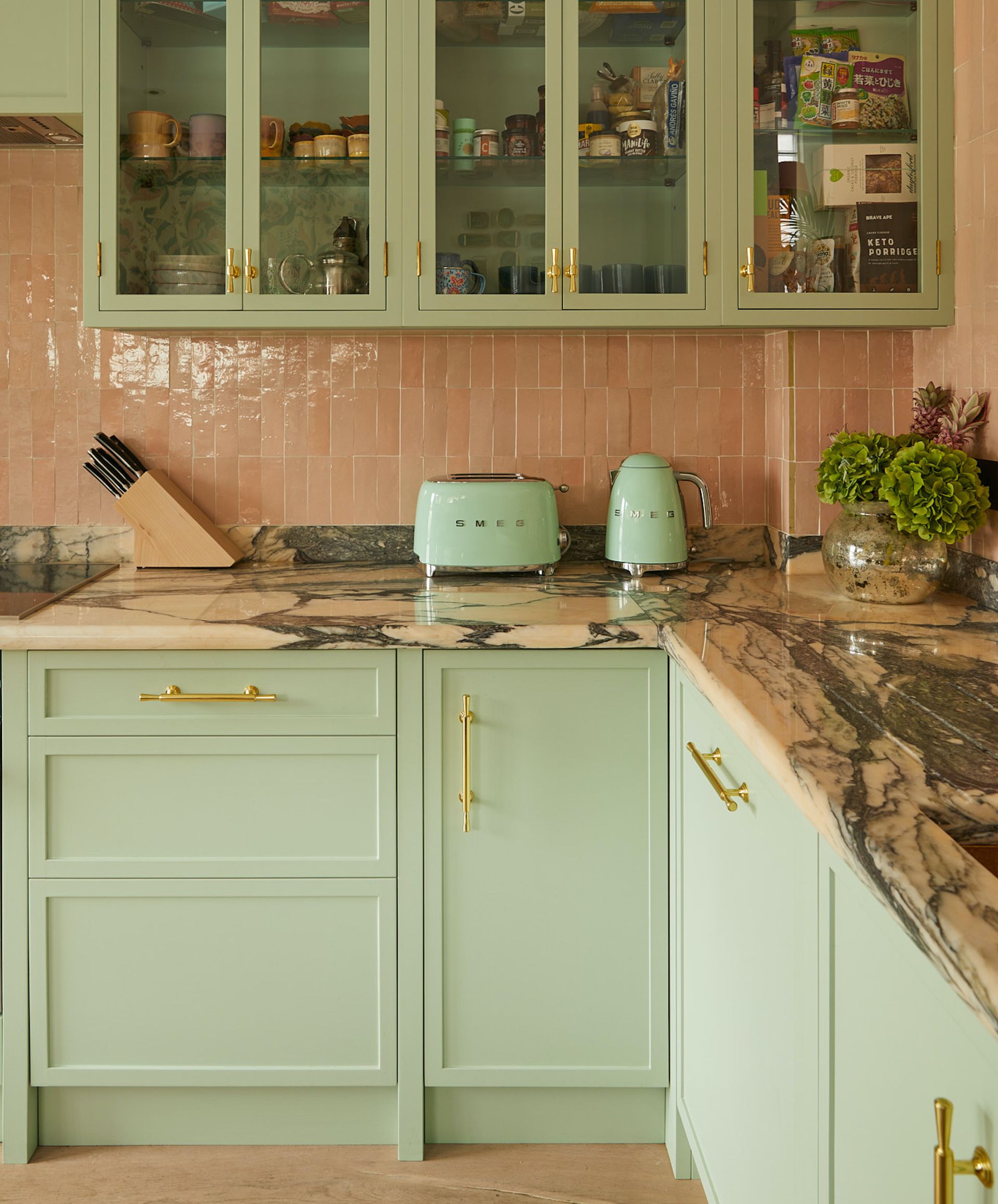 All those sleek minimalist doors with push-touch or electric-powered openings that were super trendy in the early noughties are just not practical. 'As well as opening when you lean on them, they also get marked really easily with greasy fingers when cooking,' agrees Lucy Sear-Barlow, founder, of Barlow & Barlow.
If you love the slick, streamlined look of a flat cabinet door, it's far better to go with discreet recessed handles, often hidden in a shadow line at the top, which provide a decent ledge to grip onto without ruining your minimalist buzz!
'We loved using hardware to elevate pieces of furniture, especially kitchen cabinets which can be as aesthetic as they are practical. Not only are handles easier to grip, especially on integrated dishwashers and fridges, but they also add extra design flair to the space,' adds Lucy. 'Play around with color, styles, and materials to really make your kitchen sing!'
Lucy Sear-Barlow founded her eponymous interior design studio in 2013 after cutting her teeth at Cheshire-based decorator Mark Gillette. She works with her husband Joshua Sear, an architect and landscape designer, and the duo's fearless approach to colour and pattern has made Barlow & Barlow one of the most exciting London practices to watch.
3. Matte black hardware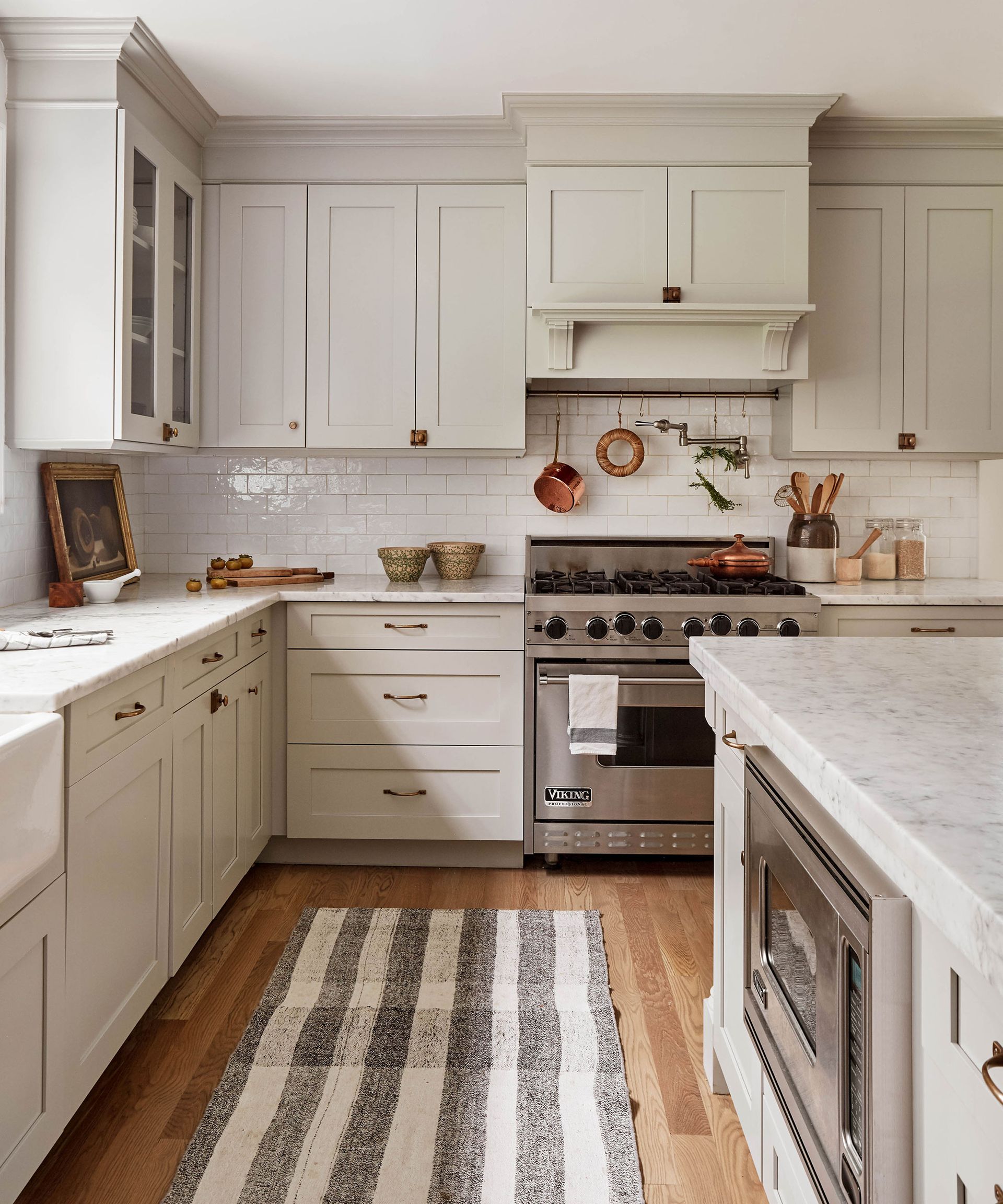 As well as handleless cabinet doors, designers are also doing away with matte black hardware. The reason? They just do not last, and you will find yourself replacing them in no time.
The truth is that matte black hardware has a limited lifespan, and the cons certainly outweigh the pros when it comes to this particular finish. Not only can this unfashionable trend be overpowering, but no matter how the hardware has been finished, whether oxidized or powder coated, the black color will fade over time if not properly maintained.
For an enduringly stylish and contemporary look, go for solid metal, as Connecticut-based interior designer Becca Galbraith has done in this Shaker kitchen. Brass, bronze, and stainless all sleek and stylish, giving your kitchen cabinets a long-lasting, classic appeal. The durability of metal means that your hardware is bound to last as long as your kitchen itself.
4. 50 shades of gray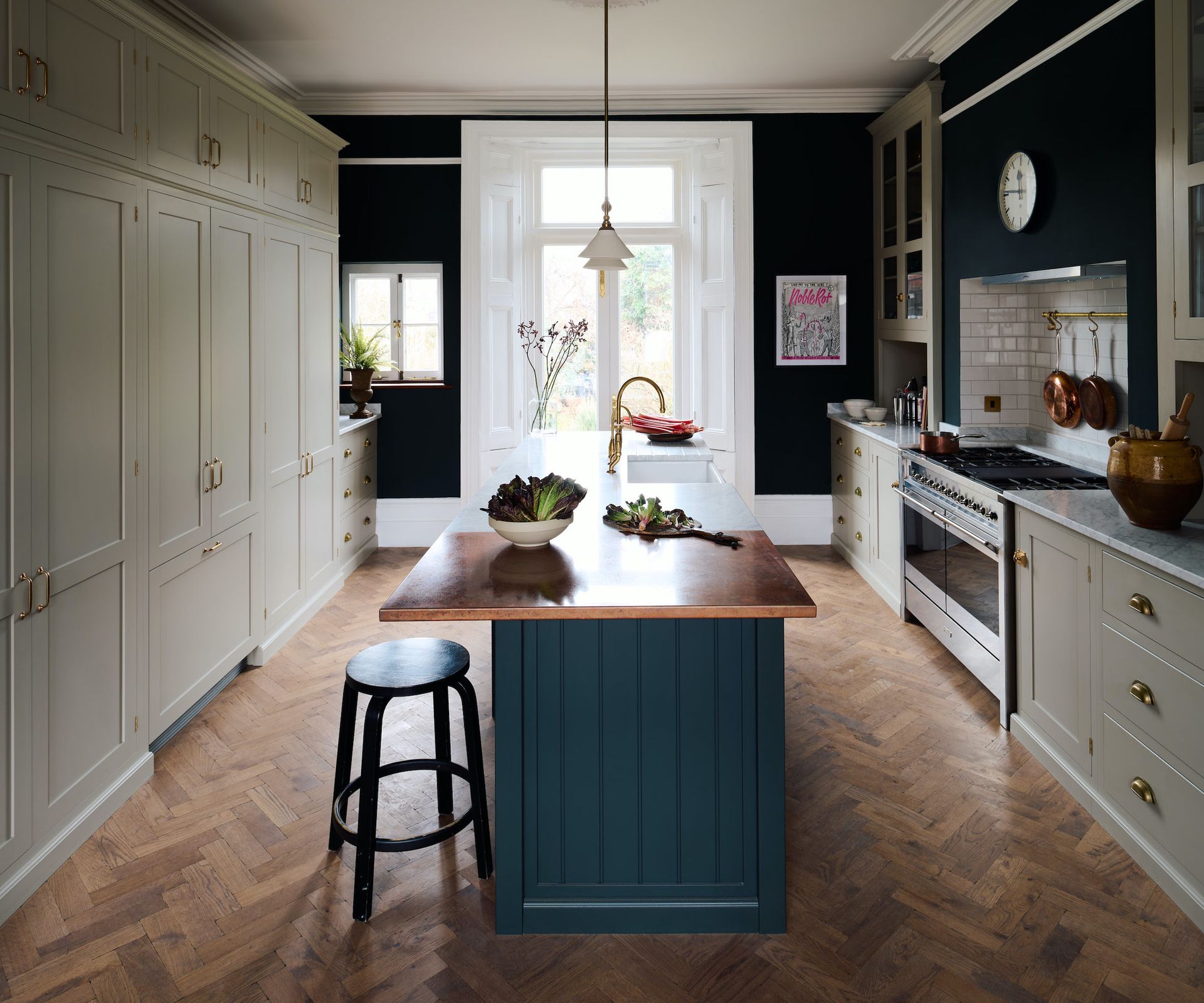 It wasn't so many years ago that gray was enthusiastically embraced as the 'new neutral', a more sophisticated alternative to white or magnolia. Nobody is denying that gray is a flexible, timeless choice for kitchen cabinets. The issue is that, unless you really know what you're doing, all-gray cabinets are just so cold and uninviting, especially if your kitchen is North-facing. Battleship grays are the worst offenders but, to be honest, we're so over any shade of gray with cold blue undertones.
So, now that white and gray are officially out of style, where can you get your neutral fix? deVOL's creative director Helen Parker looks to Greige – which is a mix of brown/beige and gray – as a much more soulful choice that feels more in tune with current fashions.
'A soft, minky brown-grey is a wonderfully chic color to pick for kitchen cupboards. It feels less harsh than regular grey and works well in both contemporary or more period interiors as it is so easy to combine with rich dark reds and greens or more muted pinks and browns,' explains Helen.
Joining as a kitchen designer in 2004, Helen Parker is now responsible for deVOL's style, creating one-of-a-kind showrooms, sourcing antiques and gifts and designing new pieces of furniture and accessories. She also has a starring role in deVOL's Emmy nominated TV series.
5. Excessive open shelving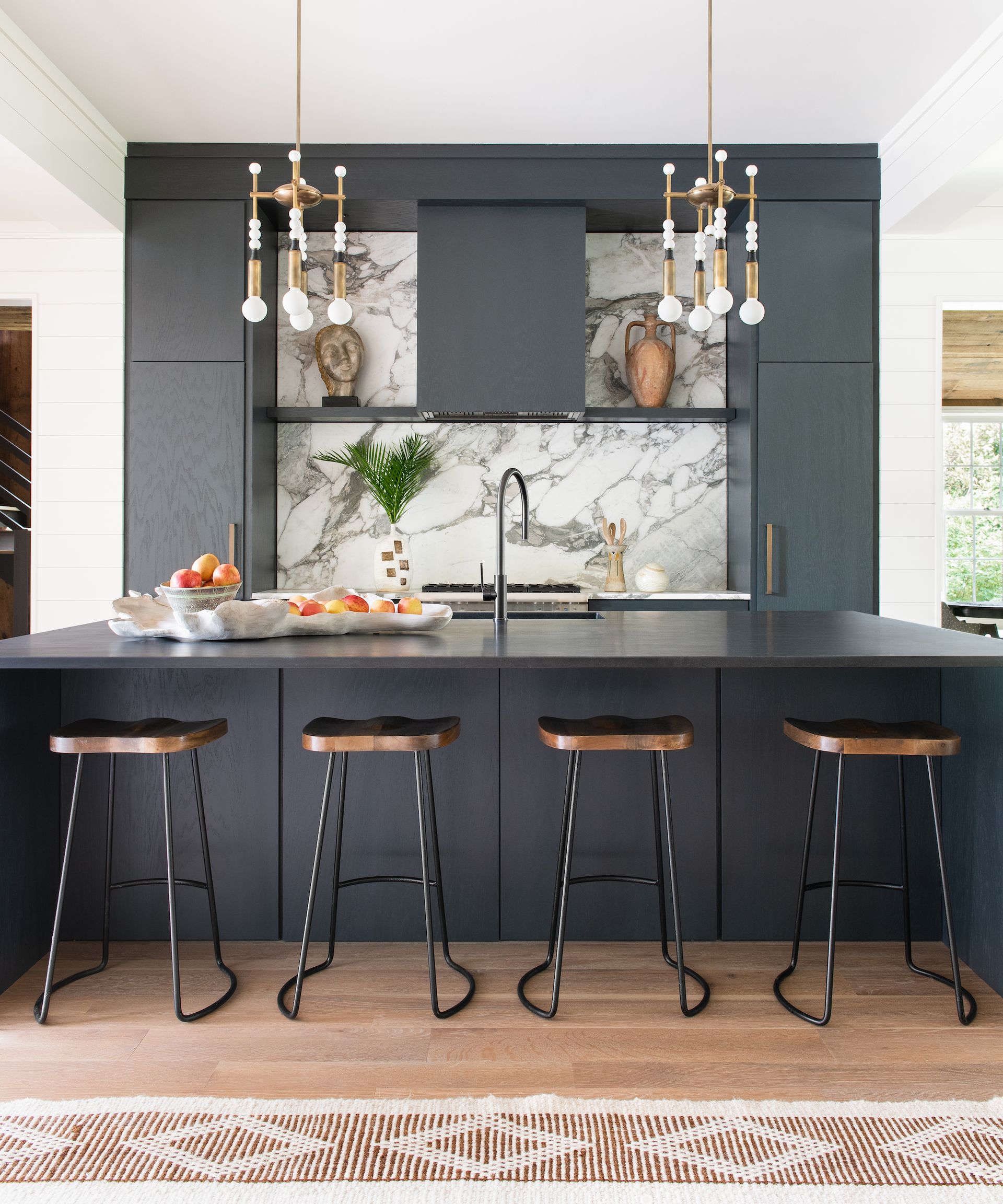 Open shelving is possibly one of the longest-running kitchen cabinet trends of all time. For too long open shelving has been 'in', and wall cabinets are most definitely 'out'. If you ever fell for the open shelving hype and swapped all your wall cabinets for endless stretches of shelving you probably won't be sorry to hear that the downsides of open shelving are pushing the #shelfie craze into style Siberia. The dusting alone makes you wonder how the trend lasted longer than a week.
We're not denying open shelving can look amazing, nor suggesting you should swerve it altogether, we've just noted that there's a new (or is that old?) move to tread more cautiously and, in the process, enjoy a more practical kitchen. Leading the vanguard is the trend for countertop cabinets, which utilize that often-wasted gap between worktops and wall cabinets to provide maximum storage space for your buck.
With more 'closed' storage for less attractive essentials, shelving can be reserved for display purposes only. Cortney Bishop Design nails the perfect shelf/cabinet combo in this striking kitchen, which still feels airy and open – but without excessive duster action required. 'We left space on either side of the range hood for shelves, to help break up the dark cabinetry and keep things feeling light but it's those floor-to-ceiling cabinets that make this kitchen sleek, modern, and, above all, functional,' she recalls. 'Sticking to just two shelves provides sufficient space to display a sculpture and pottery piece and show off more of the gorgeous Calacatta marble backsplash.'
6. Trendy paint colors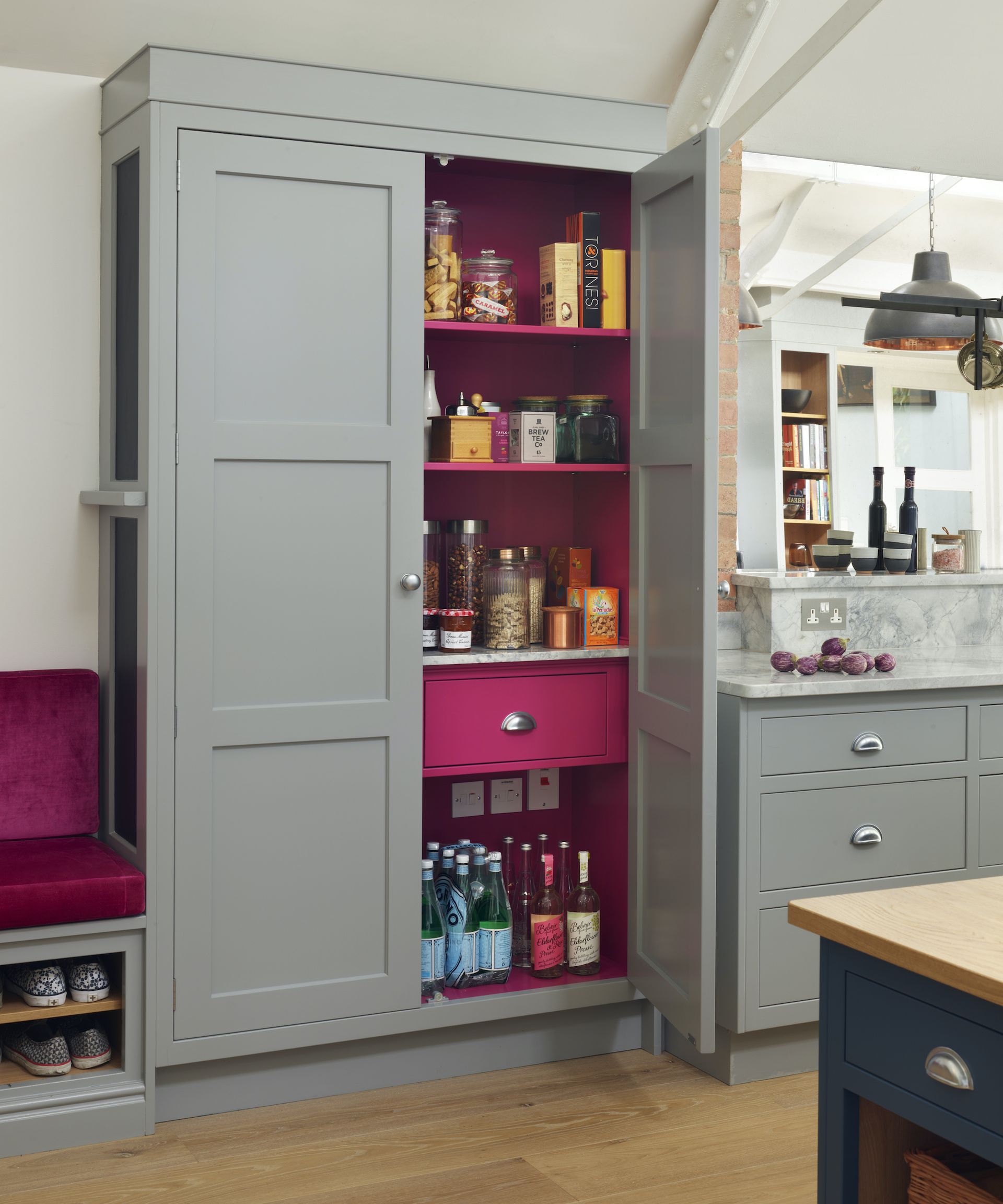 Keeping up with the latest Color of the Year forecasts is all cool when you're buying a new sweater, but on kitchen cabinets, it rarely pays to take your color lead from the fashion catwalks.
'Colors are a key aspect of choosing new kitchen cabinets; it is about finding a color that you can live with daily, but not get bored of in the near future,' says Richard Moore, design director, Martin Moore. 'Think carefully about the color scheme of the rest of your home, and whether the proposed color fits your style.'
Some of the latest COTYs are absolutely liveable – for example, Glidden's 2024 COTY, Limitless – but others are clearly more about making headlines, and will most likely only result in headaches when you eventually admit defeat and repaint your cabinets.
If you are hellbent on following a current paint trend, Richard Moore recommends baby steps. 'Try starting with using the color as a feature wall in the kitchen, or even inside the cabinets, to see if it is something you could embrace long-term on the main cabinetry.'
7. Overcomplicated storage systems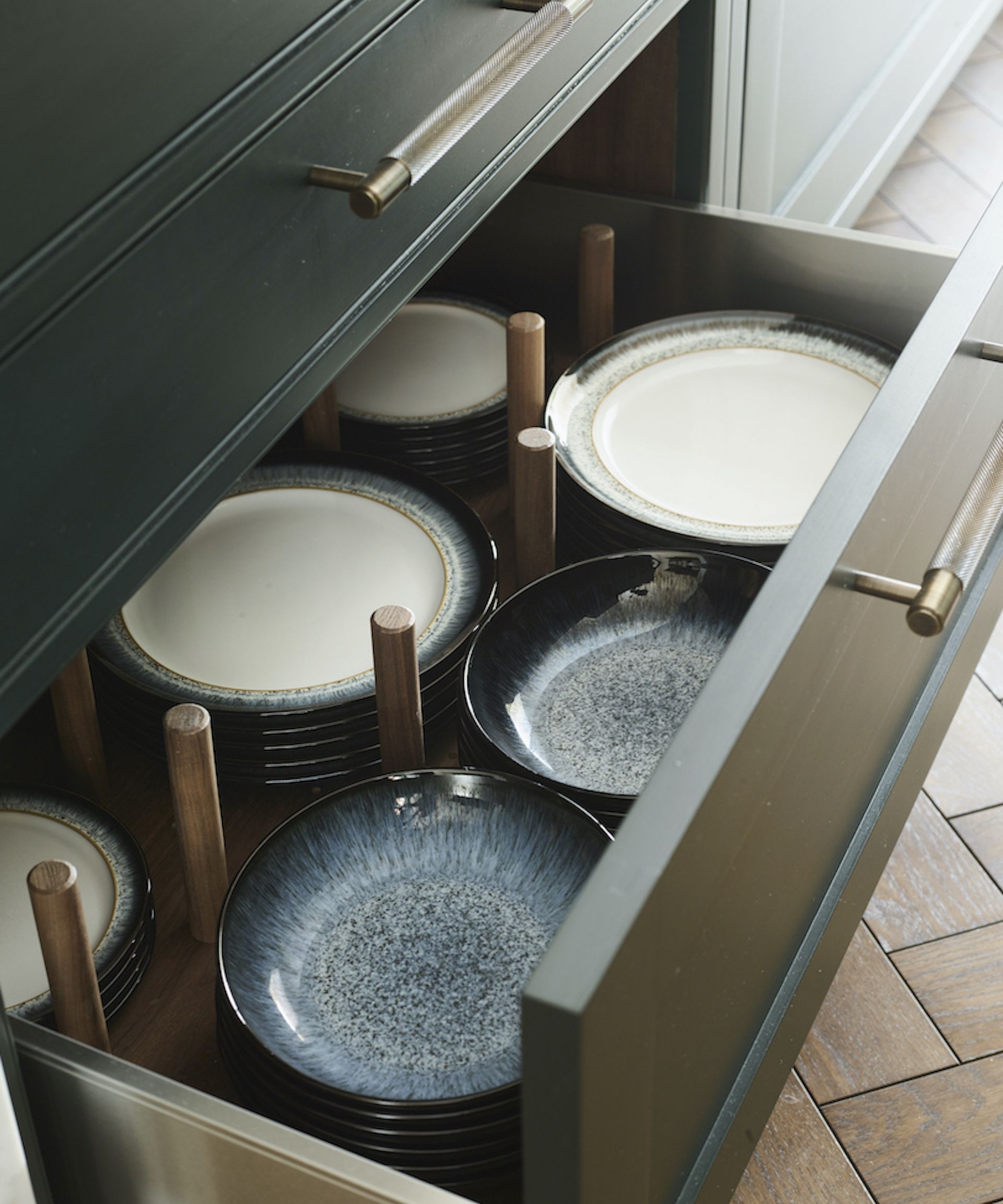 While it's true that there's no such thing as 'too much storage', there's definitely a case for sacking off overcomplicated storage systems that make hard work out of stashing your essentials. Especially the ones that cost more than gold.
The trend for whizzy electric lifts, drawers within drawers, and specialist inserts that only fit specific utensils has gotten out of hand. The rebirth of the humble pantry can be seen as a direct response to this shift in storage demands, with keen cooks celebrating the humble authenticity of gathering ingredients in one glance and seeking out analog solutions that won't break the bank.
Rather than loading up your kitchen cabinets with every last storage trickery known to mankind, keep things simple and focus on solutions with real value. Roundhouse designer Ben Hawkswell points to the delightful timber peg board as an elemental example, which stops drawer contents sliding and smashing together using wooden pegs slotted into a holey baseboard.
'The timber peg board is a classic integrated storage solution that never gets old,' he says. 'We love them for their flexibility. Whilst most typically found holding a crockery arrangement, this simple style of divider doesn't necessarily pin the user to any specific use or sizing and can be re-positioned and changed over the years as needs adapt.'
What kitchen cabinets are going out of style?
There are lots of outdated kitchen features that put home buyers off, but when you're talking specifically about cabinets, it's usually the material or finish of the kitchen doors. Dark wood kitchens are seriously out of style, particularly those made from hardwoods that are difficult to grow sustainably like rosewood or mahogany – buying responsibly isn't going out of fashion any time soon. There's also been a big drop in gloss white kitchen sales in recent years. In fact, high gloss finishes in any color are on the wane, not least because they are prone to chipping and show fingerprints like nothing else!
What will kitchens look like in 2024?
Kitchen trends tend to reflect wider interior, fashion and even political and economic trends (no really) so it's no surprise design experts are predicting kitchens in the future are likely to be less about showing off and more about creating safe sanctuaries in which to hunker away from economic unrest. We're talking cozy, welcoming spaces with layers of depth and interest – less perfect, more lived-in, relaxing and personal.
The rise of the back kitchen is also on the cards for 2024. 'The return of back kitchens can perhaps be attributed to a cultural shift towards more home cooking and entertaining,' says Molly Chandler, Designer at Willis & Stone. 'Typically located adjacent to the main kitchen, they provide a convenient extra space for meal prep and storage of larger kitchen essentials such as food mixers, jam pans and larger serving dishes which are perhaps only used on special occasions.'
Best places to buy furniture and kitchen furnishings
Sign up to the Homes & Gardens newsletter
Decor Ideas. Project Inspiration. Expert Advice. Delivered to your inbox.
Linda graduated from university with a First in Journalism, Film and Broadcasting. Her career began on a trade title for the kitchen and bathroom industry, and she has worked for Homes & Gardens, and sister-brands Livingetc, Country Homes & Interiors and Ideal Home, since 2006, covering interiors topics, though kitchens and bathrooms are her specialism.