Should small rooms be painted in light or dark colors? Design experts share some surprising advice
Read the latest advice from designers on whether small rooms should be painted in light or dark colors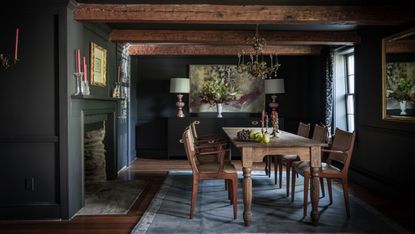 (Image credit: Farrow & Ball )
If you're about to give a small room a new look, you might be asking: should small rooms be painted in light or dark colors? There are several factors to consider when you're thinking about how to choose paint colors. Deciding on a painted finish is a good start, as choosing paint for a small room rather than wallpapering will help to keep things simple. Plus, decorating small spaces is obviously less time-consuming than painting larger rooms.
Even in a small room, however, there are still big decisions to be made when considering your room color ideas. Thinking about how that small room will be used, the effect you want to create, and even which way the room faces, are all part of the decision-making process.
So should small rooms be painted in light or dark colors? We asked designers to share their thoughts and expertise on this question.
Should small rooms be painted in light or dark colors?
The simple answer to the question should small rooms be painted in light or dark colors, is that there isn't one simple answer. Nor are there any hard or fast rules. However, where there are no rules there's flexibility and plenty of room for personal preference, too. So while there's no single answer, there are some basic design principles you can follow to choose the best small room ideas and create the right look. Understanding the likely effects of your decision to paint a small room in a light or dark color will ultimately help you with that choice.
We asked interior designers to share their thoughts and advice. These are the strategies you can adopt to get the best results. WARNING: some of them may surprise you.
Decide on the effect you want to create
This is where the aforementioned flexibility and personal preference come in. Are you looking to emphasize that this is a small room by choosing paint colors to highlight its compact, cozy look? Or would you prefer to make the room look larger, using your color selection to create an illusion of space?
Make that your starting point. By establishing your aim with your small room, your light or dark paint color decisions will be an easier next step.
Paris-based interior designer Lichelle Silvestry agrees that the choice to go light or dark in your small room depends on the mood you wish to create. 'For a light and airy ambiance, it's best to use a light color; if you want your space to feel warm and cozy, then a dark color will be the best choice for you,' she explains.
Talking of cozy spaces, interior designer Julia Dempster adds: 'A dark, moody color creates a nest-like effect and can add drama to a small space. Lean into the lack of sun, though, and go fully into the dark realm. Instead of white, a dark hue like charcoal or black will give the space an intimate feel while simultaneously giving it an appearance of grandeur, especially if the ceiling and trim are also painted in the same hue, one of my tried and tested practices.'
Why paint a small room dark
Paint a small room dark to make it look bigger. Yes, really
Here's the first surprise. Painting a small room dark can make it look bigger.
'Contrary to traditional thinking, dark paint allows the room to appear larger and taller than it may be. Dark colors add depth, visually enlarge the space, and make a great statement,' says Lichelle Silvestry.
Using dark paint colors for a small room, can give the impression that the walls stretch further back, and further out, than they do in reality. This is a great technique when you're looking at dining room wall ideas for smaller spaces. In the dining room above, notice how the back wall retreats into the distance so it's hard to discern how long the room is. And it doesn't stop there, it continues the same shade of dark paint for both the walls and ceiling, to further blur the room's boundaries. Designer Naomi Astley Clarke is an advocate of this technique: 'Painting the ceiling of a small room in the same dark color as the walls will make a small room feel larger.'
So if you want to use paint to make a small room look bigger, use a good depth of color and paint it on walls and ceiling. In this way, an intense, deep, dark shade can perform a bit of mind magic, creating an illusion of more space.

Why paint a small room light
Use light paint to make a small room look more spacious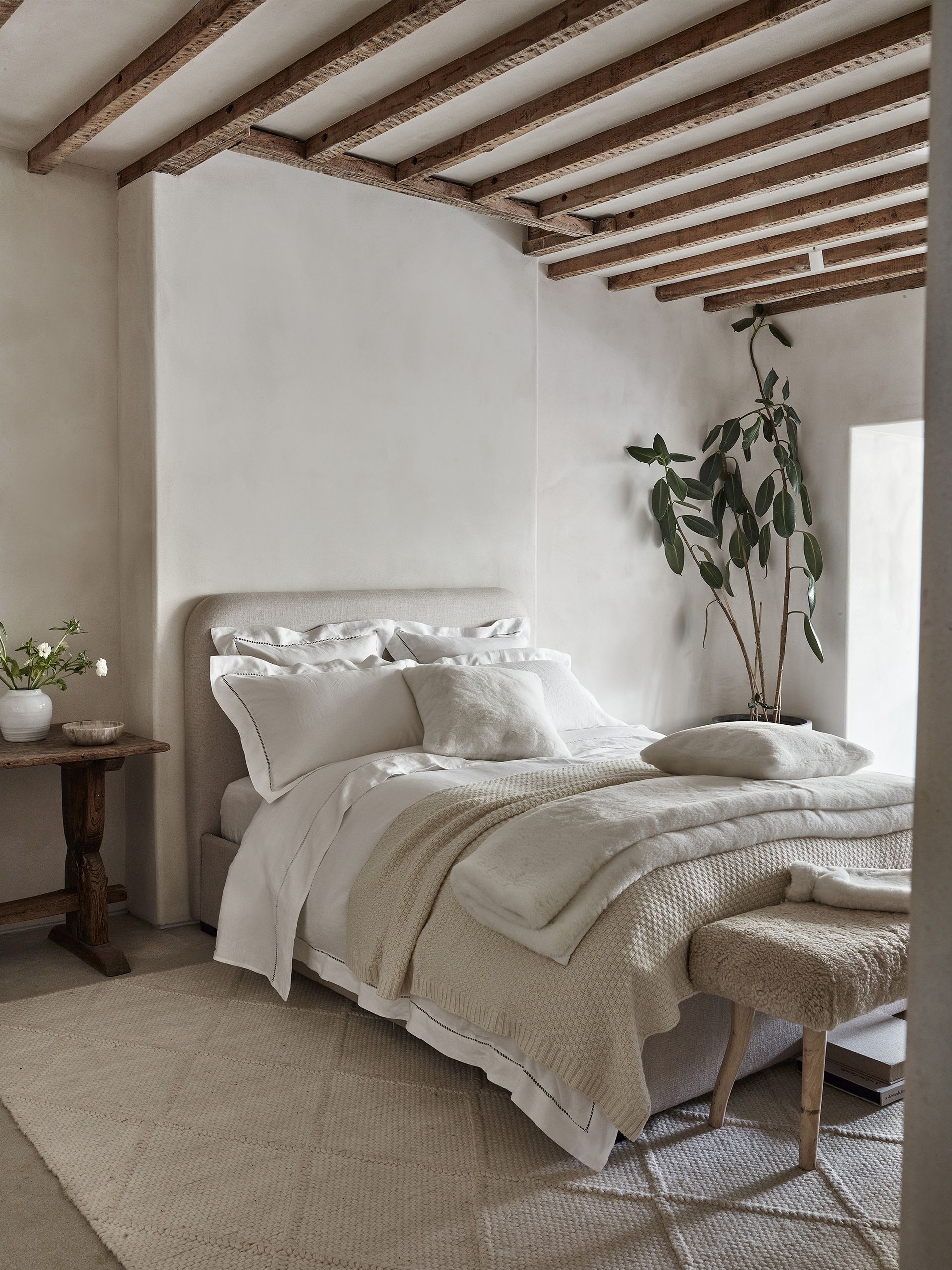 I told you there wasn't a simple answer. But yes, in certain circumstances, light paint can make a small room look larger.
When you're considering bedroom color ideas, bear in mind that a small bedroom with minimal furniture and calm, uncluttered flooring and furnishings can appear more spacious if the walls and ceiling are painted in the same light color, as they are here. A soft warm-white paint has been used throughout. The airy effect is enhanced by inviting layers of bedding in neutral shades, and furnishings kept to a minimum.
Naomi Astley Clarke says her choice of paint colors depends on the room. 'For small bedrooms or bathrooms, I favor light colors,' she says. 'For a small WC, study or dining room, I would recommend considering a bolder, darker palette with a carefully considered lighting scheme. Ensuring dark spaces are properly illuminated is key to creating a cosy space.'
Julia Dempster is keen to steer away from all-white schemes for smaller or darker rooms. 'Common sense would suggest that the best color to paint a room with little natural light would be white. After all, what makes a room look brighter and lighter more than stark white walls?' she asks. 'Contrary to popular belief, the best paint color for smaller rooms is not actually white. An all-white room can only contribute to making it feel bland and uninspiring, rather than giving it the bright and airy feel we all crave and love.'
Why color will make a small room look bigger
Pink can work wonders
If you're looking for a lighter color that can make a small room look bigger, think pink. This warm versatile shade has found real favor among the interior design fraternity in recent years. Not just for bedrooms, pink knows how to make itself at home in any room in the house.
Julia Dempster agrees. 'A soft shade of blush pink can brighten up a small room and make it feel cheery and light and it looks wonderful at sunset hour,' she says. 'This hue works best in a room with more natural light and is well complemented with light warm neutral tones like beige, sand, and ivory. Paint the ceiling in the same hue for an enveloping feel. Don't be fooled by pink acting as an ultimate feminine tone, either, as the pale blush is also a great compliment to more masculine woods, modern metals, and natural materials such as sisal.'
If pink's not your thing, designer Naomi Astley Clarke suggests some cooler hues: 'Consider a palette of dark blues, greens, and grays which can help to create a wonderful illusion of space,' she says. 'As ever, reducing the amount of furniture and items in a room will help it to feel larger and more spacious.'
Use paint tricks in small rooms
Use paint techniques that enhance visual effect
When you're painting a room, it's not just about the color you choose, but how and where you apply the color. Lichelle Silvestry agrees, 'More than the color, the technique enhances the visual effect. For example, minimizing the delineation between the walls, the ceilings, and the baseboards by one all-over color creates an expansion effect in a small room,' says the designer.
Resplendent on walls and wainscoting in the image above, Benjamin Moore's 2023 color of the year, Raspberry Blush brings a glow of positivity that bursts out of the small space.
Silvestry likes to use more reflective paint finishes in smaller spaces too, to create different effects. 'I love using high gloss paint or tone-on-tone reflective surfaces as a special effect to bounce the light and bring an additional layer of interest.'
Do away with the feature wall
Call time on the feature wall – there are other options
Have feature walls had their day? It may surprise you to hear this, but the idea of painting just one wall of a room in a contrasting color, in a scheme of otherwise neutral painted walls is starting to become rather outmoded.
'I'm not a fan of the 'feature' wall. If you're going to paint a room a dark colour, my advice is to commit and paint all the walls, otherwise you risk an awkward, dated-looking scheme,' says Naomi Astley Clarke.
Julia Dempster takes it a step further – she's backing black. 'If you're going to go dark in a room, why not go all the way and opt for an all-black look? Benjamin Moore Black Beauty would look great on built-in bookcases or even painted on all walls and the ceiling for a cozy, dramatic look.'
Fear not, there are other options for a pop of dark-paint in a small room, as Lichelle Silvestry explains. 'If you are not ready to commit to an all-over dark color for your space, an excellent way to integrate dark color is to use it in trims and doors, the back wall of a bookshelf or niche, on the floor, or on the wall that receives the most natural light.'
FAQs
What are good colors for a small room?
In essence, then, small rooms can be painted in dark or light colors, depending on the effect you want to create. Dark colors can make a small room look larger, but so can light colors. Pinks, blues, greens and grays are all good choices for small rooms, but so are off-whites. Think about wrapping the whole space in color for a dramatic, saturated effect. And avoid the feature wall.
Sign up to the Homes & Gardens newsletter
Decor Ideas. Project Inspiration. Expert Advice. Delivered to your inbox.
Karen is the houses editor for homesandgardens.com and homes editor for the brand's sister titles, Period Living and Country Homes & Interiors, and an experienced writer on interiors and gardens. She loves visiting historic houses for Period Living and writing about rural properties for Country Homes & Interiors, and working with photographers to capture all shapes and sizes of properties. Karen began her career as a sub editor at Hi-Fi News and Record Review magazine. Her move to women's magazines came soon after, in the shape of Living magazine, which covered cookery, fashion, beauty, homes and gardening. From Living Karen moved to Ideal Home magazine, where as deputy chief sub, then chief sub, she started to really take an interest in properties, architecture, interior design and gardening.