What color is beige? How to use it in your decor
A soft, warming neutral that is incredibly versatile, we explore the question, what color is beige?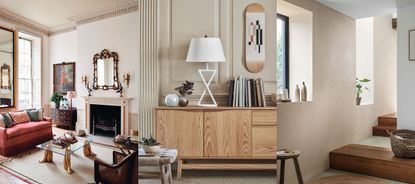 (Image credit: Future | Davide Lovatti | Crown Paints)
A color once considered bland and boring, beige has proved itself to be an enduring neutral, and is one of the most popular colors to decorate with for room color ideas in the home, so we ask the question, what color is beige?
A color rooted in the palettes found within the natural world, beige has a warming, restful and sophisticated appeal, and is best described as a very light brown with subtle hints of yellow and gray, but there are many variations out there to choose from.
Justyna Korczynska, senior designer at Crown Paints states, 'beige is a gorgeous, warm tan. It belongs to the neutral color family, but it is a neutral with plenty of character.'
Over the last few years, interior trends have gravitated towards colors, textures and designs that take inspiration from the natural world, with beige room ideas helping to make our homes feel more grounded, tranquil and a retreat away from the busyness of the modern world.
Whether you pair beige with other pared-back tones to create a serene sanctuary for beige bedroom ideas, or use it to instill a sense of calm in a bright and colorful space, if one thing is for certain, beige is a wonderfully adaptable color to decorate with in the home.
What color is beige?
Like the other shades within the neutral family, such as brown, black and white, beige does not sit within a traditional color wheel, and it is created through a mix of brown and white, or white and yellow.
As there are a spectrum of different beige shades to choose from, some lighter, similar to cream and others darker, closer to a brown or tan, it can be hard to choose the perfect shade, but whatever you decide, beige can seamlessly adapt and suit the character of rooms both classic and contemporary with effortless ease.
Brand ambassador for Farrow & Ball Patrick O'Donnell states, 'the love of warm, earthy neutrals continues and that once derided shade beige is very much a color of consideration. Our Jitney shade, with its discreet yellow/gray undertones, gives it huge flexibility to layer with other shades too.'
Is beige more white or brown?
Embodying the calmness and lightness of white, but with the added depth and character of brown, beige falls perfectly between the two.
Of course, it all depends on your chosen beige shade, but a light option can work brilliantly as an off-white, creating a subtle feeling of warmth in a room.
What colors go with beige?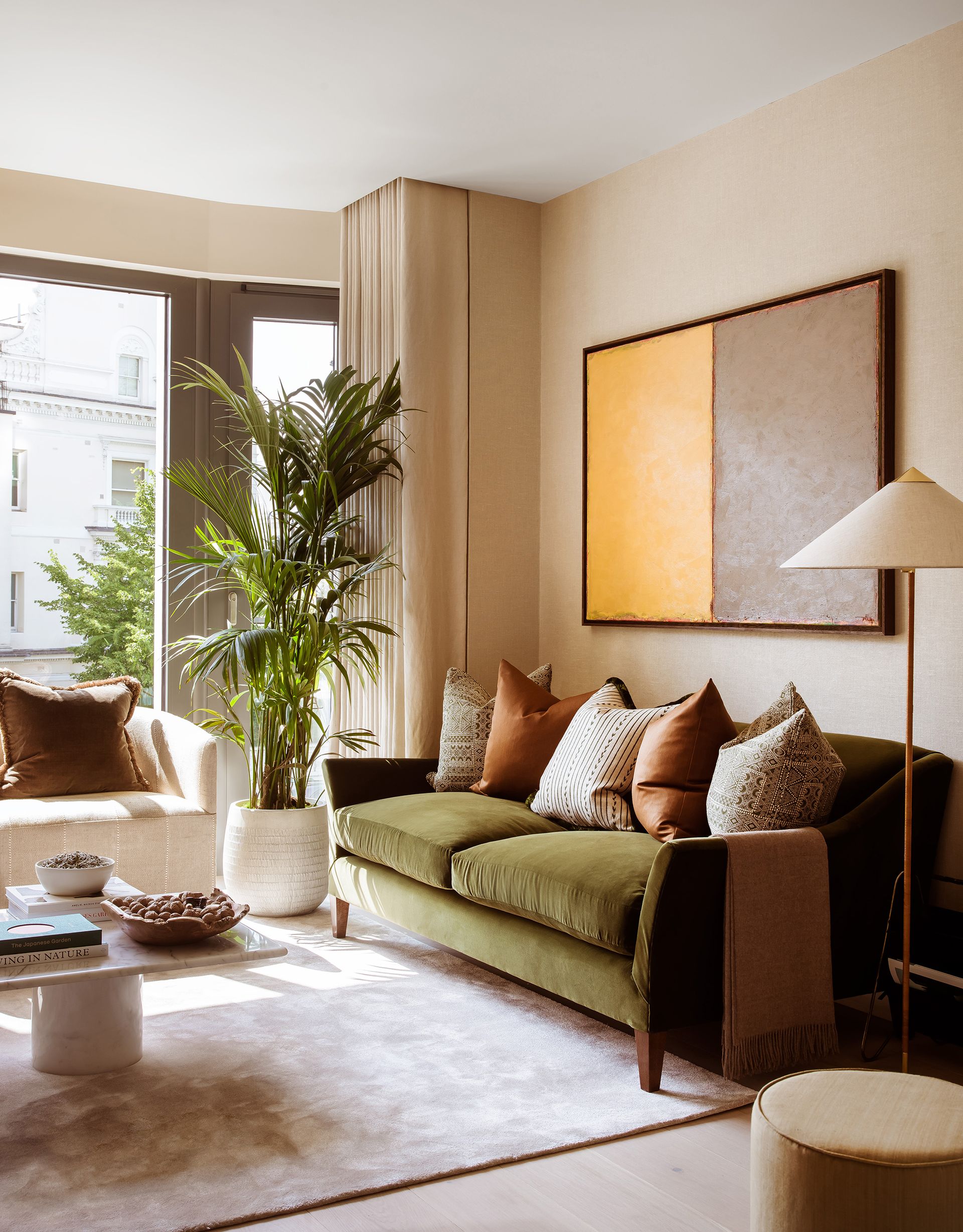 One of the best things about decorating with beige is that it can go with pretty much anything!
Whether you use it as the base for your design for your paint ideas on the walls and bring in colorful, bright accents through artwork and furniture, like in the beige living room shown above, or pair with other neutrals for an enhanced, relaxed effect, the possibilities are endless.
Justyna Korczynska says, 'beige pairs beautifully with all natural materials like wood, stone, clay and natural fabrics like linen or jute. Our Saddle Stitch shade looks the best with soft warm lighting and is perfect for creating a relaxing ambient atmosphere in your home.'
From burnt orange to forest green, the best accent colors for beige make take you by surprise.
What color is the same as beige?
Beige is incredibly close to colors within the brown family, and other options such as cream, tan and khaki.
No two colors are the same, but there can sometimes be very similar crossovers, and beige can often be interchangeable with other soft neutrals and colors of nature.
Is beige considered a warm or cool color?
Beige can definitely be seen as a warm color, with hints of brown and yellow adding character and an inviting, comforting sense of warmth.
Justyna Korczynska states, 'when used with warm off-whites and gentle light neutrals it can become a real statement shade and bring warmth into the room. In this combination it would be perfect for sunny, south facing rooms. It also performs very well in darker spaces where it would look best paired with even deeper, darker shades from a neutral color family.'
A great option for a room that receives lots of natural light as well as to enhance the feeling of light in a darker space, beige can establish a warming and cozy atmosphere in the home.
Sign up to the Homes & Gardens newsletter
Decor Ideas. Project Inspiration. Expert Advice. Delivered to your inbox.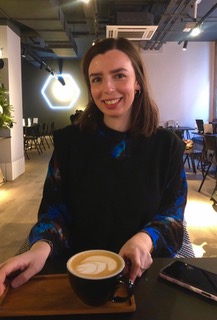 Zara joined Homes & Gardens in February 2022 as a Content Editor. After studying English Literature at University, she worked as an Ecommerce Website Editor, Content Writer and Buying Intern at multiple independent businesses within the luxury retail and lifestyle sectors. Her role at Homes & Gardens unites her love, experience and passion for the world of design and desire to create inspiring written content. She enjoys nothing more than discovering new trends, brands and products, whether that be in fashion, interior design or lifestyle.