What colors go with dark green? 9 failsafe combinations for this nature-inspired hue
Super versatile, our pick of colors that go with dark green will give you the confidence to give it a go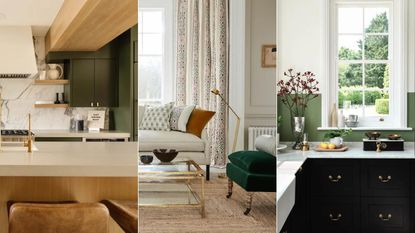 (Image credit: Alder & Tweed / James Hare / Fenwick & Tilbrook)
The beauty of dark green is that it can add depth to paler tones as well as bright shades. More versatile than you may imagine, there are plenty of fabulous on-trend colors that go with dark green.
'Green is a fantastic color for a variety of spaces, for example, a bright and bold green will create a vibrant and energetic feel in a kitchen or dining space, whilst a muted and more gentle tone will create a more calming environment in a bedroom or living room. The sense of wellbeing that we gain from time outside in the natural world has resulted in a desire to re-create this sense of connection and positivity in our homes, driving a renewed love for greens of all hues,' says Ruth Mottershead, creative director at Little Greene.
The difference between choosing a light green over a dark green is depth, the latter will ground a scheme, and it can be used all over if you want a dramatic feel, or sparingly in the form of woodwork and teamed with one of the shades below.
Colors that go with dark green
Ruth adds, 'Because greens are fairly neutral, (they often contain both blue and red) and come in varying undertones and depths, they are incredibly versatile, working wonderfully in any room to serve as a natural extension of the exterior, giving the impression of bringing the outside in.'
Whether you want to add an earthy stone shade to your dark green or a pop of scarlet, we've sourced our favorite colors that go with dark green.
1. Dark green and white
White is always a great option to pair with dark green, it contrasts beautifully and creates a dramatic effect that looks fabulous on this landing that leads to a bedroom. The dark beams add warmth, as do the characterful floorboards.
'You can't go wrong with pairing basil green joinery and crisp white walls. The earthiness of the green beautifully contrasts and grounds the airy, lightness of the white, this creates a space that's fresh and crisp at the same time as being cozy,' says London-based interior designer, Naomi Astley Clarke.
2. Dark green and stone
This elegant living room with its stone walls and subtly patterned cream couch creates the perfect background for the dark green velvet armchair that acts as an accent color.
Stone is a great color to team with dark green and due to its neutrality, you can use as much or as little as you like within your scheme.
'The interior of this room focussed around the beautiful bay windows letting in lots of light. The walls, drapes and couch enhance the light with a soft stone color palette. This makes room for a very strong color on the chairs with a rich deep dark green velvet that really stands out, it's an incredibly vibrant and positive color and a fabulous contrast to the paler background,' says Saffron Hare, creative director at James Hare.
3. Dark green and coral
A beautiful color to consider with dark green is coral. It's a shade that's been popular this year due to its pretty tones, and it can be used very successfully with dark colors.
Here, although the dark green is dominant, the artwork on the gallery wall behind the coral couch pulls the colors through and looks great with the black and white prints too.
4. Dark green and tan
The warming tones of the tan leather bar stools teamed with the beams and brass fixtures ensure this modern kitchen has the perfect color balance with its dark green cabinetry.
'In this kitchen remodel we recently undertook, some of our favorite colors to pair with dark green are warm wood tones like tan, creams, grey, and black. We love the deep green cabinetry and light wood beams. We also love pairing green with gold or brass finish plumbing appliances and hardware,' says Heather Humphrey, founder of Alder and Tweed.
Heather Humphrey is the co-founder Alder & Tweed Design, a prolific design firm with offices in Montana, Utah and New York. Coming from an entrepreneurial family, with a focus on relaxation and recreation, Alder & Tweed Design Co. is the second company Heather founded with her brother Reed, and part of a collection of companies owned by the Humphrey family, including Alder & Tweed Furniture and SideDoor, a company aimed at transforming the way the interior design community does business.
5. Dark green and navy
Shades of dark green can include forest, jade and emerald, this shower room is definitely more on the jewel-toned end of the spectrum and as well as looking great with jet black, it works well with navy blue as it's on par with it tonally.
'Dark green is fabulous with teal, blues, and creams, but navy blue looks best with it for a moody palette and warm stone is ideal for a more neutral palette,' advises Nicky Mudie of Violet & George.
6. Dark green and pale green
Consider the light in the space you're updating, a dark entryway will benefit from an uplifting shade on the walls and you can ground it with a darker color from the dado rail down. A third green can be used on the floor – look for floor tiles that complement the two other greens you've chosen.
'Greens work beautifully both in isolation and in combination with other shades,' advises Ruth Mottershead, creative director at Little Greene. 'The colors you choose to use alongside green will in part determine the effect of the color within your space. Using variations of greens will tie a scheme together and provide a harmonious feel. Pair a bright, pale green like Little Green's Acorn with a darker tone such as Hopper to bring the outdoors into the home.'
7. Dark green and scarlet
Love moody shades? This dark sage green creates a cocooning feel for those who love a scheme that's rich and full of drama. To prevent the look from being too gloomy, it's teamed with a scarlet couch with pops of bright blue. We asked Helen Shaw, director of marketing (International) at Benjamin Moore for her thoughts on this color combination:
'There is an increasing popularity for warm and welcoming colors which work so well at this time of year. This greeny brown shade with green undertones is incredibly versatile and pairs beautifully with a wide range of hues. For a cozy and engaging feel, combined with a velvet sofa in a deep scarlet or burgundy – both rich, warm colors will instantly create a bold, statement oozing glamor and luxury.'
Helen Shaw is part of Benjamin Moore's UK division and is the colour expert and international marketing director. Helen and her husband Craig are founders of Shaw Paints, acquired by Benjamin Moore in 2020.
8. Dark green and black
'Dark green is a versatile color that can be used to create an array of moods in any interior, from sophisticated and elegant, through to a cozy and inviting retreat,' says Anna Hill, brand director and color consultant, Fenwick & Tilbrook.
'Whichever shade of dark green you go for, you can bring a nature-inspired feeling, warmth, and grounding to any room. When pairing dark green with other shades, it's important to consider the overall look and feel you're trying to achieve. Pairing dark green with black is a classic combination that exudes elegance and style, especially when teamed with a touch of white too.'
In a small kitchen, such as this, using black may seem counterintuitive, but you can see how well it works with the pop of dark green acting as a bridge between the monochromatic color scheme.
9. Dark green and gold
'Dark green with golden tones of yellow ochre is a winning combination for us,' says Jamie Watkins, co-founder at Divine Savages.
'The green brings a calming tranquility as it is so closely associated with nature, whilst the yellow injects the room with warmth and energy. This dynamic color pairing creates a harmonious balance and is a brilliant combination to try on the walls. Matching the dark green, a sumptuous velvet curtain and simple couch add softness and comfort, its deep, lush tone providing a striking contrast to the vibrant golden yellow bursting from the walls.'
Bring the ochre through into the rest of the scheme in the form of cushions, rug,s and vases.
FAQS
What warm colors go with dark green?
'Terracotta is a beautifully warm shade that partners really well, bringing with it a rustic charm. 'Flowerpot Lane' or deeper 'Pantile' are our favorites! Another warming and classic pairing with dark green is blush pink – it helps to soften the look and adds that all-important balance whilst still creating an elegant feel. Remember that there are no hard or fast rules, it's about choosing color combinations you love so don't be afraid to experiment and have fun with it,' advises Anna Hill, brand director and color consultant, at Fenwick & Tilbrook.
Sign up to the Homes & Gardens newsletter
Decor Ideas. Project Inspiration. Expert Advice. Delivered to your inbox.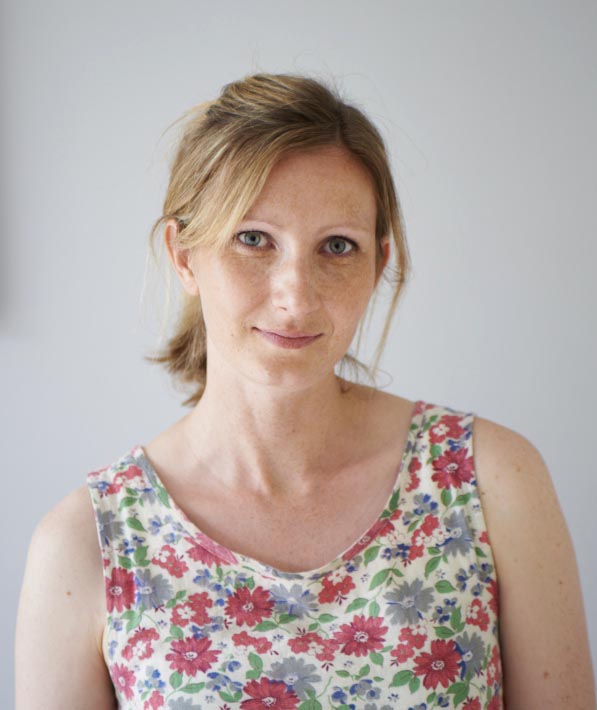 Sophie has been an interior stylist and journalist for over 20 years and has worked for many of the main interior magazines during that time, both in-house and as a freelancer. On the side, as well as being the News Editor for indie magazine, 91, she trained to be a florist in 2019 and launched The Prettiest Posy where she curates beautiful flowers for modern weddings and events. For H&G, she writes features about interior design – and is known for having an eye for a beautiful room.