This $6 air fryer addition is considered a 'must-buy' – here's where to find it in stock
Make hungrily flipping through manuals and scrolling through Google a thing of the past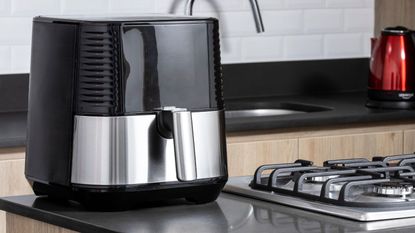 (Image credit: Alamy)
Is there a kitchen appliance more convenient than an air fryer? We certainly don't think so, so when the internet put us onto a $6 air fryer accessory that makes the process even simpler, we just had to learn more.
If you have finally got your hands on one of the best air fryers and have largely left your kitchen oven behind, then you (like us) may be spending most of your cooking time looking up temperature and time conversions rather than actually cooking.
The product in question? Perfectly shaped conversion chart stickers that fit seamlessly onto the air fryer itself.
Air fryer conversion chart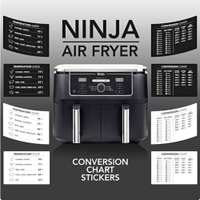 Air Fryer Conversion Chart Stickers | $6.40 at Etsy
This simple sticker provides all the oven-to-air fryer temperature and time conversions you need conveniently shaped to be stuck to the side of your air fryer
Homes & Gardens' head of reviews, Millie Fender, has tested countless air fryers for H&G, so she knows when something is an internet dud or when it is a must-buy. In this case, air fryer conversion charts have become a quality-of-life upgrade that most air fryers shouldn't be without.
'These air fryer sticker charts are a great purchase for busy (and hungry) home cooks who don't want to be flipping through manuals or digging through Google searches to get dinner on the table,' Millie says. 'For just a few dollars, there is really no going wrong with these simple yet sleek additions.'
Millie Fender is Head of Reviews on the Homes & Gardens E-commerce team. She specializes in cooking appliances, such as the best kettles, and also reviews air fryers and pizza ovens.
If you regularly use an air fryer and have a basic understanding of how air fryers work, then you will likely already know that the direct heating elements and smaller capacity of the portable devices mean that food often requires less time, and lower heat, than being cooked traditionally in an oven.
We certainly wish we had one of these stickers when we first bought our air fryers and now consider them to be one of the important things to know about air fryers before using one.
Their seamless design means that once applied, it looks as if the air fryer came with them, Etsy reviewers claim. What's more, the strong adhesive means that the stickers won't come off when moving the air fryer in and out of your kitchen cabinets, or when cleaning an air fryer either.
If you can't find a sticker that matches your machine perfectly, then a magnetic conversion chart from Etsy to apply to the side of a kitchen appliance like a refrigerator could be a great alternative.
Air Fryer Magnetic Cheat Sheet Set
This Magnetic Air Fryer Cheat Sheet Set includes a bonus Conversion & Measurement magnet, helping you easily convert metrics while cooking and baking.
Printable Air Fryer Conversion Sheets
These instant digital download sheets provide time and temperature conversions between ovens and air fryers for a seamless cooking experience.